I've been fortunate enough to cover supercross and motocross races for nearly 20 years now. Today's atmosphere at the races is actually quite relaxed compared to the gnarly days when Ricky Carmichael, Chad Reed, and James Stewart took intensity to the highest levels on and off the track. There was tension in the air every weekend in the mid-2000s. What was it like to be in the middle of that mix? I asked Carmichael about it, and we cover that in part two of this week's interview with the Greatest of All-Time. Read part one of this interview here.
Racer X: Let's get back in the way-back machine. We've been doing these watch parties on the Pro Motocross Facebook page every weekend. This weekend we ran RedBud 2007 with you and James Stewart. I don't know how many people remember how significant that race is now. I'll put it this way: it was the last time you and Stewart raced, I think, right?
Ricky Carmichael: It was. You're a historian. You know that.
That's a big deal.
Yeah. It was a good weekend. When I see that race, I had a lot of stuff going on behind the scenes. I was getting sick. I was getting Epstein-Barr [Virus]. My kids were just born, three or four months before that. Not to make any excuses, but when I see that race, that was the first time in a race situation that I realized, I'm really ill. I remember James had me on the ropes. With two [laps] to go I slipped up and he pulled away. Normally with ten minutes to go, that was when I really shined, when we were going back and forth. I just got to that ten minutes to go and I was completely gassed. That's when it set in. I knew the underlying stuff, this is for real. I'm in bad shape right here. I had basically surrendered the race. Then he fell down in that right-hander. I was like, holy crap! I can't believe this. So, it wasn't that enjoyable to me, that race, because of the issues. A lot of it was my fault. I was going to save it for my book, the book that I haven't written and probably won't write! [Laughs] The reason I got sick is when my kids were born, we were fortunate enough to have nannies and all that stuff, but I would get up with them night. Doing two times a night feeding, sometimes three, even though I had a nanny. So, as I was doing that, I would still get up then the next morning and continue my workout. They were born in March and at the time I was going to race through the US Open [in October]. I'm like, okay, I can get away with not getting that much sleep for a few months. Well, I just dug myself a hole. So I was maintaining the workload and doing everything that I ever had did with 60 percent less sleep and it just got me. That race was just hard. I was on the struggle bus. I was sucking. He had me on the ropes. It's fun to watch, but I look back and I had much more fun time watching than I did racing that one!
Davey Coombs wanted me to ask you about passing Stewart in those sand whoops. He said that was the most amazing thing he ever saw you do on a motocross track, which is saying a lot with 100 wins. Do you remember making the move in the sand whoops? Obviously both you and James are pretty good in sand whoops.
Yeah, we both grew up in sand. I do remember that. I'm most mad at myself… I passed him. I worked my tail off to get by him, and that guy isn't easy to pass. He's just so fast and he's really good defensively. He knows what he's doing. Then I almost crashed or went over the berm a couple turns later and just kind of gave it away. I was so mad at myself. Totally remember that pass. I knew that I had to go to the outside and get a good run up so I could scrub that tabletop afterwards. You know what was so cool about '06 and '07 with James and I racing together? I just feel like there's a mutual respect between the two of us. We were able to race clean. We were able to race hard. But it was good, fun racing. That respect level was so high. It was fun to be a part of.
I'm impressed to hear that, because the buildup for "When is Ricky going to race James and vice versa" had gone on for so long, literally since you were kids. And the mid 2000s, the entourages, the man-friends, the groups, they loved to talk trash. I'm impressed that by the time you guys finally got there that there wasn't too much chipiness. I'm surprised to hear that, in a way.
Well, if you look at it, his entourage was his dad, Raddo, [Chris] "Beeker" [Onstott] at the time was hanging around with them. I think Beeker had already went to Fox. I was a Fox athlete, so there wasn't much that Beeker could say. Technically working for the same company. I would say the entourage that made stuff really thick would have been Reedy's entourage. We joke about it today. With his agent at the time, there was so much chitter-chatter back and forth. It necessarily wasn't the riders as much as it was the entourages.
Don't forget Ellie [Reed]. That's gasoline on a fire!
[Laughs] That's true. But I ain't touching that. I wasn't going to mention her! James and I, as far as the entourage goes, I just think the respect level was so high. You've got to remember, I've known James since he was a little kid. I was almost kind of declining as he was coming up. It was definitely fun to race. He was fun to race, especially as he got smarter and you could see his race IQ growing, kind of calming down a little bit. He was just a lot of fun to race. I always felt bad for Chad because Bubba and Chad's rivalry was so intense. Chad didn't like me. Chad didn't like Bubba, but I liked Bubba. I didn't mind Chad. I definitely respected the hell out of him. Chad was the odd man out. We had this conversation in I think New Zealand or something like that. I was like, "I always felt bad for you. You were like the odd man out."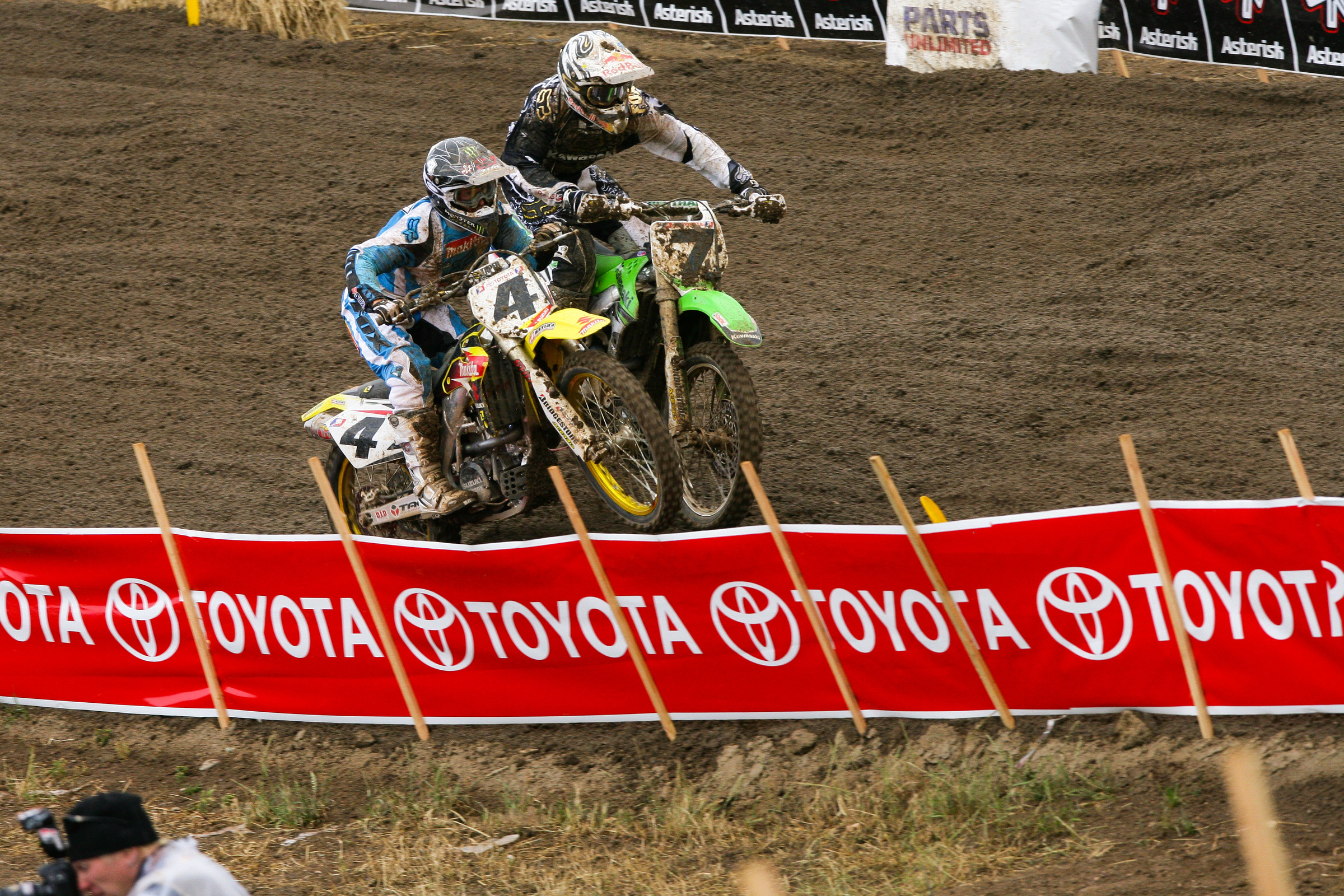 It's good that you and James had that respect because I bet if you look back at it now and it had gotten nasty or dirty, it probably wouldn't be a good look to see it that wat now. Better to see it as just hard racing.
Totally. That's exactly what it was. My last supercross race at Orlando, same kind of thing. RedBud was so similar to Orlando. Just back and forth the whole time, good, clean racing. The thing about all three of us, got to include Chad on this, we were all willing to risk it all to win. Winning was everything. We didn't look at each other. We didn't talk to each other, for the most part. It was a race to get to the airport to get on the plane to get home first, and then how the heck am I going to beat this guy next weekend? That's how it was. The rivalry was so intense. You could cut the air with a knife.
I don't feel like it's quite that gnarly these days. I did the same press conferences then that I'm doing now, and I don't feel like it is as tense between today's. It was so gnarly in '05, '06. Do you feel it's different?
Yeah, of course. There's a lot more camaraderie these days. A lot of the guys practice together at the same facilities. That wasn't like that in my day. Aldon [Baker] hated when Ezra [Lusk] would come ride with me. Now he [Aldon] has a whole facility with a whole bunch of guys riding together! Times change. It doesn't make it wrong, doesn't make it right. But everybody knows pretty much what everybody is doing. I think that's the reason, in my opinion, so many guys can win races, because now we're seeing a crop for the most part of kids that have come up through facilities. Ken Roczen didn't, Eli Tomac didn't, and Jason Anderson didn't. I'm sure I'm forgetting one or two. But a lot of these guys did. A lot of these guys had ridden together their whole life, and even raced together and practiced together. There's no secrets. It's definitely a lot different. It's kind of comforting. I will say that. When you go to the track walk or do you press conferences, it's pretty nice now. You know how it was back in '06, '07. So, definitely times change but in that aspect, I think it's for the better.
I did see one question I want to ask from the readers in these comments. Somebody said, for ten million dollars, would you come back and race?
[Laughs] Ten million? I got ten million. I ain't coming back. I'm 40. You know, ten million would be pretty nice, though. At some point, you've got to do what's right for your kids and your family. I'm definitely happy with where I'm at. I'm very fortunate. But that's a real number there!