Every athlete that succeeds at the professional level possesses an extreme level of drive and ambition. In this sport, perhaps no one personified that more than Ricky Carmichael, who used extreme determination to deliver the most AMA Motocross and Supercross Championships of anyone. But today's racers are facing a strange task, with a forced break and an unknown return due to the coronavirus shutdown.
Today, Carmichael is the broadcast analyst for NBC Sports' coverage of Monster Energy AMA Supercross. That gives him some perspective on both today's racers, and of course his own career, which ran from 1997-2007.
Jason Weigandt chatted with Carmichael to hear his thoughts on his training back then and what today's riders might deal with. In part two of this long interview, we'll get deeper into some old-school racing stories with the Greatest of All-Time.
Racer X: You look like you lost a ton of weight. You're looking good. What's going on?
Ricky Carmichael: Thanks, man. Forty pounds. I dropped forty pounds. I feel pretty good. Today was a good one, a long bike ride. Everything's good. I've kind of leveled off on my weight. I will tell you being quarantined and at home, it's been a lot harder to keep it off!
Yes. Because when you get bored, what do you want to do? Eat, right?
Yeah. Absolutely. You're walking around and there's the candy jar over there for the kids. You're like, get this stuff away from me!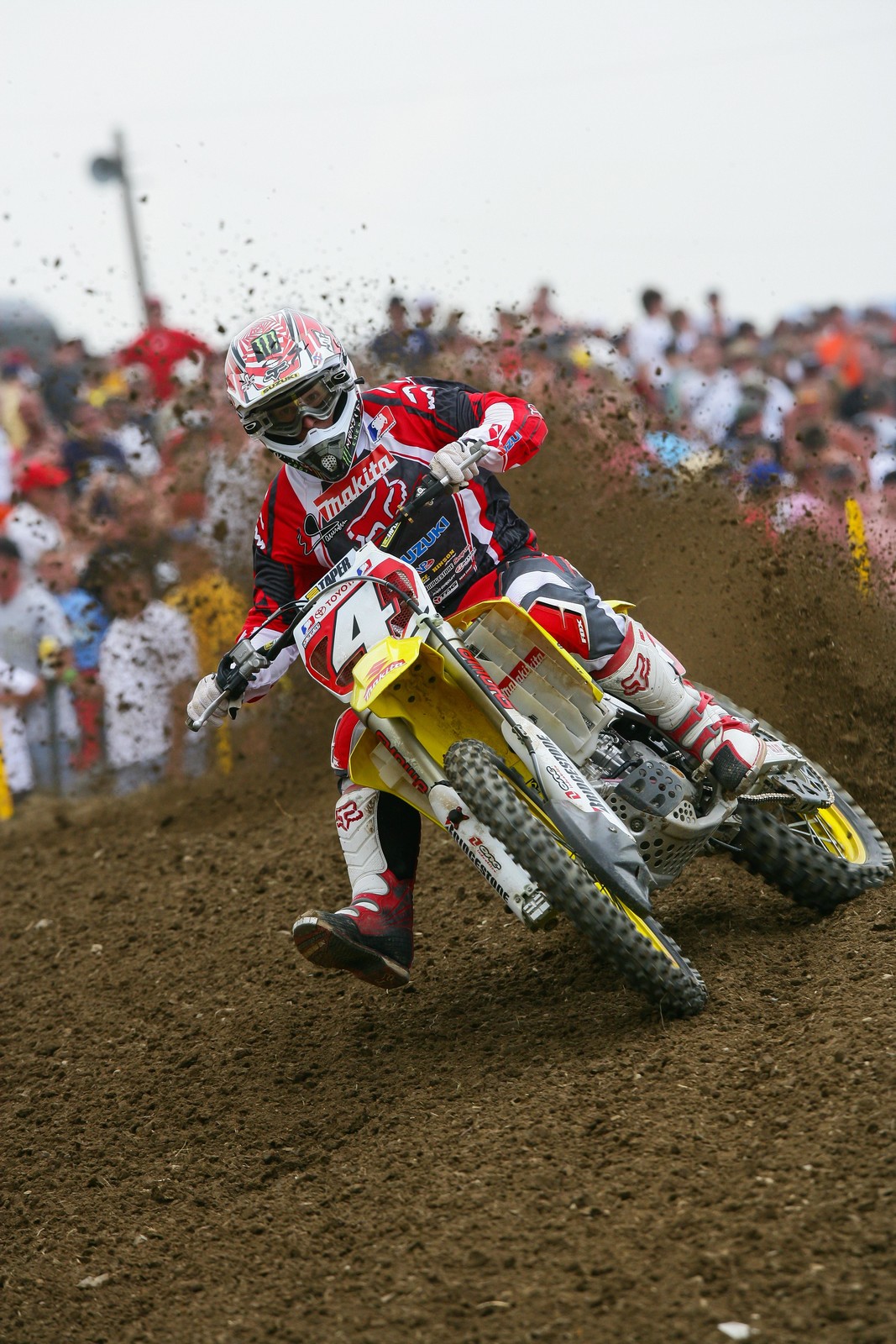 We talked about this for real at Daytona. It would be nice to think you could just go on long bike rides and be gnarly and lose the weight. Nope. To really lose weight, you have to change the diet.
Yeah, for me. Everyone's different, clearly. But for me it's always been more about the diet than necessarily the volume of cardio that I'm doing. Lost a lot of it just straight up by eating properly. It's been a fun journey. I had to buy a whole bunch of different new clothes, sport coats for the NBC broadcast. But that's a good problem to have!
This makes a little more sense. I could not understand in your 125 days where you I'm sure were training and riding super gnarly, but you still weren't a skinny guy!
No. When [Aldon] Baker and I joined together in 2000, I think I rode more before I hired him. Off the bike stuff, and once I got the diet right I definitely thinned up. I still had to watch it, even though with all the volume of riding that I was doing and training off the bike. It's crazy. I really believe, and I've talked about this before, I think that helped me. It helped me be stronger mentally because I couldn't slack on anything. It's almost like work ethic versus talent, if you will. I had to work on it and it didn't come easy. So it's just another thing that I had to work hard at.
That's interesting that you say that, because I've been asking every current rider in this situation and I want to ask you about it, too. Riders are programmed every day to dig for it and try to get better. How hard must it be for them, and how hard would it have been for you, to turn it off? It must be so difficult to just turn it off and relax!
Totally. Honestly, you're asking me like I'm going to be the expert. I've never been in this position. No one has. But what I will say is, kind of jumping ahead, I think the guy that can get back into that zone, that championship battle zone, that they were in after we left Daytona, is going to be the guy that has the advantage. They've got to put themselves mentally right where they were at Daytona. It's going to be tough to do. It's definitely uncharted waters. I couldn't imagine being in that frame of mind that they were mentally and then all of a sudden, pow, just shutting it down. I think the biggest thing that has been tough for everyone in the world through this COVID-19 pandemic, not only racers, is just the uncertainty of when the hell are we going back? Whether it's to your daytime job or whether it's playing stick-and-ball sports, or of course what we love, motocross and supercross. So the uncertainty is what's tough. That's what makes it hard when you're trying to practice and train off the bike. It's like, we're so programmed and we know exactly what we're doing all the time, well this throws a wrench into the plans. It's going to be the guy who has been able to navigate that the best who will have the advantage whenever we start back racing.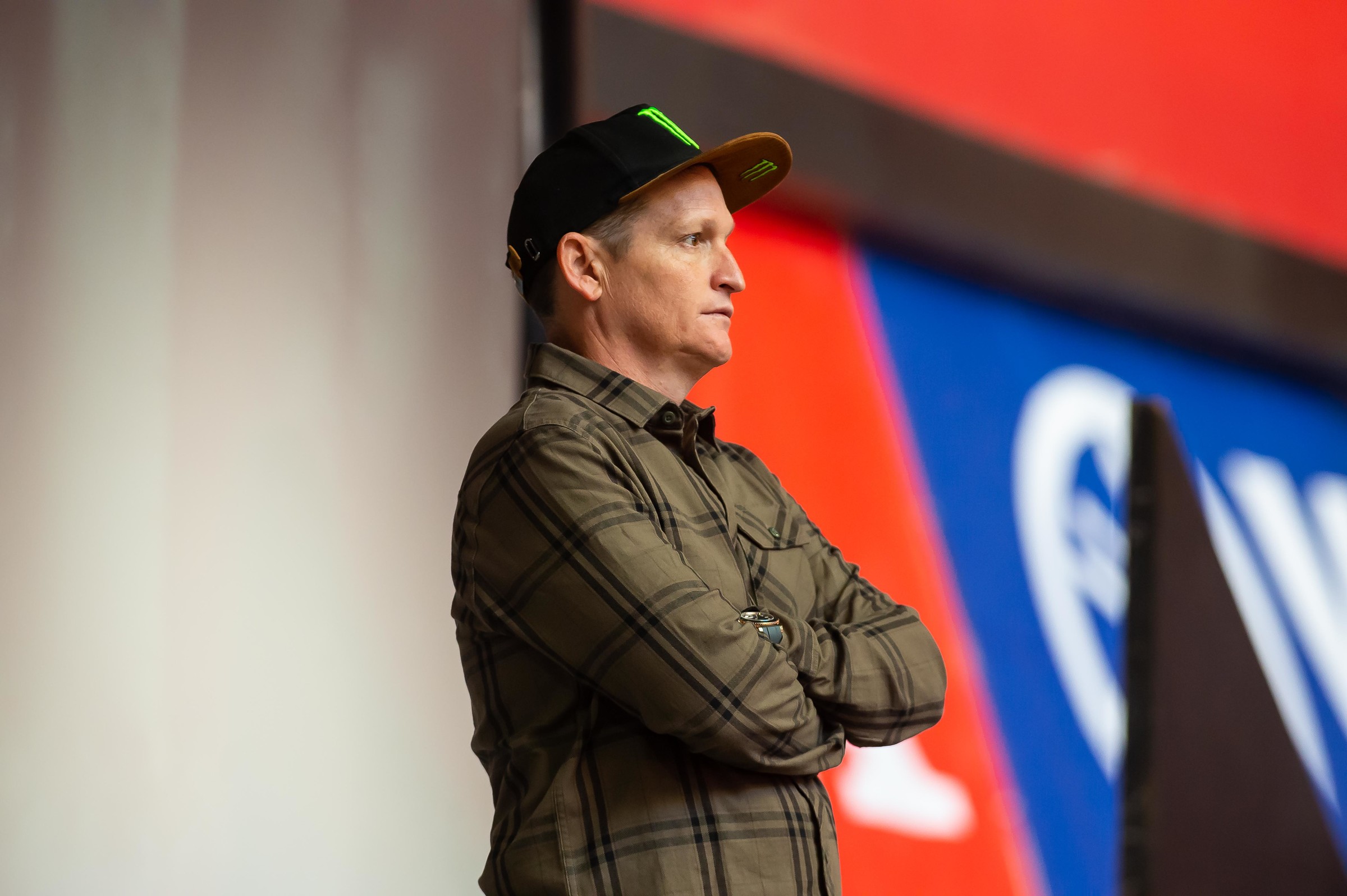 Your whole ten-year pro career, '97 to '07, were there nights where you would go to bed saying, "I did enough. I'm good. I'm good to go?" Or was there always that in the back of your mind, "Was this right? Did I do enough?"
That's a great question. No, and the reason I say that is because a lot how I prepared mentally for the weekends was the work that I did during the week. So I wouldn't leave the practice track or I wouldn't leave the gym or I wouldn't skimp out on cardio, because I knew that was the key to my success and that's what got my mind ticking. I can tell you what I did think about. It was more like, "Man, could this be the weekend that this guy beats me and he beats me forever, and he's got my number?" That was what I feared the most.
It's interesting because we never saw that on the outside. Was that on purpose? Like, you didn't want the other guys to know? It always looked like you had it all handled.
I raced scared. I was scared to death to get beat. It's so crazy when I tell this story now. I never said this when I was racing. But I was scared to death to get beat, every single weekend. I hated it. I hated that pressure. I'm like, "Crap, man. I hope this isn't the weekend." Just scared to death and the fear of finally getting overtaken, forever. That's what kept me motivated and kept me working hard. It was a hell of a journey for sure, but that's what worked for me. I never underestimated my competition. I always thought that I was beatable. Did I think that I had a good chance to win? Of course I did. Did I feel like if I positioned myself in the right spot and I did the work that I had just as good of a shot to win as anyone else? Of course I did. But I never once went to the gate like, "I'm going to kick Chad's ass," or "I'm going to kick Bubba's ass." Never. I'm like, I feel like I can beat them, but they might beat me. That's what kept me motivated.
That was your fuel. I love telling this story. In '05 that race where James landed on you at Unadilla, I was standing on the side of the track. You were coming through the pack and running in second, but you were catching James. If you finished second in that moto, you could always get moto two and the overall. But your mom is, like, dying during this moto! She looks like she's about to have a panic attack! And I'm thinking, "They're good! They've won a ton of races. They've won a ton of titles. They've won millions of dollars. What are they so worried about?" But I feel like you guys fed off of that.
One hundred percent. That's what worked for me. Everybody has their own thing. Some people like to come in there knowing and tell themselves they're the best and no one's going to beat me. That didn't work for me because I felt like if I came in there and I had that mindset, like, "I'm going to win. Ain't no one beating me," then the worst thing that could happen when you had that mindset is someone does come out and they call your bluff and they beat you. Then you've mentally just wrecked yourself. So, that was kind of my way of looking at things.
Have you thought at all, what if this shutdown had happened when you were racing?
Absolutely. I've thought about it a million different ways. How do you balance your time between motocross, supercross, practice, and then looking to the future? We're not going to have an off-season now at this point, or it's going to be abbreviated. When do you get the testing in? I think it's going to put a lot of the teams in a situation. It's going to be fun to see how the teams react from a testing standpoint, preparing for '21 already. I think the biggest thing for me would be juggling how do I balance out this supercross portion of it and the motocross portion of it.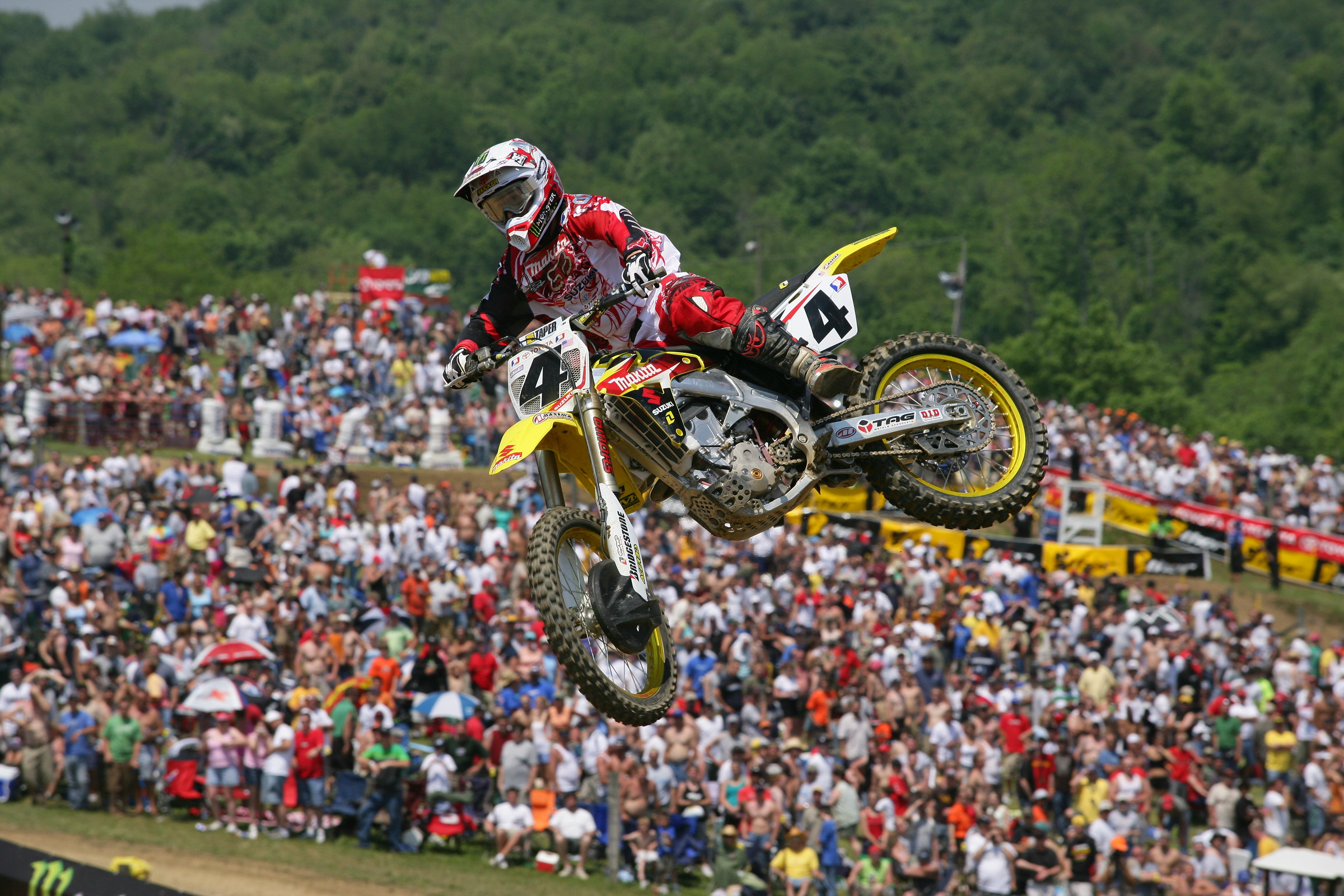 And also how crazy you'd probably be going not knowing!
Yeah, like we talked about at the beginning. I think if you told everyone across the board in the nation, we're going to be shut down until this date, and then it's going to be open season, everyone could adjust for that. Like, alright, I need to do this, this this, or I need to not buy this much toilet paper! I think that it would help a lot, but unfortunately we don't have that luxury right now. I will say this, and I truly believe this. Whoever wins this Monster Energy Supercross championship, in both classes, all three, the East and West 250 and then the 450, I personally believe it could be known as one of the hardest supercross championships to win, because of what they've been faced with.
Yes. When I talked to Eli Tomac I said, can you imagine this gauntlet you might have to run? Can you use that as a little bit of motivation, like a challenge? This sucks. This isn't the way I planned on having it go. But the upside is, that pot of gold at the end of the rainbow, it's never going to be bigger if I can figure this out this year. Can that be a motivator?
Oh, absolutely. You've got to take anything you can and turn it into a positive. I really believe. We've been waiting for him [Tomac] to win this championship for so long. He's been getting a bunch of crap from a lot of us. We know what he's capable of and he's in a great position to finally do it this year. Can you imagine if he pulls it off this year with everything that has happened? I think it's going to go down as one of the hardest supercross championships ever to win in the history of supercross because of what we've been faced with. I go back to the mid '80s, my day, and the Rick Johnson, David Bailey, Johnny O'Mara, Jeff Ward days where they were just back and forth. Or 2006 with myself, James, and Chad. That was tough, but we weren't facing what these guys are facing.
You're right. Back in the '80s, '90s they did mix in the nationals and supercross. It was normal then, but looking back at it now it seems nuts that they just did that every week.
We'd race Atlanta then hop on our outdoor bikes, race Gatorback National, the opening round [of Pro Motocross]. Then the next weekend go to Daytona, and then put the MX bike away and not fire that thing back up until second weekend of May. It's going to be really fun to watch and see just how these guys navigate it. One thing I do want to say, and a lot of my critics are going to give me crap for this, but I think this break comes as a blessing to a guy like Cooper Webb.
Yeah. We saw you talking to him in that virtual round table you guys ran last week. He was on the ropes. It was tough for him this year.
Yeah. He's got a lot of wood to chop, let's be honest. It's definitely going to be a reach, but if he fires off, wins the first three or four back… Like I said, it's going to be tough and it's definitely a long shot, but I can tell you, if I was Eli Tomac or Ken Roczen, I would be like, oh, man, now you know he's going to be 100 percent. Maybe he got to fix some underlying problems, if there was a bike problem that we didn't know about that they were keeping under their vest. Maybe they've fixed that now. Either way, I think he's the one that really benefits from this.
You mentioned the unknown. Obviously, you're an insider. You're a television guy for NBC Sports. There are rumors of all this stuff, but you would know as much as anybody, nothing is set. No one really knows. You can be honest about that. I'm sure you don't know when they're going racing again.
I don't believe what anybody, what my connections tell me, until they come out with a presser and tell everybody. I've heard all the same stuff you have about the talks of coming back. If the safety precautions are in line, let's fire them back up. It could be a great opportunity for our sport, without a doubt. But we have to be very, very smart. I will tell you this. I don't believe anything. It changes from hour to hour, day to day. All things. Talk about states opening up and restaurants and whatever, is your business essential… I don't believe anything until they come out with a press release.
I'll take it one step further. I always say I don't believe the job is going to happen until I have the check and I'm putting it in the bank and it clears. That's when I'm believing.
[Laughs] Absolutely! That was like when I was racing NASCAR. People would come up to you, "Hey man, I got this new sponsor…" Yeah, well, I don't believe it until the first check actually clears!