On Saturday morning, January 6, 2018, at Angel Stadium in Orange County, California, a young rookie racer from New York state named Justin Cooper stood beneath the pit awning of the Monster Energy/Yamalube/Star Racing team and took a long look around at things.
"This is my first professional supercross," he mentioned. "This is what I've been dreaming of since I was a little kid. It's crazy to finally be here." Cooper raced to a steady ninth place finish that night, but then came a career delay at his second-ever attempt at Monster Energy Supercross, knocking himself out at round two, in Houston.
He would return for the Lucas Oil AMA Pro Motocross Championship that summer, and at that point, began racking up a run of consistency and championship-level results that hasn't let up since. Second in the 2019 AMA 250SX East Region Supercross Championship and third in the 2019 Lucas Oil AMA Pro Motocross Championship, Cooper looked to 2020 as his year to put it all over the top, explaining, "Basically, my goal is to be a title contender in 2020. I want to be fighting for the title and I want to be there to grab the #1 plate if I can. That's definitely the goal. For myself, that's what I go out there to do. You have to trust what you do and when it comes time to race, you've got to perform."
Come the Anaheim opener in January 2020, Cooper exceled in winning the main event and forging ahead, hitting the podium four other times to find himself a scant seven points adrift of title leader and teammate Dylan Ferrandis. Cooper was once again in the title chase, until, well, the coronavirus found its way to the United States of America and pulled the plug on the bright lights of all of our major sports stadiums. In California and looking for ways to burn time off the clock, on Friday afternoon we crossed lines with the talented and driven Yamaha pilot.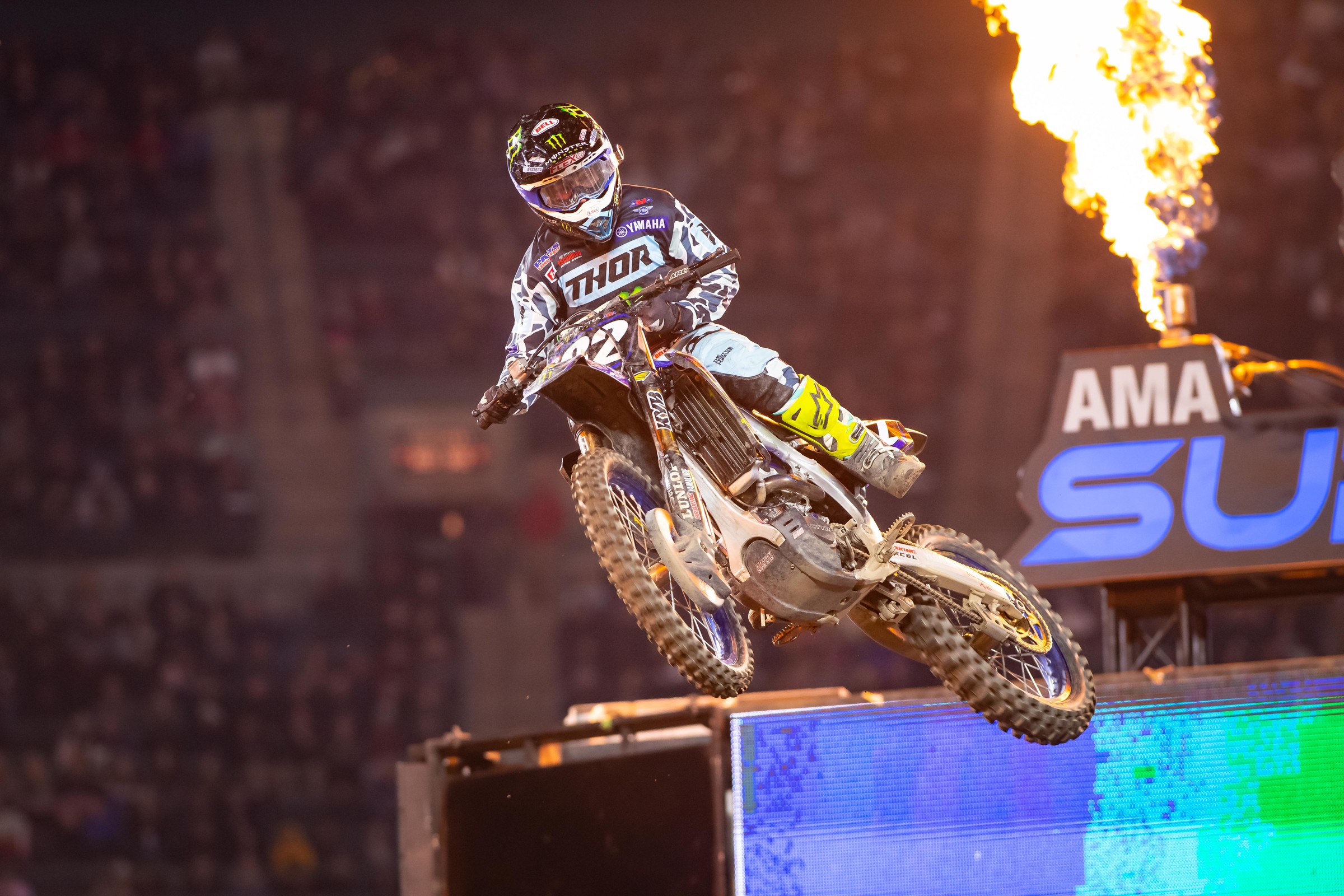 Racer X: Okay Justin, thanks for taking the time to check in with us. What are you up to this rainy and dreary afternoon in Southern California.
Justin Cooper: Yeah, we've all got time on our hands. It's been raining pretty crazily here the last couple days and it's downpouring here right now. It's not looking like it's going to ease up anytime soon. It's been a lot of indoor training this week. I'm just staying at it until we have a definite answer of when we're going to get back into things.
Yes, the issue of nobody having a date of just when racing might resume again is really causing a lot of frustration and anxiety for racers all over the world, isn't it? [Note: The Lucas Oil AMA Pro Motocross Championship, as of now, plans to host round one of the 2020 championship June 13. That's the next scheduled race, but any sort of sporting calendar is subject to change in today's environment.]
Yeah, exactly. No one really knows what to expect from this because we've never really had something like this. It's all new for everyone and we're all doing the best we can to do what we have to do. Yeah, it's just a waiting game right now and we'll see what happens and what comes from this.
Have you been able to ride much at all? It's pretty amazing how quiet everyone has been about that topic.
We have been riding, but it's not like a major issue if we don't because this is looking to be a pretty big deal and we really don't know when we're going to come back. Obviously, parts and everything are going to be limited with all this stuff shutting down, so it's scary times right now. We have to stay smart and stay healthy, most importantly. Yeah, we'll keep training and keep the body in shape, but now is really not the time to go to the hospital. We're trying to keep it pretty mellow.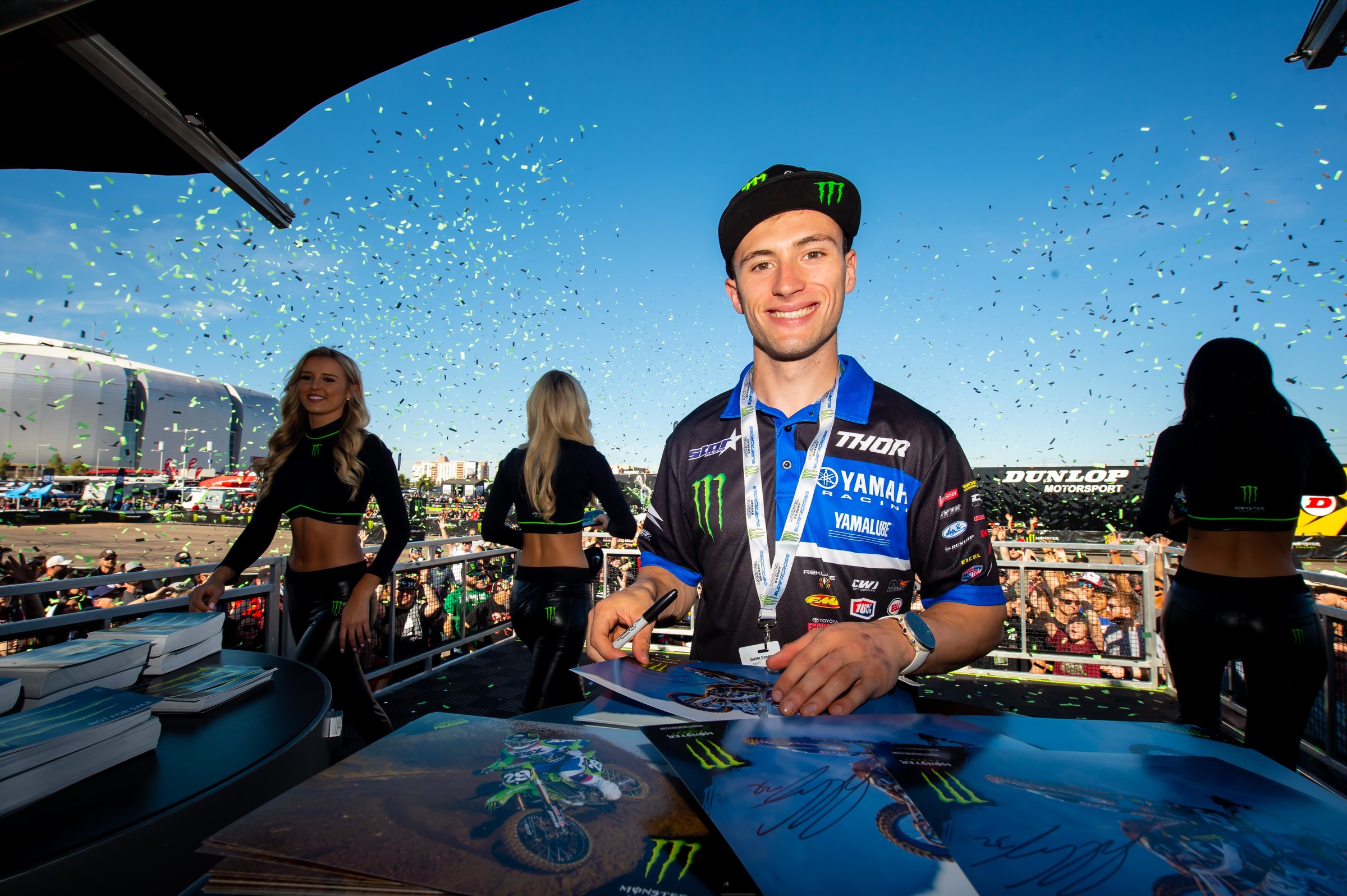 Have you been in close communication with your race team and teammates?
Yeah, we're still in our training program as far as indoor stuff. We talk on a daily basis still and everything is going good. We're just waiting around like everyone else is.
What have you been doing to burn time with some of these lockdown days just creeping by? I spoke with Yamaha World Superbike racer Michael Van Der Mark in Holland this morning and all he's been doing is cycling, training, and working on his garden.
Yeah, at one point I was doing some puzzles, but I've kind of fading away from that. I've done too many of them and honestly burnt myself out. After the training we do, there isn't really that much to do. I've been watching a couple of TV shows on Netflix and have been trying to keep myself entertained and playing some video games, but other than that, it has been pretty mellow. I'm looking for a quicker way out of this. It is definitely taking longer than I thought it was going to take and we're not really even close to the end of this, I feel. It's hard. It's just hard right now.
Watch Cooper and his Monster Energy/Star Racing Yamaha teammates train in the latest Dirt Shark video:
What do you think? Think we'll go back racing soon in 2020, if even at all? I wonder how long all of this is going to take to sort itself out.
I think it's too early to tell. I feel like the president and all those kind of people know what we're in for, but they might even be holding it back from us because they don't want us to panic like that. We're just going to have to see where it takes us. Honestly, it's just too early to tell. I feel like getting all the supercross races in as well as the whole outdoor series isn't going to happen with the time we have. It's going to be interesting to see what they're going to do with it. We'll just have to see. It's definitely a weird time right now.
As cruel racing fate would have it, you were really powering along on the AMA 250SX West Region stadium tour with your first supercross win at Anaheim and four other podium appearances. I guess if anything, you know you are right there and totally capable of winning a title, huh?
Yeah, everything was going good and everything and now it has all just stopped. It's like, "What are we going to do now?" No one really saw this coming. It's just weird. We're training for this full season to happen and then, all of a sudden, we're not doing anything. It's difficult to keep motivated, like I said, it's really hard to train for something that you don't even know you're training for. I'm just taking it day by day and seeing how it plays out.
In the span of just a couple of years, you've really become a force in the American 250cc wars. Even though everything is currently lights-out, all things considered, how do you feel about where you are at with your racing?
Yeah, I think when we talked last year, and like I told you, I was just trying to get a good base season in and see where I stood and that we were going to be going for the wins and stuff and that's kind of how it has gone. The main goal for me is to just keep progressing and make sure I do that each time out. I'm just striving to be better and so far, it has been working well. I'm still learning. I'm always learning, but getting better and better.
Your consistency is also very good. Do you ever hear about that at all?
Yeah, I've heard people call me the next Ryan Dungey because I'm so consistent. That's good for me, but I don't want to be a guy that is on the podium every weekend, I want to be a guy that's going for the wins. I feel like my podium percentage is great, but I've only got two wins [one supercross main event and one Pro Motocross overall win] to show for that, so it's a fine balance. I feel like I need to hang it out a little bit more to get up in the top spot and that's maybe where I've lacked a little bit. I mean taking nothing away from the guys I race against, they're all really good racers and it's definitely hard to win, but it's time to start stepping up to that number one spot.
What do you think? Can we get the outdoors in this spring and summer?
Yeah, I've already done a crap-load of training for outdoors, so it would be a shame to not run it. It's not really up to us right now. We've got a lot going on I'm just hoping that we get the outdoors in. That would be nice, but we can't expect that to happen with what's going on right now. I feel like I had a really good year last year and I feel like I can still be better, so I definitely would love to run it.