Although the 2020 Indianapolis Supercross didn't take place over the weekend, Racer X continues to cover a great race from Indy's past, with the 2002 event. That race served as Chad Reed's first-ever U.S. victory, so we called him to ask for his memories from the race. But we also wanted to ask Chad about the current racing situation. Chad is a team owner, team manager and racer for his own Mountain Motorsports/cbdMD team. So what's he going to do while we wait to go racing?
Racer X: Hey Chad, let's start with memories of your first win here, Indy 2002. As I recall, you were never a big fan of racing in the small-bike class, anyway.
Chad Reed: Honestly, my real goal was to do so well on a 250 in the West [Coast] races that they would just keep me in that class all year. That didn't work out, I had a job that I was hired to do [race 125SX East]. So by Indy, I was excited to go learn and see what that class was about and try to make the most of it. I knew that as much as I wanted to be in the 250 class, but I really knew that there was no other choice. My focus really was on Mike Brown and Grant Langston, really the only two guys I kind of considered as threats at that point. Like, GL and Mike were kind of well-known guys. GL was a world champ. The year before I think he crashed out of winning a race, but then I think he won a race after that, then almost won the 125 motocross championship. Mike ended up winning it. So at that point, other than James Stewart, those two were the biggest names in the Lites class, but Stewart was racing West. I was getting to race GL and Mike full-time. So that was really it. Really that's the biggest memory. The track… I don't believe it was super gnarly or anything. I actually need to watch it again. I don't know that I've seen that race since 18 years ago! I remember every race, but for some reason, that's not a memorable race. You would think it would be. The excitement of winning, I remember pretty clearly. Craig Dack was my team manager, and Phil Alderton and Dean Baker and all the YoT [Yamaha of Troy] guys from back then. Everyone was super excited. I remember that feeling of you felt like you really achieved a goal. I was in America and I won a race, and it was a real race. It wasn't just a heat race. It was a real race. So that was it. That's probably my biggest memory of it.
I remember I was at that race, and you even said on the podium, "It's good, but it's not the 250 class." You had made it clear the whole time, before the race, during the race, after the race that you wished you were racing in the premier class. I think at the time people thought that was pretty cocky.
Yeah. I took some slack. When you're riding around in fourth place in the big bike class [on the West Coast], nobody really knows who you are. At least I don't remember them [knowing who I was]. It wasn't like today where there's social media and all this kind of stuff. So I don't know if it was talked about like it was a big deal for me to finish fourth back in those days or whatever, or fifth or whatever it was that I got. I think I got maybe a fourth or a fifth. I'm not sure. Then for me, I got beat up for it because I wanted to race the big bike class. I can tell you everything about the big bike class that night, but I couldn't tell you… Honestly, I know I won the race and I have memory of being excited, but I couldn't tell you if I holeshotted or I came from behind or anything. But I could tell you that Vuillemin won the big race, and Ricky got into Pastrana in the big bike class, and all those things. I could tell you the rhythm sections that those guys did in the main event that we didn't do, all those things. But I don't have very clear memory of my own race!
That's how keyed on that class that you were? That is what you're getting at?
A hundred percent. That was the goal, always. I know I got beat up for it. At no point was I cocky. I just really felt that that was the class that I belonged in. I went straight from amateur to that class. I never raced 125 professional. I was already a two-time Australian supercross champion. My first year in Europe I was second in the world championship. I felt like I was more than qualified to be in that class. I honestly think had I have raced that championship, I would have been finished top three in the championship. I really believe that, but I didn't. Because here we're talking Lites class.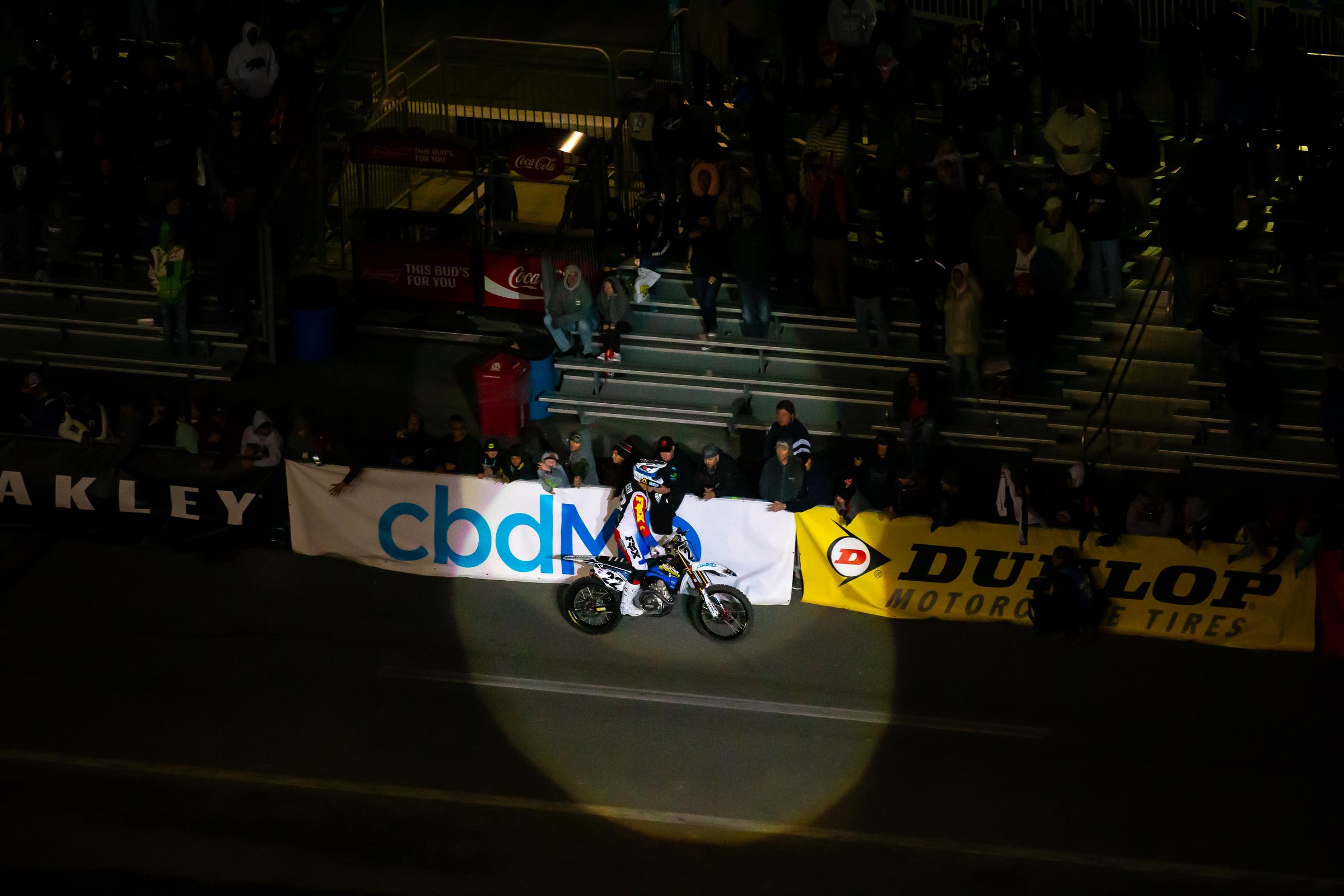 The other thing that added to it was that you were on this 250F, which at the time it was either an unfair advantage…or maybe not, there was so little data on it at that time. It was probably better than we thought. But you never said it was that awesome. You were never like, "I'm on this bike. It's so much better."
No. I absolutely hated it. There were so many times at the test track that I would jump on [Ivan] Tedesco's and Greg Schnell's 125 and rip around on it. Was it better? It definitely had its strengths, but it's not like today. In that era, it had its advantages in certain places, but definitely had a lot of disadvantages too. So I really think it was a pretty equal bike. I think it really came down to rider skill, at that point. I think that there was better 125s than our bike, but then I think that the 250F was better than some of the 125s as well. So I really don't believe that it was a big advantage like a lot of people thought it was. For me, it took a completely different skill set. You had to ride it differently. It was a four-stroke. It was heavy. It had a bunch of engine brake. It was a bike that was confusing, as well. It wasn't a real easy bike to ride.
I think that just added to the heat that you got, because people were like, "He's winning on a cheater bike, and he's saying he's too good for this class." That was the perception, I think, that you were fighting at the time.
Yeah, for sure. Now a 250F, they've been around for 18 years now, so you can do a lot to them. They've obviously improved a lot. Where back then, anytime that we did things to make them faster, they would break real quickly. They weren't very durable at all. They were real finicky. The Yamaha bogged a lot. So I hold my opinion that I think it had its advantages, but it had equally as many disadvantages.
What was that team like? You mentioned Craig Dack and "Flipper" Phil Alderton. What were those guys like? You only got to work for them for one year.
My first memory of Phil is he was awesome, honestly, for us. He was like the big dog on the team. He used to say, "Hey, Reedy." He'd look at me and he goes, "Go drill their dicks in the dirt." It's the one thing that stuck with me since then. He used to say it. Obviously, I won the first race, won the second one. So there was an expectation. It wasn't like, we're just showing up to do well. We wanted to win. I remember one thing that he said to me that he was so surprised. I was a pretty shy, quiet kid. At Anaheim 1, on the 250 two-stroke, I was running up front when Carmichael and LaRocco got into each other. Carmichael went over the bars and LaRocco hit him. I was right behind those guys. LaRocco's bike hit my exhaust pipe and just crushed it. I crashed as well. So then I essentially would have inherited second, but then I got taken down too. Then for the rest of the race my bike just ran like a vacuum cleaner, because the pipe was all smashed in. I got sixth, I think. I was so pissed off. I came in. I took my gear off and I just left. Didn't say anything. I just left. I was so mad! Right then and there I think he [Alderton] got a real look into, this kid's real. He wants to win. He just finished in the top ten, just missed the top five, with a crushed pipe and a bike that really wasn't up to top-ten caliber, and here is he is pissed off at the world at his first race. So, he was awesome. I had worked with Dack a year and a half before that, so I knew him. So it was a perfect case scenario for me in the fact that as a rookie taking on a new challenge, a new country, I had some familiar faces around as well. So that was real nice.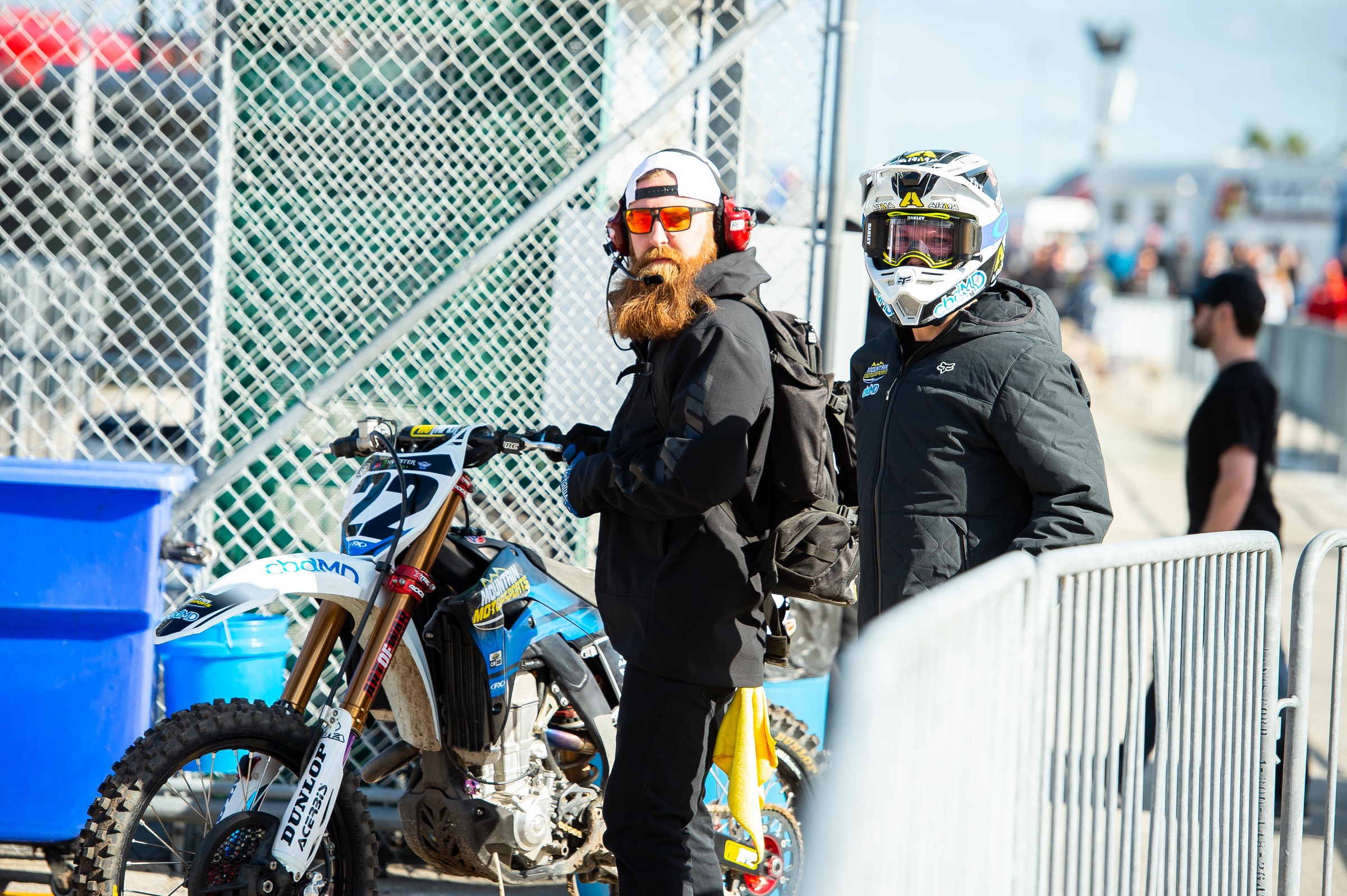 Let's switch to the current day. You're really a team owner, team manager, and a racer. What the heck are you even doing right now? Are you hurriedly trying to make plans, or are you just in wait mode?
On the bigger scale is I'm in this crazy hold pattern because I don't know if I need to jump into a simulator and start driving cars, because that's what I want to do next, or do I continue riding my dirt bike? It's strange. I tried to take advantage of the one week that we were off, and then right when I started getting information that the first one was canceled—obviously, I was lucky enough to have direct communication with the Feld [Entertainment] guys and immediately everything was spiraling. At that point I canceled the whole series. I don't have any current flights or hotels for the rest of the season. But the first week, like last week and then Monday this week, I was real motivated to get out there and kind of make up from lost time, get my riding back, get my fitness back. But now I don't really see an end to this. So now I'm kind of like, this is unsustainable. It's weird. I'm currently sitting in my car. I just got done doing a mountain bike ride with [Justin] Brayton and a couple of the NC boys. It's weird, because it's not only affecting what I do but everything that I know is motorsports. It's so strange. I have this crazy desire to follow all forms of motorsport, and currently there's literally nothing happening. So in my world, life is really weird because there's no motorsports, not because I'm fearful of a virus going around. It's weird.
So for your team, what do you tell your guys?
A lot of my guys get paid per weekend. Ben [Schiermeyer, mechanic] is the one that keeps up on my practice bikes and everything like that. So Ben and I have kind of stayed on the grind. Everyone else is pretty much in a hold pattern at this point.
That's the whole industry. I don't think people even know how their contracts work, on factory teams.
I would imagine that it's not like you can stop paying people because we're not racing. This is a huge problem throughout the world. This is a forced issue, so it's strange.
The April 2020 Issue of Racer X Illustrated
When It's Time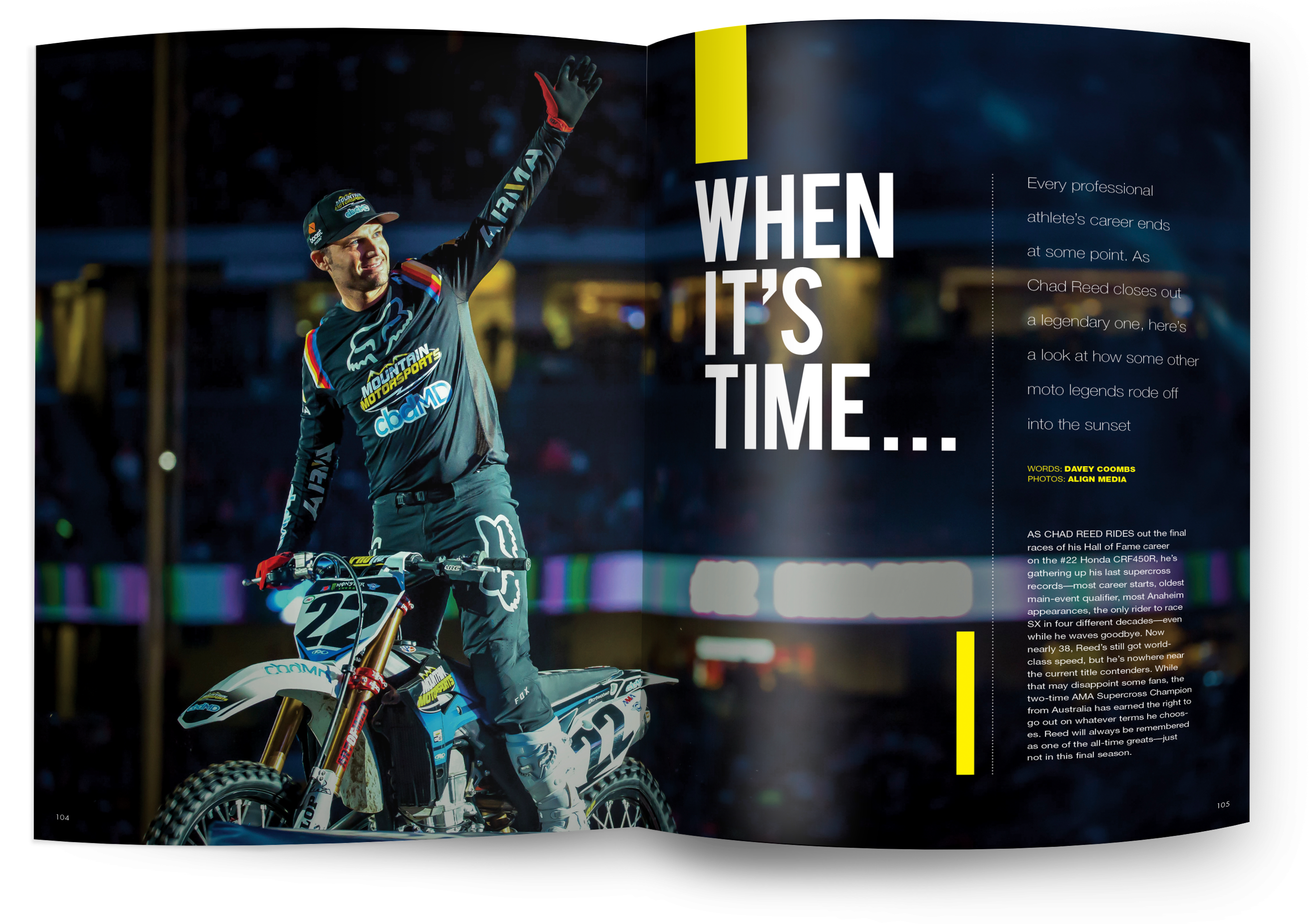 Every professional athlete's career ends at some point. As Chad Reed closes out a legendary one, here's a look at how some other moto legends rode off into the sunset.
Read Now
Preview Now
So that's your position. As a racer, team owner, team manager, whatever you want to call it, you really just don't know.
Yeah. I really don't know. My opinion is we don't get this thing done anytime soon. My hope is that the world goes back to normal here soon. The problem that we have is we're not like NBA or NASCAR or Formula 1 or MotoGP where they somewhat can manipulate their season to get it in, because it's just the one series. We go into motocross. My hope is the world sorts itself out, and then maybe September, October, November we get the series wrapped up. I keep hearing Vegas. Vegas keeps getting brought in. So maybe we go do some double-headers in Vegas. I would be in full support of that. I think that that would be great. But then again, that's going to be difficult for me because I have car races in August, September, October. So at what point does everything start to conflict? No one has answers, at this point.
Your desire to continue racing is there, though. Even if it is September or October, you still want to swing a leg over a dirt bike?
Yeah, I really do. It bums me out because the last interview I did was with you after Daytona, and it's like, I truly was having fun again. I was enjoying it. I was showing up Mondays to ride and be motivated. I was starting to get my riding back. My fitness was starting to come back. All those things were starting to come into play. Then obviously now it's just kind of like, I wouldn't say it's on pause because I'm still working, but the pause part is I don't think we go racing anytime soon. So if I was to say, "Hey, that's it. That's a career done," it would feel a little weird to wrap it up like this. So we'll see. I still feel motivated. I didn't feel like I got to finish what I started. So if for whatever reason we don't go racing, then there's a good chance that I might do some races next year. I don't know that I want to do a full, hard-core, sign me up for 17 races, but I do, right in this moment, feel like I want to keep racing. Seven months or eight months from now when I start training for supercross again, maybe I don't feel that way. It definitely has a weird feeling where I'm like, "Well, I wasn't really done yet."
I think everybody's mentally prepared for certain things. You told me that even 20-minute mains feel different than 20-lap mains. Everyone has a normal race routine. It's got to be super hard to wrap your head around this, because it's literally never happened, ever, where they just aren't races.
No. There's always forced times like this when you're hurt, but you still get to watch it on TV or something like that. Right now, it just seems so bizarre that literally the world is on pause right now.