The 2020 Indianapolis Supercross did not take place over the weekend as scheduled. Monster Energy AMA Supercross is postponed for now. More races might be coming, but the March date in Indy is done.
So what to do? Let's celebrate the rich history of this sport and this race by looking back at one of the most dramatic races in Indianapolis Supercross history, from 2002. Here we go.
To understand the importance of the 2002 Indianapolis Supercross, you have to compare what it felt like then to what it looks like now. The race once felt like the beginning, but it actually turned out to be the beginning of the end.
There are three main players in this race. Travis Pastrana led early with David Vuillemin and Ricky Carmichael right behind him. Even though Vuillemin would end up the race winner, the drama in this story really revolves around Pastrana versus Carmichael. This was a highly-anticipated matchup since A). Carmichael had become the new establishment in the series after wrestling the AMA Supercross Championship away from Jeremy McGrath the previous year and B). Pastrana was the up-and-coming superstar out of the 125 class. Established champ versus hot young challenger is always a narrative to follow, however, this one had extra heat.
See, by early 2002, Carmichael was at an all-time low from the fans perspective. He had dethroned the popular McGrath, and then switched from Kawasaki to Honda. It gave fans the impression that Carmichael had sold out for the money, and a younger RC had yet to master the media game in order to spin the move in his direction (Carmichael would get much, much better at this in his later years). His Honda debut came at the U.S. Open in Las Vegas, where he was introduced to the crowd wearing a cape and crown. The immediate perception was this was an attack on McGrath, known as the King of Supercross. Mix that with the Honda move, and the fans booed immediately. A few months later, by the February running of the Indy race, the feelings remained.
Supercross
Rider
Hometown
Bike
1
David Vuillemin
Murrieta, CA

United States

Yamaha
2
Ricky Carmichael
Havana, FL

United States

Honda
3
Stephane Roncada

France

Kawasaki
4
Nathan Ramsey
Hixson, TN

United States

Honda
5
Mike LaRocco
La Porte, IN

United States

Honda
6
Ezra Lusk
Bainbridge, GA

United States

Kawasaki
7
Jeremy McGrath
Sun City, CA

United States

Yamaha
8
Travis Pastrana
Annapolis, MD

United States

Suzuki
9
Heath Voss
Prior Lake, MN

United States

Honda
10
Damon W Huffman
Saugus, CA

United States

Suzuki
Full Results
Meanwhile, Pastrana was seemingly everyone's favorite rider for his personality and flair. In Pastrana's heydays of racing, he was winning AMA 125 Motocross Nationals while also winning X Games Freestyle gold medals. That's an achievement never accomplished before or since. When he moved up to the 250s, the anticipation was at a fever pitch—and if he could beat the now-disliked RC, well, so much the better.
Indy, round six, really became their best chance to battle. Carmichael started his title defense in the worst way, crashing out of the Anaheim opener. It took him a few races to get back to speed (he won round four). Pastrana was learning the ropes each week in his rookie season, getting better with each round.
At Indy, Pastrana passed Vuillemin for the lead, and then as Carmichael battled past Vuillemin for second, Pastrana set sail out front. Carmichael had figured out a better rhythm through a long jump lane, and he used that to close the gap on Pastrana. Then, Carmichael used the inside line down the start straight to pass Pastrana for the lead—the same move he used on Vuillemin earlier.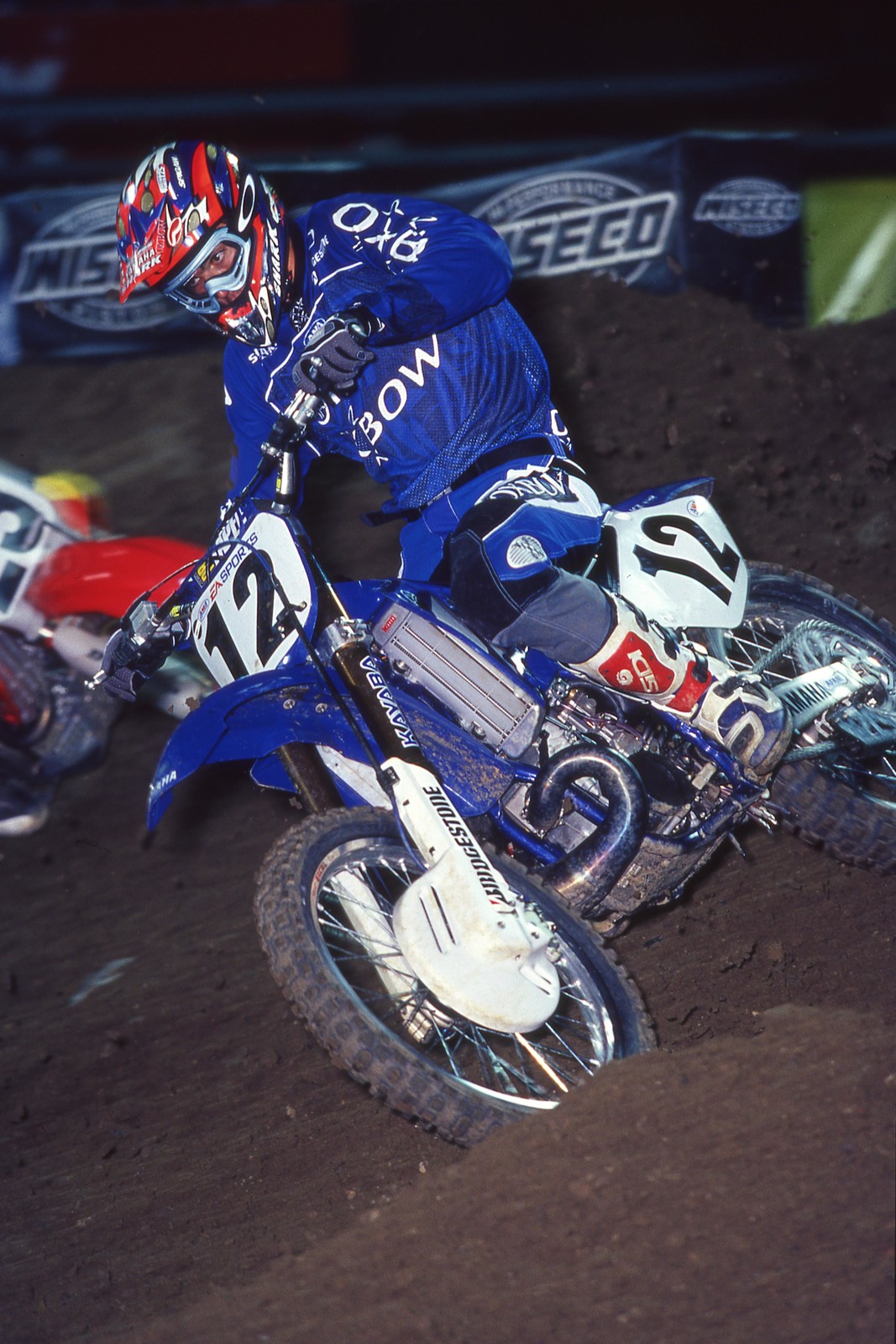 Pastrana did not give up.
"That's what's impressive about Pastrana, is that he can come right back," said David Bailey, color commentator for the race on ABC sports. "He can raise his pace and not just ride comfortably. He can ride at whatever level it takes to get the win."
Pastrana kept the heat on Carmichael, and then Carmichael swapped sideways in the whoops, and Pastrana moved back into the lead.
"You see what I mean now," said David Bailey, color commentator for the race on ABC sports. "Carmichael caught Pastrana so quickly, but Pastrana is able to keep pace with him and learn a little bit."
One thing he didn't learn, though, was how to jump that rhythm lane perfectly each lap. He'd get it a few times, but then on lap 12 Pastrana bobbled. That led to the big incident. Pastrana tried to get back to the inside in the corner to block Carmichael from passing him. They collided, and Pastrana went down.
"I saw an opportunity to get ahead of him and I took it," said Carmichael to Cycle News. "I didn't go in there to take him out. He just popped back into the rut, and he was on the outside and I was already there, and I almost crashed as well. I'm not out there to try to tag anybody."
Even though Pastrana caused the incident by making the mistake, the fans immediately took his side and started booing Carmichael.
Meanwhile, they had a new hero in Vuillemin, who had stayed on RC's rear wheel the whole way. He waited and waited, learning new lines as the track got rougher and more rutted.
"I remember hearing it, [the boos]," Vuillemin told us yesterday. "It was crazy. It was like a wave of boos everywhere he was on the track."
Vuillemin didn't want to make the pass too early and risk Carmichael ratcheting his pace up, figuring out his lines and getting him back. As the white flag came out, Vuillemin made his move. The crowd went nuts.
"It was tricky to go inside in the corner after the tunnel," said Vuillemin in an interview we did with him from 2012. "It was like a single to the tunnel, and the landing to the tunnel was really steep, so if you clipped it even a little you couldn't go inside. All moto I was trying to get the downside of that tunnel jump perfect so I could get to the inside. Ricky was clipping it a little bit and going wide. I knew it was a lap to go, so I had to go for it—I went to the inside and got the lead."
For Vuillemin, the win was a high-water mark. He beat Carmichael straight-up for a win. He's one of the few men in the world that can say he has beaten Carmichael and McGrath for race wins. He also stretched his points lead to 28 points, but an injury suffered before Daytona would lead him to miss the race and lose all of those points. Carmichael would win the title, and now, "Could RC have caught him?" lands as one of the more solid what-if arguments in supercross lore.
But there's an even bigger one. The Carmichael/Pastrana collision while fighting for the lead was supposed to be the beginning of a great rivalry. Pastrana, as a rookie, was already showing the ability to win races on a 250. Surely, fans were in for years more great battles between the two, and then, maybe the even younger James Stewart (who was already lighting things up in 125SX West that year at age 16) would join them. These battles seemed destined to happen.
Instead, Pastrana succumbed to illness and injury over and over. He never got back to the heights of that early 2002 campaign. Indy would be the last time he and Carmichael would tussle for the lead in a main event.
Time would do great things for both, though. Carmichael would keep winning titles and gain Greatest of All-Time Status. Pastrana would continue his freestyle hijinks and become arguably the most popular motorcycle rider of all-time. They both had their path and they both found their success—but Indy 2002 is the only time two of the biggest stars the sport has ever seen battled each other, for the lead, on the biggest stage in dirt bike racing.