Winchester, United Kingdom
MXGP of Great Britain
FIM Motocross World Championship
As if to emphasise the unpredictable colouring of the 2020 FIM Motocross World Championship, the weather changed and swirled around the magnificent Matterley Basin circuit for the opening round of twenty. While there, one rider bagged his 87th success while another registered his very first.
1. A Winter's tale
Eyebrows were raised when Matterley Basin, one of the best and most popular circuits on the FIM World Championship slate, was handed round one of the 2020 series. The first opener in Europe since 2012 survived a gamble with the notoriously unstable English climate late in March 2019 when it filled the role of the second fixture on the calendar and the initial European stop.
On Friday it looked like the increased optimism around the appointment was overcome by a case of bad judgement. The winter rain barely stopped the entire day and was followed by cold, gale-force winds that caused the Skybox start gate, VIP and podium structure to topple over into a messy, almost-artistic expression of steel carnage during the evening. Saturday's practice and qualification was slimmed to just one session per class, and the only significant downpour of the day occurred for the duration of the thirty-minute MXGP chrono. It was a damp beginning in more than one sense.
By Sunday, the Grand Prix was saved. Sunshine and bright conditions helped dry the site and, considering the horrific weather on Friday, the public responded with a decent turnout. The weather created challenging viewing but worked out well for the track, that again had designer Johnny Douglas Hamilton applying his acumen when it comes to soil preparation and preservation. Rutty, technical but still quick, spectacular and with possibilities for choice, Matterley converted into a very worthy arena to open Grand Prix racing.
2. The happy few
Matterley saw an 'old and new' Jeffrey Herlings. The Red Bull KTM man disappeared with the first moto in familiar fashion but he couldn't match World Champion Tim Gajser's start in the second and conceded valuable seconds trying to relegate teammate Tony Cairoli. Once into second place he faced a ten second gap to the Slovenian and instead of heightening risk and trying to narrow the margin towards an overtaking move that he didn't require for the overall victory (Gajser had crashed twice and finished eighth in the first moto), the 25 year old – newly fixed to KTM for another three seasons after 2020 – eased into cruise mode and to the red plate. The added maturity was especially important as the lowering sun meant visibility was poor on a quick track that was considerably rough by the time of the second motos.
Gajser was riding a prototype CRF450R that the Japanese covered with an information 'blackout' although it was curious to see that it appeared a more compact motorcycle than the previous machine, and reverted back to one exhaust as opposed to two. His vastly improved performance in the second moto meant MXGP followers have still to see Herlings and Gasjer start toe-to-toe, which is a match-up worth waiting for.
According to TV commentator Paul Malin, Tony Cairoli equalled Stefan Everts' all-time podium record with his 3rd place hiking his total up to 166; all achieved since 2004. "On one side it is nice but on the other it makes me feel a bit more old!" the Sicilian said. "I'm really happy about this and it means we are quite consistent these years." Cairoli's latest trophy was immensely impressive. The 34-year old only completed one pre-season race due to the slow nature of his shoulder injury that kept him away from Grand Prix since last June. To complicate matters further, he also suffered a second-degree tear in the PCL of his right knee the previous week and had to ride with the leg heavily taped. "I don't know what is next because it is not a broken ligament so I cannot really fix it," Cairoli admitted, clouding-over his result. "I just need to work as much as possible on the muscle to make it as stable as possible. I cannot really attack on the right corners and always have to stay on the pegs. Today all the ruts out there were not helping. We will see what we can do next."
Elsewhere, the top five pace of HRC's Mitch Evans means the young Australian's profile continues to bloom, Monster Energy Yamaha's Gautier Paulin was competitive to take fourth place in the second moto, and it was good to see Monster Energy Kawasaki's Clement Desalle looking feisty after he also missed the second half of 2019 due to a broken leg. Speaking of snapped limbs, down in 10th position was double MX2 World Champion Jorge Prado who exceeded expectations on his big bike debut only two and a half months since he broke his left femur. He rode well in the wake of just two weeks back on the KTM 450 SX-F. Romain Febvre again had reason to despise the first race: the Frenchman hurt his knee before coming to Matterley and the joint proved too painful to lift. Twelve months after his broken foot in Argentina, Febvre was again limping away and cursing his luck.
Standing Construct GasGas Factory Racing's Glenn Coldenhoff didn't get the starts to do better than 6-6 but his 8th overall was a small milestone for the brand in their FIM World Championship debut. The red bike is essentially a KTM 450 SX-F with a few aesthetic mods although, like Husqvarna, development will deviate away from the Austrian orange underneath and eventually give the Catalan-firm their own technical identity. The rush to assemble the famous trial marque for motocross over the last six months meant that Coldenhoff had been training with a KTM through most of the winter.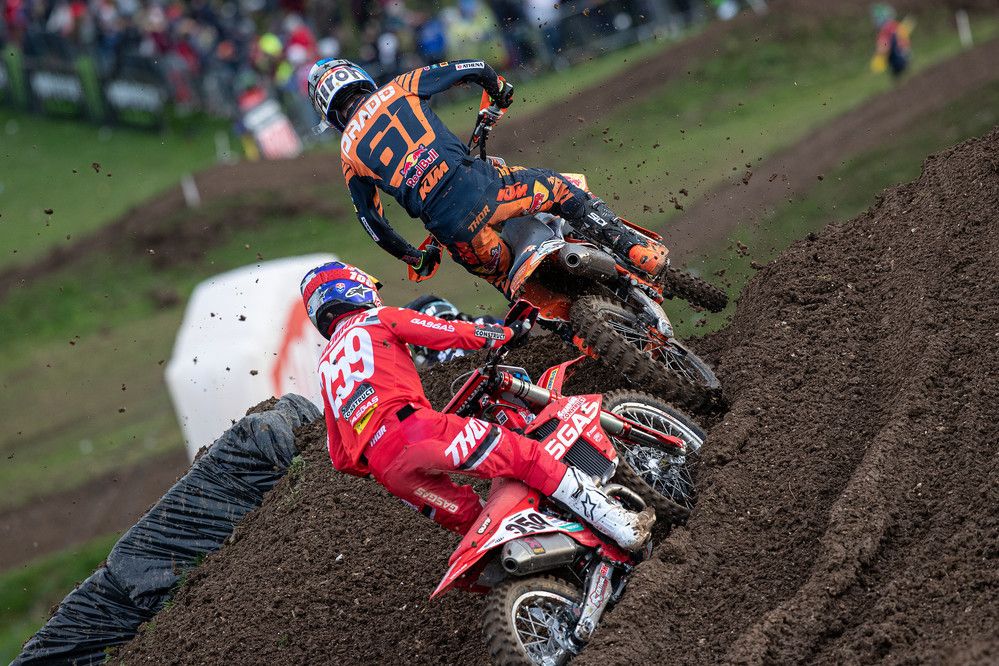 In the paddock, Grand Prix fans might have caught a glimpse of the brand new official MXGP trophy, designed by Spaniard Marc Garcia (responsible for the MotoGP and WorldSBK creations) as part of a new consistent initiative for the premier class #1. The flowering mix of aluminium and carbon carries the names of every 250cc/MX1/MXGP world champ since the FIM competition began.
Just as eye-catching was the innovative new semi from the forward-thinking Rockstar Energy Husqvarna IceOne team that involved a raised glass box platform, and immediately debunked the need for an awning and the many hours lost building and disassembling the structure by the crew. Lead rider Pauls Jonass was luckless in Matterley with a crash in both motos; the second one halting the progress of the powerful Latvian.
MXGP
| | Rider | | Motos | Bike |
| --- | --- | --- | --- | --- |
| 1 | Jeffrey Herlings | Netherlands | 1 - 2 | KTM |
| 2 | Tim Gajser | Slovenia | 8 - 1 | Honda |
| 3 | Antonio Cairoli | Italy | 4 - 3 | KTM |
| 4 | Jeremy Seewer | Switzerland | 2 - 8 | Yamaha |
| 5 | Mitchell Evans | Australia | 3 - 7 | Honda |
Full Results
3. Green with judgement
The MX2 class offered-up gripping entertainment with a zany mix of excellence, mistakes, and close action that saw the top five riders jostling for the win and podium positions split by just four points at one stage in the second moto. The races belonged to Monster Energy Yamaha's Jago Geerts and Red Bull KTM's Tom Vialle, but both committed sizeable errors to reflect their still-developing stature in the division. Vialle had a fifteen second lead in the first sprint until he cased the uphill triple, stalled and dropped back to sixth, while Geerts tumbled out of second position in the second race and had to push hard to move back to fourth and ensure the overall victory; thus becoming the first Belgian winner of an MX2 Grand Prix since 2012.
The speed of former European Champion Mathys Boisrame, another Australian hotshot in Jed Beaton and Red Bull KTM debutant Rene Hofer (who led 10 of 13 laps in the second moto and finished fifth overall in his first race as full-time member of the factory squad) reinforced the exciting rude health of the category. Vialle in particular should have gone 1-1 on the day at a circuit where he toasted his maiden podium appearance almost twelve months previously as a rookie. It was also ominous for the opposition that Hofer's strong mentality created another sight of a KTM 1-2 in the second moto. "It is only the start of my second year and it was the first time I had really been out in the front like that," Vialle said afterwards. "It was a stupid mistake and normally I wouldn't have jumped in that situation, but I thought it was OK. I landed short and stopped the bike. My hands were a bit painful and I was wondering whether I could ride well in the second one but after the sighting lap it was OK."
Credit to Maddii Husqvarna's Alberto Forato – one of most colourful riders in the paddock – for his 6th overall amongst the factory teams. The robust Italian suffers with starts (and had been using Tim Gajser's old tactic of training with a 450 during pre-season before jumping on his race bike) but charged like Matterley was his last GP. The nineteen-year old is also missing valuable prep time courtesy of a broken lower right leg that set his timetable back for his first full Grand Prix season. Talk about an underdog. Forato will very quickly be gaining hero status at this rate.
4. (Not) Rotten in Denmark?
MX2 championship favourite Rockstar Energy Husqvarna's Thomas Kjer Olsen made his first race outing of 2020 after a wrist injury had left the tall Dane in limbo during the final important few weeks of pre-season. A nervy and lacklustre 11th in the first moto led onto a more customary display to 5th in the second. 'TKO' has classified 3rd, 3rd and 2nd in his three seasons in the class and this year will be crucial, not only for his title credentials and questioning over where he can make the last final hurdle but also for the link into MXGP and where he could fit his sizeable frame among the factory fabric.
With Olsen mired in the top ten it was left to countryman Mikkel Haarup to maintain Denmark's podium presence. The eighteen-year old showed Olsen-esque consistency with his 3-3. Previously a rider who shone in spurts during EMX125 and 250 graduation steps, Matterley was a statement of intent by the F&H Kawasaki man. In fact, his maturation and competitiveness combined with the top ten pace of Boisrame and the lingering EMX250 Champion, Roan Van De Moosdijk (8th overall) meant that the Dutch crew had been doing their homework during the winter. Former GP winner Marc De Reuver's latest students are burning with potential.
MXGP
| | Rider | | Motos | Bike |
| --- | --- | --- | --- | --- |
| 1 | Jago Geerts | Belgium | 1 - 4 | Yamaha |
| 2 | Tom Vialle | France | 6 - 1 | KTM |
| 3 | Mikkel Haarup | Denmark | 3 - 3 | Kawasaki |
| 4 | Jed Beaton | Australia | 2 - 6 | Husqvarna |
| 5 | Rene Hofer | Austria | 8 - 2 | KTM |
Full Results
5. Arrows of Fortune
Matterley Basin has been a mixed bag for Americans in the past. The poor luck for the 2017 Nations team represented a nadir in terms of results for what has been a persistent dry spell for Team USA but then Darian Sanayei won European EMX250 races comprehensively on the English soil, although he arguably did not reach the same peak of hype in subsequent years in MX2. Former GP racers Ryan Hughes and Tallon Vohland were overseeing the efforts of Glenn Coldenhoff and Max Vohland respectively (the teenager taking 16th overall in the EMX125 class, and his father admitted he hadn't tackled mud quite like the English terrain in the first moto on Saturday). Thomas Covington made his debut in the premier class and for a return to the site where he sadly suffered a knee ligament injury in the '17 MXoN. Riding the satellite Gebben Van Venrooy Yamaha, the 24-year old is still working to full race fitness after his 2019-wrecking illness and posted a conservative non-points scoring outing to slowly get the ball rolling on his second Grand Prix adventure.
Liam Everts conquered the EMX125 category with a 1-1 and the path of progression for the third generation of motocross racing talent from the Belgian dynasty continues at pace. Everts stood out for his technique and speed at a place where his father had been so spectacular – in remarkably similar conditions – during his final race appearance at the 2006 Nations.
Reigning WMX world champion Courtney Duncan opened her account for 2020 with a maximum 1-1 deposit. The fast-New Zealander still has four titles to grasp to equal Kiara Fontanesi; the Italian was on the podium in third spot (with a blacked-up Monster Energy KTM) and behind Larissa Papenmeier for her first major race appearance since becoming a mother for the first time in 2019.
MXGP heads to the 'all-weather' shallow sand of the Eurocircuit at Valkenswaard next weekend for round two.