Glendale, AZ
Glendale
Monster Energy AMA Supercross Championship
"It's always good to go from 22 points down to 10 points down," pointed out Austin Forkner after a few breaths, a cold drink and wipe of the brow. He's just nailed down the overall victory in the 250SX West Region Championship on Sunday evening in sand blasted Glendale, Arizona.
Saturday looked like real work. When we called him on Sunday, things were much different.
"It's all good, Eric," he said. "We're home now. We flew out of Phoenix this morning and it was only a 45-minte flight, so we've been home for a few hours now.
"It's funny, you know?" Forkner went on. "If you get on the podium at a supercross, you usually don't get out of the stadium until 11 or even midnight. Last night after the race, we went and ate at a restaurant up the road and we didn't even leave there until past 1 in the morning. From there, it was back to the hotel to shower and to get ready for the morning and it's already 2 am. When we eventually do get home, we just sleep all day and watch movies and stuff and just chill."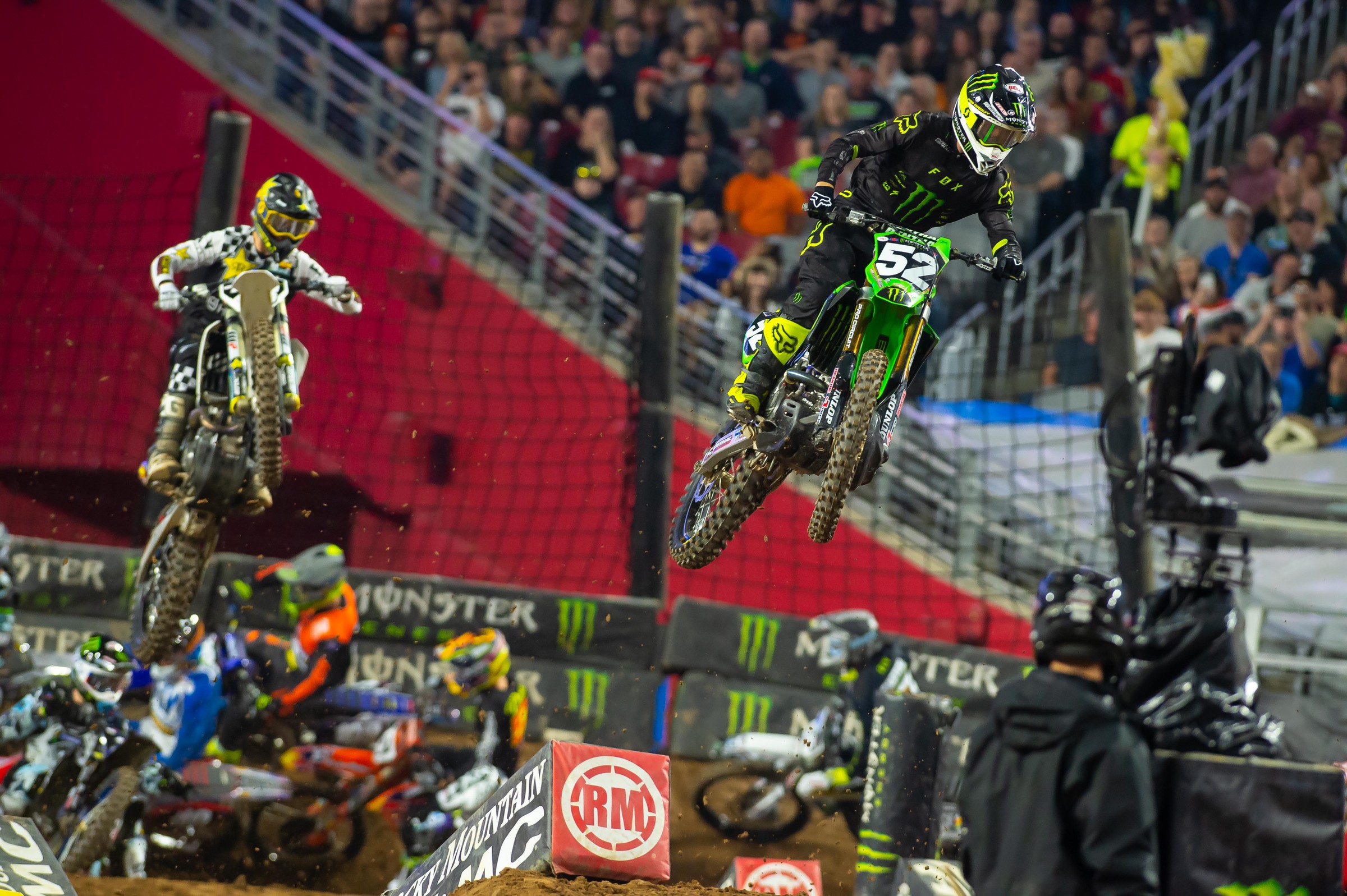 After a hectic race weekend, a rider can really Electra-glide it through Sunday, especially if you won the night before, I'd imagine.
"Yeah, I use Sunday, especially if I win or do good, to get pizza and ice cream and lay in bed all day," answered Forkner. "That's how we treat Sundays, especially if I have a good night before."
Spooling up and executing remarkably quick and efficient starts during Saturday's three-race format, Forkner straight-up shined in Glendale. He needed to, after a crash-induced 17th the previous race in Anaheim. He came out and established himself quickly in the desert.
"In the first two races, especially, I came out super aggressive and was just going for it because I knew that if I could win both of them, that I would have a gap and could control the evening," reflected the Monster Energy/Pro Circuit Kawasaki pilot. "I just had really good intensity and just kind of broke away quickly and nobody could really catch me. In the third one, I knew that I didn't need to get [Dylan] Ferrandis to get the overall and I kind of had some sketchy moments on the first lap because I didn't get the best start. During the first few laps of the moto, guys were pinballing off each other in the first couple of rhythm sections and in the whops and I almost ran into a few guys and a few guys almost ran into me. I tried to latch onto Ferrandis near the finish, but he was kind of just getting away, so I just kind of managed the race and rode some laps and that was it. I knew all that mattered was the overall, so I went 1-1-3 to get the overall. The first two mains, I rode really well. The last moto, not so much, but I really went into manage mode once I got into third. I wanted to win them all, but it just didn't end up like that. I was happy. My riding was good. The bike was good. It was just a solid night."
As far as the Glendale circuit itself, Forkner went on to explain that it all, good, bad or even ugly, seemed to manifest itself to his race day lining. "They kept the track prepped pretty well all night long; they prepped the track a lot before every one of our motos. Nothing got torn up except for the whoops and they were blue grooved and a little sketchy, but everything else was kept pretty fresh. You could charge stuff and you could ride pretty much all-out. The track wasn't super, upper technical, but the whoops were tough. It was much more about hitting your marks every lap. It was not a super-tough track, more just more about being consistent. You could charge the track, but you pretty much had to be really on it every lap."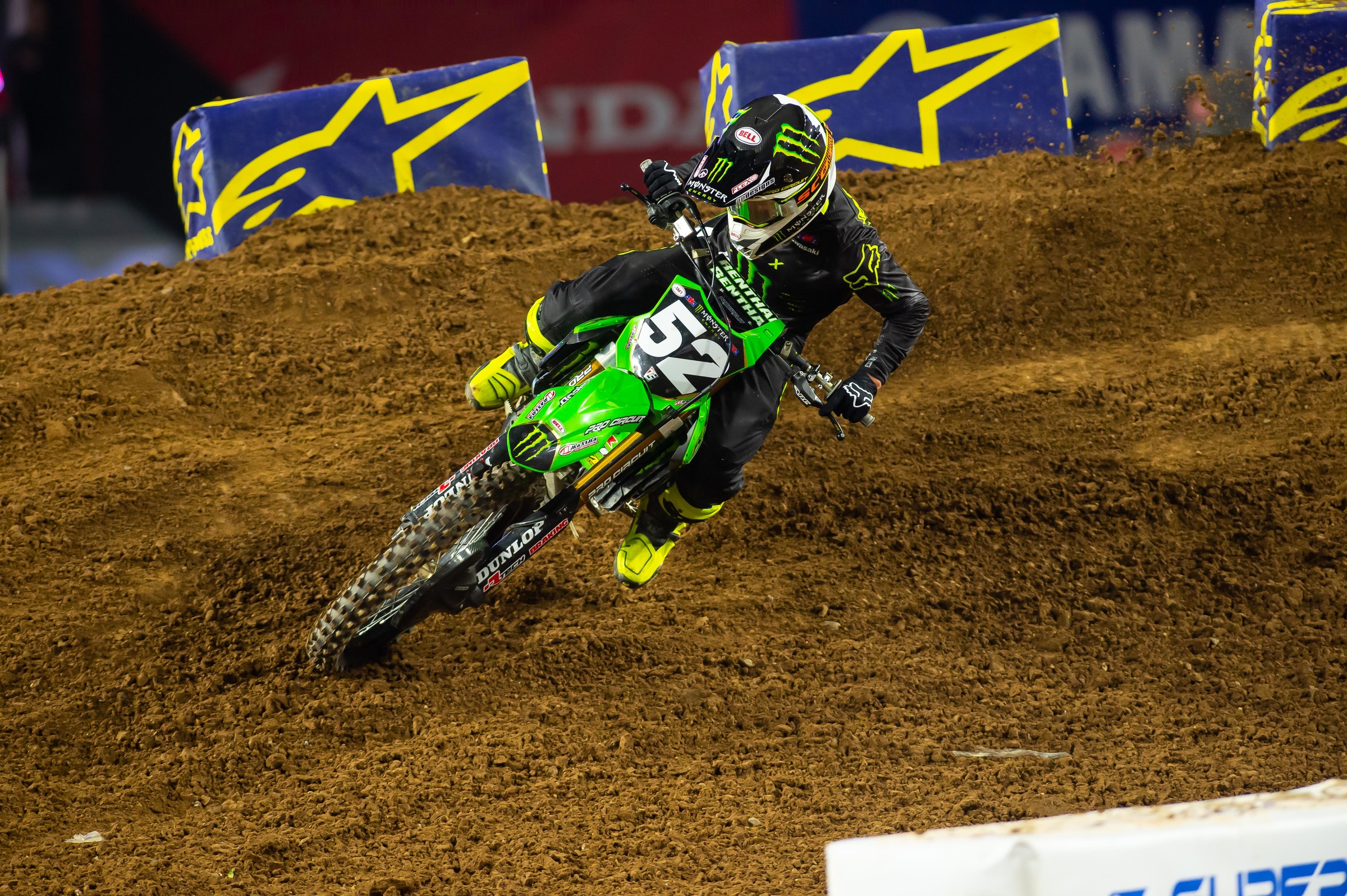 "Hey Austin," asked this writer before the two-time '20 race winner had to begin looking northward to Oakland, California, and next Saturday evening's Monster Energy AMA Supercross Championship round. "Our mutual buddy Ricky Carmichael spoke a lot about the three-moto format and how well you performed in the format due to your excellent starts, early race pace, and overall race management. Thoughts?"
"Yes, that was what I really wanted," explained Forcer of his launch speed. "That had happened a couple times to me this year, but it felt good to get back-to-back starts and to be up front and to be the guy kind of gapping those guys and handling the race. That boosted my confidence and, yeah, it felt good to be in clean air. Chasing guys always sucks. In the third race tonight I did struggle a little bit because I did have to chase guys and then I kind of had some close stuff happen to me and I tensed up and thought, 'Don't tense up and don't throw this away and don't make any stupid mistakes.'"
In all, the win was huge step in the 250SX West Championship fray. Forkner, who has been, in all reality, very inconsistent thus far in the '20 West series, is now seeing the brighter side of the big picture.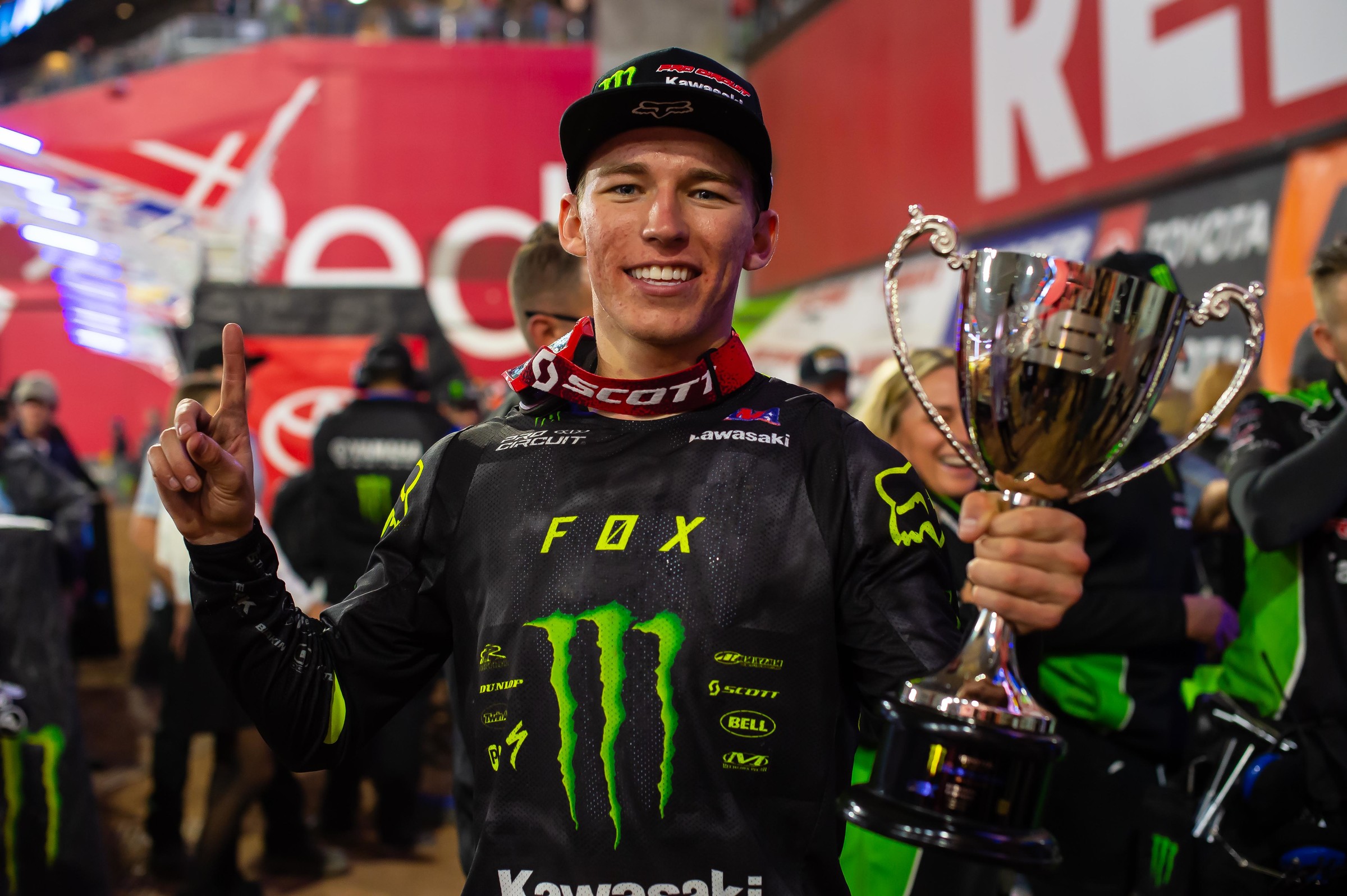 "Justin Cooper didn't have a very good night and he actually helped me out a lot," Forkner explained. "I mean, I gained 12 points in one night. I really dug myself halfway out of the hole, basically. Just the fact that I came back from 22 points down and got 12 points out of the way in one race is really cool. I'm really pumped about that. I'm really pumped about coming back from a bad race last weekend and doing really well at Phoenix. I feel like with speed and everything, it was my best ride of the season. After last weekend, we did a lot of testing on the bike this week and we worked on whoops and technique and everything, so we were happy to see it pay off in the race.
"I feel pretty locked in now," nodded a very focused Forkner. "I feel good going into these next two races here out west. San Diego, well, we'll just drive to that race. We'll fly to Oakland. It's a short flight. We'll be right in our own backyard for these next two races before the break. I'm hoping to make up as many points as I can going into the break and I just want to put together good races. I just want to put something together that I can carry through the break that will help my confidence."
From Monday through Saturday, the hard work will continue as the torrid fight for this year's 250SX West Championship—right now hotly contested between Forkner, Dylan Ferrandis, and Justin Cooper—keeps on chugging. There's only one day when a rider can relax, and that's Sunday, especially when it's time to celebrate a victory.