Anaheim, CA
Anaheim 1 (A1)
Monster Energy AMA Supercross Championship
Monster Energy/Star Racing Yamaha team manager Wil Hahn had his riders Justin Cooper and Dylan Ferrandis finish 1-2 in the 250SX West Region main event.
Christian Craig, who recently had his suspension lifted in an agreement with the FIM, competed in his first official race post-suspension. The GEICO Honda rider landed a fourth place finish but was awarded third place after Monster Energy/Pro Circuit Kawasaki's Austin Forkner was penalized for his move in the main event.
JGRMX/Yoshimura Suzuki Factory Racing's Alex Martin finished second in his heat race and was up front early in in the 250SX West Region main event when he stalled his bike, causing him to drop to the back of the field. He fought to a tenth-place finish.
Our Steve Matthes caught up to all three after the night show.
Wil Hahn | Monster Energy/Star Racing Yamaha team manager
Racer X: One, two. Couldn't have gone much better for you.
Wil Hahn: No. The day couldn't get better. One, two in each practice, won both heats, one and two in the main.
I got something that didn't go well.
For me, today, as long as I've been doing this, this was like a dream.
Dylan's start. That was about the only negative of the night.
Yeah. The heat was good, we just made a mistake in the main. Nothing we can do right now.
Track got tough and technical for A1, did you think?
Yeah. I thought all around the whole day it was more technical than normal first round. I think the dirt had something to do with it with the rain we've been getting. I thought it was awesome. I thought it was great.
Normally A1 is a little tamer.
I think it was bitching all day.
Justin Cooper won his first supercross tonight. Us experts maybe didn't spend enough time looking at Cooper's career supercross results without a win, but so many podiums. We talked about Forkner and we talked about Dylan and we talked about all these other guys. Man, Coop.
Yeah, unbelievable tonight. Not that I didn't expect it, but that was even more so. I see him ride every day and you know he's got it, but he really rose to the occasion tonight.
Great job. Congratulations. Barcia, what a night.
Unreal. Just like last year. We did the same thing. One, two, and then he won last year. It's pretty damn cool. Blu Cru all the way.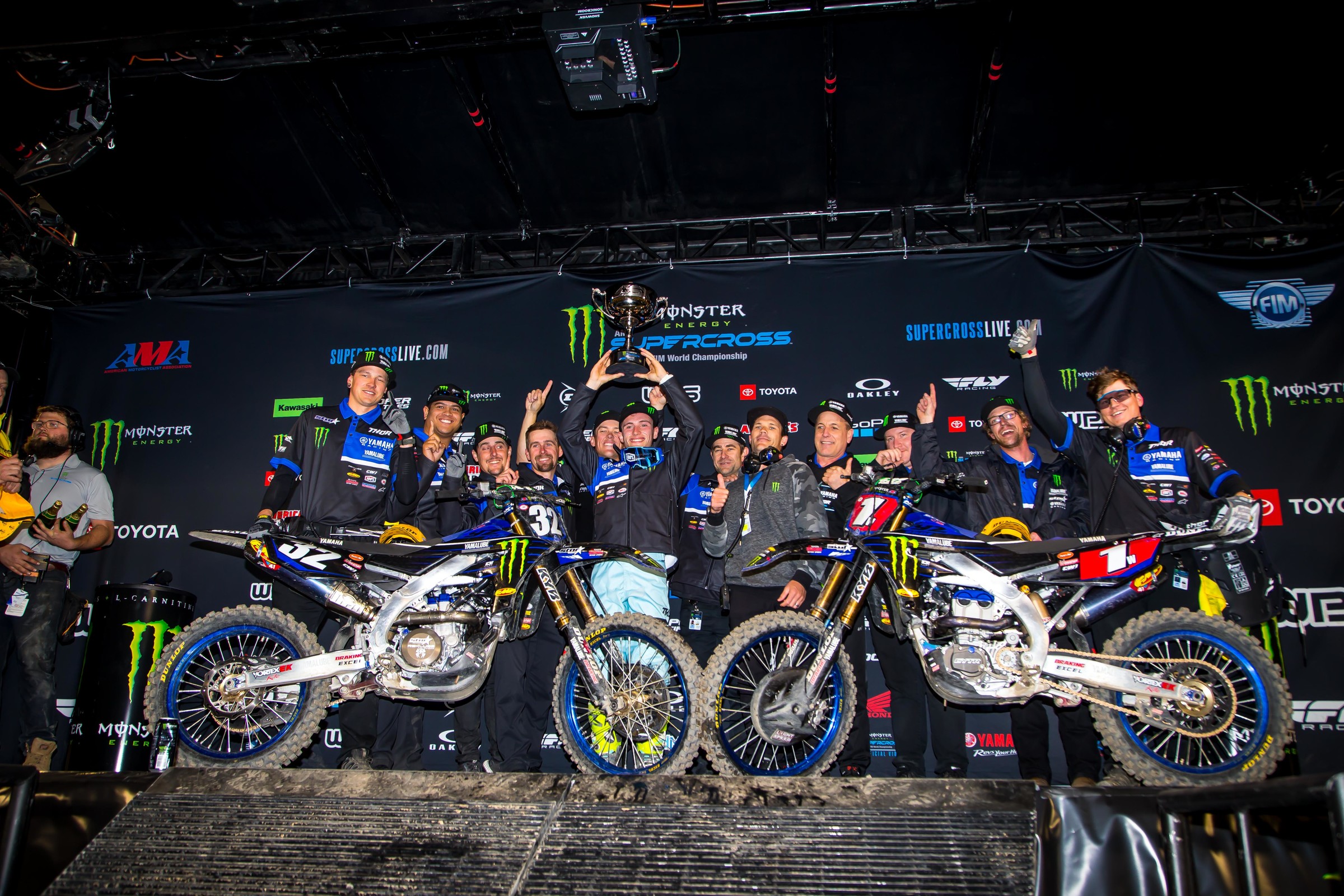 Note: This interview was conducted immediately after the race and before the official ruling of Forkner's penalty.
Racer X: It's not a podium. I'm sure you wanted that, but a solid race. Fourth place. You'll take it.
Christian Craig: Yeah. It was pretty good. The whole day was solid. I didn't know where I was going to even fit in here. I'm happy to be here in the first place, so that was good. All day was solid. I was right there in times. In the heat race I was right there. I was pacing myself with Ferrandis for a while. I started third, was in podium position for a while. Made a few mistakes. Ferrandis got me. By that time, they kind of got away, which I'm pretty bummed about. I wanted to really latch onto them for as long as I can. So I can't be too mad. It's my first supercross since 2018. I don't really count last year. Fourth place is decent for round one. Just try to help build for next week.
Something I was going to say is the track for the 450 guys was beat down. How bad did it get for you guys?
Yeah. The whoops is what really threw me off. Usually in the West Coast they hold up pretty good, and these were full East Coast. They fully broke down and went into jumpers. I refused to jump. I went left side where they were fresh and I just blitzed the whole race, which I almost passed Ferrandis back one lap because he was jumping and I felt like blitzing was pretty good. I'm all for when whoops hold up, so I was kind of bummed on that side. It got super rutted. One of the practices it was beyond sketchy. They didn't touch it. The ruts were crazy deep. We're probably going to have that next week also. We just have to adapt to it.
Were you nervous at all? Were you anxious? Were you nervous with everything that's been going on?
I was all of the above. But, on top of that, I was just happy to be here. A month ago I wasn't even expected to be here. So to be here racing, top five, it can't be a better spot.
And who knows. Forkner had a little incident where he cut the track with the Tuff Block. Maybe you'll get a third place out of this. Nothing's happened yet, but you might.
Yeah. I just heard about that when I pulled off. How much do you take of that? On paper you got third, but I didn't close in on him enough. I looked at the times and I wasn't that far off on those guys. I think I was six seconds off the leader at the end. It felt like it was way further than that. So I can't be too bummed. Just got to fix my mid-race where I have kind of a little settling spot. I need to be better at attacking in there and staying with the group.
Racer X: Looking good, feeling good, but those Tuff Blox when you went off the track, that did you in.
Alex Martin: Yeah. I felt good all day. Solid in practice. Great heat race. First holeshot of the year. But when it counted in the main… Actually, my start wasn't terrible. I got a little sideways. I was right next to Ferrandis, actually. Star Yamaha sandwich between Ferrandis and Cooper. Got a little sideways with Ferrandis and still came out ahead of him. Hustled a little bit first couple laps. Running top five or so. Then on the fourth lap got ran high by a guy and went into the Tuff Blox. Couldn't touch and stalled it. Didn't even crash.
No button on those RM's, for people who are wondering.
Yeah. That's a well-known fact. It was pretty frustrating. I felt like I rode my ass off to come from literally dead last, 21st to tenth. That's all I could do. It was just salvage at that point. Frustrating because we've had a lot of good vibes. I've been feeling good. Kind of been doing my own thing down there in Florida in the [Moto] Sandbox. We got nine more rounds, eight more rounds. Looking to do some more damage. I just feel way too good right now, the vibes are good, to not have some breakout rides and be up there on the podium.
I thought your fitness got you three to four spots tonight.
That's the thing. Normally the first race it's arm pump city. You're tight, whatever. I honestly felt pretty solid. I think that's good for us going forward. Just need to be there when it counts.
You change much on your bike for this year?
Yeah. Offset changes, maybe brought the wheel back a little and the swing arm. Nothing crazy, but definitely stuff to where it was kind of a question mark coming in. We're either going to be good or we're going to be off the mark. Honestly, I thought we were really good. Going forward, we have a good idea where we stand. I think intensity, practice intensity was good, heat race. The starts were good for the most part. Honestly, it all comes down to just getting it down when it counts.
You had Phil [Nicoletti] here for inspiration.
I love Phil. It's always good to see him.
Did he give you any sort of advice?
Yeah. He's a good friend that way. He offers some pretty valuable feedback. He can see what's going on. He's been through it all. I'm never going to hire him as my man-friend, but he's there for me sometimes.