Colton Haaker won this year's EnduroCross Championship. This is not surprising because now Haaker is a three-time EnduroCross Champion. Haaker won two of the three races, and Taddy Blazusiak won the other round and finished second in points, while this is also not surprising because Taddy is a legend. But, in a way, all of this is surprising because there wasn't even supposed to be an EnduroCross Championship this year!
To recap, back in May, the existing AMA EnduroCross series died. To sum it up, we the old owners (Bonnier Corp, which is actually in the magazine publishing business) sold the series to new owners. The new owners were not able to get the series back online, and the series was announced as cancelled. The AMA press release announcing the cancellation of the series referenced "unforeseen circumstances" but we heard a lot of the issue came down to not securing enough series' sponsorship to keep the events going. Holding races in buildings is expensive.
Here's the original news post about the death of EnduroCross.
I recall this EnduroCross news breaking officially just before the Fox Raceway Lucas Oil Pro Motocross National at Pala in California. On Friday, I rolled into the pits and saw Haaker, the reigning EnduroCross champion, heading out to the track to practice for the 125 All-Star Race. I flagged him down to take his temperature on the subject. Haaker was already going through several stages of grief. In one way he was bummed, obviously, that the main series he is paid to race in could be dead. However, Haaker has always been a rider who dabbles in many things, from different types of races to even building his own video company. Plus, he had hope that maybe EnduroCross wasn't actually finished.
Later that day, I heard from some of the old players in the series—like Sean Finley and the original race founder Eric Peronnard—and they were already trying to figure out how they could revive it. In fact, they were so confident they could get it done that they believe the handoff from old to new old could have been seamless.
EnduroCross was created by Peronnard, who had sold the series years ago but still spent several seasons serving as a consultant. To bring it back, he hooked up with Kicker Arenacross Series promoter Todd Hammock and they worked with Bonnier to acquire the EnduroCross name, trademarks, website, and social media channels. The AMA added sanctioning. Hammock and Peronnard then hastily whipped up a three-race schedule to preserve the championship for 2019.
This was awesome news for series' stalwarts like Haaker, who have factory contracts to race for this title. However, Haaker's long-time championship rival Cody Webb tore his ACL and was out for the season. Haaker was looking at diminished competition for the title, until FMF KTM Factory Off-Road announced Blazusiak as Webb's replacement. Back in EnduroCross' early days, Blazusiak, from Poland, emerged as the series' first superstar. He dominated races to the point of perfect seasons, and he also had an electric personality and riding style. As he got older, Haaker and Webb finally caught him and ended his run of dominance. Taddy even retired at one point! That didn't last long, and Taddy was soon back racing again in Europe. Jumping back into a short, three-round series in the U.S. was an easy fit and a nice boost for the KTM team here.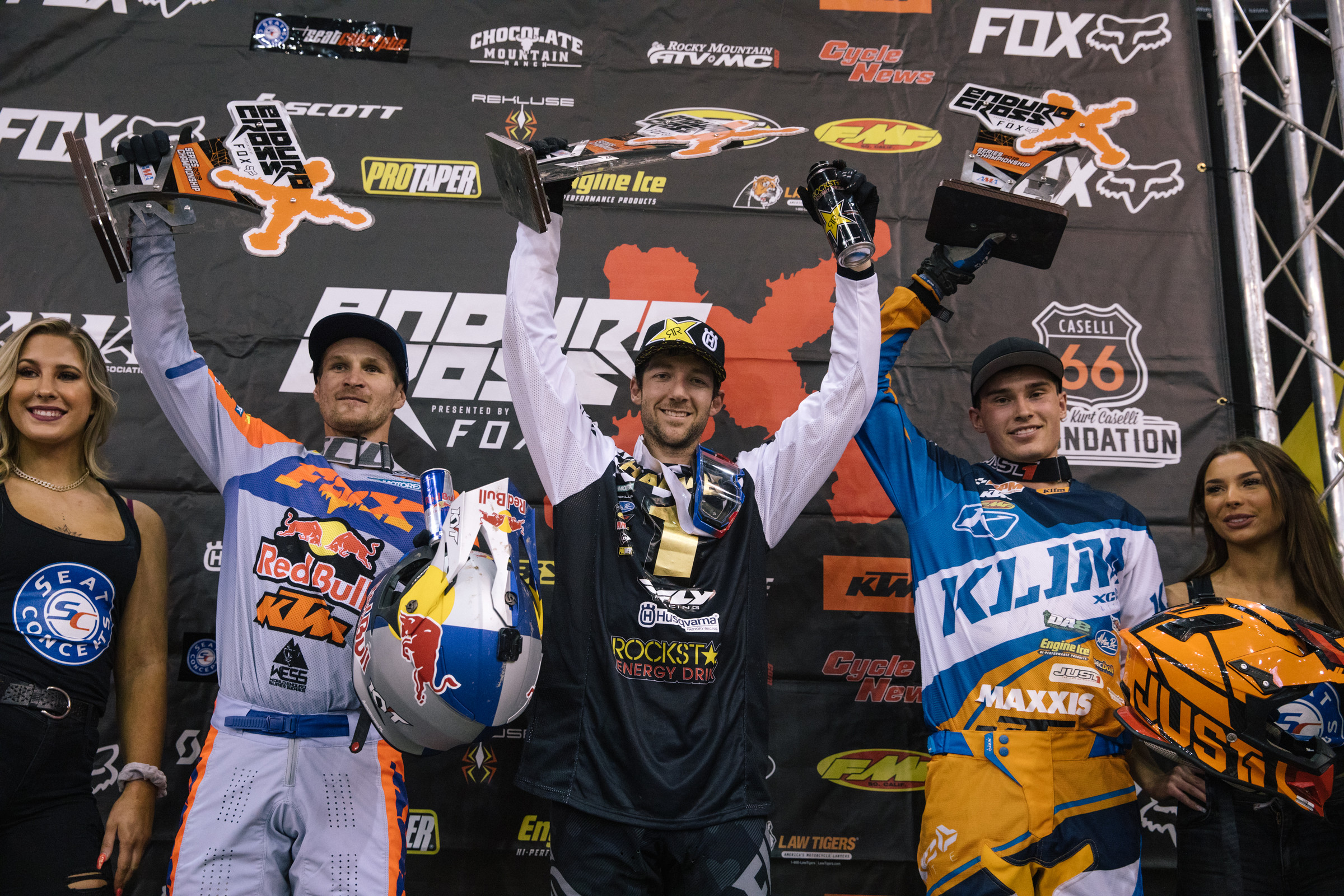 This year's championship featured a three-main-event format, which mixed up the racing. Haaker owned round one but had problems at round two (EnduroCross breeds troubles, as in crashes) and Blazusiak won that. This set up a tight points battle heading into this weekend's finale in Boise, Idaho. There, Blazusiak and Haaker waged a good battle in the first race with Haaker stealing the win. Start choices are inverted for the second race, so Haaker and Blazusiak had to work through traffic to get to the front. Haaker won again, which pretty much put the title on ice. He held on for second in the third race, his 1-1-2 scores edging Taddy's 2-2-1 for the overall win and the title.
"I felt like we were doing everything right to get it done and a lapper cost me a win in moto one," said Blazusiak. "I feel like I executed my night to get a win but a lot of things happen that are out of your control. The intensity of the three moto format is so high we have to push our way through the pack. I hope to be back next year to fight for it again."
"You had to win the race to win the championship and that's why we are here," said Hakker. "I had a good night. That first race was great as I kept pushing and was able to make that last-lap pass. Race two was important to take the win and in the third moto, I was able to take a safe second to earn the overall. The three races this year were great and EnduroCross should be even stronger again next year."
That's the real key—the series barely survived for 2019 but should be back under less-chaotic circumstances for 2020. At the end of the final-round press release, a note says the 2020 series should include at least six events. Plus, Webb should be back, and it sounds like Blazusiak is not finished. Things should be good both on and off the track for 2020.