If you exist strictly in the motocross and supercross world, you may not have heard of Phoenix Honda until the end of last year, when the team's first big supercross effort folded before seeing a single gate drop. Two riders, Kyle Cunningham and Justin Bogle, were left without a ride with less than 30 days before 2019, leaving the team with a less than enviable look. Not much was heard from the team regarding the situation, but we were able to catch up with team owner David Eller at the Ironman GNCC over the weekend, where his motorcycle and ATV GNCC teams were competing, to learn more about what went down, and how the team plans to move forward in 2020.
Portions of this interview were also conducted by Cycle News' Jesse Ziegler.
Racer X: Tell us how you got into this sport to begin with.
David Eller: Well, like everyone else I used to ride. I rode back in the '80s and pretty much chased the dream. I never made it. I rode pro for a little while but never made a main event, never made the show. So it was time to concentrate on life, and I started my construction company, Makson Inc. We build multi-family apartment complexes and townhomes, and we're 17 years old now. I always wanted to stay involved in racing though, and we used to do some stuff in enduro and with the Wonder Warthog team back in the day. My son came along and was riding bikes and his buddy's quad and he decided he wanted to race four-wheelers. I didn't even know where they do that! But if that's what he wanted to do, we were going to figure it out. So we got into that world, and he was riding on a Can-Am support team, kind of like Team Green. Can-Am pulled their support so we ended up on Hondas. There wasn't much support to be had, but we ended up taking over the arenacross program. We won the East Lites with Heath Harrison, and finished second in the West with Carson Brown. This year, with Feld [Entertainment] pulling out of arenacross, we raced the Kicker series because they had TV. We had Jace Owen, and we'll go back again with him with the number one plate now. We did some supercross races with Chris [Blose] and Heath [Harrison], and next year [2020] we're going to do the East Lites [250SX] schedule with Kyle Peters.
As far as GNCC goes, two years ago they talked to me about it. Since Johnny [Campbell] was operating out of the West Coast they thought his efforts would be better if he didn't have to concentrate on something that far away. So last year I sent the ATV guys to do the whole schedule, to see the logistics and get it figured out. Honda lost Trevor Bollinger when he went to Husky so we had to earn a top ten spot back. Austin Lee was the number-11 kid, and Andrew Delong had been off the radar for a few years. I figured Austin would get us a top ten spot and Andrew would provide us a presence in XC1. But it's actually been the other way around. Andrew has been absolutely awesome. He's a good guy, which you don't find many of anymore. He's the only guy to score points at every round.
We also won the championship in ATV motocross with Joel [Hetrick] and went to the [Quadcross of] Nations over in Germany and won that as well. Joel won the overall there. We're competitive.
With this rapid growth has the ever been a point where you feel like you've grown too quickly?
Well it really hasn't been as fast as everyone thinks. If you go back to 2008, 2009, we were part of arenacross back then. Then you come in with the ATV thing, we grew through that and ended up with Honda, but when my son got to be a little older and didn't need me to sign for him anymore I wanted to get back into the bike side. I know arenacross, and I know we can be a big fish in a little pond there, but we're not ready for a full schedule in supercross and motocross. We did have a gentleman show up last year, Justyn Amstutz, who led us to believe he could raise a lot of money and make things happen. It didn't happen and it showed us in a bad light. It looked like we were making commitments to do a full supercross schedule, but I told him from the beginning, "If you don't raise this money, I can't afford it. We have to be honest with these riders because it's their livelihood." When I talked to Bogle and Cunningham I told them they needed to have a plan B because I didn't think he [Amstutz] was going to pull it off. Jimmy Button, Bogle's agent, and Bogle had a plan B and we're all still friends. It just didn't work. But with arenacross it's easier, I know how to do that. We've done a few rounds in supercross and I'm just trying to take that slow. I don't know what the future holds, but in a perfect world, as Honda continues to bring these kids through the 250SX program who don't have a place to go when they move up, I'd like to eventually be that program, that slot where those kids can go.
Switching back to GNCC, it's been dominated by one manufacturer for a long time. But Honda's got legacy here. What's it going to take in the next few years to get them back on top?
Well we earned our top ten in the first year with Andrew. We got what we came here for. So let's get some younger kids now, so these kids who are out there buying their own bikes have some hope, so they know it's not just Husky and KTM here. They know if they win on a Honda they'll have a shot at getting under our tent.
When do you see it being a winning effort here in GNCC?
That's a tough question. It depends on how much money everyone wants to spend. It's no different than a Ken Roczen or an Eli Tomac. Can we find a moto guy to run up front? Well, Kailub Russell went to the Unadilla National and ran top five. People say look at the moto side, but what do I do, go after a top five guy? That's the speed. It's a big price tag. But it would be nice if we could bring someone over who could light it up and give us some really good press. We are looking.
I want to circle back to the supercross effort that never happened in 2019. From the outside looking in, the impression was that the team did exist, and that it was going racing for sure. Then the riders got left out in the cold. Can you get into that?
Sure. Cherokee had committed to enough money to cover supercross with Bogle and Cunningham. They'd passed a resolution. Cherokee is kind of like what we saw with San Manuel and Soaring Eagle, the have casinos. I already had a connection with them, we built their high school. And Isaac Teasedale is actually Cherokee. So if we committed to taking care of Teasdale then this is the money they would do. When they passed it [the resolution], it was like, okay, we're good to go. But then the financial people came in and asked for a few more things we couldn't deliver on. They wanted us to commit to promoting an end of summer race, kind of like what Soaring Eagle did. That's not what we do, we're not that group. They were trying to figure out a way to regenerate the money they were spending. They wanted us to do six events. Three supercross races, an autograph signing, that end of summer race, and a charity bicycle ride. Those were the six events, and two of them we couldn't do. So they cut the support to a tenth of what they'd committed to. I told Justyn [Amstutz], "Look, we've got to make it right to these riders." Cunningham actually got half of what he was supposed to get, and so did Bogle.
Not a lot of people know that.
Right. And we got half of what we were supposed to get. Justyn [Amstutz] still got his cut of that, and those guys were compensated, but not in full and not with bikes or anything. Cunningham was supposed to get $25,000, he got [$]12[K]. Bogle was supposed to get $75,000, he got [$]35[K]. We were supposed to get $150,000 and we ended up with $65,000. Everybody got something and we just tried to figure it out. But with Bogle's deal, that's why the Cherokee logo was on the Rocky Mountain ATV/MC-KTM-WPS rig. Same with Cunningham, he had it on his helmet. We didn't have a rig or full effort for them though. There just wasn't enough money. It takes a million bucks to get the rig and the mechanics all over the country, and that's what they'd committed to and it didn't happen. I've tried to stay quiet about it and just keep moving forward, showing up and doing what we say we will, and paying people. I hope it becomes just a blip on the radar within a couple years.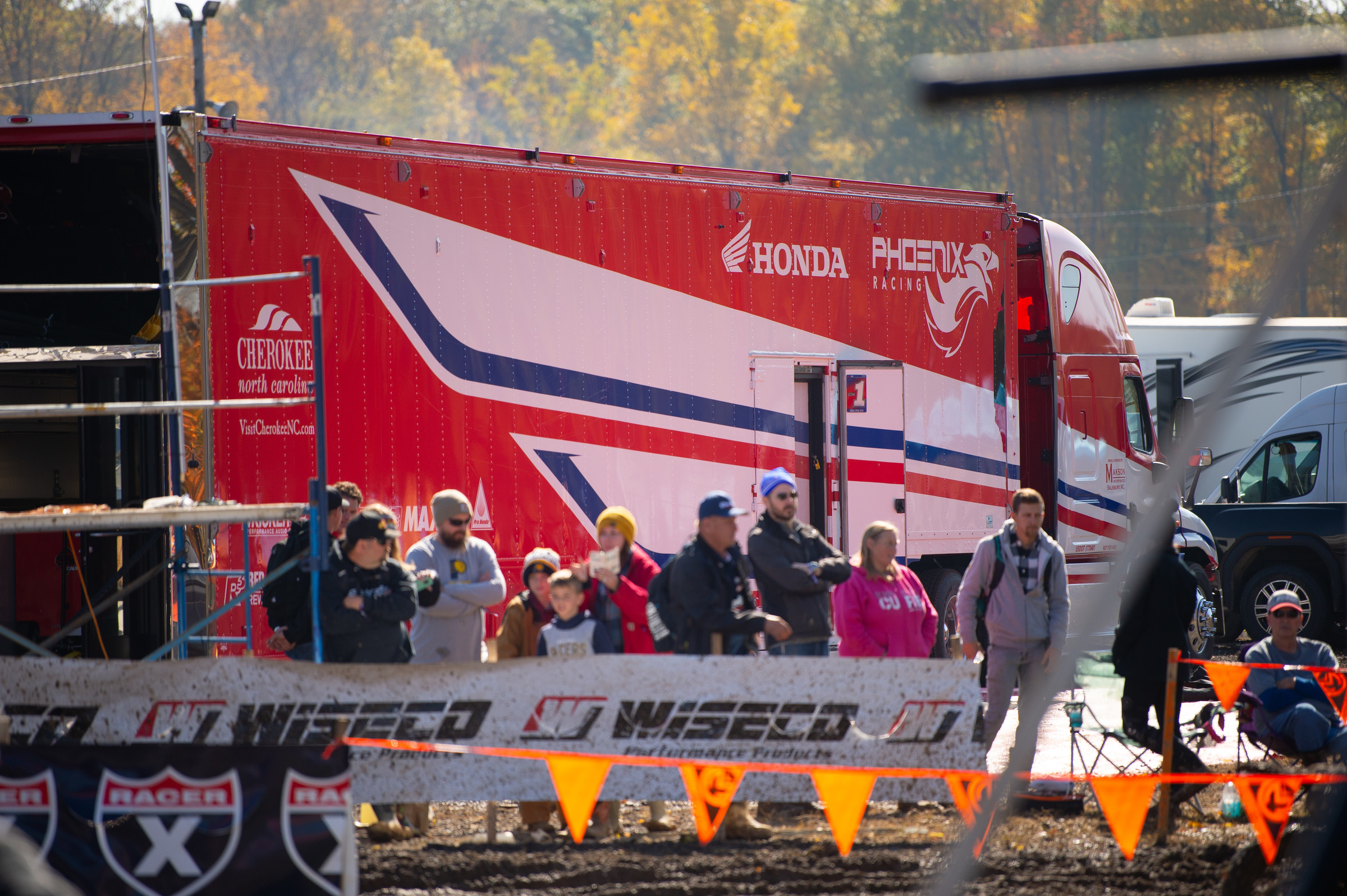 Was it a tough thing to tell those riders it wasn't going to happen?
Yes. I sat down with Bogle and told him I didn't think it was going to happen, and that he needed a plan B. I also talked to Jimmy Button, and they both knew, they got it. Cunningham was only going to do the East Lites [250SX] anyway so he had more time. I put a deadline of December first, and if the money wasn't there yet we had to tell those guys. December first was on a Saturday and he Justyn [Amstutz] said, "Give me until Monday," which turned into a Wednesday, then a Friday. I said, "We have to tell them." It was a bad-press deal, but it wasn't as bad as everyone was making it out to be. Bogle and Cunningham both did an autograph signing for Cherokee, they fulfilled their obligations for the money they received. Everyone is, I think, okay.
In what capacity will the team be present with Kyle Peters in 2020?
We're going to send a semi. Luke Neese, Jim Neese's kid, lives near us and he's going to do some supercross with us too. Jace [Owen] is going to do some supercross races too. But, if Kyle wins some supercross and is in the points lead, I might keep him there to retain the number one plate. We'll see what happens, but we'll have the rigs and mechanics in supercross. I really want to talk to Goose [Mike Gossalaar]. I think he's willing to come on the weekends to be with Kyle, which I think would be a great statement to the industry. In a perfect world it'd be Goose and Kyle.
It's quite a feat to be involved in this many disciplines. I don't remember any other team that's done this, with ATV motocross, GNCC, ATV GNCC, arenacross, and supercross.
It wasn't ever the plan. The ATV part started because of my son, but if we're going to be there, let's compete for a pro championship! I hate losing more than I enjoy winning, so if we're going to be there let's go for it. Can we show up in supercross and win? No. So I want to go where I think we have a shot at winning. So let's do ATV motocross, let's do GNCC racing, let's do arenacross. When we show up, we're there to win those things. Supercross is where everyone wants you, but we don't have the budget to go in and contend for a championship. I like being a big fish in a little pond.