Assen, Netherlands
Motocross of Nations
Motocross of Nations
You should probably be jealous of Justin Starling. Not only can he hold his own at the highest level in America, he gets paid to travel the world racing too. He even raced for Team Puerto Rico in 2017, and did it again this year. So in other words, he gets to visit more cool places than most, experience things most won't, all while racing a motorcycle. Some guys have all the luck! We caught up with the globe-trotting Starling this week after he'd returned from Assen to get an update on what he's been up to.
Racer X: You raced the Motocross of Nations for Team Puerto Rico this year. How'd that situation come together?
Starling: I raced in 2017 at Matterley Basin, and basically Gabriel [Catala, spokesman for the Federación de Motociclismo de Puerto Rico, Inc.] gave me a call and asked if I was interested. I said there was absolutely no way I was going to turn down Motocross of Nations. I went, had a great time, and told him if there was another opportunity to go again I'd love to do it. He called me again this year, about four months ago, and asked if I was interested. Of course I absolutely was.
Talk about the logistics of securing a bike and getting it there. That has to as challenging as anything else!
I was supposed to ride the Castrol Suzuki I raced over in Germany for their supercross season, and also in some of the German Masters. But that fell through because the German supercross series starts in about three weeks and they wanted to get things ready for that. Then knew Assen was going to tear things up. So we actually rode the Gebben Kawasaki team's bikes. I guess I rode Allesandro Lupino's practice bike.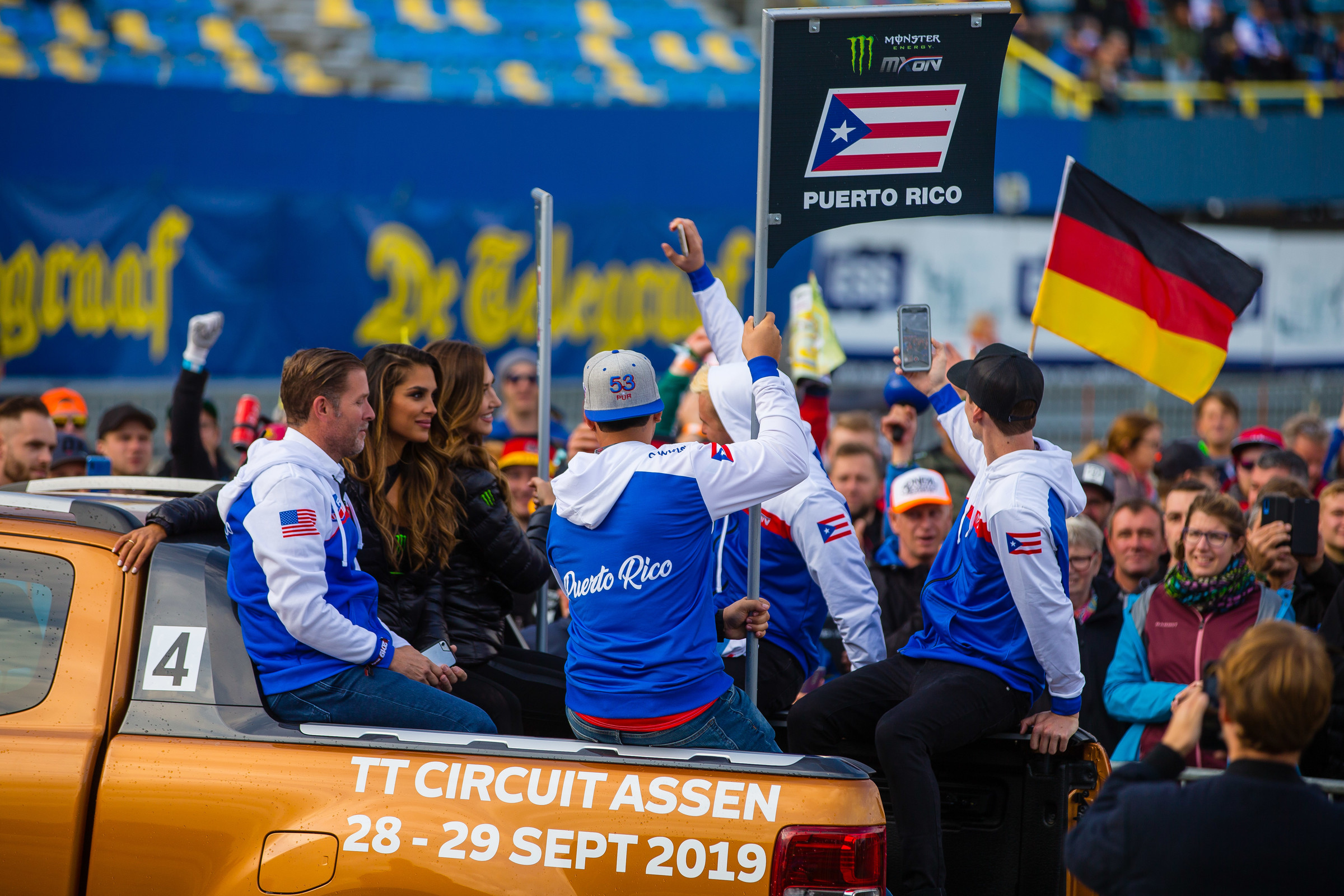 How do you know those guys? Have you ridden for them in the past?
No, it was all set up by Gabriel. When I did it in 2017 we rode the DRT bikes, I think I rode one of Tommy Searle's bikes, and that was the original plan, to ride their bikes again this year. But something came up and we got switched over to ride Gebben's bike. All three of us on the team were on Gebben Kawasakis, and that was all through Gabriel, the team manager.
Fill us in on the experience of racing the MXoN. What's the vibe? What's it like?
It's pretty much the most amazing thing you can do. When you're sitting on the gate in front of all the fans, or even just riding the track with all those GP guys, it's pretty surreal. The whole event, just the way the MXGP team runs their races is remarkable. I really wish the nationals were like that. You feel like you're on the biggest stage in the world, and when I asked Glenn Coldenhoff if all the GPs were like that, he said it was absolutely no different. That's pretty cool, and I know I'd like to race the MXGPs at some point. The whole event is unbelievable.
Walk us through your race.
We ended up with third gate pick out of the ballet, which was super nice. Then someone didn't show up for the qualifying race and we ended up with second gate pick. I had the best gate you could get for the qualifying race, which was really nice. I actually thought I was going to get the holeshot for a minute, but Jorge Prado passed me. When I went into the corner behind him I got really nervous and got a little star struck in a way. It was like, "Oh my god, I'm right up in here in the top five." For the first three laps or so I could see the front guys, like [Tim] Gajser, and I got really tight because I was nervous. I didn't know what to expect, and I didn't expect to be that far up front. So the qualifying race didn't go so well, I ended up 17th, and our MX2 rider was a little off the pace. I'm not really sure where he ended up, maybe 30th, and Chase Marquier crashed, so we had to go to the B Final. We skipped practice in the morning on Sunday, skipped the sight lap, and my bike and Chase's bike both broke on the first lap. We were done immediately. It was a short weekend for us, but it was still one of the most fun weekends you could possibly have.
Well that explains the results. I didn't see the B Final but I was looking at the results and I saw you and Chase in almost dead last. That was confusing, I knew something had to be up, because both you guys are more capable than that.
I'm a really good mud rider too, and was looking forward to the mud. I kind of messed up the start and hit the rear brake. My bike was so soaking wet my foot was a little slippery on the footpeg and I slid into the brake. It was the dumbest move of my life. I saw that Chase started in second or third and I knew I was going to make it to the front, just because it was 20 minutes in the mud and I'm a really good mud rider. I think in the one lap I made, I made like 17 passes. I knew I was going to the front. But my bike gave up, and Chase's bike gave up on the first lap. It was over before it really got started. We both made it about two minutes and that was it.
Well you made it about as far Team USA in the first moto!
Yeah, that was a bummer. When we [Team Puerto Rico] didn't qualify the first thought was to go support Team USA. I was standing right there, where [Jason] Anderson and [Justin] Cooper hit each other and my heart just sunk. It was like, "Today sucks."
Right. We know our talent here is better than has been showing, and you see stuff like that crash and it's not funny, but it almost makes you chuckle. Like, that's just the way it goes for Team USA at the MXoN these days.
Yeah, we're underdogs going into that race, and Team Puerto Rico way more than Team USA. You can't expect Team USA to just straight win it, but I wanted to see them at least podium. For Justin [Cooper] to be going down, then Anderson hits him, for all the guys to find on the track you found your teammate. That pretty much just put the damper on the whole day. Obviously it hurt Cooper a lot more than what it should have and he ended up having two bad motos and he couldn't really drop one. But you know, I was talking to Mike Pelletier in Amsterdam and really, as bad as everything went, a sixth isn't bad. It was okay.
You're right. It couldn't have gone much worse, and still they ended up with a sixth. That's not too shabby.
For the races they had and to still end up sixth, it's almost successful. You had one guy ride with basically a broken hand and another guy crashed into another guy and had basically two throwaway motos but wasn't able to throw them away. To even come out with a top ten after that is successful. Everyone rode with heart, and that's all you can ask for.
We spoke to you a few months ago and you had a pretty gnarly race schedule planned of traveling back and forth between Europe and the United States. Did you end up doing all those races?
At WW Ranch [Motocross Park] I had no energy and was really struggling. I wouldn't say it was fitness, I was just struggling. The next weekend I went to Germany and it was the same thing again. It wasn't even a hot race and I had no energy. So I got blood work done. It wasn't Epstein-Barr, but I pretty much had no energy. I had no iron or B-12 or anything. So I made the decision to call it for the summer. I didn't ride a dirt bike for like two months. Missing all those races was a major bummer for me, but I had to put 2020 and the rest of the year, the races where I could make a lot of money, first. If I would have kept racing I wouldn't have gotten any better and I would have just been lining up. It was a bummer but I had to do it.
Speaking of races where you can make a lot of money, why do you think more Americans aren't traveling and racing internationally like you are? There are opportunities to make money over there.
I don't really understand that either. This is actually going to be my tenth year of racing the German supercross series and I'm not sure why more people don't do it. The money is great, but you get to travel the world too. You only get one life, so why not do it? If you can make a living doing it I don't see why it's a bad idea. I'll race anywhere any time, just because I love racing a motorcycle, and if I can travel the world and do that, I'm in. I will never say no to that. I'm not sure why you don't see more people doing it. If I had a choice and I could, I'd race every single overseas race possible. Australia, Bercy, Genoa, the German stuff, Dutch Supercross, I'd do them all. It's really good racing and it's the best thing you could do to get ready for Anaheim.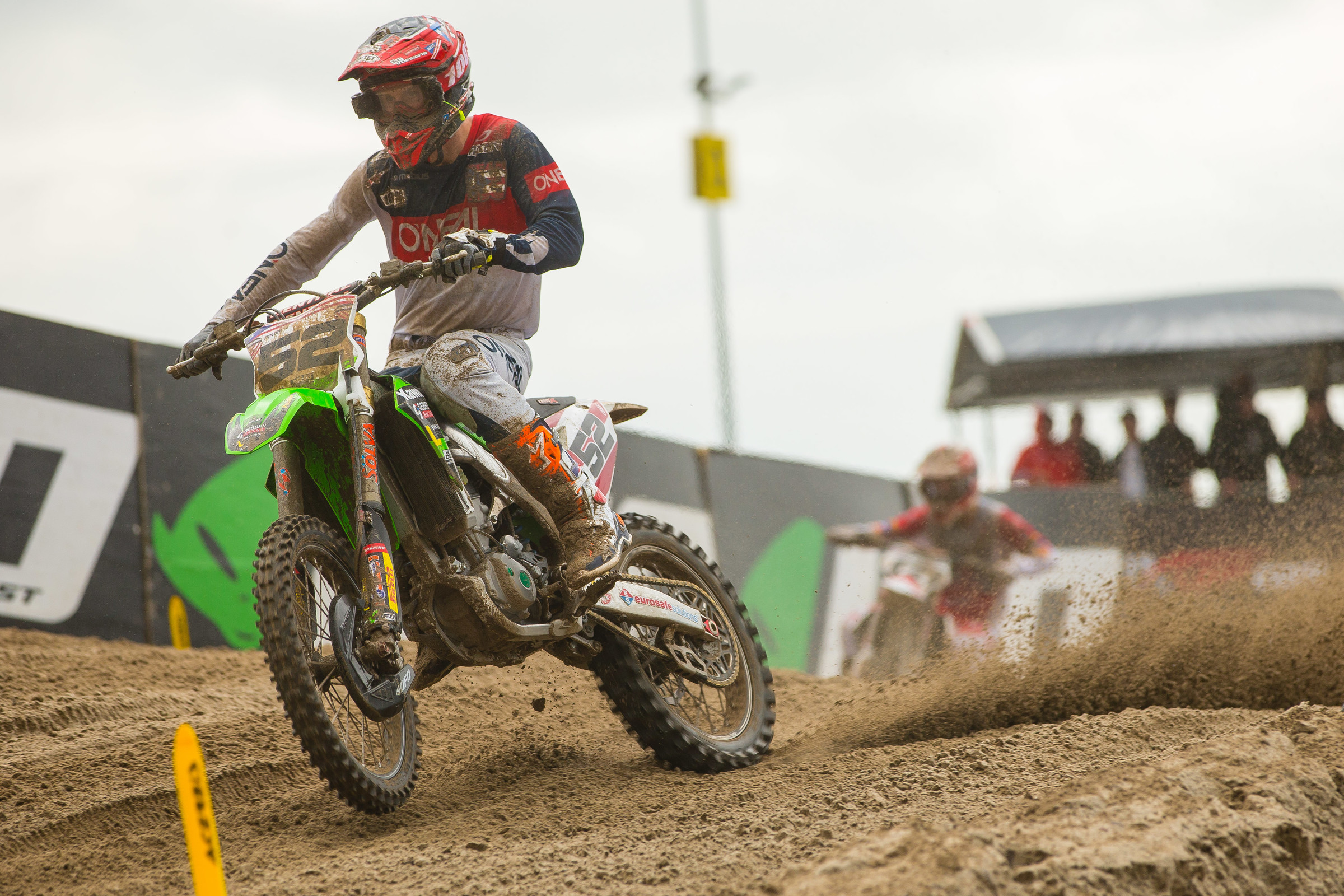 Yeah, and like you said, just the experience of getting to see so many different places.
It's amazing and I absolutely love it. You do a lot in November. I think in November I have five supercrosses to do, and to me, that's the best thing. If you're going to use the whole month of October to ride supercross, go race it in November and find out what you need to work on. Then you have all of December to work on the flaws you found in November and you can come out in January ready to go.
What's the most ridiculous thing that's happened to you in your overseas travel?
You know, I've been probably the most fortunate traveler I can think of. I've never lost a bag, I've never had something not show up, I've never lost suspension, and I've never missed a flight. It's weird. I feel like everything has been so perfect all the time. I'm trying to keep it that way. I've been one of the lucky ones. We always show up for the German Supercross and everyone has something they lost. Even Tyler Bowers last year at Stuttgart, his gear or his suspension didn't make it. I've been so fortunate, things always seem to go perfectly for me.
Well now that we've talked about it and you said that out loud, you're screwed. It's going to happen for sure now.
Yeah, when I fly over now in 28 days or whatever, I'm going to get screwed now.
Let's change the subject then! What's going on in 2020 for you?
I've got everything locked in for the rest of 2019 with German supercross and Castrol Suzuki. And obviously there's Monster Cup, but 2020 is still a work in progress. I have pretty much two offers, but I'm leaning toward one of them. I should have the deal done in the next week or so. It should be good.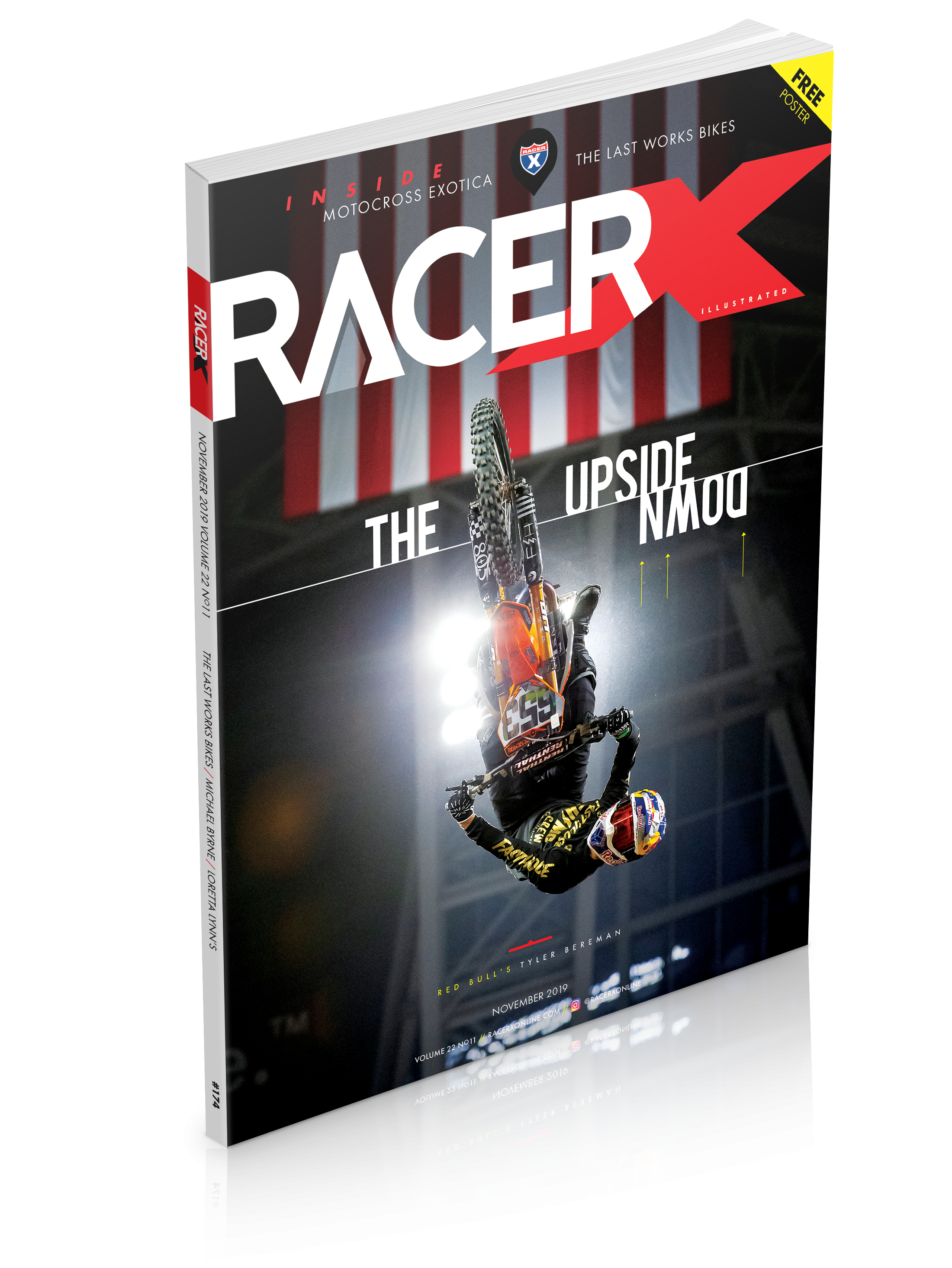 Racer X Illustrated Motocross Magazine
The November 2019 Issue
Inside the November issue of Racer X magazine: See who stood out and what our takeaways are from Loretta Lynn's and all of its future moto talent. GEICO Honda had a packed house at the last three nationals, but who's sticking around? Former factory rider Michael Byrne has made a successful jump to team management, and we find out how and why. When the AMA's 1986 Production Rule went into effect, it ended a glorious run of exotic, hand-built—and wildly expensive—bikes in AMA racing. We dig into the story of those final years. All these features and much more inside the November issue.
Read the Issue Now
Preview the Issue Now