Assen, Netherlands
Motocross of Nations
Motocross of Nations
Like several of the countries competing in the 2019 Monster Energy FIM Motocross of Nations, Great Britain wasn't able to send their first choice of riders. Max Anstie was to lead the team in the MXGP class but after an injury at the MXGP of Italy, he was not able to participate and Ben Watson was also named to the team as the MX2 rider but suffered an injury (to his wrist) at the MXGP of Italy, ending his season as well. The three are all experienced in the sand but the injuries forced a lineup that wasn't even announced at the beginning of the month. When the team finalized its roster (in the third week of September), it was announced that Adam Sterry would join the team in the MX2 position and Ben's brother Nathan Watson, who currently sits ninth overall in the World Enduro Super Series (WESS), would fill the MXGP spot, keeping Shaun Simpson in the Open class.
Even with their altered lineup—including enduro rider who hasn't raced MXGP since 2015—and bike problems, Team Great Britain came through in the clutch and rounded out the overall podium. Here's what team manager Mark Chamberlain, Shaun Simpson, Nathan Watson, and Adam Sterry had to say afterwards.
Racer X: Mark, a lap to go. You guys were off the podium. The start of the race you were on the podium in second, but gradually you were just kind of slipping down. Then last lap, obviously a problem for France's Gautier Paulin but you guys made it back onto the podium. Three podiums now at Matterley, last year, and here.
Mark Chamberlain: Yeah. It was a strange race really because obviously the first we had a problem. Nathan went out of the first race, and all three years we've had that. One rider gone already in the first moto. It's quite tough. But the guys, we spoke about it before that we can never give up. It's not over till it's over. We just had to go out there and give our all. It was strange that last race. Like you said, we were second. It was almost like there was a bit of a gap, and then Kevin was coming through so strong. Then the French, Tixier, was coming through. People were going out. Then all of a sudden we were fourth. I was like, oh no. Then Gautier['s bike failed and I was], pumped. To tell you the truth, I was just like, "Yes! Get him!" I'm not going to lie. The boys, all three, just done an amazing job. …It's good. I'm pleased with them all.
You said that it's the third year in a row you've had a rider go out in the first race. Last year and also at Matterley. So that kind of experience you can draw on as well. After the first race, what was your pep talk? Was it stay calm? We've been in this position before and we've been on the podium twice as a result of that?
Yeah. It was just a case of going, alright, let's go out the next race. We moved Shaun. Initially we were thinking put Adam on the inside both races, and then we said—because we didn't have a great… What, eighth? So we put Shaun first but we said, let's get him out and get him clear and try and get a really good result out of that one, which he done the job. Then Adam done a really good job from the outside and not a great start. So it pulled us back in. Then after that race you can then say, look, it is possible. There's nine, ten points. Belgium and France were our main targets what we were looking at. But that was it. Obviously, they had some bad luck and yo-yo-ing, but that's racing. It was good.
Shaun Simpson | 36-9 for 12th overall in Open
Racer X: Shaun, riding in the open category. Fantastic third in race one and a tenth in race two. A first medal for you, in all the years you've been trying. So bittersweet, I guess. It was so close yet so far, but then you made the podium. You must be absolutely ecstatic.
Shaun Simpson: Yeah. It's been a long time coming for me. This is my seventh time that I've been in the Motocross of Nations team. Two-thousand-eight was my first time, so showing my age there. I can't explain how absolutely ecstatic I am to be sitting up here with all these great athletes. We knew this weekend was going to be a tough job to beat the Dutch team. Absolutely fantastic riders. These guys have just been at the forefront of MXGP for the last few months. So that was going to be tough, but everything after that was the weather. That was all going to play into our favor. The two teammates that sit right next to me, it's their first attempt at this great challenge. I've got to thank them so much. They've just really stepped in. They've absolutely grabbed the opportunity with both hands. Adam just done everything he could on the 250, which is always going to be the toughest job in the MX of Nations. Nathan coming from an enduro background, the last couple of years, everyone knows he's a great motocross rider but had to take a couple of decisions in his career. Just so proud of these guys and Mark for choosing me for the team, as well. As a whole personally it's not been a great season for me. This is like a cherry on the cake. Hopefully next year is a bit better. It's pretty emotional. When I [saw] my wife and my little boy at the podium, I broke down. It was pretty tough. Obviously pretty excited to be up here with the boys.
Nathan Watson | 36-9 for 12th overall in MXGP
Racer X: Nathan, dragged in at the last minute and you get a podium. You get a medal and it's third overall. As we said in the press conference, if we would have said to you a couple of years ago you'd be here before you switched coats, or even when you switched coats to enduro, it would have been like a dream come true, and I guess it is.
Nathan Watson: Yeah, absolutely. First off, I'd like to say congrats to the Netherlands and Belgium. They did a great job in these conditions. We all know it's so tough out there today. But yeah, absolutely speechless with today. This is my first time back on this start line since 2015 and somehow managed to get two pretty good starts from the outside. I don't know how I did that because I'm normally pretty bad at the start, but got that done. Unfortunately went out in the first race and I have to apologize for that. I've never done a clutch in my life, but I think I must have been a bit excited or something, I don't know. So that was a bad start and I actually fell. I was riding quite good and I fell. My shoulder went out a little bit and then came back in. I had to tape that up. I was pretty worried. I didn't want to tell anyone because I wanted to just get stuck into that last race. I just felt so much pressure going into that last race that I didn't want to let the team down after the guys taking me as a risk, I guess. Being an enduro rider, they didn't know how I'd get on. Just happy to get a solid result. So happy to be up here. It's just amazing.
Start of the race, like I said, when you dropped the worst result at the end of the first lap, all of a sudden GB is second, and then you're third, and then you're fourth. Then all of a sudden, you're back to third on the final lap. How were the board signals? Were you getting that kind of information? Second, third, and one point, two points? Or not really?
No. I didn't know nothing about the overall podium. I had absolutely no idea. I was just riding the race and they were giving me my position. When they told me at the end, I actually couldn't believe it. I just burst into tears. It was amazing.
Adam Sterry | 24-12 for fifth in MX2
Racer X: Adam, like Nathan next to you, first time on the team for you. Like all of you, first medal. I guess we talked about this in China. We talked about this in the press conference. Just to come here and round out your MX2 career would mean getting a podium here. You've done that. It must be absolutely fantastic for you as well.
Adam Sterry: Like you just said, to end my MX2 career like this is unbelievable. I missed the podium three times this year by getting fourth, and I was a bit gutted with that to be honest. This just topped it. Like Nathan said and Shaun said, I have to thank them two as well because it's a team effort. Last weekend Nathan was dodging trees at Hawkstone Park. He did a great job. Shaun did a great job. After the first moto I was thinking, we've kind of thrown it away. But we brought it back. Me and Shaun needed two good results in the second race and we managed to do that. Like you said, it's a great way to round off my MX2 career.
How were the nerves this weekend? Obviously, it's very easy to get caught up in the whole emotion of being picked for your country to ride this event. Were your nerves in check?
I would say I'm just the same as any normal weekend. That's the way I try to approach it this weekend. I think that was the right way to go about it. Then like you said yesterday, everything else, the special bike, special kit, it's just a bonus.
I guess you'll be celebrating tonight.
Yes.
Bonus
While their respective countries weren't in contention for a podium finish, Slovenia's Tim Gajser won the overall in the MXGP class and Denmark's Thomas Kjer Olsen won the overall in the MX2 class. Here's what they had to say afterwards.
Tim Gajser (Slovenia) | 1-2 for first overall in MXGP
Racer X: How was this Nations for you on a personal level?
Tim Gajser: It was good. The weather was not the best. The track was a mess. Was super deep in some places and really sketchy, but I managed to take two good starts taking two holeshots. Then winning the first moto and second one I was on a good way and then I made a mistake, fell down and went back to third place. Then I came back really close to Glenn [Coldenhoff]. It was tough, but also the lappers made it tougher. But overall, I'm super happy. It was just an unbelievable season. Super happy that it's done.
I guess your win in race one was the first-ever victory for a Slovenian in Motocross of Nations? So a proud moment as well for you.
Sure. Overall when we came here the goal was to qualify. Then we did that and we were in A final. We didn't have nothing to lose, so I just went out there and had fun, ride without any pressure and finished good, strong.
Thomas Kjer Olsen (Denmark) | 8-8 for first overall in MX2
Racer X: Two eighth-place finishes in the races, but first and second in the MX2 category and you are the MX2 winner. Congratulations. How was your weekend here at Assen?
Thomas Kjer Olsen: I had a great weekend here. The track was super tough. Even yesterday I think we've been practicing in the sand, but still you always come here and you're still surprised how deep it actually is. The rain definitely didn't make it easier. But like Tim also, I didn't have too much pressure on my back. I knew we were probably not going to do anything really special with the team, but I was just going out there to play a bit in the mud and it worked out good.
Tenth overall in the final classification. Are you happy with that as a team or were you expecting more?
Actually top ten was the goal. The guys did a good job. I have my brother [Stefan] on the team and Bastian [Boegh Damm] is the third guy, so we did a great job. I'm happy about the results they did too. The goal was top ten and we managed to get that, so I'm super happy about that too.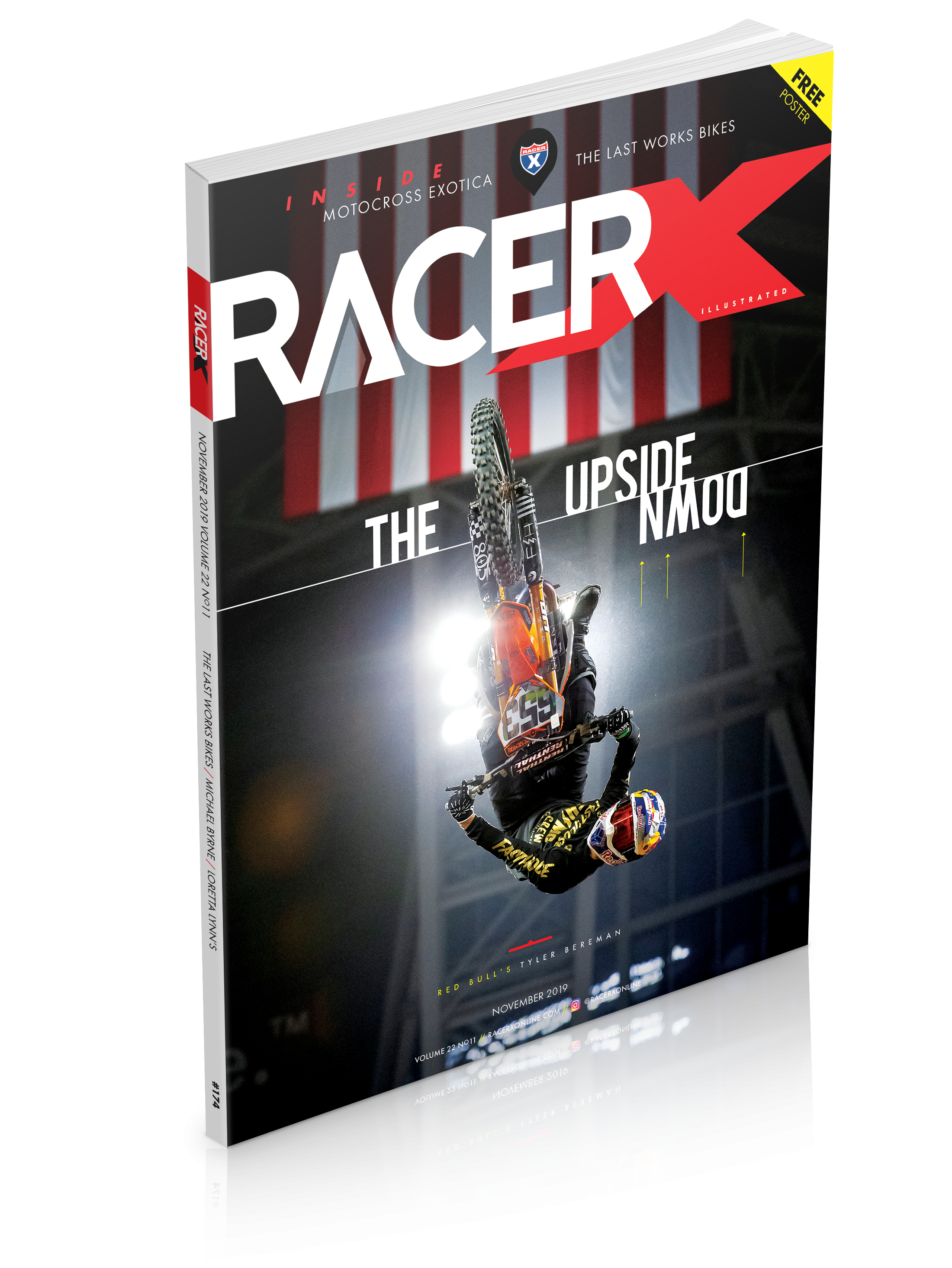 Racer X Illustrated Motocross Magazine
The November 2019 Issue
Inside the November issue of Racer X magazine: See who stood out and what our takeaways are from Loretta Lynn's and all of its future moto talent. GEICO Honda had a packed house at the last three nationals, but who's sticking around? Former factory rider Michael Byrne has made a successful jump to team management, and we find out how and why. When the AMA's 1986 Production Rule went into effect, it ended a glorious run of exotic, hand-built—and wildly expensive—bikes in AMA racing. We dig into the story of those final years. All these features and much more inside the November issue.
Read the Issue Now
Preview the Issue Now