For your perusal, we've once again intercepted inter-office Racer X communication between staffers Jason Weigandt and Steve Matthes. Today's topic is silly season! Our staff hacker used the universal password and snagged these emails off the server. Remember, folks, never communicate secret info via something on a hard drive!
Jason Weigandt: Steve! How's the off-season been? Spending lots of money on the dogs? Insert eye-roll emoji. Speaking of spending money, I want to figure out what happened with Kawasai signing Adam Cianciarulo. Yeah, he's finally on Monster Energy Kawasaki KX450 as everyone expected years ago. Everyone loves Adam right now, and everyone is excited to see how he does on the big bike (insert standard "He's tall so he fits a 450 so well" quote even though we have no evidence that height helps, Cooper Webb being the latest example). But here's the bigger picture that I'm trying to see. I would assume Adam had some leverage in contract negotiations and isn't riding for cheap. Kawi signing him and also re-signing Eli Tomac means—wow look!—a Japanese factory team is going big with a two rider lineup! We keep hearing the Japanese brands are going to fight back, but there's Red Bull KTM running out lineups like Musquin/Dungey or Musquin/Webb while also supporting Blake Baggett and company at Rocky Mountain ATV/MC-KTM-WPS. Rockstar Energy Husqvarna is equipped with Jason Anderson, Zach Osborne, and Dean Wilson in 2020. Look, Joey Savatgy rode awesome in 2019 but I don't think Kawi was spending on him like they are on AC. I would also assume that former Tomac Kawi teammates like Wil Hahn and Josh Grant probably weren't breaking the bank, either. Is this Eli/Adam tandem a big deal or am I over thinking this?
Steve Matthes: Weege, good to hear from you. Hold on though, I'm still drunk from celebrating Ron Lechien's election to the AMA Hall of Fame! Dogger was awesome as a racer and even though his career was cut short, he's WELL DESERVING of this honor. I don't want to get into the weeds too much of this AMA HOF stuff but it's kind of BS the way the voting is structured. Still, like the SX safety nets, we got it done.
Okay, onto AC. Actually, man, I heard different about the big money deal for AC you speak of. You see he was still under contract with Kawasaki for 2020 so they rolled that over into his 450 deal. Now obviously, he got more money because he's doing more races and he gets to keep his gear money now but he wasn't a true "free agent" you know? So I don't think it's exactly like you think with a Japanese OEM stepping up big time. I've had a big time boss at a Japanese OEM complain to me about KTM having all these riders, including Husky, and the ability to work together and affect the results if they need to and I agree. But there's a simple fix to this and that's to team up with another team owner and give them some bikes, factory parts, and maybe some money! There you go, it can happen rather easily right? I'm not a fan of the economics of the sport right now...the big guys (that probably have a 50 percent chance of getting hurt right?) suck up so much of a team's budget that they can't really field another top rider.
Enough about that. Yes, AC on 450s is awesome and I have two questions for you. One is does he get weird and lose his humor/personality now that he's with the big dogs? Two, does he win any 450SX main events in 2020?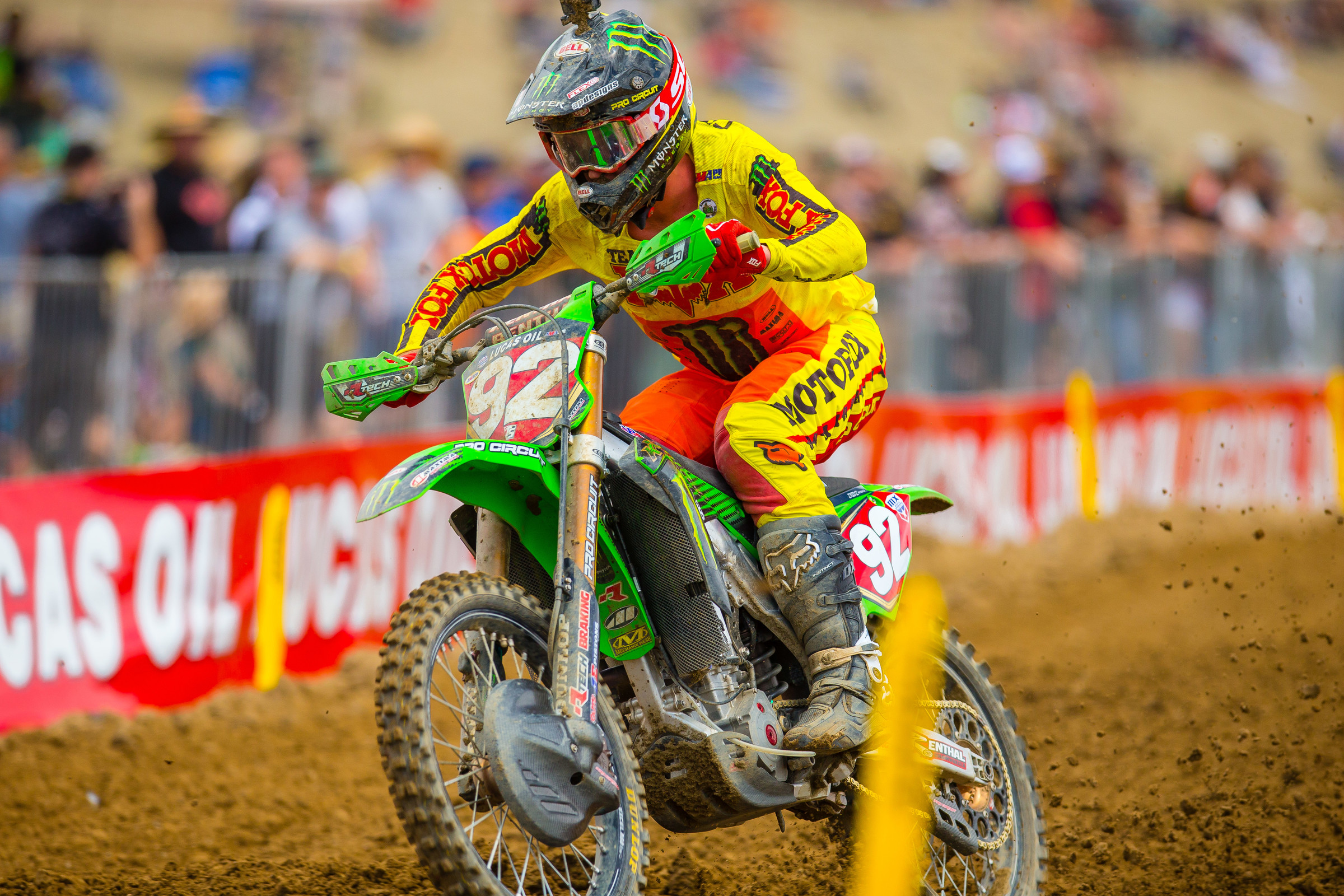 Weigandt: Yeah well look man, I had absolutely zero info on Adam's actual salary (because we must keep all of this stuff super duper secret including bonus amounts, even though they're well known in the pits and practically standard across the board. It would be terrible to have dollar figures out there for fans to talk about because, you know, look at how other sports have successfully created massive increases in interest by putting that stuff into the public. You wouldn't want that. Also, it would be so terrible if the public knew riders make A LOT of money for winning races. Right? Have to keep this info secret!).
Where was I? Oh yeah, so Adam just kept his Kawasaki deal rolling?! All of the "could Adam go to Honda?" rumors were just completely not even possible? Interesting. Back in the spring fans were dreaming of a Roczen/Cianciarulo super team so badly! But sounds like Honda saved some money by not really putting in big bids for free agents in the vacated Cole Seely slot. Ugh. Hearing factories are trying to save money is never what you want to hear, although we're not really hearing it since all of this is super duper secret.
As for Adam next year, I think the personality will stay in tact. This runs counter to the point we've made about 450 riders for ages, but I believe the sport is changing and riders know they not only A) can but also B) should have personality. I'm telling you, #TeamFried is changing the game with Jason Anderson. Also, Zacho has some dumb podcast or something. Plessinger and Barcia are completely unfiltered. Steve, you talk to these riders weekly. I feel we've come a long way from the mega-serious mind games of the RC/Stew/Reed days.
As for the riding, I think Adam will ride well but 450 mains, there is so little room at the top of the 450s right now. #Deepfield It's going to be hard to sneak one in. I think momentum is key. If he starts on fire and rides with some confidence he could maybe snag one. If it starts slowly and that big class and big bike slap his confidence a bit, this will take a long time. What do you think?
Beyond that, what's gonna happen with Savatgy? He rode great in 2019 but still might turn out to be the biggest loser in the off-season sweepstakes. Poor Joey!
Matthes: Yeah, AC is pretty cool and really gets it. He's a fan of other sports, follows the athletes there and knows what the public wants out of their guys. As far as wins, whatever—I think he could but I would bet that he won't in year one. That class has so many good riders. Would it surprise me if he did win, though? No.
As far as the AC contact, I'm sure it says contracted for 250s so he could've gotten out of it for a 450 Honda ride but was that really ever on the table? Seems with what we know now (as you articulated), no, it never went very far.
Yeah, Joey is effed. I mean he was very good in 450SX and pretty good in the 450 Class of Pro Motocross when he stayed upright—he was the best rookie this year and no one really thought he would be against guys like Plessinger, Zacho, and Hill. Huge surprise and kudos to him. The whole time of course he was out at Kawasaki IF Adam wanted that spot and that's how it played out. That's a tough deal for him. So okay, he got screwed a bit but he'll surely make that up with another team right?
Ahhhh, nope. As we spoke about there was no room at Honda for him, and KTM, Husky, and Yamaha are all full. SmarTop/Bullfrog Spas/MotoConcepts Honda was interested but they don't do outdoors and then they backed out. So that leaves JGRMX/Yoshimura Suzuki and although I'm sure Savatgy's agent is trying to get the max dollar amount he can, JGR knows that they are the only team that can provide the #17 with top notch factory equipment and support. In short, he's going to come cheap for JGR. Everyone knows that and there's no other way to put it than Savatgy's got to hope that he can once again stay healthy and stay fast to hope and cash in AGAIN in 2021.
Weege, how does your BFF's move back to Honda affect him you think?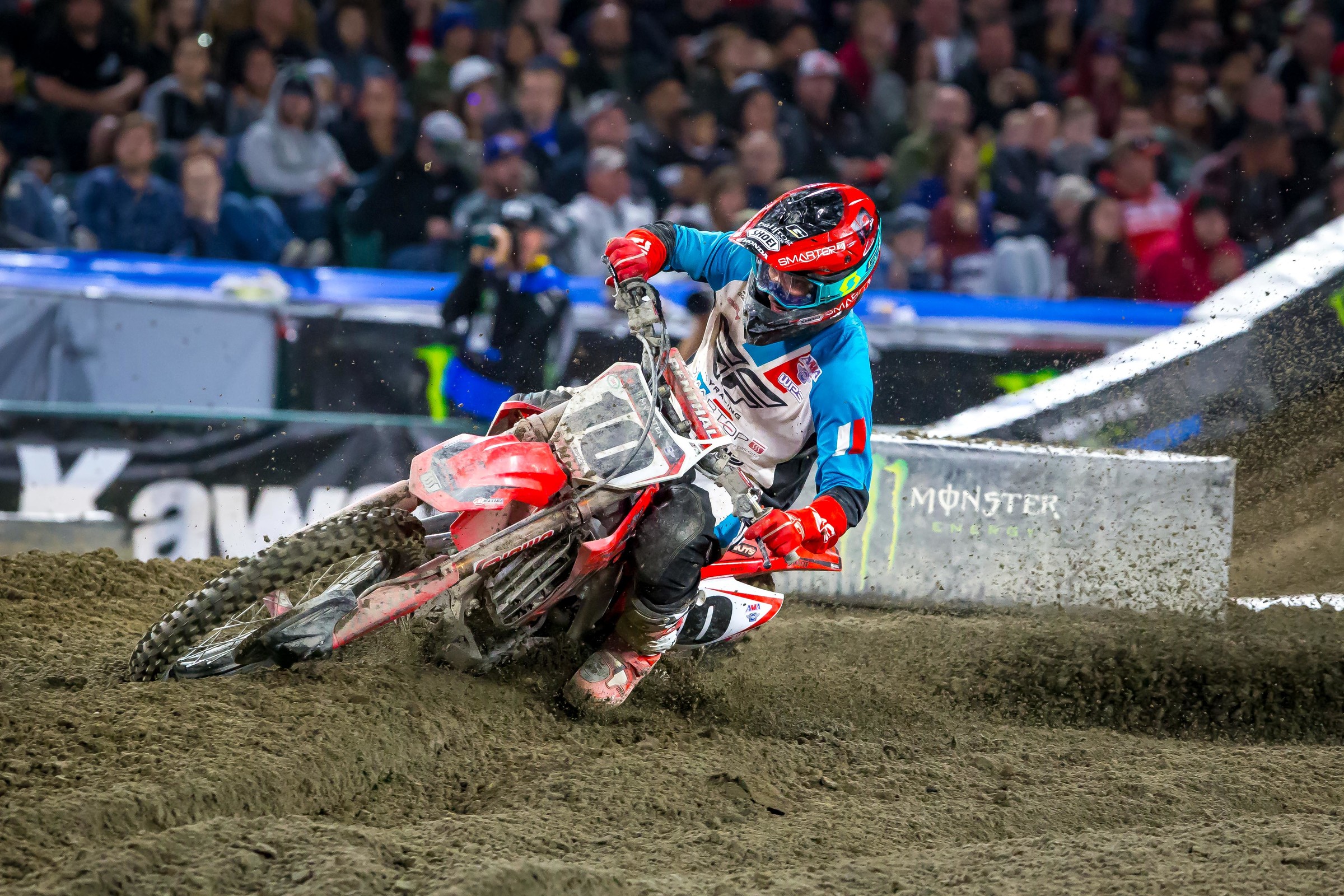 Weigandt: Oh man poor Joey. He got a one-year Kawi deal to bet on himself and his gamble paid off—for a rookie he rode awesome and there seemed like no chance in hell he wouldn't end up with more job security. But now, he's unemployed. Look, I'm ALL IN on anything Justin Brayton so I'll of course endorse Honda snapping him up from MCR to the factory slot. But what I think really happened here is that Honda needed a place holder until Chase Sexton was ready to go to the 450 class, and if they signed Joey they would put him back into the same one-year-deal scenario he was already in with Kawasaki. Then Joey just gets bumped off the team when Sexton moves up. That's no good. If you have Brayton and you want Sexton to move to 450s in 2021, JB can just go back to MCR. So it was tough to make the Honda deal work with Joey. That was fine with JGR and a factory Suzuki available, but I've heard there are still too many budget/support issues for that team to make Joey a real offer yet. Will it finally happen? Joey's super agent Lucas Mirtl tells me he's still confident the JGR deal can happen. Mirts also told me Savatgy has the best agent in the game. Now that's agent talk! For Joey's sake, I hope it works out and maybe he can move to Charlotte with the team and we can become best buddies. It the JGR deal doesn't happen, Savatgy 2019 will turn out to be one of the worst musical chair scenarios we've ever seen.
Hey, meanwhile, Justin Brayton is on a factory Honda in 2020! Tell me who had that pegged five years ago?
Anyway, with JGR in flux, what's gonna happen with Chad Reed? Do we just assume the 22 can't be killed?
Matthes: Savatgy to JGR makes too much sense for everyone involved to NOT happen, in my opinion. Seriously go look at Joey's SX speed and results—they were impressive. JGR should have #17 and #22 for 450SX and then when the series heads to Pro Motocross, Fredrik "Fast Freddie" Noren will take over the 22 spot and that's a solid team as well.
As far as Reed, I'm a bit worried because it's September and he doesn't seem to be interested in riding his dirt bike quite yet? I see he's been working out which is great but lots of car racing and other things on his social media. Does social media mean everything? No, of course not but Reed's not scared to put stuff out there on that platform. I know he doesn't have a deal yet with JGR and wants to make a lot more than he did in 2019 (which was very low or no salary) and deserves to so maybe that's the hold up right now. JGR's deal with Suzuki for 2021, JGR's deal with outside title sponsors are all up in the air so riders for JGR are probably not as high priority right now. But Weege, you're our JGR whisperer so maybe you'd know better?
Other than what we've talked about, we're waiting to see what the Rocky Mountain ATV/MC-KTM-WPS team does. As in, Bogle or Bloss? They've got one spot and both guys did well this year for them at different times so Michael Byrne and Forrest Butler have a big decision to make. As I said on one of my shows the other week, I'm 50/50 on both of them. There's no bad choice. But it's going to be a bad deal for the guy they don't pick because there's nothing left with that kind of equipment.
Weigandt: I'm not worried about Chad losing interest in supercross because of car racing. If it works out where he gets a car deal and can make money at it, he'll do it, but from what I hear about car racing those rides are EXTREMELY hard to get, possibly even harder than getting a good 450SX ride. I'm sure Chad will try to use his social reach to try to leverage some deals there, but, man, don't even get me started on social media. Everyone talks about how much "brands" love "social" but how about they show me the money? They love it but why isn't a super-popular guy like Chad Reed banking huge endorsement deals on Instagram right now? Someone pay this man!
So if a car deal doesn't surface, I believe Chad can flip the switch back to supercross, as always. The real key is that JGR needs things to come together both from a sponsorship and Suzuki support standpoint to go racing—it's been tough sledding without a title sponsor and at the moment Suzuki doesn't have the pockets to bank roll it all. I heard things were very stressful over there at one point but have at least calmed down a bit. Please, everyone, we need Suzuki around and investing. Also, the team switched to Pirelli tires after supercross this year and will run them indoors for the first time in awhile for 2020. There's a lot that needs to be accomplished over at JGR and Suzuki. For the sake of Joey, Chad and this entire industry, we'd better hope all is well by January.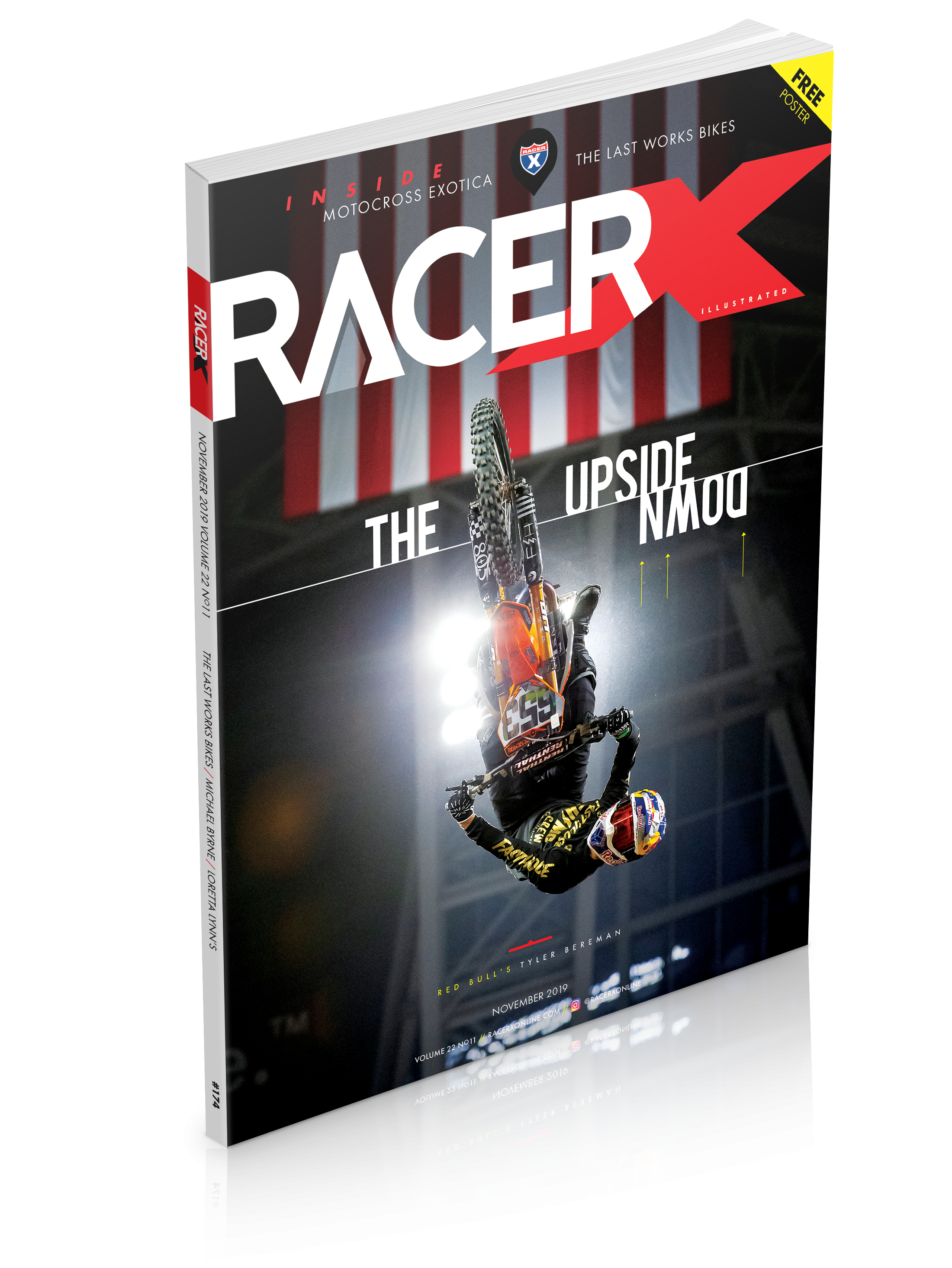 Racer X Illustrated Motocross Magazine
The November 2019 Issue
Inside the November issue of Racer X magazine: See who stood out and what our takeaways are from Loretta Lynn's and all of its future moto talent. GEICO Honda had a packed house at the last three nationals, but who's sticking around? Former factory rider Michael Byrne has made a successful jump to team management, and we find out how and why. When the AMA's 1986 Production Rule went into effect, it ended a glorious run of exotic, hand-built—and wildly expensive—bikes in AMA racing. We dig into the story of those final years. All these features and much more inside the November issue.
Read the Issue Now
Preview the Issue Now