AMA Announces 2019 ISDE Teams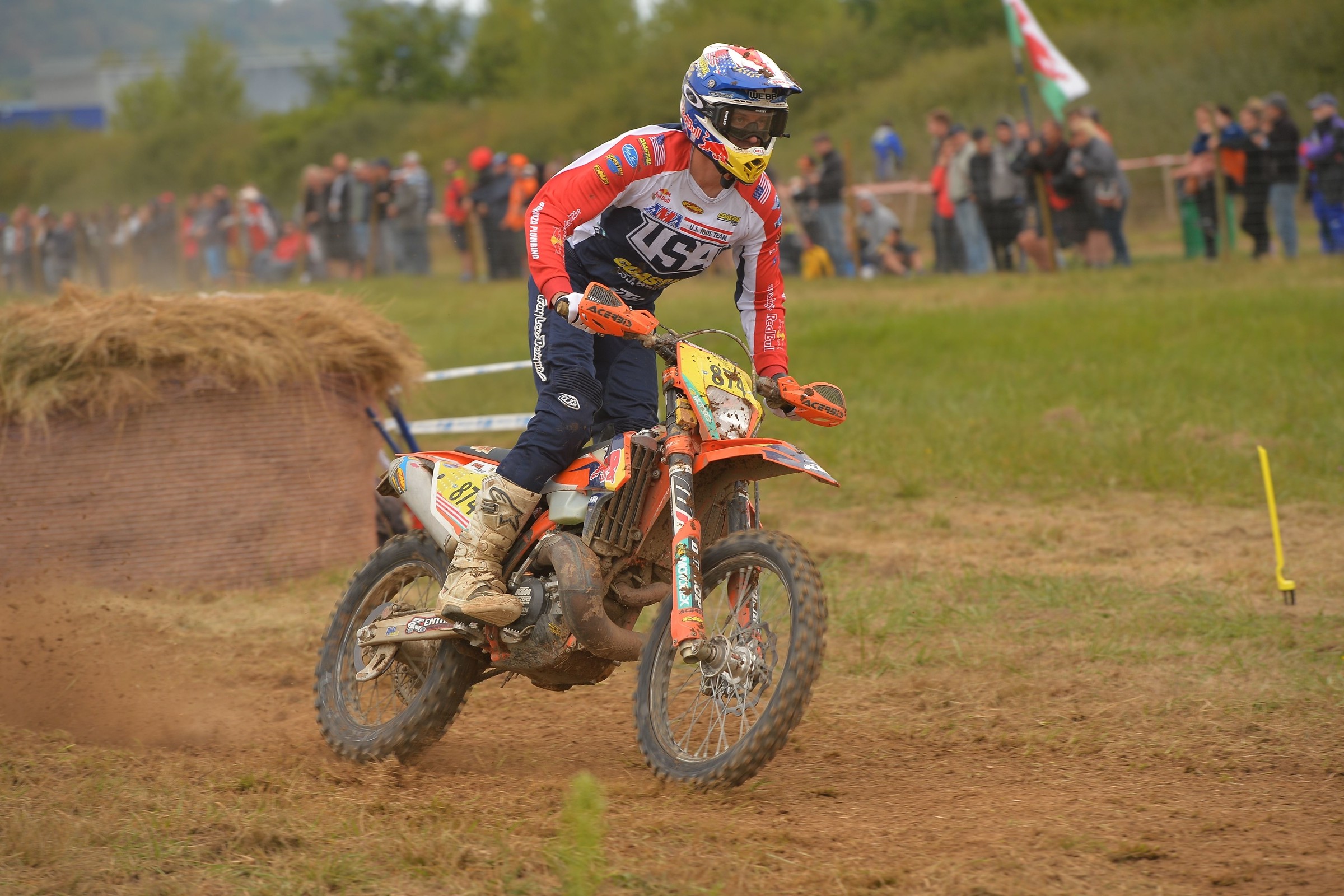 American Motorcyclist Association announces World, Junior, Women's Trophy teams to represent the United States in the 2019 FIM International Six Days Enduro
94th edition of off-road competition event takes place Nov. 11-16 in Portimao, Portugal
PICKERINGTON, Ohio—The American Motorcyclist Association announces the 10 Trophy team riders who have been selected to represent the United States at the 2019 FIM International Six Days Enduro in Portimao, Portugal, Nov. 11-16.
The riders will compete as the U.S. World Trophy, Junior World Trophy and Women's World Trophy teams. The 21 riders who will form the U.S. Club teams were announced by the AMA on June 7.
"The U.S. Trophy teams include veteran riders who have the skills and stamina to put the United States back on top in 2019," AMA Director of Racing Kevin Crowther said. "This is the first time the event is being held at the Autodromo Internacional do Algarve in Portugal, and I am confident the riders' wealth of experience competing on a variety of terrain will help them get up to speed quickly."
The U.S. World Trophy Team last won the ISDE in 2016.
The 2019 U.S. World Trophy Team includes: Ryan Sipes of Ekron, Ky., KTM 250 XC-F; Kailub Russell of Boonville, N.C., KTM 350 XC-F; Taylor Robert of Scottsdale, Ariz., KTM 450 XC-F; and Steward Baylor of Hodges, S.C., KTM 500 EXC-F.
Sipes was the 2015 ISDE overall winner. Robert was the 2016 ISDE overall winner. Russell is a six-time Grand National Cross Country Series champion. And Baylor is the 2018 Kenda AMA National Enduro Series NE Pro1 Class Champion who has competed at the ISDE five times. He replaced Russell on the 2018 squad when Russell was unable to participate due to an injury.
The 2019 U.S. Junior World Trophy Team, made up of riders age 23 and younger includes: Josh Toth, of Winsted, Conn., KTM 250 XC-F; Grant Baylor, of Belton, S.C., KTM 450 XC-F; and Ben Kelley, of Harwinton, Conn., KTM 450 XC-F.
All three riders where members of the 2018 U.S. Junior World Trophy Team. Toth finished fifth in the E1 Class and Baylor and Kelly finished eighth and 11th in E2 in 2018.
The 2019 U.S. Women's World Trophy Team includes: Jordan Jarvis of Clayton, N.C., Yamaha YZ250FX; Brandy Richards, of Lake Havasu City, Ariz., KTM 250 XC-F; and Becca Sheets, of Circleville, Ohio, KTM 250 XC-F.
Richards and Sheets were on the 2018 team, which finished second to six-time winner Australia. Jarvis is a motocross specialist who won the 2018 AMA Amateur National Motocross Championship Women's 12+ Class Championship.
KTM USA's Off-Road Manager Antti Kallonen has managed the U.S. World Trophy and Junior World Trophy teams since 2012, as well as the Women's World Trophy team since 2017.
"I'm very satisfied with this year's rider roster," Kallonen said. "These riders are the most talented off-road racers in the country, and I'm hoping the small changes we've made will us bring the ISDE title back to the United States. World Trophy Team riders Ryan, Kailub, Taylor and Steward are past team members, and the Junior World Trophy Team remains unchanged from last year.
"Josh, Ben and Grant are proven contenders in their respective classes. If all three can stay healthy at this year's event, I expect them to be contending for the Junior World Trophy title," Kallonen said.
"For the Women's World Trophy team, Brandy and Becca return to the team alongside Jordan Jarvis, who is one of the fastest female motocrossers in America. Jordan will have a lot to learn about off-road competition, but I'm sure she'll make a big contribution to help us better the team's second-place result from 2018," Kallonen said.
Riders at the ISDE compete in one of three displacement classes. The E1 class features 100cc to 125cc two-stroke and 175cc to 250cc four-stroke motorcycles. The E2 class features 175cc to 250cc two-stroke and 290cc to 450cc four-stroke motorcycles. The E3 class features 290cc to 500cc two-stroke and 475cc to 650cc four-stroke motorcycles.
Supporting the ISDE effort is ISDE team physician, Dr. James McGee.
Fans can show their support by buying ISDE U.S. team apparel here.