High Point Pre-Entry Lists: 450, 250, 125 All Star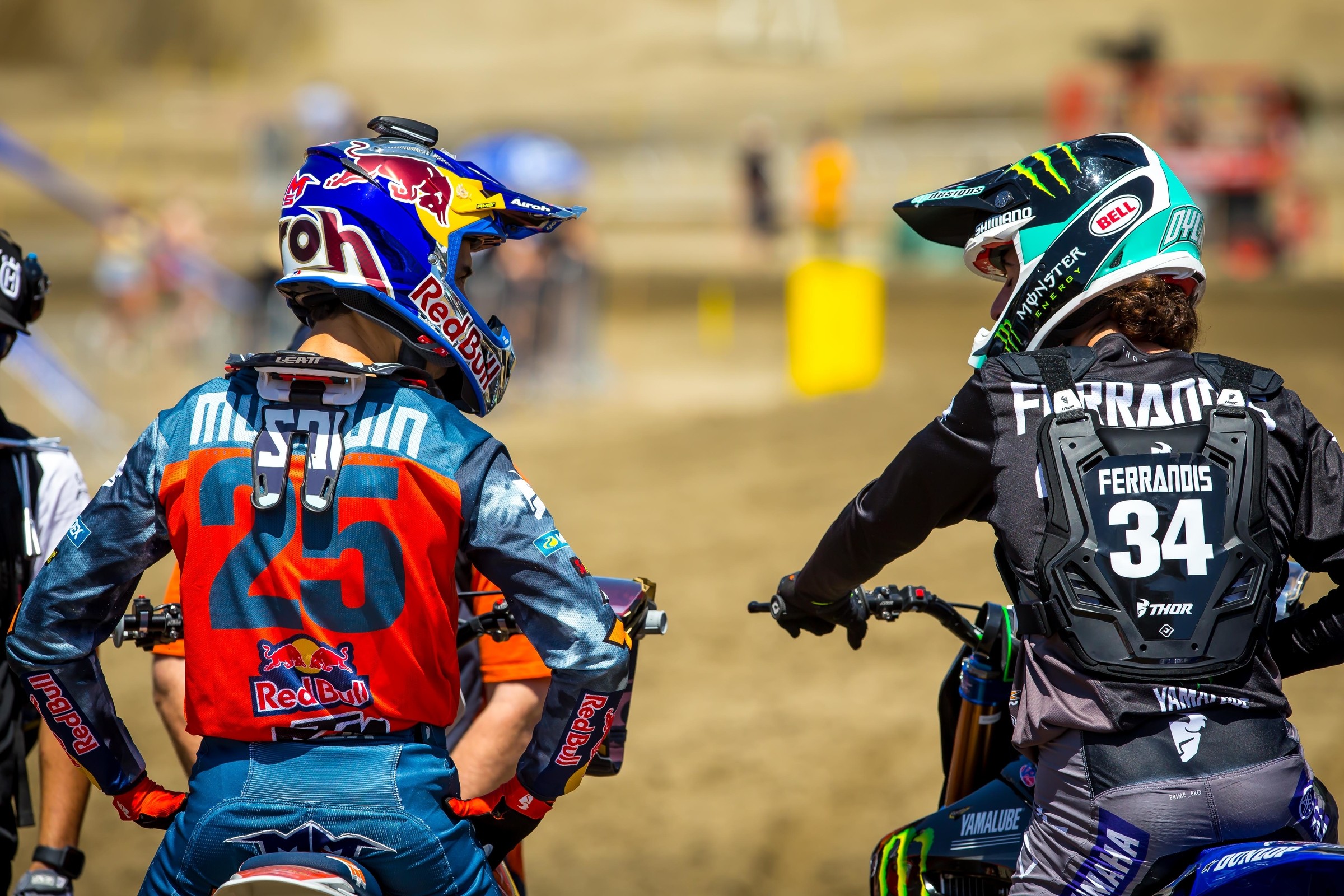 Mt. Morris, PA
High Point
Lucas Oil AMA Pro Motocross Championship
The 2019 Lucas Oil AMA Pro Motocross Championship heads to High Point in Mt. Morris, Pennsylvania, this weekend for round four of the championship.
Looking for entry lists? We have you covered.
Check out the pre-entry lists for the 450 and 250 Class, as well as the 125 All Star Series.
450 Class
| | | | | | | |
| --- | --- | --- | --- | --- | --- | --- |
| # | First Name | Last Name | Hometown | Brand | Model | Team Name |
| 1 | Eli | Tomac | Cortez, CO | KAW | KX450 | MONSTER ENERGY KAWASAKI |
| 2 | Cooper | Webb | Newport, NC | KTM | 450 SX-F FE | RED BULL KTM |
| 4 | Blake | Baggett | Grand Terrace, CA | KTM | 450 SX-F FE | Rocky Mountain ATV/MC - KTM - WPS |
| 14 | Cole | Seely | Newbury Park, CA | HON | CRF450R WE | Team Honda HRC |
| 15 | Dean | Wilson | United Kingdom | HQV | FC450 FE | Rockstar Energy Husqvarna Factory Racing |
| 16 | Zachary | Osborne | Abingdon, VA | HQV | FC450 FE | Rockstar Energy Husqvarna Factory Racing |
| 17 | Joseph | Savatgy | Tallahassee, FL | KAW | KX450 | MONSTER ENERGY KAWASAKI |
| 19 | Justin | Bogle | Cushing, OK | KTM | 450 SX-F | Rocky Mountain ATV/MC - KTM - WPS |
| 21 | Jason | Anderson | Rio Rancho, NM | HQV | FC450 FE | Rockstar Energy Husqvarna Factory Racing |
| 25 | Marvin | Musquin | France | KTM | 450 SX-F FE | RED BULL KTM |
| 41 | Ben | LaMay | Wasilla, AK | HON | CRF450R | TPJ | FLY Racin | HONDA |
| 43 | Tyler | Bowers | Danville, KY | KAW | KX450 | Triggr | Tyler Bowers Racing |
| 46 | Justin | Hill | Yoncalla, OR | SUZ | RMZ 450 | JGR | Yoshimura | Suzuki Factory Racing |
| 49 | Henry | Miller | Rochester, MN | KTM | 450 SX-F | Henry Miller Racing |
| 51 | Justin | Barcia | Greenville, FL | YAM | YZ 450F | Monster Energy-Factory Yamaha Racing |
| 54 | Dylan | Merriam | Corona, CA | HQV | FC450 | RJC Racing |
| 56 | Lorenzo | Locurcio | Venezuela | KAW | KX450 | |
| 60 | Justin | Starling | DeLand, FL | KAW | KX450 | Kissimmee Motorsports | Legends and Heroes | Kawasaki |
| 63 | John | Short | Pilot Point, TX | HON | CRF450R | TPJ Racing |
| 69 | Jake | Masterpool | Paradise, TX | HON | CRF450R | His 956 Facility |
| 80 | Heath | Harrison | Silverhill, AL | KAW | KX450 | Romar Marina | Fastlap | MX-Tech |
| 90 | Jeremy | Hand | Mantua, OH | HON | CRF450R | Hand Racing |
| 94 | Ken | Roczen | Germany | HON | CRF450R WE | Team Honda HRC |
| 100 | Dirco | Van der Westhuizen | Cairo, GA | YAM | YZ 450F | Fox | Mobuis Braces | Backyard Designs |
| 101 | Fredrik | Noren | Sweden | HON | CRF450R | Sustainable Oil Field Services | Honda |
| 103 | Dean | Ferris | Australia | YAM | YZ 450F | Monster Energy Yamaha Factory Racing |
| 119 | Isaac | Teasdale | Robbinsville, NC | SUZ | RMZ 450 | TMM |
| 124 | Benny | Bloss | Oak Grove, MO | KTM | 450 SX-F FE | Rocky Mountain ATV/MC - KTM - WPS |
| 125 | Luke | Neese | Jamestown, NC | HON | CRF450R | K.S. Trenchco | Triangle Cycles | Thor |
| 152 | Ryder | Hanninen | Hibbing, MN | KAW | KX450 | Quality Circuits | Triumph Twist Drill | Bougalis and Sons Construction |
| 207 | Ronnie | Demorest | Irwin, PA | HQV | FC450 FE | Focus X Gear | 343 Graphix | Motosport |
| 222 | Brandon | Hugney | Mount Joy, PA | KAW | KX450 | 3Seventeen Moto | 230 Cafe | PR2 Racing |
| 227 | Cory | Gilliam | Thurmont, MD | KTM | 450 SX-F FE | Gilliam Racing |
| 243 | Hunter | Braun | Westland, MI | HON | CRF450R | Championship Powersports | TCD | Bell |
| 254 | Cody | Briner | Sierra Vista, AZ | KAW | KX450 | Team KRT |
| 261 | Landon | Davis | Jacksonville, FL | KTM | 450 SX-F FE | SilverBack Racing |
| 263 | Rece | Campbell | Nelsonville, OH | KTM | 450 SX-F | LOFT Racing |
| 265 | Nick | Fratz-Orr | Oakland, MD | KTM | 450 SX-F FE | Fratz-Orr Racing |
| 270 | Jacob | Runkles | Sykesville, MD | KTM | 450SX-F | Runkles Racing |
| 273 | Noah | Vislosky | Leechburg, PA | YAM | YZ 450F | Ebensburgh Yamaha |
| 279 | Timothy | Crosby | Confluence, PA | YAM | YZ 450F | PR2 Suspension | Roaring Knob MX | Fly |
| 312 | Chris | Makuta | Hazelton, PA | KTM | 450 SX-F | Holeshot Cycles | MGX Unlimited |
| 314 | Tyler | Stepek | Mount Airy, MD | YAM | YZ 450F | Tomahawk MX |
| 319 | Coty | Schock | Dover, DE | KTM | 450 SX-F FE | Diamond Motor Sports | Pro-Action Suspension | Sutton/Sm2 |
| 324 | James | Cooper | Indianapolis, IN | YAM | YZ 450F | Cooper Racing |
| 351 | Eric | Grondahl | Portsmouth, NH | HQV | FC450 FE | Alias |
| 354 | Matthew | Toth | Ellwood City, PA | KAW | KX450 | |
| 402 | Samuel | Greenawalt | Jacksonville, FL | YAM | YZ 450F | Greenawalt Racing |
| 412 | Jared | Lesher | Elderton, PA | HON | CRF450R | MotoPro Racing |
| 437 | Charles | Bright | Petersburg, WV | HON | CRF450R | Tri County Honda | Bright Engine Concepts |
| 447 | Deven | Raper | Mesa, AZ | KAW | KX450 | RJC Racing | Kelly's Kawasaki |
| 463 | Levi | Kilbarger | Logan, OH | YAM | YZ 450F | LOFT Racing |
| 468 | Austin | Walker | Townsend, DE | KAW | KX450 | Powersports East | Kawasaki Team Green | True MX |
| 489 | Ricci | Randanella | Marlton, NJ | HON | CRF450R | Randanella Septic Inc. |
| 493 | Mason | Price | Inverness, FL | KTM | 450 SX-F FE | |
| 499 | Dawson | Chesnut | Sorento, IL | SUZ | RMZ 450 | TPJ Racing |
| 504 | Gregory | Hutchinson | Somers, CT | HON | CRF450R WE | Dialed Racing |
| 511 | Charles | Wernig | Street, MD | HON | CRF450R | Giles Racing |
| 513 | Aerian | Weaver | Morgantown, WV | YAM | YZ 450F | Weaver Racing |
| 524 | Frank | Peneno | Pearl River, NY | HQV | FC450 | Fly Racing | Spectro Oils | Cometic Gaskets |
| 553 | Brent | Rouse | Torrance, CA | HON | CRF450R | Patch Master Racing | Mid Cities Honda |
| 566 | Jacob | Rose | Summersville, WV | KAW | KX450 | Rose Racing |
| 577 | Felix | Lopez | Mexico | KTM | 450 SX-F | |
| 591 | Tanner | Myers | Oklahoma City, OK | YAM | YZ 450F | TPJ Fly Racing Team |
| 595 | Michael | Kitzmiller | Vicksburg, MI | YAM | YZ 450F | Kitzmiller Racing |
| 596 | Carson | Tickle | Cary, NC | HON | CRF450R | Team Tickle |
| 600 | Connor | Olson | Littleton, CO | HQV | FC450 FE | Two Tire Take Over |
| 609 | Leo | Demastry | Lancaster, OH | HON | CRF450R | Bonzi Suspension and Chasis | Morgantown Powersports | Keefer Contractors |
| 612 | Max | Darling | Green Cove Springs, FL | KTM | 450 SX-F FE | |
| 624 | Garrett | Smith | Ebensburg, PA | HON | CRF450R | Cernic's Racing | MXtire.com | MPR Suspension |
| 637 | Bobby | Piazza | Easton, PA | HON | CRF450R | JMR Racing |
| 647 | Matthew | Hubert | Riverside, CA | HQV | FC450 | TPJ Fly Racing Team |
| 664 | Hunter | Stempel | Bay Shore, NY | HON | CRF450R | Airtime Clothing | Evo MX Images | Greasy MX Films |
| 673 | Landon | Armbruster | Brookville, OH | KTM | 450 SX-F | Central Collision Repair |
| 700 | James | Weeks | Punta Gorda, FL | YAM | YZ 450F | TPJ Racing |
| 718 | Toshiki | Tomita | Japan | HON | CRF450R WE | Team Honda HRC |
| 724 | Jason | McConnell | McDonald, PA | YAM | YZ 450F | Pro+Motorsports | Pro-action |
| 727 | Bradley | Esper | Howell, MI | SUZ | RMZ 450 | PR2 Racing | Answer Racing | MX Tire |
| 731 | Steve | Roman | Apollo, PA | SUZ | RMZ 450 | Hillview Motorsports |
| 750 | Gavin | Chinn | Chillicothe, OH | KTM | 450 SX-F | Chinn Racing |
| 763 | James | Henshaw | Manahawkin, NJ | HON | CRF450R | Motosport | SGB Racing | Men at Work Landscaping |
| 788 | Josh | Heintz | Pittsburgh, PA | KAW | KX450 | Podium Works | Mosites Motorsports | SocialWebMedia Racing |
| 804 | Cole | Robbins | Huntingtown, MD | YAM | YZ 450F | Blue Buffalo | Slater Skins | Yamaha |
| 811 | Christopher | Williams | Ortonville, MI | SUZ | RMZ 450 | Miat College of Technology | Rosenau Powersports | No Toil |
| 827 | Blake | Ovitt | Ashley Falls, MA | KTM | 450 SX-F | FXR Racing | MGX Unlimited | Ohlins |
| 829 | Taylor | VanBeek | Gainesville, FL | SUZ | RMZ 450 | |
| 878 | Eric | McKay | Hollywood, MD | YAM | YZ 450F | HGX Graphics |
| 927 | Jamal | Porter | Fayetteville, NC | HON | CRF450R | Porter Racing |
| 929 | Taiki | Koga | Japan | KAW | KX450 | TPJ Racing |ADA | SoCal MXTF |
| 957 | Jarrett | Thompson | Hyndman, PA | YAM | YZ 450F | Excavating Associates Racing |
250 Class
| | | | | | | |
| --- | --- | --- | --- | --- | --- | --- |
| # | First Name | Last Name | Hometown | Brand | Model | Team Name |
| 12 | Shane | McElrath | Canton, NC | KTM | 250 SX-F FE | Troy Lee Designs Red Bull KTM |
| 23 | Chase | Sexton | La Moille, IL | Honda | CRF250R | GEICO Honda AMSOIL Factory Connection |
| 26 | Alex | Martin | Millville, MN | Suzuki | RMZ 250 | JGR | Yoshimura | Suzuki Factory Racing |
| 28 | Jordon | Smith | Belmont, NC | KTM | 250 SX-F FE | Troy Lee Designs Red Bull KTM |
| 31 | RJ | Hampshire | Hudson, FL | Honda | CRF250R | GEICO Honda AMSOIL Factory Connection |
| 32 | Justin | Cooper | Cold Spring Harbor, NY | Yamaha | YZ 250F | Monster Energy | Star Racing | Yamaha |
| 34 | Dylan | Ferrandis | France | Yamaha | YZ 250F | Monster Energy | Star Racing | Yamaha |
| 36 | Michael | Mosiman | Sebastopol, CA | Husqvarna | FC250 | Rockstar Energy Husqvarna Factory Racing |
| 38 | Christian | Craig | Corona, CA | Honda | CRF250R | GEICO Honda AMSOIL Factory Connection |
| 39 | Colt | Nichols | Muskogee, OK | Yamaha | YZ 250F | Monster Energy | Star Racing | Yamaha |
| 44 | Cameron | McAdoo | Sioux City, IA | KTM | 250 SX-F FE | Troy Lee Designs Red Bull KTM |
| 52 | Jordan | Bailey | Orlando, FL | Husqvarna | FC250 | Rockstar Energy Husqvarna Factory Racing |
| 55 | Kyle | Peters | Greensboro, NC | Suzuki | RMZ 250 | JGR | Yoshimura | Suzuki Factory Racing |
| 59 | Nick | Gaines | Ringgold, GA | Yamaha | YZ 250F | 3D Racing Yamaha |
| 61 | Garrett | Marchbanks | Coalville, UT | Kawasaki | KX 250 | MONSTER ENERGY | PRO CIRCUIT | KAWASAKI |
| 66 | Mitchell | Oldenburg | Staples, MN | Yamaha | YZ 250F | Monster Energy | Star Racing | Yamaha |
| 73 | Martin | Davalos | Ecuador | Kawasaki | KX 250 | MONSTER ENERGY | PRO CIRCUIT | KAWASAKI |
| 77 | Challen | Tennant | Willis, TX | KTM | 250 SX-F | 3D Racing |
| 83 | Killian | Auberson | Switzerland | KTM | 250 SX-F | |
| 91 | Zack | Williams | Elko, MN | KTM | 250 SX-F | Fusion Motorsports |
| 92 | Adam | Cianciarulo | Clermont FL | Kawasaki | KX 250 | MONSTER ENERGY | PRO CIRCUIT | KAWASAKI |
| 110 | Yusuke | Watanabe | Japan | Yamaha | YZ 250F | Cycle Trader Rock River YAMAHA |
| 112 | Thomas | Covington | Vernon, AL | Husqvarna | FC250 | Rockstar Energy Husqvarna Factory Racing |
| 123 | Mitchell | Falk | Costa Mesa, CA | KTM | 250 SX-F FE | Troy Lee Designs Red Bull KTM |
| 129 | Ryan | Diezic | Streetsboro, OH | Honda | CRF250R | FXR | MX Graphics |
| 161 | Justin | Thompson | South Africa | Yamaha | YZ 250F | Thor | Asterisk | GarneUSA |
| 162 | Maxwell | Sanford | Pasadena, MD | Yamaha | YZ 250F | Concrete Plants Inc |
| 164 | Matthew | Klann | Howell, MI | Honda | CRF250R | |
| 168 | Cale | Kuchnicki | Alanson, MI | KTM | 250 SX-F | Highland Trails Racing |
| 194 | Jerry | Robin | Hamel, MN | KTM | 250 SX-F | FCC Motosports | Signation |
| 196 | Hunter | Lawrence | Corona, CA | Honda | CRF250R | GEICO Honda AMSOIL Factory Connection |
| 205 | Wilson | Todd | Austrailia | KTM | 250 SX-F FE | Troy Lee Designs Red Bull KTM |
| 210 | Jonathan | Mayzak | Murrells Inlet, SC | KTM | 250 SX-F | Integrity Racing |
| 212 | Tyler | McCoy | Australia | Yamaha | YZ 250F | MX University | The Collective Family | McCoy's Gardening |
| 233 | Derek | Drake | San Luis Obispo, CA | KTM | 250 SX-F FE | Troy Lee Designs Red Bull KTM |
| 247 | Brock | Papi | Groveland, FL | Honda | CRF250R | Mosites Motorsports | A&Y Performance Honda |
| 269 | Dalton | Dyer | Benton, AR | Kawasaki | KX 250 | Motographix | Pro Circuit | Greg Dyer Plumbing |
| 291 | Zane | Merrett | Crowley, TX | KTM | 250 SX-F | TPJ |
| 301 | Jordan | Jarvis | Clayton, NC | Yamaha | YZ 250F | Jordan Jarvis Racing |
| 303 | Michael | Hand | Mantua, OH | Yamaha | YZ 250F | Hand Racing |
| 321 | Bradley | Lionnet | Zambia | Yamaha | YZ 250F | |
| 337 | Vincent | Luhovey | Greensburg, PA | Suzuki | RMZ 250 | Hillview Cycles | TrueMX | Department of Power |
| 339 | Bryan | Bachman | New Brighton, PA | Yamaha | YZ 250F | Fly Racing | Pro-Action Suspension | MX Graphics |
| 340 | Blake | Taylor | Woodlawn, TN | KTM | 250 SX-F | Next Gear Race Programs | Stripes and More | Backyard Design |
| 346 | Kevin | Moranz | Topeka, KS | Kawasaki | KX 250 | Custom Power Sports | Plumbing Plus | Team Carey |
| 356 | Daniel | Lippman | Fombell, PA | Husqvarna | FC250 | TrueMX |
| 407 | Benjamin | Nelko | Aliquippa, PA | Yamaha | YZ 250F | 3D Racing | Yamaha |
| 425 | Joshua | Leininger | Mooresville, NC | Honda | CRF250R | Fly | Xtreme Powersports | JGR |
| 426 | Kein | Denzler | Garrettsville, OH | KTM | 250 SX-F | FiveStar Powersports |
| 432 | Salvatore | Colangelo | Goldens Bridge, NY | Yamaha | YZ 250F | |
| 451 | Klay | Prager | Martins Ferry, OH | Husqvarna | FC250 | Podium Works |
| 500 | Ben | Adamson | Byron, MN | KTM | 250 SX-F | |
| 509 | Alexander | Nagy | Richmond, IL | KTM | 250 SX-F | Nagy Racing |
| 514 | Anthony | Roth | Cedar Run, NJ | Yamaha | YZ 250F | Pepsi | JETTY | Traction MX |
| 554 | Wade | Brommel | Indianola, IA | Kawasaki | KX 250 | Real Ink Graphics | Cox Concrete | MX Tech |
| 573 | Hunter | Calle | Plainfield, CT | Yamaha | YZ 250F | Federal Hill Home Theaters Inc | Arai Helmets | SIDI Boots |
| 622 | Zac | Maley | Laotto, IN | Yamaha | YZ 250F | Tom Zont Racing | Mika Metals | Maxima |
| 631 | Brandon | Dickson | Grand Rapids, MI | Honda | CRF250R | Dickson Racing |
| 668 | Ryan | Blanford | Kettering, OH | Honda | CRF250R | G.I.E. Inc. | Middletown Cycle | KB5 Industries |
| 691 | James | Justice | Hilliard, OH | KTM | 250 SX-F | Justice Racing |
| 719 | Joshua | Berchem | West Greenwich, RI | KTM | 250 SX-F | Elite Pro X Razees KTM |
| 795 | Aaron | Leininger | Wesley Chapel, FL | Honda | CRF250R | Leininger Brothers Racing |
| 818 | James | Barry | Westminster, MD | Yamaha | YZ 250F | Barry Racing |
| 841 | Jeff | Walker | Sylvania, OH | Honda | CRF250R | Walker Motorsports |
| 847 | DJ | Christie | Flat Rock, MI | KTM | 250 SX-F | therightdirection.org |
| 870 | Colton | Camp | Marion, NY | KTM | 250 SX-F | Camp Racing |
| 916 | Jorge | Rubalcava | Paradise, TX | KTM | 250 SX-F | JR Racing |
| 923 | Chris | Moore | Nanuet, NY | Husqvarna | FC250 | The Privateer Journey |
| 931 | Stephen | Vuckson | New Salem, IN | Honda | CRF250R | |
| 936 | Ty | Masterpool | Paradise, TX | Yamaha | YZ 250F | Monster Energy Yamalube Star Yamaha Racing |
| 964 | Mitchell | Goheen | Canada | Yamaha | YZ 250F | Blackstock Motorsports | Motozilli |
| 993 | Austin | Wagner | Niles, MI | Honda | CRF250R | TiLube Honda | Buddy Brooks Racing |
125 All Star
| | | | | | |
| --- | --- | --- | --- | --- | --- |
| # | First | Last | OEM | City, State | Sponsors |
| 77 | Bryce | Adams | HQV | West Springfield, PA | Baldwin Motorsports|Five Star Cycle|Fly Racing |
| 312 | Angelo | Agostinelli | KTM | Fombell, PA | Western PA Concrete & Excavation |
| 97 | Ralph | Anthony | SUZ | Irwin, PA | Western Power Sports|Department of Power|Stiller Motorsports |
| 333 | John | Ayers | HSQ | Port Orange, FL | Gear Racewear |
| 956 | Dylan | Bartlett | SUZ | Arnold, PA | |
| 28 | Katie | Benson | KTM | Greer, SC | Monster Army| Bell Helmets| 100% |
| 85 | John | Bowlin | KAW | Abingdon, MD | Kawasaki Team Green|Brapp Strapps|Ohlins USA |
| 47 | Tyler | Boyer | HON | Pensacola, FL | Crolli Inc|Boyer RV Center|TSB Mobile Detailing |
| 459 | Gary | Bruce | HON | Wooster. OH | Spy|Factory Connection|Real Ink |
| 444 | Justin | Cokinos | KTM | Hanover, MA | Factory Connection|The Wick|Hutch Motor Sports |
| 947 | Cole | Crawford | SUZ | Reidsville, NC | Cycra|Oneal|Mika |
| 14 | Philip | Creasy | HQV | Blue Ridge, VA | Wayne Cycle Shop |Eye Candy Designs|O'Neal |
| 104 | Blaze | Cremaldi | YAM | Rochester, NY | AP Contracting|Motosport |
| 23 | Kody | Crum | YAM | Whipple, OH | Wagner Torque and Test|Hans Ada Racing|Hometown Honda |
| 257 | Joseph | Deneen | KTM | Bedford, PA | Dad|Mom|Brittany |
| 71 | Patrick | Evans | SUZ | Charlotte, NC | JGRMX|Fasthouse|Scott |
| 392 | Michael | Fowler | KTM | Beech Creek, PA | FXR|Five Star Powersports|FMF |
| 117 | James | Fullen | SUZ | Rostraver, PA | Richlin Imports |
| 24 | Max | Gomez | YAM | New Rochelle. NY | Prosthetic Orthotic Designs|Fly Racing|Bell Helmets |
| 610 | Korey | Hamrick | SUZ | Hurricane, WV | Midway Ford |
| 3 | David | Hand | YAM | Mantua, OH | Pro Action|Wiseco|ProX |
| 15 | Hank | Hays | KTM | Oakdale, PA | The Towers Family |
| 246 | Branden | Huff | YAM | Freedom. PA | Pro Action Suspension|FMF|Bell Helmets |
| 62 | Jacob | Ingram | KTM | Penfield, PA | MXTire.com|Bell Helmets|Asterisk USA |
| 55 | Michael | Jones | YAM | Export, PA | Hillview | Jones & Roman MX Schools | Fly Racing |
| 11 | Philip | Kanarkowski | YAM | Irwin, PA | Engine ICE Coolant|PR2 Suspension|Sunstar |
| 105 | Jimmy | Knisley | YAM | Smock, PA | Saucy by Nature| Mosites Motorsports| Pro Action |
| 921 | Richie | Kolcun | HON | Lorain, OH | Magari Goggles|SRS Suspension|Real Ink Graphics |
| 38 | Tyler | Kozik | KTM | Clifford Twp, PA | Scranton Craftsmen |
| 221 | Nate | Kronk | YAM | Waynesburg, PA | Waynesburg Yamaha and KTM| 100%| MX Tire |
| 38 | Michael | Lennon | YAM | Brandywine, MD | Motosport|Limited Decal|Factory Connection |
| 68 | Zak | Lowery | KTM | Lower Burrell. PA | MX Tire|ACF Group|DBD Restoration|Mosites Motorsports |
| 760 | Tyler | Martin | YAM | Parker, PA | True MX|Stillers Kriebel Excavating |
| 219 | Tyler | McGuire | KTM | Wirtz, VA | Wayne Cycle Shop| Ron Ayers Motorworks| Total Control Racing Suspension |
| 181 | Michael | Mercer | YAM | Cincinnati, OH | Answer|MotoXtremes |
| 42 | Nathan | Merricks | YAM | Danville, VA | RV Outlet USA|Triangle Cycles|Total Control |
| 112 | Andrew | Mikolaichik | YAM | Harding, PA | Western Powersports|Fly Racing|GMAX Helmets |
| 727 | Hunter | Murphy | KAW | Noxen, PA | Bevan Motorsports|Rondinella Racing|Motosport |
| 7 | Raymond | Niebel | SUZ | Pittsburgh. PA | |
| 38 | Jeffrey | Pape | YAM | Paris, OH | Garne|FMF|Scott USA |
| 33 | Robert | Perri | SUZ | Apollo, PA | Hillview Motorsports|Department of Power|OGIO |
| 42 | Michael | Pillar | YAM | Dover, OH | Red Hill Crane |
| 22 | Garrett | Rednour | YAM | Louisville, KY | Adventure Power Sports|AMSOIL|Pirelli |
| 16 | Alex | Rick | YAM | Pittsburgh, PA | 1Six Foundation| Hillview Motorsports| PR2 |
| 35 | Jack | Rogers | YAM | Brookeville, MD | PMR|Thor|Scuba Built |
| 23 | Donovan | Sante | SUZ | Pittsburgh, PA | MX Tire|Wiseco|Artisan Construction & Design. |
| 749 | Trevor | Schmidt | KTM | Rochester. NY | Scranton Craftsmen|RTS|Central Roadways |
| 231 | Casey | Schrader | HQV | Holland, NY | Mom & Dad|Action Roofing |
| 128 | Russell | Shank | YAM | West Newton, PA | Answer racing| Hillview Motorsports| Scott goggles |
| 381 | MacCoy | Shine | HQV | Holland, NY | Dad|The Massara's|D.E. Twincam Performance |
| 20 | Hunter | Shriner | HQV | Clarksville, PA | Schulz Cycle|Tucker Rocky|Husqvarna |
| 78 | Robert | Sly | YAM | New Franklin, OH | DH1 mods|Rotoline USA |
| 63 | Talon | Thompson | KTM | Mercer, PA | GroveCityMotorsports|TruBorMachineCo|Grandma n Grandpa |
| 229 | Konnor | Visger | HQV | Bellevue, MI | Fly Racing|Factory Connection|MA Engines |
| 812 | Luke | VonLinger | HQV | Stanford, KY | VBMX Schools|Tom Zont Racing|FXR |
| 763 | Jordan | Weber | KAW | Kensington, OH | NAP MX|Driven MX|MX solutions |
| 481 | Johnathan | Wells | HON | Kennerdell, PA | FCC Motorsports |
| 54 | Noah | Willbrandt | YAM | Waterford, MI | MCR Backed Yamaha bLUcRU|Thor|6D |
| 543 | Shawn | Woody | KAW | Elkins, WV | Tri County Powersports|Big Timber Brewing |
| 316 | Chase | Yentzer | KTM | Carlisle, PA | Cernics|Dunlop|Seven |