Seattle, WA
Seattle
Monster Energy AMA Supercross Championship
The first thing you need to know is that David Vuillemin doesn't filter his thoughts, and he doesn't deal with excuses. The Seattle Supercross marked a great race for his riders, and while he's proud of that, he still knows there are things to be gained.
"Today when I see riders, I don't know if it's bike setup, if it's tires, if it's rider technique, whatever it is, but today, the best in the whoops was Reedy [Chad Reed]," says Vuillemin. "That's not normal. He's 37 years old, still a great rider but nowhere near his prime. In his prime he'd be riding with Marvin [Musquin] for the win right now. These are red flags, something is wrong. I think it goes back to, I was scared to go ride the Yamaha test track back in the day. It was gnarly, it was never prepped, whoops were huge, cupped out."
"Now you go riding and the track is prepped perfectly every Monday," he continued. "I can do the whoops at those tracks in my tennis shoes, still. What do you gain? They do laps, they do the same thing, they become robotic, and every time a track has something new with a challenge, either a lot of ruts, tough whoops, even the quads here. We have the best riders in the world here. How many people went 2-3-3-1 before the whoops? Bubba [James Stewart] would have done it on a 125! Even Ricky [Carmichael], when Ricky saw Bubba he was going for it, Reedy and all those guys in those big years. I don't know what's going on, really. I saw some guys do it, [Dean] Wilson, it wasn't sketchy. I've seen way sketchier stuff. It's nothing, you just have to go for it. The whoops? I don't know, they need to step it up, technically."
Okay, in this case he's referencing two of the best riders to ever swing a leg over, James Stewart and Ricky Carmichael. That's okay, DV had to race guys like that. He never won the 450SX championship, but Vuillemin can say he beat both Jeremy McGrath and Ricky Carmichael straight up for supercross race wins. That's rare air. Vuillemin, though, isn't here to talk about himself and his own accomplishments. He just knows what he sees today.
"I don't reach out to anyone for a job, I don't want to work," he says. "Dylan [Ferrandis], during his rookie season in 2017, during nationals he reached out about how to set up his bike. It was just like an audit—I'd come out and watch him and just see what I think. We looked at many things, even training, but the first thing was getting comfortable on the bike, and we went from there. With Marvin, we've always been friendly, he's gone to my kids' birthday parties. I've turned down a lot of jobs, sometimes it's not the right timing or the right fit. Finally, Marvin, during supercross last year we talked, nothing official, and during outdoors he said maybe we could do a riding and technique sort of deal. So I just do that. When I work during the week with Marvin, I work around Aldon's [Baker, Marvin's trainer] schedule. With Dylan it's way different. I do everything. I have the freedom on picking tires, suspension, his training, we go to the gym together, and whenever he rides I'm there."
Vuillemin doesn't pitch people on his work, but if he does decide to work with you, he doesn't hesitate to tell you what he knows.
"Today everyone works with videos, they have software where you can see two riders on the same screen and stuff. It's funny because most of the time, when I tell Marvin something, like 'This line here, great, this line here, great. This line and this line, not good.' Most of the time when we go back and watch the video software, it's exactly the same! I tell him every week, 'See, I don't need the software.'"
At this point, it becomes easy to label Vuillemin as arrogant or impossible to please, but if you're Musquin or Ferrandis, you can use Vuillemin's conviction to your own benefit. Vuillemin sees so much room for improvement, you can start to believe anything is possible, and there's courage and strength in that. For example, DV is one of the few in this industry that won't blame a bad start for a bad result. He actually thinks starts get talked about too much, first by media like us, and then by the riders, and everyone else, and then it becomes an automatic excuse—bad start equals bad result.
It's his belief that if you ride right, you should even be able to overcome a bad start or other fast riders. "The race is 27 laps or whatever," he says. He also thinks people focus too much on the mental side of racing. To Vuillemin, it always goes back to riding the motorcycle better. That takes care of everything else.
So what does Vuillemin want his riders to do? Ride smarter not harder.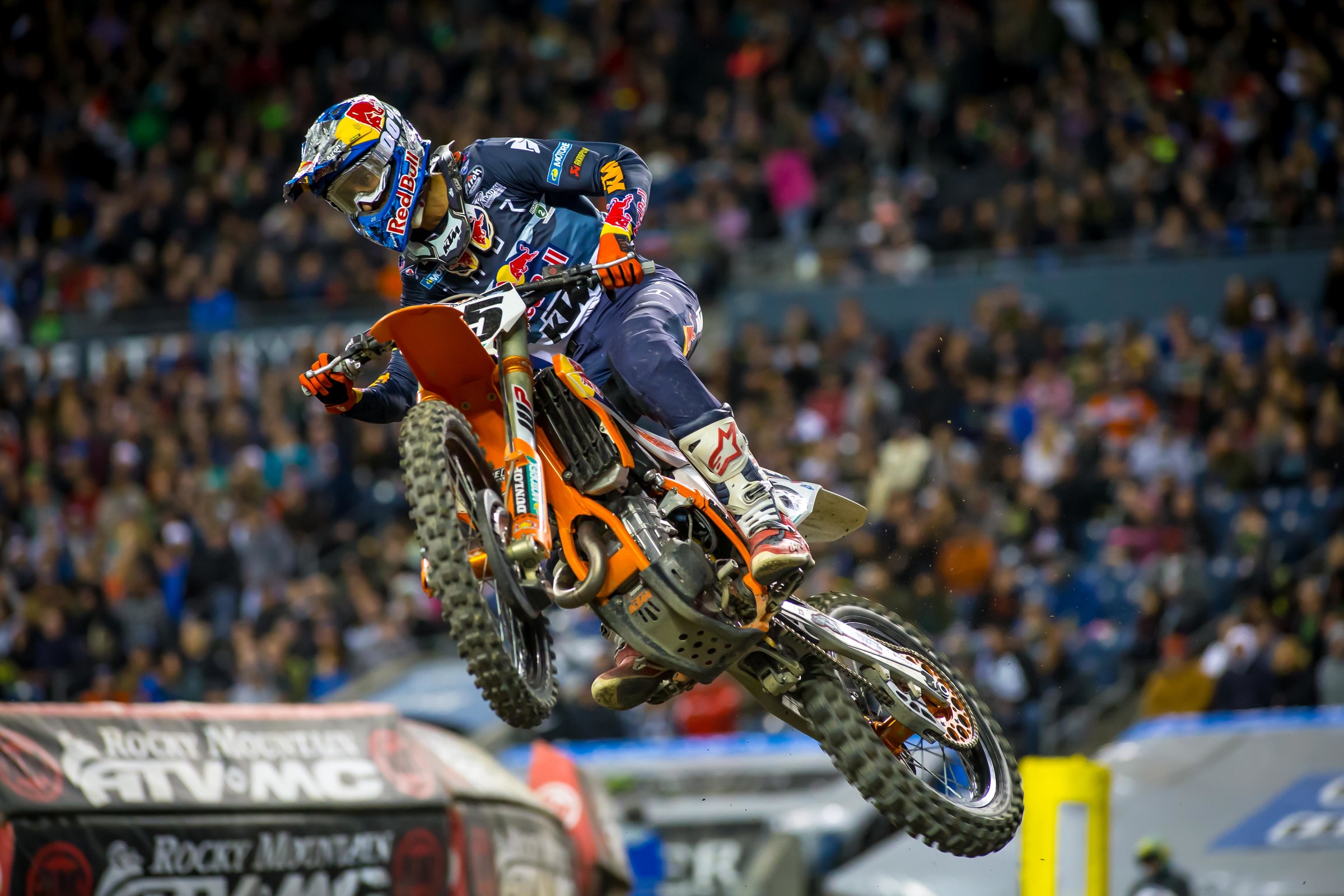 "I'm interested in the quality stuff. Instead of the raw speed, it's using the most of your technique on the motorcycle," he says. He doesn't want his guys to just go fast, he wants them to do it right, so it's repeatable. "I think that's the best way to ride supercross, and the way to be the most consistent. It's not about pinning it, go for it, no pain no gain—I hate that saying by the way. I'm more Brad Pitt in Moneyball. Do it the smart way, not the hard way. Do it the simple way."
So while Vuillemin was once known as "Le Cobra" for a riding style that had him coiling all over the bike, he now preaches moving as little as possible.
"Riders need to have someone on their asses all the time to remind them of the things they need to do correctly," he says. "Where to put your wheels, how to ride, and I'm big on strategy. But really, if you look at Marvin [Saturday night], this is what I'm looking for. I want you to look at Marvin and say, 'He doesn't look that fast today.' And then you look at the lap times and he's on top of the board. That's my goal. Effortless—you see these guys are going fast, but there's so much stuff they don't need to do. I don't want waste, I want efficiency all the time."
So unfiltered is Vuillemin that, during this interview, he actually said this:
"Tonight, Dylan rode like shit," says Vuillemin.
[Note: Since we posted this article, Vuillemin later reached out to us to explain that the "rode like shit" part was not fair--Dylan did win the race, after all. DV was simply trying to relay that he knows Ferrandis can ride even better than what he did on Saturday night.]
"He rode better many times this year," he continued, following the race. "It's his first win, so I will let it go, but on Monday I will not let it go, for sure."
Vuillemin, himself, evolved his style completely, the old Le Cobra stuff eventually went away.
"I hated my style," he says. "I wish I was like [Ezra] Lusk, or [Kevin] Windham. Those guys had way better style than me. Obviously I worked on it. There's a lot of things you don't need to do to go fast. You have to make them understand efficiency."
So this week Vuillemin will go to work reminding Ferrandis to be efficient. He says Ferrandis worried too much about leading, he got tight, he made mistakes. He wants the focus to always be technique, speed, lap times. Again, if you ride the bike right, everything else will take care of itself.
"I am really happy with Marvin's riding, he looked really slow but he was pulling away," he says. "That's my view of supercross—clean, precise, fast. No revs, no clutch, no rear brake. I think that's the way to do it."
For as long as Ferrandis and Musquin keep him around—Vuillemin isn't going to beg to keep working—he'll keep reminding them.