Daytona, FL
Daytona
Monster Energy AMA Supercross Championship
"Promise me that whatever else we do from here, we win Daytona."
While those words may have been uttered by City Chevrolet owner Tim Daland in Days of Thunder, they could have just as easily been said by North Carolina born and raised Cooper Webb. Daytona is different. Labeled the "World Center of Racing," Daytona carries a mystique unlike the rest of the series. It's a race that takes a different level of finesse. It requires a fire that burns just a bit brighter, just a bit hotter. It's rougher, it's sandier. In a word, it's harder. Whoever wins Daytona knows that they are a man amongst men. It's always been that way. If Webb wins Daytona, it could very well be the nail in this series' coffin.
As for the 2019 track, it's a busy one. There are more jumps and rhythm sections than the usual. I don't know that favors anyone in particular but it's definitely not the Daytona from yesteryear. There are only two real "sand" sections, featuring the nasty black sand that defined Daytona for decades.
The start cuts across the heart of the track, bending into a fast left and into sand whoops. Oftentimes riders will end up on the grass, blowing through the corner but it's a safe exit so I won't complain too much. The sand whoops lead to a bowl berm but look for riders to cut a few inside ruts that will become the preferred line. A beach sand section fires back into the next right-hand berm and again, look for riders to make inside ruts into and through the next single jump.
Rolling over that first jump will set riders up to jump-on jump-off of the next tabletop, and then find a way to triple through the final jumps. It's possible they could go 3-3-1 but I think it's more likely to see a 2-3-2 option. The basic rule for Daytona is to choose the line that can be maintained for 20 laps. The track will break down significantly so huge rhythm options usually become improbable at some point. Find a fast line that is consistent and stick with it.
A left-hand bowl berm leads riders down pit lane and in front of the bleachers. A standard supercross triple leads to a whoop section, a wall jump, and another set of whoops. Riders will blitz these, brake hard to crest the wall jump without wasting any time in the air, and then accelerate hard on the downside into the whoops. Some may find a way to jump all of these whoops, crest the wall, and then jump the second set again. Watch for Marvin Musquin and Webb to sort this out as they have been very proficient all season when the opportunity arises.
Riders cross the start straight and head into a fast, tricky rhythm section. It will be interesting to see how this section plays out. There are a few options on paper. If anyone can find a way to triple in, triple onto the next tabletop, step off, then tabletop to single, that would be the fastest option. I just don't know if that will be possible. The most obvious line will be double, double, step-on step-off, tabletop to single. To finish the straightaway, there are the infamous staggered Daytona mogul bumps. Watch for riders to try to make aggressive passes through these but we have also seen huge crashes here as well.
A left-hand berm sends riders into yet another rhythm section with no obvious choice of line. The jumps are all very tall which will raise the stakes for coming short on any potential triple. I think the race line will be to step over the tabletop, triple, triple, double. If that doesn't work, riders will go step-on step-off, double, triple, double. Most rhythm sections are very easy to figure out, even on paper, but this one will be one to watch.
The next bowl berm sends riders into a tough triple out of the corner which might not even be possible. The fastest line would be 3-3 and out but most will probably have to settle for 2-2-2 and into the next berm. A dragon's back sends riders into a sand hole, right into a wall jump. Riders will land in black sand again and then accelerate toward the finish line jump. Look for this sand to get nasty and rutty on the back side of the wall jump. The finish line looks very short before riders fire back into the sand whoops for lap two.
Questions I Want Answered:
Can anyone on the East stop Forkner?
Several riders are thinking Daytona is their chance to turn the tide of this 450 title. Who makes that happen?
Does the technical, clay-filled Daytona track change the vibe?
How many riders on my Pulpmxfantasy.com team will I hate at around 10 p.m.?
Will Mike Alessi holeshot something?
How many times will Steve Matthes complain about Daytona?
Will Jason Weigandt have a voice after a full day Saturday, RCSX on Sunday and Monday, followed by the Vintage Race Tuesday, and an American Flat Track event Thursday?
---
Who's Hot:
Cooper Webb. Duh. He's won five races and making a believer out of well, everyone.
Blake Baggett backed up his runner-up ride in the final Detroit main event with a runner-up in Atlanta. Daytona is typically his best event so watch for him to come in with big confidence.
Austin Forkner may not have won Atlanta, but he extended his points lead and sits firmly in control of 250SX East.
Marvin Musquin might not be where he wants to be points wise, but he is riding very well. He needs to win races down the stretch.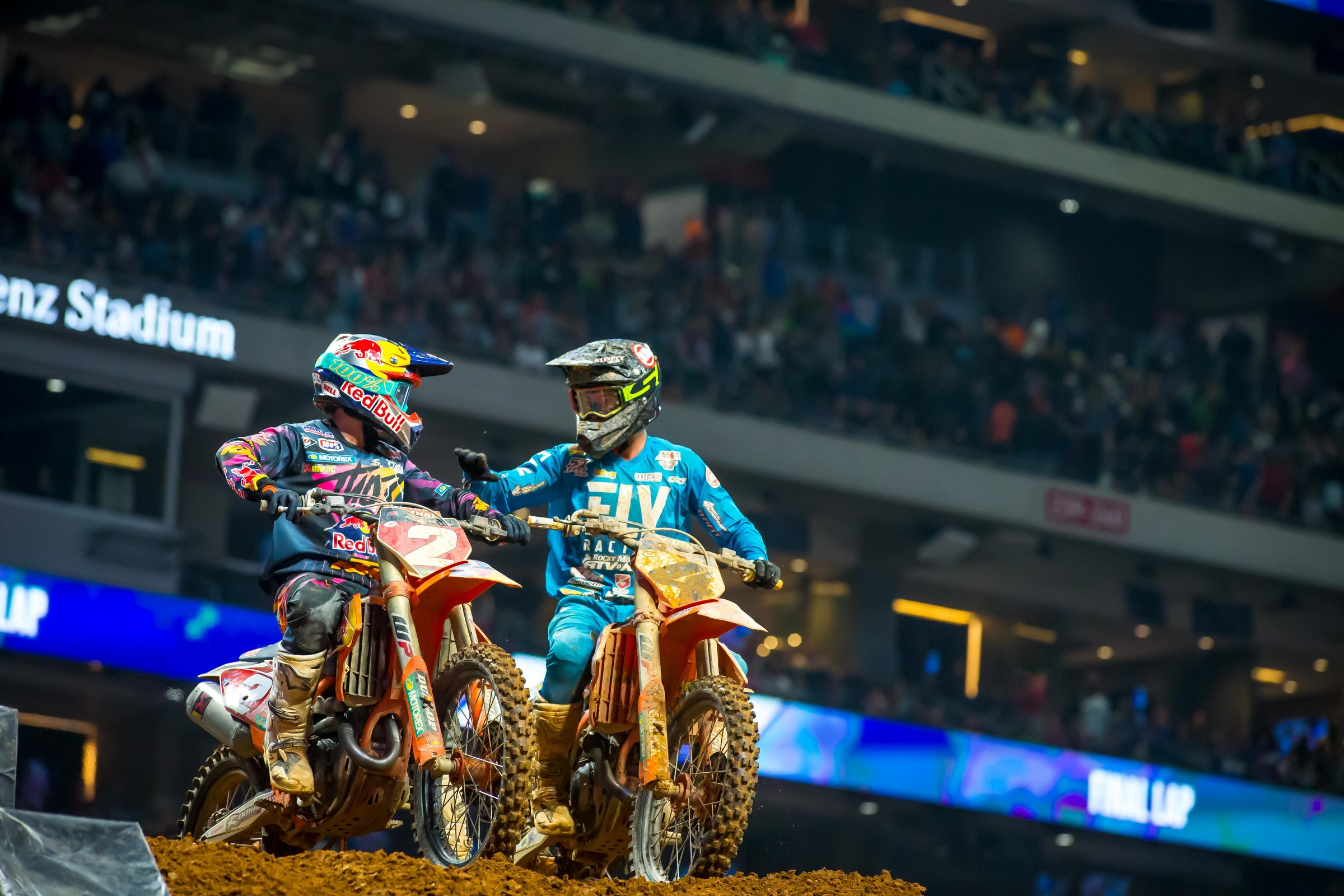 Who's Not:
Justin Hill hasn't been able to replicate his 2018 magic. I haven't seen a fitness level that would lead to a podium level finish. Those podium guys are 100 percent effort at the end of the main event.
Zach Osborne has the speed and ability but hasn't found his groove just yet. Atlanta wasn't his fault, but he still wasn't able to finish the 21-minute main event. Better days to come.
Cole Seely's results don't indicate how well he has been riding. It's been tough sledding in the results column, though. He wasn't able to ride Detroit due to a chest injury, then went down early at Atlanta.
Jordon Smith injured his wrist a couple of weeks ago and hasn't been the same since. He will be sidelined this weekend.
---
Bold Predictions:
Razzles injures more riders on Saturday night than the treacherous Daytona course.
Some variation of "Stew would have jumped this" is uttered 576 times on Saturday.
Steve Matthes mentions "Webb has this series locked up" to me during every practice, qualifier, and main event. I then proceed to kick him squarely in the shins.
It's the week where Tomac rides like Tomac, winning Daytona and causes several head scratches throughout the sport.
Ricky Carmichael and Ralph Sheheen get into a heated on-air debate over when the series actually starts.
My Picks
250
Austin Forkner
Chase Sexton
Alex Martin
450
Eli Tomac
Cooper Webb
Blake Baggett