Arlington, TX
Arlington (Dallas)
Monster Energy AMA Supercross Championship
For as awesome as the races have been, we're not really getting much help in the weather department lately in the Monster Energy AMA Supercross Championship. San Diego was a disaster, Minneapolis was SO cold, and this weekend in Arlington it was cold and rainy and we're heading to Detroit where, yeah, it's going to be cold. To steal a very popular phrase, good thing the racing is so good, it will HEAT IT UP.
I know that most of us all love the Glendale Supercross track each year. A big floor space allows for a cool track with lots of room, the dirt stays hard so the whoops hold up, the rhythms are big, the start is long and fast (which is actually safer because the pack spreads out by the time they get to the turn). Glendale is usually a great track (most of the time) and I think part of the reason is there's a ton of dirt used. In my opinion, there needs to be more dirt brought into every track, it just allows so much more.
In 2017, after a particularly epic race in Glendale, I believe Weege said in our Racer X post-race podcast, "Just build Glendale every week and we're good," and he's sort of right. Of course, floor size matter and composition of dirt matters but seems like the track designers are taking Weege's words very literal right now. Check out three out of the past five track maps…
Right? Pretty amazing to be honest and it's produced some great racing. Can't say it's been that bad of an idea!
(By the way, as Ben LaMay asked on Twitter: what in the hell happened to dragon back's? Where did they go?)
An amazing race in Arlington where Cooper Webb won his fourth (?!?) race of the year and took the points lead back. He came from seventh or so to nip Ken Roczen at the finish for the closest SX win since 2003, when records of this sort of stuff started getting recorded. Don't get me started on record and stat keeping of the AMA, please and thank you. Anyhoo, this Webb wins feels like a… thing. Like, seriously, it was an amazing ride and this might be the one. The RC win that changed the guard in 2001, the MC win that changed the guard in 1993, the MC win in Daytona in '96 that set a (nearly) perfect season in motion… this was a statement race. It was that good.
How about Cooper just deciding to quad that rhythm section with two laps to go? Yeah, Barcia did it first in the LCQ (Barcia to me after the race about it: "It's big, but it was not like dangerous really because the landing was quite small. It was pretty cool.") but your heart rate is high, you're right behind the first-place guy and you decided to do something you haven't done all day? That's confidence, that's ability and that's putting your balls on the handlebars.
I don't know, maybe I'm overstating the win but he just rode around his top competitors and left them behind (well, except for Roczen) and it's the kind of win that gives you confidence, people. The kind of win that propels you to new heights. Here's an idea we have to start considering: Cooper Webb, 2019 450SX champion. Wrap your head around THAT.
Webb himself told us that, even though Yamaha offered him a deal, one of the reasons he went with KTM this year was because it was a two-year contract. He wanted that chance to rebuild with a team because, as he told us, he knew he wasn't a championship contender yet. And I mean, his KTM salary has to reflect that, right? So I did some digging and found out if Webb does indeed win this 450SX title, there are provisions put into his contract to give him a needed bump. Championship-level riders get paid more, right? Long way to go but right now, the Red Bull KTM team has got themselves a hell of a deal.
Interesting incident in Arlington where in the second 450 heat, Tyler Bowers cleaned out Barcia in a pass that really had very little chance of being successful and also was very weird. Now, Barcia had hit Bowers in Vegas at the Las Vegas Supercross finale and broke his leg, which wasn't cool, so one might think this was revenge for that. And maybe it was. The result of the pass was a DQ for Bowers on the night.
The pass was brutal and deserved some sort of punishment, there's no doubt about that. We've seen riders fined, put on probation, given last gate pick for passes that were as bad or worse than what Bowers did on Barcia. But to DQ someone, the ultimate penalty really, for something we see quite regularly is yet another example of inconsistent punishment from the AMA/FIM. The penalty was so severe, I assumed there was more to the incident, like Bowers swung at Barcia after the race or abused an official or something. Nope. We had Bowers on the PulpMX Show and he told us that there was nothing else after the pass. He was just waiting for the LCQ when he was informed that he was DQ'd. John Gallagher, the FIM official, and Mike Pelletier, the AMA rep, were talking to Tyler and, according to Bowers, Mike had to remove John from the room because he was so angry at Tyler. If true, that's another example of John letting his emotions get the better of him. I like John, but the precedent is set now. Have to DQ everyone who does what Bowers does, right? Uhhh yeah, that's not going to happen. Terrible call by the FIM/AMA in my opinion.
What wasn't terrible was Barcia's dismount after he got hit. We saw an amazing the step off, walk across the Tuff Blox and exit stage right. Bike goes flying and he just acts like a boss. That was awesome.
I don't know what happened to Eli Tomac in Arlington but it wasn't good. I have no idea if it was body, bike, or what—the people close to the situation I talked to say they don't know either, meaning a bike or body issue after the fall can be ruled out. It was bizarre, he lost the front end, got up in seventh and probably could've salvaged a fourth or fifth. Instead he went backward and bizarrely so. I don't know if it was the pass by Ken Roczen while he was leading, the crash, or what, but it's another head scratcher for me when it comes to ET3. Like, elite riders—which he is—just don't have this kind of stuff happen to them. Arm pump? Brain pump? You got me, bro.
This weekend in Detroit is huge for Tomac. Somehow he went from red plate two weeks ago to now 16 points down in the title hunt. He's got to stop this slide this weekend in Detroit for the Triple Crown. He's not a fan of this format either which makes it doubly hard for him (however he might not like it, he usually does well. He's even got that coveted Triple Crown trophy for winning two of the three overalls last year). I don't know if he needs to win this weekend but he's got to get at least on the podium or this thing might be over for him. Don't look now but next week is the quasi-halfway point of the series. If he loses more points—he has just one win in the mud and has to jump three riders to win—you think that's going to happen? BIG weekend for Tomac in Detroit and I'm fascinated to see how he responds.
Ken Roczen… we're all waiting. This has to suck so bad for him. He's been remarkably consistent but at this point, he's got to be wondering what in the hell else he could do to get a win. The last turn, yeah he went too high, but it's easy to say that in hindsight. He thought Webb was going to come in and sell himself out for the win at all costs. Webb didn't—it looked like Cooper would've been perfectly fine to take the second—but Roczen thought it was officially on. Hence the line selection there. Yeah he would do it differently now but in the heat of the moment? There's a bunch of different ways to handle the last turn of the race and unfortunately for Kenny, he chose the one that allowed Webb to win.
Austin Forkner is two-for-two and has been perfect to start the 250SX East Region. He's really been a picture of consistency in the races even though his practice sessions have been gnarly. The kid absolutely sends it in the afternoon, then the race comes and he handles it so much better than he did last year. He admitted as much on Monday on the PulpmMX Show. Said it's just a maturing process he went through in realizing that he doesn't need to freak out. When Chase Sexton and Jordon Smith were catching him the main, he said he knew he had some time to regroup and figure it out, which he did. Meanwhile in a stunning reversal, it was Smith and Sexton that made mistakes. Last year, that probably would've been Austin.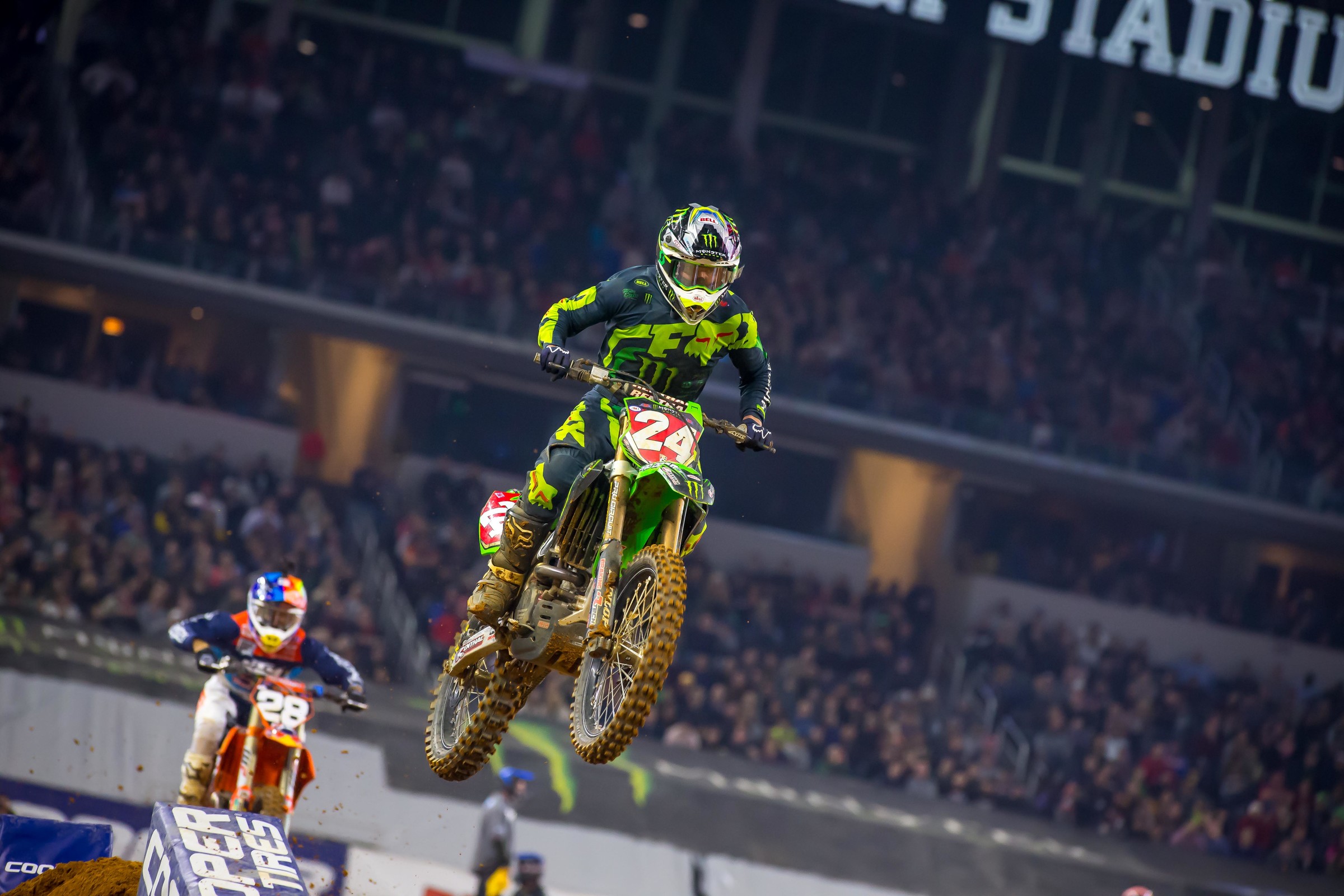 SOME OTHER random NOTES about random things:
We need more nets. Why don't we have more nets? They can't be that much money, right? Do we need to do a fundraiser? MORE NETS!
Justin Hill came back this week and it's amazing: two weeks basically off and the dude comes out and logs the second fastest qualifying time. In the main he was right there off the start and I thought it was gonna get spicy. Instead he drifted back pretty quickly and we all still wait for Hill to be "Tampa Hill."
Justin Cooper is two-for-three in podiums to start his supercross career. Not sure if anyone noticed this or not. Think about Sexton or Smith or almost anyone else and how they started their 250SX careers? Pretty impressive stuff for the SX rookie. By the way, the Monster Energy/Yamalube/Star Racing Yamahas are ridiculous. They're so fast. I asked Cooper's teammate Mitchell Oldenburg (who won his first career heat race this weekend) about the bikes and he said: "They're unbelievable. They're so fast. It's really hard to nail a start because the front end comes up so fast that you're just stabbing the clutch the whole way down the start. But those motors are unbelievable. We've been working hard on suspension in the whoops and stuff. I feel like we haven't really gotten a great set of whoops yet with the East Coast, but when we get that set I think we'll be ready to shine."
Joey Savatgy is figuring this 450 stuff out. It's been pretty impressive all year but early on he crashed out, missed a race then his bike broke. The whole time, though, he's been pretty fast and now he's showing it. Of course he signed a one-year deal with Monster Energy Kawasaki and we all think that AC92 is going to 450's next year so this off-season could be a big one for Kawasaki and their 450 roster. Might they go to three 450 guys?
Zach Osborne came back this week, qualified fourth overall, and got himself a LIT KIT nomination—all good things. The absolute worst thing for Wacko (well, besides getting hurt again, which he avoided) was crashing in the heat and having to work hard to get into the top nine and then crashing out in the main early on. And…. that's exactly what he did. Poor Wacko. Osborne knew what he did to me and so many other PulpMX Fantasy players, saying, "It was one of the first things that went through my mind whenever I'm laying on the backside of that berm. I'm like, damn it, I just blew it for every fantasy person. I've been that guy on the couch for the last six weeks. So sorry." Sorry isn't going to get my points back, Zach!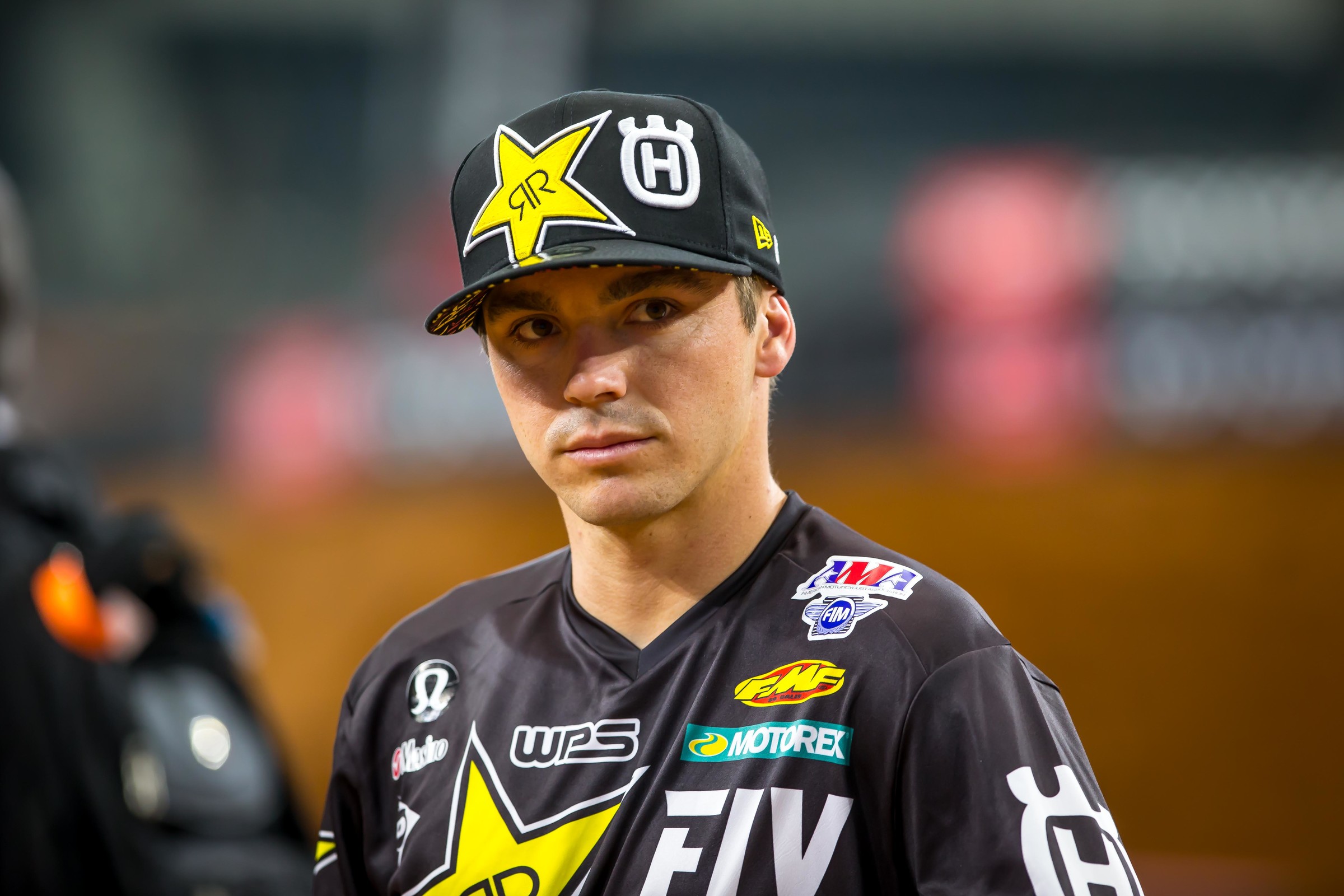 Marty [Davalos] was more Marty this weekend but he still wasn't full Marty, you know? Haven't seen the flash from Marty just yet, maybe breaking away from Tim Ferry wasn't a great idea? I mean, I haven't been the same since I left Red Dog either.
Cole Seely won a heat race which was cool to see. He had to feel pretty good about that. It's been a quiet season for Cole in his comeback from a serious injury. He's been good but not great and there's so much other stuff to touch on that sometimes he gets lost a bit. He rode well in the main also, so maybe this is the start of him creeping closer to the podium.
Thomas Covington is having a tougher time adjusting to SX than I, and probably his team, thought he would. He wasn't good last week and I thought was pretty fortunate to use his head and come out with an 11th. This week he didn't qualify despite holeshotting the LCQ. On that bike, with his skills, he's got to put it into the main and it was shocking he didn't. Maybe give him a race or two more and if it's not working, wrap him in bubble wrap and save for the outdoors?
Speaking of LaMay, he's been very good this year. He's made every main but one (he got hurt in the one he missed) in a tough field and he's a working man's hero at this point. The Teddy Parks Experience team has stepped up this year with a semi and it's more a team than ever before. LaMay's just a pro's pro. Yeah he needs to work on getting closer to the top ten but at least he's no longer working a full time job and trying to race!
Speaking of speaking of LaMay, Vince Friese went out this weekend with a torn ACL, not sure his status but he'll probably be out for a while. I spoke to Tony Alessi, team manager at Smartop/Bullfrog Spas/MotoConcepts Honda, and he told he's got a potential fill-in rider in mind if needed but wouldn't tell me who it was. Maybe it could be LaMay? Not sure if that can happen but not sure who else Alessi could get that could make mains. [UPDATE: As someone on Twitter pointed out to me… is that Josh Grant's music playing? JG teamed with Tony Alessi???]
Aaron Plessinger is headed to Florida to ride with his teammate Barcia for the next little bit and he told me that he's starting to feel more at home on the 450 and has found some motor and suspension settings that are better for him. It also sounds like he's detuned his motor a bit. AP has been good this rookie year, not flashy at all but also not much of a train wreck either, which is always good.
Thanks for reading OBS, this is my 13th year of doing this column. Kind of nutty, right? Anyway, we're onto Detroit, email me at Matthes@racerxonline.com if you want to chat about this column or anything else.