Arlington, TX
Arlington (Dallas)
Monster Energy AMA Supercross Championship
For the second straight week, the folks at Feld Entertainment, producers of Monster Energy AMA Supercross, found themselves with controversy on their hands. With the whole lime-in-the-dirt controversy in San Diego, the group promised to be open, honest, and transparent whenever controversy arose, and seven days later they were right back into the ringer.
On Friday before the Arlington Supercross, the AMA announced that riders are now banned from showing logos from CBD oil companies anywhere at a supercross race. The key elements:
- Signage or promotional displays for CBD-related products will not be allowed in the pit areas.
- No rider will be allowed to race with logos or other promotional displays on their person, their uniform, their gear, or on their bike.
- The AMA will be enforcing this at inspection points and at any other time a violation is brought to the attention of Feld Motor Sports or the AMA. Riders will be required to cover or remove any logo before being allowed to race and at no time during the event are the display of CBD-related logos permitted. Failure to comply with this will result in a rider being removed from a race or denied entry.
Dean Wilson had to cover the Ignite logos on his bike earlier this season (he's now moved up to the full-factory Rockstar Energy Husqvarna team, so his personal sponsor logos will no longer appear on his bike, but he does still have an Ignite deal, mostly using social media). Chad Reed had cbdMD logos on his helmet in Minneapolis, but he had to run a "censored" decal over the logos in Arlington.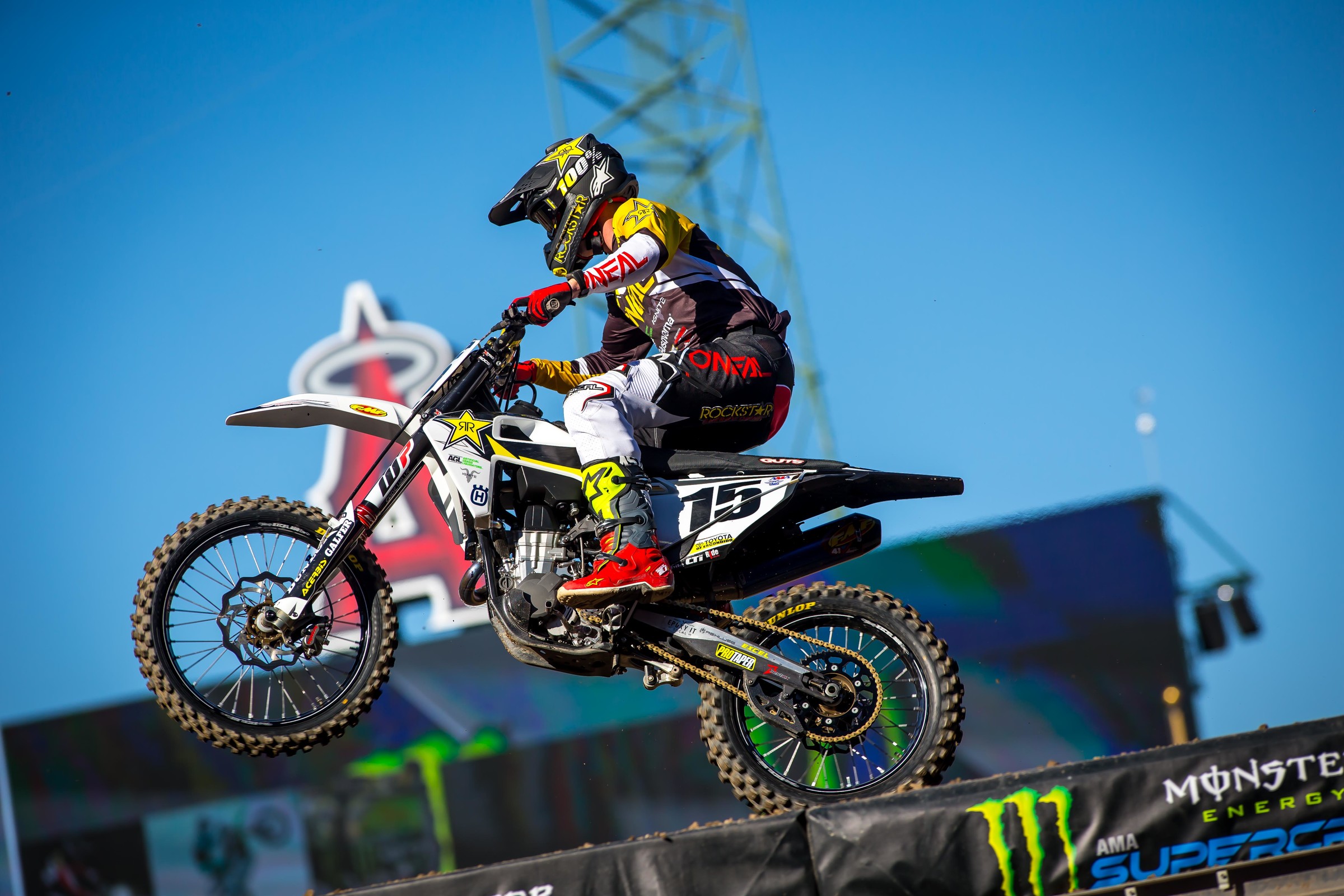 This was not a popular decision. Everyone is rooting for more sponsorship dollars in this sport. Further, CBD oil already has its fans, is well-known to some, and, further, ties into one of the most controversial topics in legal and ethics in decades: hemp.
As soon as the announcement hit, so did the pushback. In Arlington, this dovetailed nicely with the second straight 9:30 a.m. Saturday riders-only meeting at supercross. Also, for the second straight week, an open session with the media followed. Stephen Payne, Feld's vice president of public affairs, gave us a lot of information during the session.
We learned two key things:
1.) This new rule only bans advertising and marketing CBD products and companies at the track. It is not a ban on USING the product. CBD can be used/consumed/taken at supercross races by athletes or anyone else. It's not even on the WADA banned list. Feld doesn't have a stance on CBD oil being effective or not. It's up to the athlete to use it if he or she chooses. They just can't advertise it.
"We're not against the product," said Payne.
2.) Thanks to provisions in a farm bill passed in December, CBD is now legal, technically. However, the Food and Drug Administration says that it wants to put together the specific regulations on how these products will be sold, packaged, marketed, and advertised. Until the FDA does so, it's really anyone's guess as to what is legal and what is not. Some states have taken it upon themselves to write their own rules, but some are just waiting for the FDA to tell them what to do. In the meantime, supercross, the stadiums it races in, and the network (NBC) it broadcasts on, will wait until the FDA weighs in.
"The issue is that the farm bill that passed in December of last year took hemp and hemp-derived products off Schedule 1 for the DEA," explained Payne. "It had been regulated the same way as marijuana and other drugs. [In the past] If you got caught with a suitcase full of hemp, it was the same thing as being caught with a suitcase full of marijuana, you were going to go to jail for a long time. That has now changed. Hemp cultivation and deriving products from hemp is now not illegal, but it's also not completely legal. There's a patchwork of state laws now. The problem is they passed this law, and then we had a government shutdown. Before that happened, FDA issued a statement saying, "We get first crack at regulations." So what that means is, food and supplements that have CBD are not yet legal as far as the FDA is concerned. Some states have prohibitions on advertising CBD products, some broadcasters have prohibitions on advertising CBD products, or using CBD logos on broadcasts. Yes, logos have been seen on TV before, but just because we have speed limits doesn't mean no one speeds. What we're waiting for—and we're working with people in Washington D.C daily—is to get them to make regulations over these products as soon as they can, so people who want to take sponsorships can. We don't take a position on using the product, we're just waiting for the law to catch up."
You can learn more on the FDA's position through this link.
Those are the main issues right now—it's legal for racers to use it, they just can't advertise it at the races. They can also run logos or promotions away from the track, such as on social media, though, as Feld doesn't have any control nor an opinion on that. It would be good if Reed and Wilson, who have some of the largest social followings in the sport, can keep their sponsorships for now. However, it wouldn't be surprising to see more money to more teams and riders flowing into the sport if logos can go back on the bikes and gear, and brands could get mentioned on the podium.
So, in that case, how long until the advertisement of these products becomes legal? It could be a while. Nothing in Washington comes quickly, and there's a chance CBD oil gets caught in an even deeper quagmire.
"The problem we have is that the FDA just announced they're going to reexamine the way they regulate dietary supplements," says Payne. "A lot of these CBD products are packaged, sold, and promoted as dietary supplements. If that falls under this regulation, it could take a while. The original dietary supplement laws took years to pass, and people sued everybody over what they meant. This is not going to be a process that's going to finished this season.
"When we went up on Capitol Hill to ask what this farm bill meant, the people who wrote the farm bill said they're not really sure what this [hemp] law means."
Sound strange?
"Welcome to Washington," said Payne.
The sooner the better would be the case for those looking for sponsorship, and rest assured companies that make these products are pushing on the daily to get this all ironed out. In the meantime, we're left with highly varied state laws, and, no one is even sure how accurately they will be enforced.
"That's the kind of legal mess we find ourselves in," says Payne. "I mean, the DEA isn't going around arresting people for hemp. They have other things to worry about. It also doesn't mean you can't walk into some stores and find CBD oils for sale. Sometimes you can. But that doesn't mean they're approved under the current regulatory framework we've got."
So that's it—for now, any rider seen with a logo in the pits or stadium at Monster Energy AMA Supercross is facing a huge penalty (we've heard an outright disqualification). Remember, the products are legal to use, but not to promote, at least for now. What would happen if a supercross stadium or broadcast was found advertising a logo for a hemp-derived product?
"Let's not make supercross the laboratory for CBD advertising," said Payne.