Arlington, TX
Arlington (Dallas)
Monster Energy AMA Supercross Championship
Week in and week out, Kyle Chisholm quietly and steadily puts himself into supercross main events. Although we did see a bit of "fire" in him during his heat race last Saturday in Arlington, he admits that he's still getting comfortable after off-season knee surgery, but plans to progressively keep getting that spark back each week.
Chisholm's been around the pro ranks for a while, and as sure as the sun will rise tomorrow, if there's one thing for certain, Chizz is going to keep Chizzing.
He talked to us after the race.
Racer X: Kind of another typical Chizz night. You were steadily doing your deal. Walk us through it.
Kyle Chisholm: It's good. Everybody says that, but I want to do better obviously. At the same time, I'm racing against a lot of good guys. I think if you look at the list of guys, the top 15 or so guys are guys that have won races or are champions in the 250 or 450 class. Getting a 14th is not ideal, I want to do better. But like I said, I look at the guys ahead of me and it's tough to get bummed on it, I guess. I'm in the mix. I know it probably wasn't his best race, but I had a 13th [place battle as] me and [Justin] Hill kind of went back and forth a little bit. That's what I mean—a guy who's a champion in the [250SX] class and no one would be surprised if he won the race next week. So to kind of mix it up with guys like that, I can't complain too much. Little improvements each week and just try to keep building and try to get up in the top ten would be nice.
We did see a little bit of fire from you, it seemed like, towards the end of that heat race. Seemed like you kind of picked it up a little bit and showed a little bit of aggression. Were you just tired of just chilling?
No. I had knee surgery. I hurt my knee over this past summer last year, so I didn't get on the bike until around Thanksgiving time. So I only had about maybe five weeks or so on the bike before the season. First time on a Suzuki, a new bike, new team. Not much time, just coming back from injury. So I knew it would be a little bit of a slow start coming into the season. But like I said, just trying to build. Just making progress; getting comfortable with the bike and learning the bike and learning what I needed to do for me. I think I'll get that little aggression just the more comfortable I get with myself, just more time back riding. Seat time and then getting more comfortable with the bike. Kind of that snowball effect and just keep getting better each week. I think that's probably where that came from.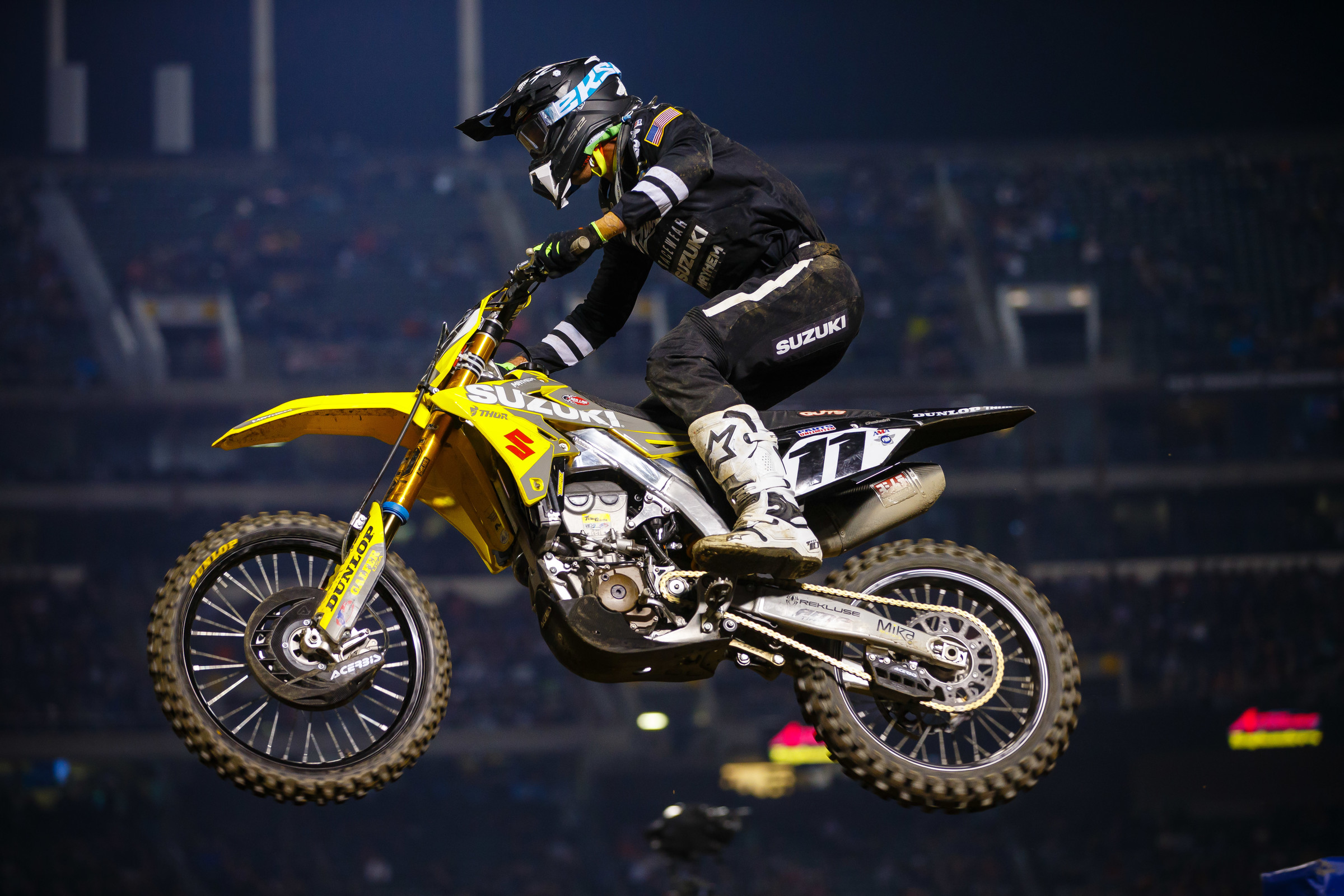 Are you kind of racing yourself back into shape a little bit too as far as fitness and that kind of stuff?
As far as on the bike goes, that's where my speed and aggression and comfortability will get better. But I busted my butt in therapy. This is my third knee surgery I've gone through. Second one on that knee, and I've done one on my left knee too. So I kind of knew what to expect going through it, fortunately but unfortunately. I busted my butt for five months off the bike. I was in really good shape, but obviously you kind of lack that… You're rusty as far as on the bike. Kind of transitioning that fitness onto the bike fitness. I have a good base, just need to keep getting time on the bike. That's where all that stuff kind of pays off, all the work for the four or five months I was off the bike.
Talk about the team a little bit. You're a veteran of the sport, some of those guys are kind of younger. Do you have a little bit of a mentor role in there, or do you just kind of do your own thing? How does that work out?
I don't like to give them my secrets. [Laughs] It's a new team, the HEP [Motorsports Suzuki] team. Last year obviously Dustin [Pipes, team owner] and those guys, he's raced and his dad and everybody. They've been around the sport for a long time, so it's not like they're new to the sport by any means, but it is a new team. They're building and learning and everything like that. I wish I had been able to be riding sooner and earlier to be more of a part of the off-season coming into the season. They've done an awesome job. I try to—maybe sometimes more than I should—put my two cents in, just to try to make the team better as a whole and try to give them my feedback. "Here's what I think we should do." Just my opinion on stuff. Sometimes I'm right, sometimes I'm wrong, I try to help the team as a whole to just improve. If the team can improve, it can help me to improve. I just want to make everything around the whole program of the team and myself better if I can. So I try to offer that as much as I can. I've done this a long time as well. I don't know it all, by any means. Just experience in doing it for a long time, so I try to help the program in that area if I can.
With that, and with getting more comfortable with the bike and getting back to where you feel you should be? At the end of the year, where do you feel you should be?
I want to be in the top 10. Like I said, it's tough. Some people might hear that and be like, "good luck with that." I respect that. Like I just said, there's 10 guys that have won championships I think in the class, or at least definitely won a lot of races. So for me to be in the top ten, that means you have to be up there with those guys. It won't be easy, but I think we're close and it just takes the right night and for me to just keep improving and get a good start, and just the right things fall into place and put myself in a position to do that. For sure I think if I can be top 15, give or take, in the points by the end of the year, with starting out a little slow and just building and try to click off some top 10's, will be nice and just be up there in the race with the guys on factory bikes.
We mentioned you've been around a while. I can't really remember a time when you weren't out there. Are we kind of on a downwards slope or have you thought about as far as longevity of your career? Where do you feel like you're at with that?
It's tough because I've raced the 250 mostly. I did some 450SX on the East, but the last two years I rode 250SX on the West. If you look back, say, three or four years ago, I feel like I'm on a steady incline from where I was even maybe a few years ago. I'm 31, so I'm obviously not the youngest guy out there, but I'm by far not the oldest either.
You seem like you're still having fun doing this. Still enjoying it?
Yeah. I look at somebody like Justin Brayton. He's 34, maybe 35 even now. He won his first race in his career last year. I'm 31, I got three more years! [Laughs] So I kind of look at that, and that gives me, not hope but whatever you want to call it. I feel like the last three years I've gotten better. From '17 to '18 I did better as far as my results just on the 250. Even on the 450, I did East races in '17 and '18 on the 450 and I did way better—not way better—but I did considerably better in '18 over '17. This year, like I said, I knew it would be a little slow just coming into the year, coming off a pretty big injury, and new team, new bike, and all that. But I don't see why I can't keep getting better. I enjoy racing. I enjoy putting in the work during the week.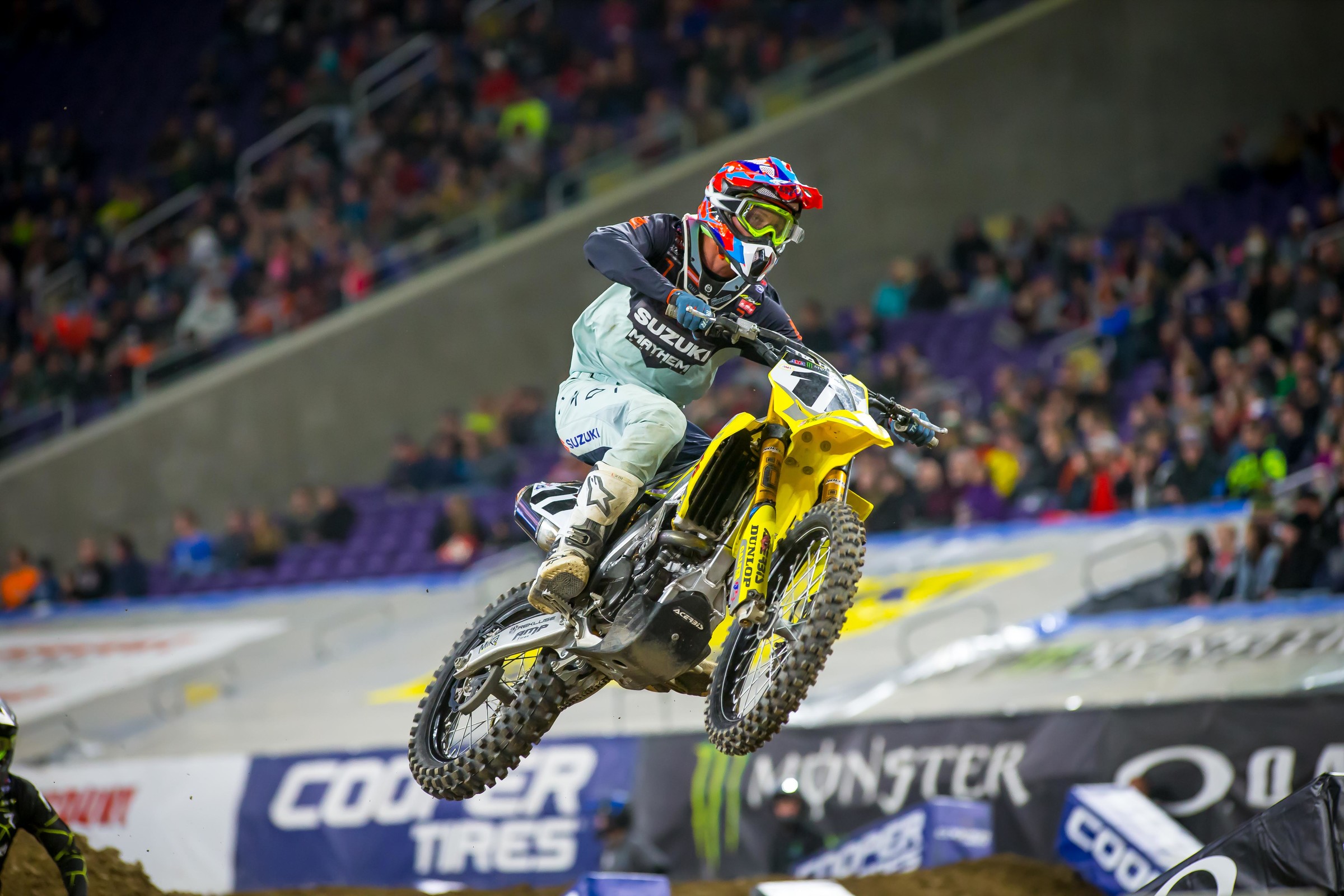 If I can make a decent living—and I'm not getting rich by any means—but if I can make a pretty good living… The most important thing is I enjoy doing it. Then secondly I've told myself to be competitive. I used to get top fives and top 10's every week. Maybe I'm not there right now, but I know it gets tougher every year. As long as I'm just competitive and mixing it up with those guys, with the top guys. If I can enjoy doing it, be competitive, and then thirdly make a living, I don't see myself stopping. I'm not like, this is my last year. I want to do it as long as I can. As long as I'm enjoying it, competitive, and can make money doing it. I think I'm on an incline, if anything, the last few years. I learned a lot. It might sound stupid, but just these last few years I feel like I've learned a lot just about myself personally and what I need to be successful. I think that kind of shows these last few years.
Riders say that often, "I learned a lot." Do you feel comfortable elaborating?
Yeah. It's hard to pinpoint one thing. I think I've just learned what makes me be my best. We're all so close. We're all really good riders. From the top guys down to the 20th guy in the main event, we're all good. We might be separated by a few seconds, but that's not a lot in the grand scheme of things. I've just learned what makes me be my best and try to bring that to the race and do what makes me the best during the week. Then obviously I have kids now. I have almost a three-year-old and another four-month-old. Not that I slacked by any means before, but it really has made me like when I'm going to the gym, I'm getting my work done and then going home to be a dad. Then when I go to the test track, I'm going to get my work done and improve and focus and then I get home and kind of relax for a bit. You have no choice but to get out of the riding mindset. So it kind of keeps me fresh. When I go to the track I'm ready to do my work, and then when I'm done I'm ready to go home and be a dad and do other things.
You're able to treat it like anybody else who has a regular job.
Yeah, but I enjoy doing that. I enjoy that work. Instead of riding, racing, racing, racing, I'm kind of forced to pull back a little bit. So I think that keeps me more fresh and also motivated. I also looked at it like my little girl that's almost three, she's like, "Good luck, daddy!" My wife tells me she's yelling, "Go, go, go!" and actually watching me. So I think it's nice to give them something. I believe in hard work and hard work pays off. Just kind of what my dad taught me growing up. I wish I had kids earlier so they could be older and see me doing this and just show them my belief in life, just working hard and for whatever you want to do in life just work hard at it and you can do it. It's kind of nice to show them that and set a good example.