Two international racing seasons are now just about closed. The Australian Supercross Championship finished up last weekend in Sydney with the AUS-X Open, and Canada will complete the first-ever Rockstar Energy Drink Triple Crown Series this weekend in Hamilton, Ontario.
The Canadian series--combining arenacross, motocross and supercross into a year-long series with a $100,000 championship bonus--is a new idea. It already appears Cole Thompson is set to win it.
Australia's supercross championship has gone through some reorganization as well. To get the scoop on how 2018 went down, we hit up a journalist from each side.
First, from Australia, Alex Gobert of www.motoonline.com.au.
1. How did the season go in Australian SX?
It's certainly on the up, returning to where it can and should be. With AUS SX Holdings - the organizers of AUS-X Open - taking charge of commercial rights for 2018, the consistency from round to round was an improvement. We still do have three different race promoters across the five rounds, but generally speaking the direction applied by series management did improve the end product. In terms of competition, [Justin] Brayton and Metty [Brett Metcalfe] were typically the benchmark in SX1 with their share of 1-2 finishes, while SX2 saw a range of guys challenging at the front including the eventual champion Jay Wilson and Hayden Mellross, who has been back from America once again. With so many Americans in the class, to be honest, it was almost a surprise to see an Aussie go on and win the 250 class championship in the end!
2. What was the crowd response at AUS-X? Who got the most cheers? Once you answer "Chad Reed" you can then tell us how they reacted to Anderson, Deano, Brayton and the rest.
There's no doubt that AUS-X is the pinnacle of our sport here and the fans soak it up every year, even though Ronnie Mac only coming out for opening ceremonies on Saturday night was evidently disappointing for a lot of spectators. You can't go past Chad here when it comes to the 'cheer-meter', for obvious reasons, plus it was really, really neat to see him back on the bike in Sydney after being unable to line-up last year - he always rises to the occasion at home and he looked good, even if the result wasn't there with fifth overall. In saying that, Anderson and Wilson are both gaining popularity with the Australian fans since they've been here two years in a row now, so it's pretty clear our fans appreciate them for making the time to head down here. To have an AMA/World Champion such as Jason come and race here is a huge deal, which we're all extremely stoked on, and it's a positive for Husqvarna as well.
3. From either supercross of motocross, who are some up-and-coming names to watch in Australian moto?
From a domestic perspective, right now Mitch Evans is the hottest property outdoors after finishing second to Ferris in the nationals, but the word in Sydney was that he is going to Europe for next year. So, as of 2019, I'm tipping it will be a 'breakout' year for Luke Clout in motocross and supercross on the 450. At 24 years of age he's already won on the 250 and has experience in the US, but next year will be his coming of age in the premier class locally. This season he's been super-fast, but has been held back by the odd mistake and crashes. There are a bunch in the MX2/SX2 class - Jay Wilson, Wilson Todd, Aaron Tanti, Dylan Wills and Kyle Webster, to name a handful who will each make an impact.
Now onto Canada. For some perspective there, here's Billy Rainford of directmotocross.com
1. How has this Triple Crown concept gone over?
I think, as far as the fans are concerned, the Triple Crown format has gone over very well. More Pro racing is always a good thing. However, with our industry being as small as it is in Canada, it's really asking a lot of the teams and especially the privateers to try and get to all these races. Canada is huge and the distances are long between our six cities.
The Jetwerx crew is doing a really cool thing for the sport, though, and they really should be commended. I still think the motocross titles are the ones people care most about up here, but we'll see how that changes as we move forward.
Keep in mind that $100K will be given out this weekend in Hamilton. That's a huge sum, and a first for Canada!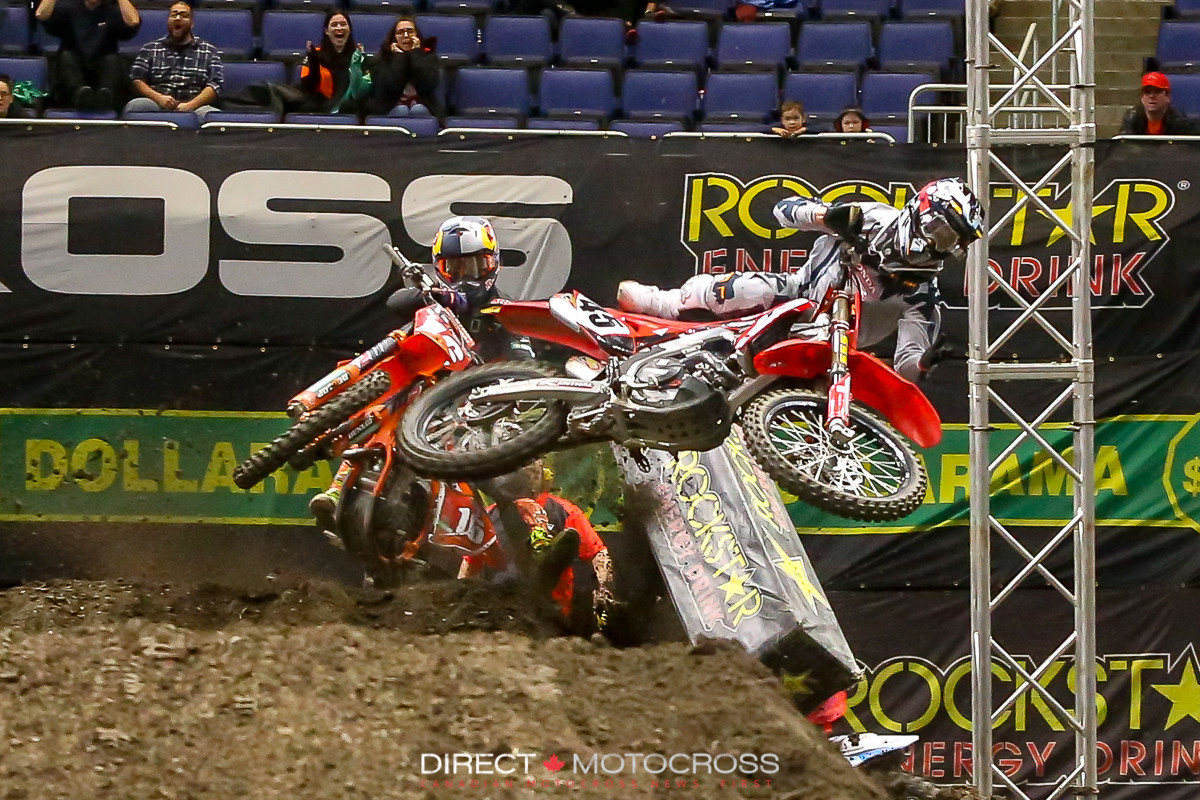 2. Sum up how this season unfolded. Where some riders far better than others depending on the discipline?
Jess Pettis and Cole Thompson are definitely our fastest riders, indoors. I don't think anyone will argue that. Outdoors, Colton Facciotti proved that, on any given day, he still has the speed to beat the entire field by 40 seconds. It's pretty crazy to think that he may be retiring after this year.
3. How's Phil [Nicoletti] been up there?
I like Phil. Like I always joke: If you don't want to hear the answer, don't ask Phil the question! His no BS attitude is refreshing up here. I think it will be great to have him be the grounded voice of reason should anything "weird" come up over the next couple seasons. But I have to ask: why is he so mad?