Welcome to Racerhead, coming to you from the home offices in Morgantown, West Virginia. We're in that very easy time between the end of Lucas Oil Pro Motocross and the coming Monster Energy FIM Motocross of Nations, the Monster Energy Cup, and Red Bull Straight Rhythm—all of which are coming in October. Testing and training for SX '19 will almost immediately get going after that, which means September is the easiest month of all for AMA SX/MX competitors. There's not a lot going on other than a few contract-extension announcements, some schedule releases, maybe a wedding or two, and a whole lot of resting.
But across the pond they are still at it, as the FIM Motocross World Championship is starting to wind down. The MXGP of Turkey took place last weekend, and the winners were two men U.S. fans are getting more and more familiar with: the flying Dutchman Jeffrey Herlings and American MX2 contender Thomas Covington. We'll have more on Covington's win below, but I wanted to take a moment to lavish some well-earned praise on the Red Bull KTM rider Herlings (especially before we get too close to the MXoN at RedBud and everyone's red, white, and blue kicks in!).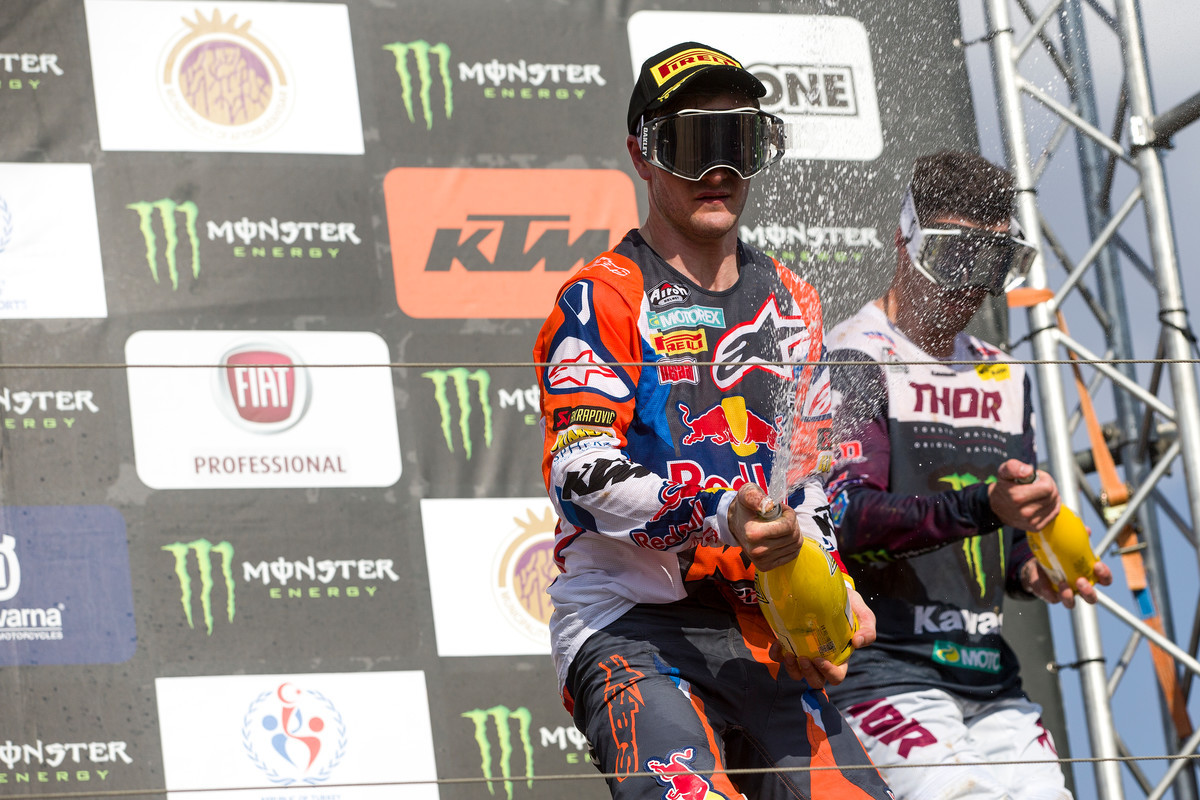 Over the years, I have been lucky enough to see some dominant performances up close. Ricky Carmichael's two perfect summers ('02, '04) come to mind, along with James Stewart's in 2008. Mark Barnett and Bob Hannah came close to perfect even longer back, and then there are the near-perfect supercross runs of Jeremy McGrath (1996) and RC ('01). In each case, the riders were pretty much in a class by themselves throughout their runs, and it became something of a foregone conclusion that they would win every time they lined up.
Herlings' season started out much differently. Going into 2018, we were all of the assumption that he would be the last man to hold the line in keeping the great Antonio Cairoli from winning a record-tying tenth FIM Motocross World Championship. Cairoli was the defending champion and truly seemed to be at the top of his game as this season started, but Herlings just started winning and winning, and he's still winning. With help in the form of statistics from online contributor Andras Hegyi, let me lay out just what kind of season Herlings is having:
Jeffrey has won a record 15 MXGPs this season, making him the first rider ever to reach 15 GP wins in a season in a single class. That beats the Belgian legend Stefan Everts' 14 wins in 2006 racing in what used to be called MX1. Back in 2013, Herlings also collected 15 wins, but he was racing in the MX2 class. (It's worth noting that in 2003 Everts won 18 GPs, but that was when the GPs were a one-moto format, and he was allowed to ride as many as three rounds in a single weekend. He did so at the last round in France, taking the MXGP, 125, and 650 class wins, and then won the MXGP and 125 classes at seven other rounds.)
Herlings has also been able to get 29 moto wins, already a record with two rounds left to go. Herlings overtook Everts for that record, too. In 2006 in the premier class, Everts got 27 moto wins. And Herlings himself got 28 moto wins in '13, but again, that was MX2.
Everts also posted 12 double-moto wins racing in the MX1 in 2006. Herlings surpassed that by getting 13 double-moto wins as of the race in Turkey.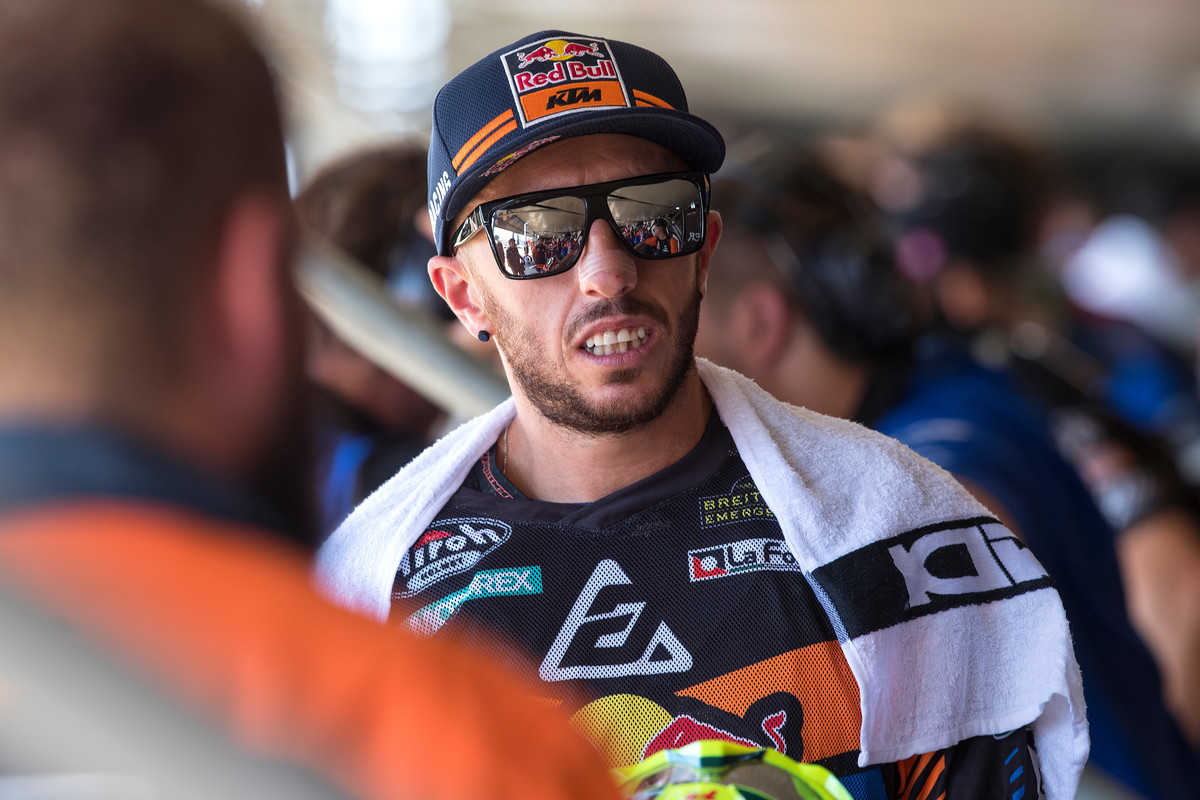 And Herlings is the first rider to get 800 or more points in a world championship season. With two rounds to go, Herlings has 833 points. It should be noted that this is a 20-race series, more than ever before, so this record is not quite as surprising, even if Herlings missed a round with a broken collarbone.
Finally, there is this: When the 2018 season started, everyone thought Cairoli would be inching up on Everts' seemingly unbreakable ten FIM World Championships. It's suddenly Everts' seemingly even more unbreakable record of 101 Grand Prix wins that Herlings, not Cairoli, is rapidly approaching. He now has 82 wins, just two fewer than Cairoli, despite the fact that Antonio has a half-dozen more seasons of professional racing under his belt. At this rate, Herlings could be tied with Cairoli at 84 wins by the end of this season, and Everts' record could be in serious jeopardy as early as the end of next summer. Herlings, by the way, is just 23 years old.
It all kind of reminds me of Ricky Carmichael in supercross in 2001, when he was finally ready to challenge Jeremy McGrath's supremacy indoors. Once Carmichael passed him, it was off to the races. Now it appears that Herlings has just as quickly gone past Cairoli, who has been superb for more than a dozen years and is now off to the races himself, only in MXGP.
I can't wait to see Herlings back in the U.S. in October, where a few of his 82 GP wins have come, not to mention his one AMA Pro Motocross win, which came last August at the Ironman. He may have caught a few off-guard at that one, but now everyone knows what's coming this way next month, and I can't wait to see him match up with Eli Tomac and everyone else at RedBud. He is a truly remarkable motorcycle racer—to beat Antonio Cairoli and everyone else like he has this season, he'd have to be.
The Number: 4 (Andras Hegyi)
Alabama-born Thomas Covington now ranks among the most successful Americans in the FIM Motocross World Championship. Last Sunday in Turkey he finally got his first GP win of 2018. Covington had four moto wins until last weekend and reached the podium six times in the first 17 rounds. But in the other 11 GPs, the 22-year-old has been somewhat inconsistent, and at the GP of Portugal he injured his knee. But in Turkey, he was able to repeat Zach Osborne's victory in MX2, which came back in 2009. Covington's fourth career GP win means he's the tenth American to get at least four GP wins. This season is also Covington's farewell season as he moves back to the U.S. in 2019 to compete in the AMA series with Bobby Hewitt's Rockstar Energy Husqvarna team in the 250 class—coincidentally, taking the spot of Zach Osborne, who's moving up to the 450s.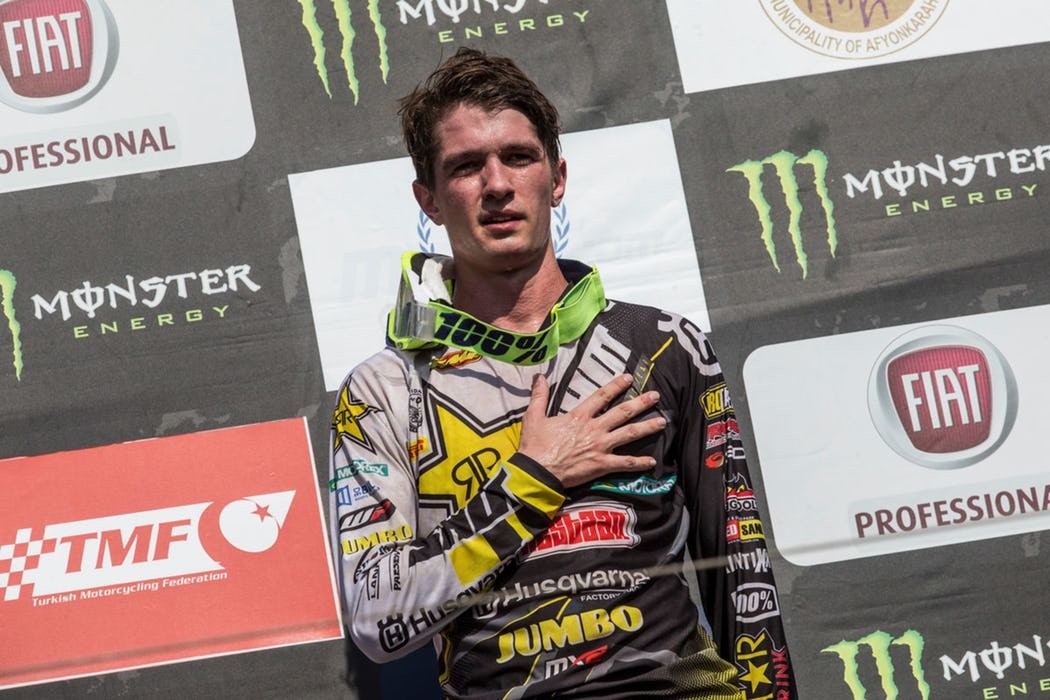 American motocrossers to win in at least three seasons in the world championship
| | | |
| --- | --- | --- |
| Rider | Number of Wins | Years |
| Brad Lackey | 6 | 1977-'82 |
| Donny Schmit | 5 | 1990-'94 |
| Bobby Moore | 5 | 1990, '91, '92, '94, '97 |
| Ricky Johnson | 4 | 1986-'89 |
| Billy Liles | 4 | 1988, '90, '92, '94 |
| Tallon Vohland | 4 | 1992, '95, '96, '97 |
| Jeff Stanton | 3 | 1990-'92 |
| Johnny O'Mara | 3 | 1980, '82, '95 |
| Thomas Covington | 3 | 2015, '17, '18 |
American motocrossers to get at least four GP wins in the world championship
| | |
| --- | --- |
| Rider | Number of GP wins |
| Donny Schmit | 15 |
| Trampas Parker | 13 |
| Bobby Moore | 12 |
| Brad Lackey | 7 |
| Billy Liles | 6 |
| Danny LaPorte | 5 |
| Ricky Johnson | 4 |
| Jeff Stanton | 4 |
| Tallon Vohland | 4 |
| Thomas Covington | 4 |
Test Pilot! (Jason Weigandt)
The regular season is over, so now it's time for something completely different. This week, Yamaha held a media intro for its 2019 line of off-road competition bikes down at Randy Hawkins' property in South Carolina. Since Randy's track is only about two hours from me and I love riding in the woods, I volunteered to take the test rider spot for Racer X. Believe it or not, I've now worked here for 17 years and this is the first big bike media intro I've ever attended—maybe that's because I'm not very good at actually riding dirt bikes? Perhaps. But I go way, way back with Hawkins and the whole Am-Pro Yamaha GNCC team. It was really cool to get to hang with some old friends again and go riding for two days.
As for the bikes, we're under embargo, so I can't tell you anything about the event or the performance of the machines until next Wednesday. I can tell you, though, about the importance of this off-road competition market. While local MX racing numbers are dwindling, off-road entries are way, way up—not only in the GNCC Series that is run by our sister company Racer Productions, but in tons of other events, from AMA National Enduro, J-Day Off-Road, Full Gas Sprint Enduro, WORCS, Big 6, you name it. More and more people are showing up for off-road races.
Back when I was breaking into this industry 17 years ago, the off-road racing market share was fairly well-split between several brands, as companies like Suzuki, Kawasaki, and Yamaha were putting in huge factory off-road efforts and contingency programs. At the GNCCs back then, you'd see plenty of KTMs, but plenty of other brands as well. Once the economy tanked in '08, though, things changed, and a lot of that support dried up. Hawkins and his Yamaha gang stayed at it, but Suzuki and Kawasaki shelved their race teams and the KTM and Husqvarna brands really moved into a really dominant place in all of the off-road series. Now the starting lines at these events are jammed with orange and white bikes.
The last few years, Yamaha has been putting serious effort into its off-road line, so they're fighting back. Honda is also, with several new off-road racing models announced for 2019. The new blue and red machines are real racers, too, not warmed-over trail bikes. There are big rumors that Kawasaki Team Green will finally find its way back into the woods with a race team in 2019 as well. Things are set to get very competitive again in the off-road ranks, and that's great news for riders looking for more rides, more support, and more options. Honestly, all I can say is that it's about damn time—the numbers have been there for years.
2018 DC Vet HomecominG
Come out and join us on September 22 and 23 for the 28th Annual DC Vet Homecoming at High Point Raceway as we celebrate our motocross heritage and the memory of "Big Dave" Coombs with all of our friends, old and new. This laid-back and fun event is unique, offering two different disciplines of racing and a wide variety of vet classes for all skill levels, as well as support classes for younger racers.
Gates open Friday, and camping is encouraged as part of the admission fee for the whole weekend. Saturday will consist of GP-style Moto-X Country racing, which combines off-road racing and the motocross track. The course will be roughly three miles long, and racers will compete in two 30-minute motos. The fun will continue Saturday evening with pit bike racing kicking off at 6 p.m. and a full evening of entertainment, including a $5 BBQ dinner, vintage racing movies, karaoke with Racer X John, and, of course, great bench racing.
The focus will shift on Sunday solely to our vet riders and the motocross track. Racers will compete in a variety of vet-aged classes, vintage classes, and support classes for younger riders. To view the weekend classes, click here.
Retired racers, be sure to stop by the MX Sports tent and register your vintage bikes, T-shirts, programs, etc., from 9 to 11 a.m. Sunday, as there will be a vintage bike show and numerous vintage contests, giving you the opportunity to win some great prizes. So shine up those vintage items and get ready to showcase them at the Country Club of Motocross! To view all the off-track contests and winning prizes, click here.
Visit the event page here for details. See you at High Point Raceway on Sept 22-23!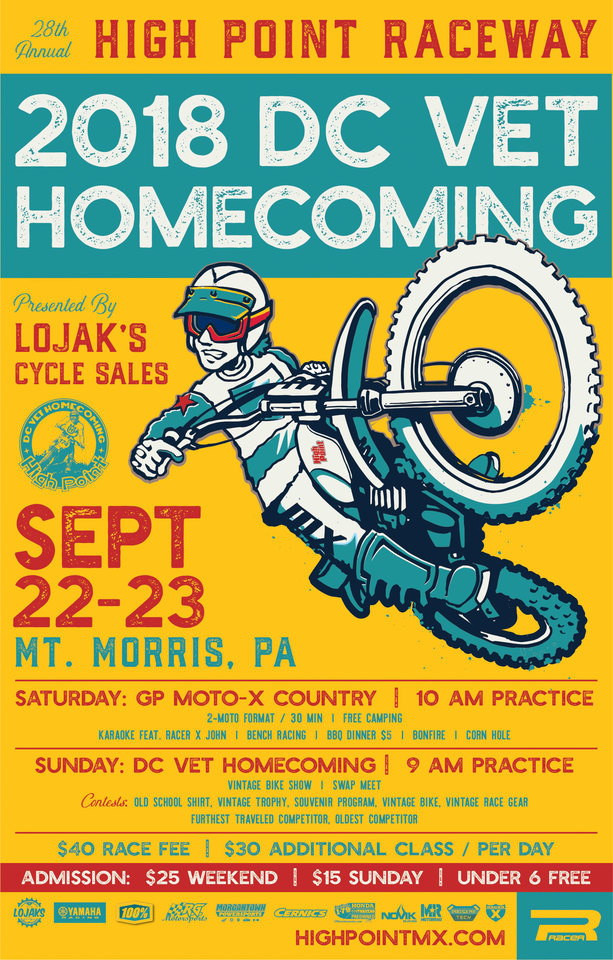 This Week In News (Chase Stallo)
More silly season news dropped this week, MotoConcepts will help Malcolm Stewart, and some Americans are headed Down Under. Let's recap this week in news:
As Steve Matthes reported yesterday, Smartop/MotoConcepts has committed to helping Malcolm Stewart with bikes, parts, and a mechanic for Malcolm's many off-season races, starting next weekend in Montreal. As of right now, there's no deal in place with the team and Stewart to race 2019 Monster Energy Supercross. Read more…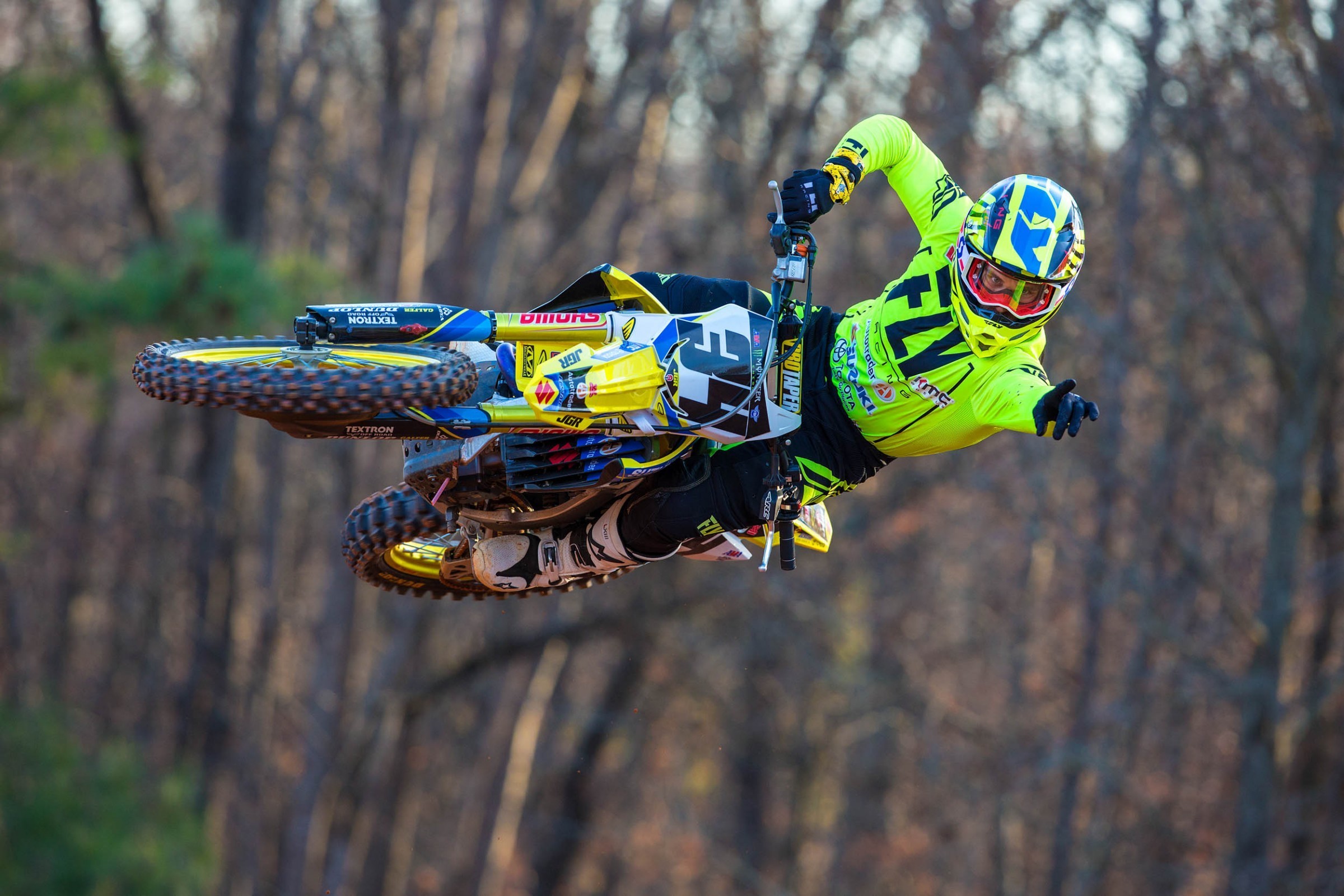 Weston Peick will return for a fifth season with Autotrader/Yoshimura Suzuki, JGR announced this week. Peick rode most of the 2018 season with torn tendons in his hand but still finished sixth overall in Monster Energy Supercross and eighth in Lucas Oil Pro Motocross. The California native missed the final round of Pro Motocross to undergo surgery on his hand but scored points in 28 of 29 races this season. Read more…
Meanwhile, former JGR rider Phil Nicoletti is headed to Canada for 2019. Phil agreed to a deal with Rockstar Energy OTSFF Yamaha this week for the entire 2019 Rockstar Triple Crown Championship. Nicoletti will make his debut with the team at the upcoming 450 Pro SX Tour segment of the 2018 championship starting in Montreal. Read more...
The 2018 Australian Supercross Championship begins next weekend, and in addition to two-time SX1 champion Justin Brayton, a few other Americans are slated to race the series. Bradley Taft will join Brayton on the Penrite Honda team and will ride SX2. Jace Owen will ride SX1 for the Complete Parts Kawasaki Racing team, and Josh Osby will compete in SX2 with Raceline Motosport KTM.
Fantasy News (Steve Matthes)
The PulpMX Fantasy League raffled off a 2019 Kawasaki KX450F to anyone who signed up for the whole year, and the King of Supercross, Jeremy McGrath, announced the winner on Instagram.
Congrats to Ryann Hazel from Reno, Nevada, on the win!
Also, thanks to Kawasaki for the two KX250Fs that were awarded to the supercross season winner, Brian Melsheimer, and the motocross season winner, Ronnie Goodwin.
Thanks to everyone who signed up for the championship league and played for free as well. Hope you had a good time, as did we in our inaugural season.
Thanks to our partners Kawasaki, 100%, Michelin, Fly Racing, Dirt Dreams, Maxima, Pro Filter, MTF, Pro Taper, BTOSports.com, Race Tech, N-Fab, Pit Posse, GET/Athena, Zulz Bag Co, Mobius, Red Bull, and N-Style.
2019 signups open soon! Go here for more info.
GNCC Preview
Each year, the GNCC Racing series gets a summer break from late June through mid-September. For those who don't follow the series closely, you may be thinking, "Why is that?" For one, the same staff members who manage the GNCC events are also closely involved in the AMA Amateur National Motocross Championship at Loretta Lynn's, but bigger than that is the fact that the East Coast is just too hot and humid during those summer months to have guys trying to race these three-hour events. Depending on how a rider is sitting in the championship points chase, this is either a welcome break or serves as a stiff reminder of what work needs to be done when the series returns.
That break is beginning to wind down, as the series will return next weekend, September 15 and 16, with the all-new Black Sky GNCC in Harpursville, New York. With a new event comes big questions, as a new race course makes it tough to pick a clear favorite. The GNCC National Championship is decided via a rider's overall points, and not XC1 Pro class points. This means that theoretically, an XC2 250 Pro class rider could claim the championship; however, that's very unlikely. At the same time, it means that in order to earn overall points, you have to finish in the top 20 overall. That's not top 20 among the Pro classes—that's top 20 in the entire 1 p.m. race, which consists of hundreds of amateur riders in addition to the Pro classes.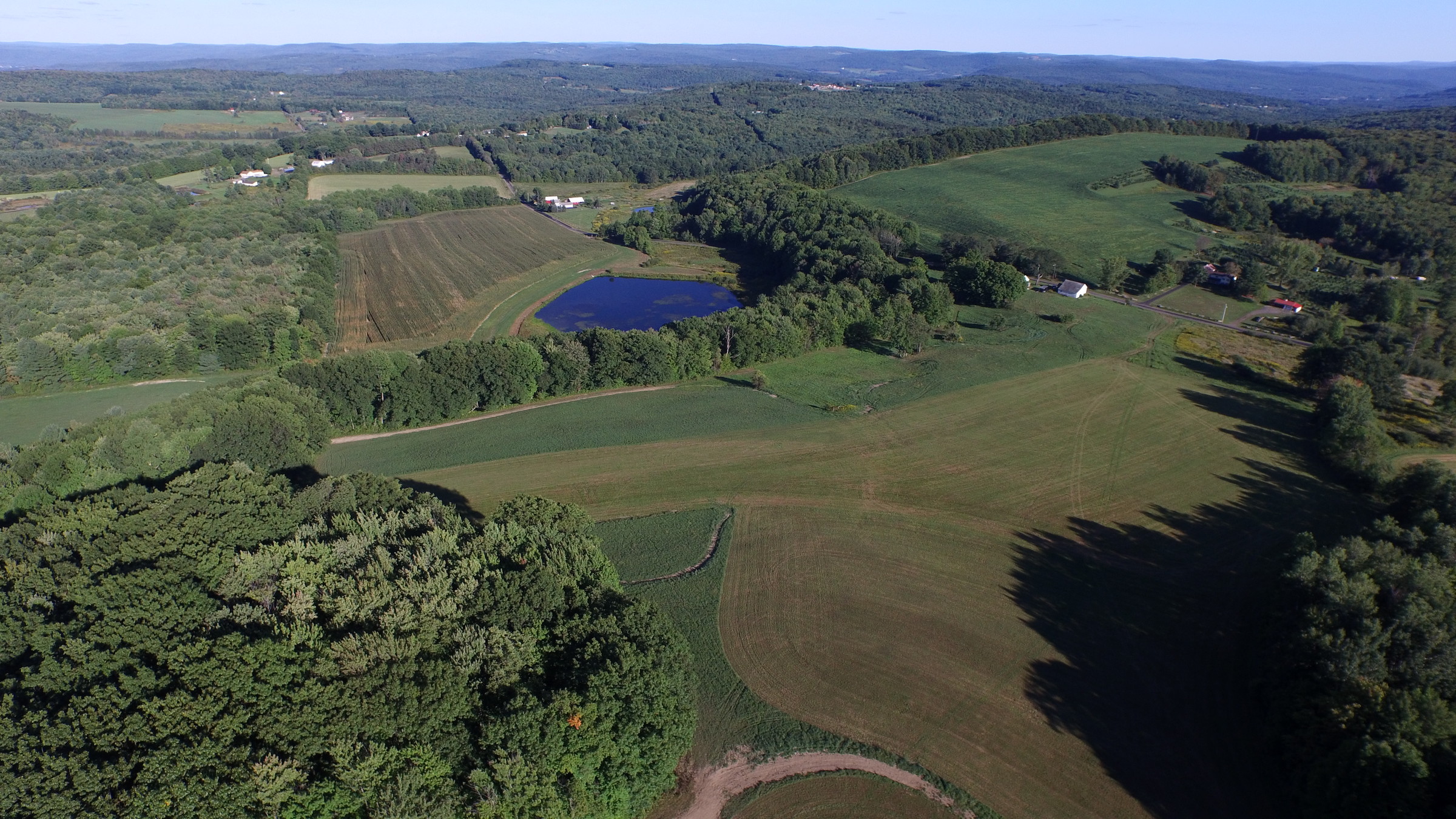 The thing about GNCC Racing is that anything can happen. One bit of bad luck late in the race can place you outside the top 20 in a heartbeat, resulting in zero points going toward your championship standings. As it stands, Kailub Russell leads the way and is 54 points ahead of Thad Duvall. That's a hefty lead, but with 30 points going to a first-place overall finish, Kailub has to stay on top of his game in the hunt for his sixth consecutive title. Duvall suffered a wrist injury at the previous round in West Virginia, scoring zero points. However, that injury has healed and Thad has been back on the bike, even scoring a win at the last AMA National Enduro event.
Of course, these guys aren't the only challenger, as Trevor Bollinger currently sits third in the points. Bollinger has claimed a few podium finishes and is definitely hungry for his first overall win. Also tough will be Steward Baylor, who claimed a race win last season, so he knows what it takes to finish at the front of the pack. The 2010 GNCC champ, Josh Strang, is likely dissatisfied with his 2018 results, but they're still nothing to sniff at. He's been within the top ten at all but one round and finished second at the John Penton GNCC. He's a brand-new father and will certainly be looking for a race win, and while it's not come easy this season, Strang has what it takes and will be looking to turn his results around in the final four rounds of the season.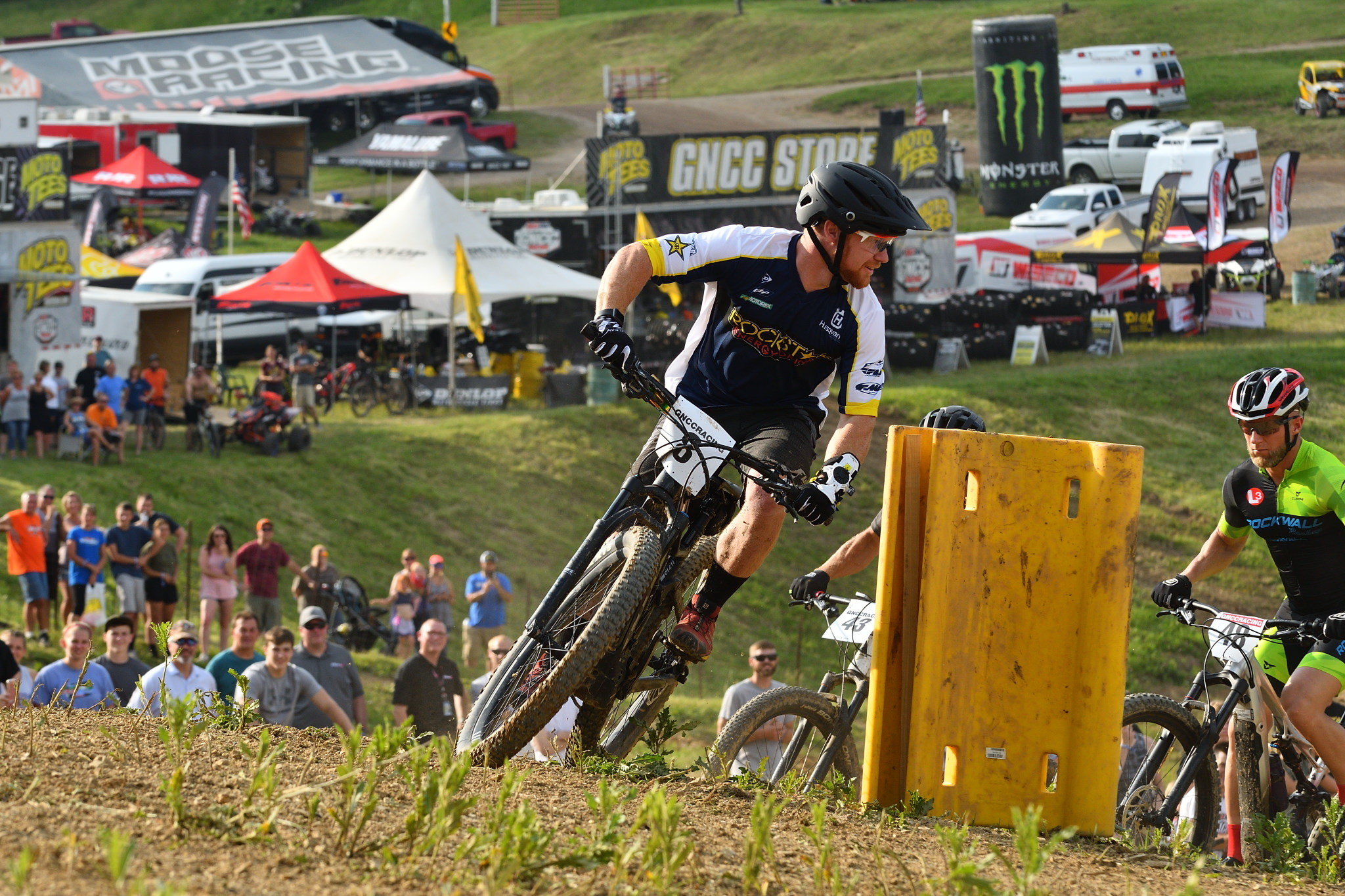 There's also a battle for the XC2 250 Pro class title, as Ben Kelley and defending class champion Josh Toth are separated by just 13 points. These two have swapped wins all season, and most of the time when one of them would win, the other would be right behind in second. A crash at round three set Toth back, but with five wins so far, there's no doubt that he is looking to take another title. The FMF XC3 125 Pro-Am class has seen some tight racing all season. Currently it's young gun Jesse Ansley leading the points, but the savvy veteran Jason Raines sits just 16 points behind in second.
So with all of these guys battling for their respective championships, the final four rounds of the 2018 season promise to be worth watching. These may not just be the most exciting of the 2018 season, but it have the potential to be some of the most exciting racing GNCC has ever seen. That's a pretty tall order because there have been some epic GNCC events over the years, but these final four could very well live up to those expectations.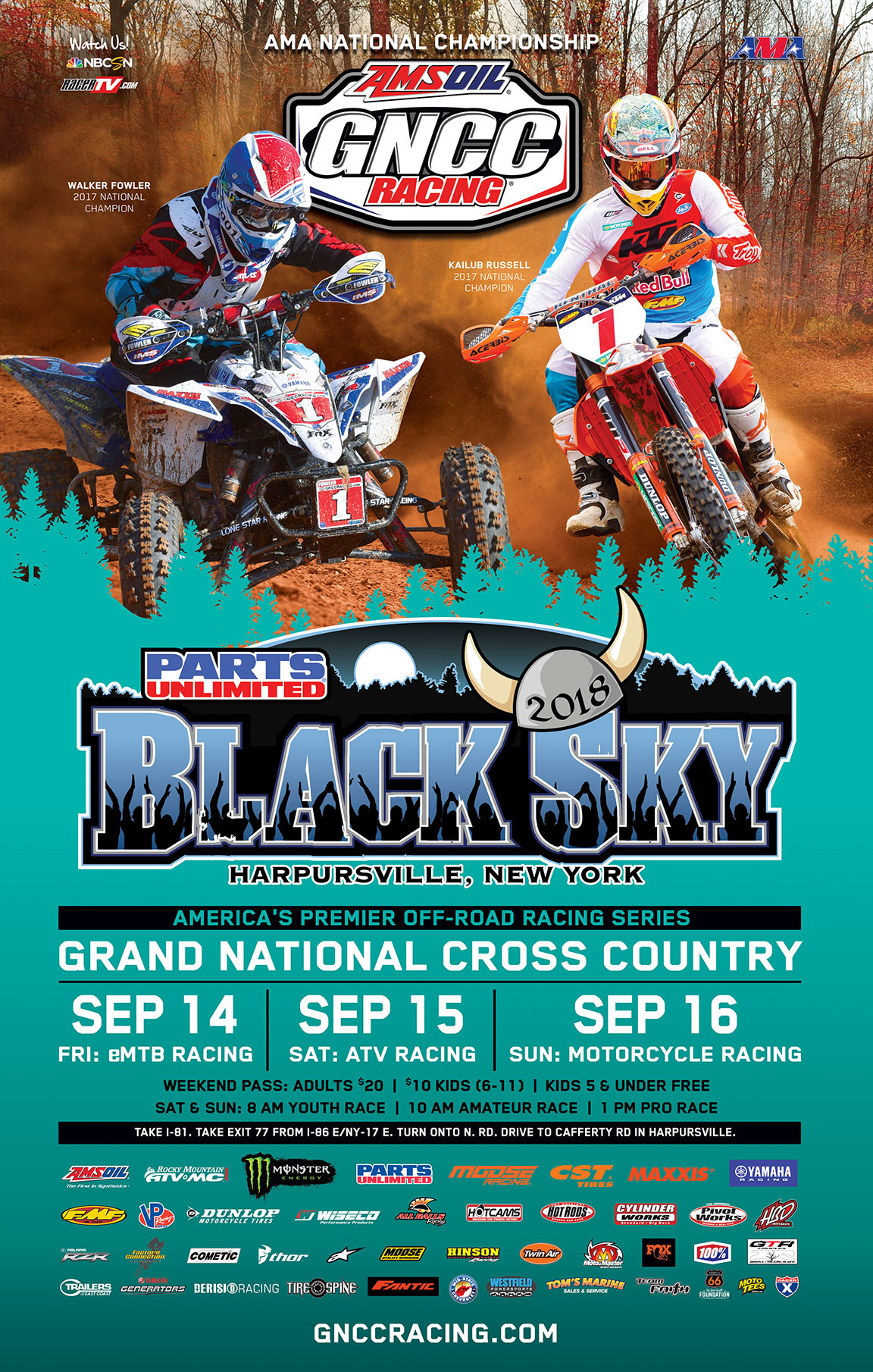 DINNERTIME (DC)
We call Jeff Stanton "Six-Time" for a reason—six of them, actually. And they all start with "AMA" and end with "Championship." Michigan's own Stanton won three AMA Supercross Championships and AMA 250 Motocross Championships. He also anchored three versions of Team USA with winning rides (1989, '90, and '91), helping Team USA along in its all-time record winning streak of 13 in a row.
Now we're calling him "Dinner-Time" for the huge undertaking he's leading as part of the upcoming Monster Energy FIM Motocross of Nations at his local track, RedBud.
The MXoN Experience 2018 will take place on Friday night before the race, right at the track. It's a private reception and dinner for any members of Team USA from its history with the Motocross of (and Trophee des) Nations, going back to the original team of 1970 that included another fast Michigan man, Dick Robbins, along with Mark Blackwell. They will both be at the dinner, along with some other guys you may have heard of, like Jeff Ward, David Bailey, Rick Johnson, Ryan Villopoto, Ryan Dungey, Jeff Emig, Damon Bradshaw, Brad Lackey, Danny LaPorte, Johnny O'Mara, and many, many more.... And yes, a couple of guys named McGrath and Carmichael will be there too.
And you can be there, too—with the purchase of a $500 ticket or with a winning bid—sitting with any of the guys who are coming. It's all for some fantastic causes, too: the Alpinestars Mobile Medical Unit, the International Foundation for Research in Paraplegia, and the ever-important Road 2 Recovery, which is helping Dinner-Time pull this big dinner together. It will make anyone's trip of a lifetime to the MXoN at RedBud even more memorable, which is why we're all going to be there too.
So please follow this link, see if you can attend, and help Jeff Stanton and friends help the entire sport out!
Leatt 2019 Intro (Kyle Scott)
Last night, Leatt held a media intro to take us to school on their new lineup for 2019 at their U.S. headquarters in Santa Clarita, California. It's quite amazing how far the company has come since their inception as a neck brace company in 2004. Since 2014 alone, they've grown from 120 product skews and expanded so much that their product skew line consists of nearly 3,000 (including various sizes and color combinations).
One thing Leatt focuses on is that they are a function- and safety-first, design-second kind of company. Their products aren't just meant to look cool; they're designed to work. Everything they make and with what material is all based on scientific research they do in development, which is why they're going with a new motto: "The science of thrill."
They're all about hucking that jump or blasting that corner—safely. What started out as a neck brace only company is a full-on protection company. From neck braces to chest protectors, to knee braces, to gear, to under-gear protection, to helmets, you can be decked head to toe (minus the boots and goggles). More recently, Leatt has also been expanding from motocross to mountain biking. They've seen a lot of growth there, as with their youth motocross lineups.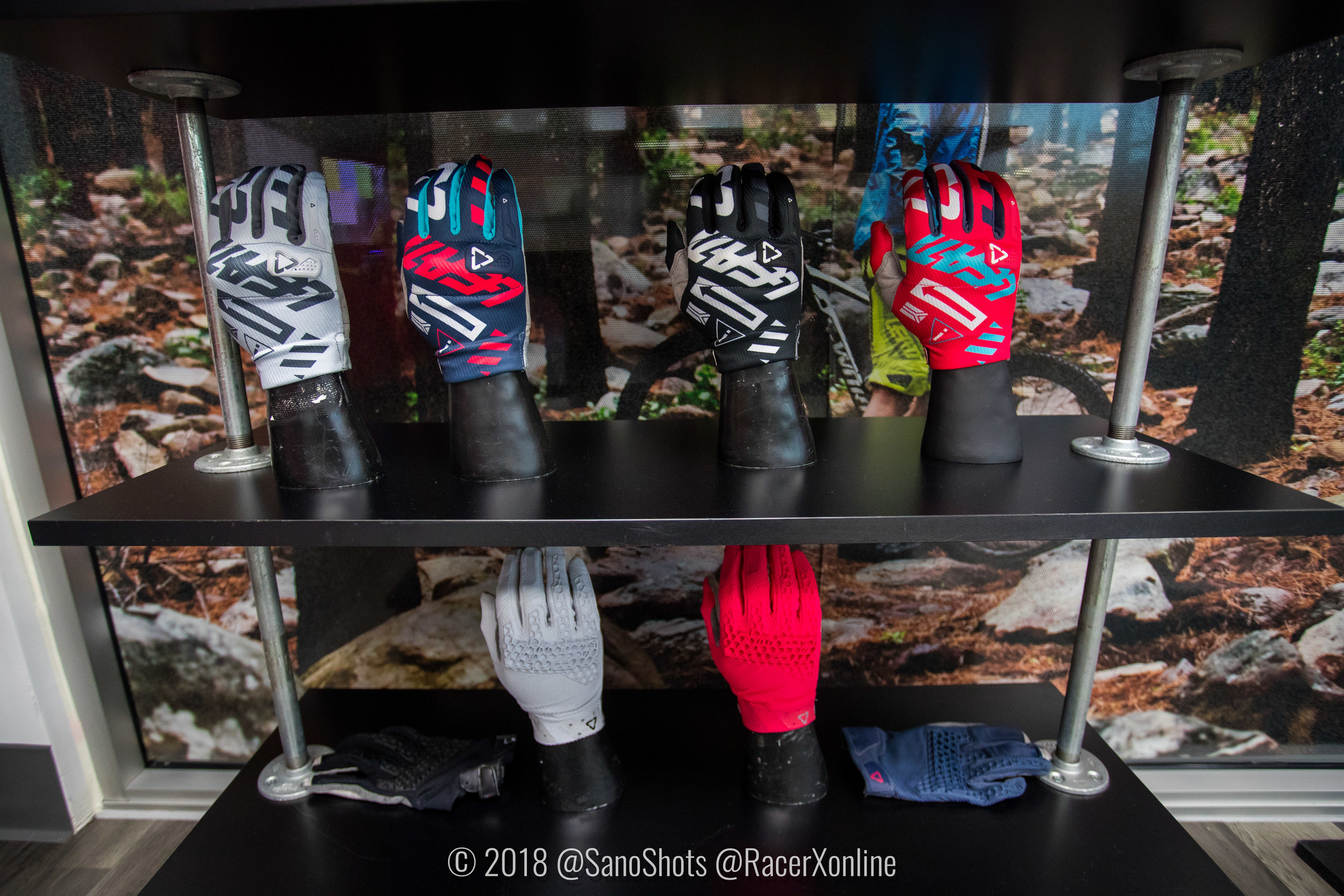 I recommend taking the time to look through their entire new catalog for 2019, as there are some great products in each category that you might not have known you wanted or needed otherwise—one for me was the long-sleeve padded pants for under your gear. It's basically some under-the-pants, hip- and tailbone-padded shorts that they are now also making in leggings, which is a welcomed replacement for leg socks for those of you who ride with knee braces that end up falling down while you ride. They've abandoned the bright neon colors that were really popular throughout the industry for the past few years. Instead, Leatt's 2019 gear colorways have a bit of an old-school nineties Answer vibe to it.
Leatt athlete Ryan Sipes was also there sharing what he likes about some of the products and which he prefers. He typically wears the GPX 4.5 (which is not Leatt's premium pant), but he likes how light they are. What's cool about the more plain looks this year is that you're able to mix and match different sets of pants and jerseys from both the 4.5 and 5.5 gear lines, as well as gloves. There are four different types of motocross gloves with different levels of protection depending on your terrain or level of comfort or weather conditions. For those of you who prefer the minimal feel, check out their DBX 1.1 Grip mountain bike glove that doesn't have a wrist clasp or any padding on the knuckles. For those of you who don't get to ride as much as you'd like (i.e., everyone) and get a lot of blistering in your hands, the 1.0 mountain bike glove has padding in key spots that could help you out at bit. Bottom line: Check out both the mountain and moto stuff.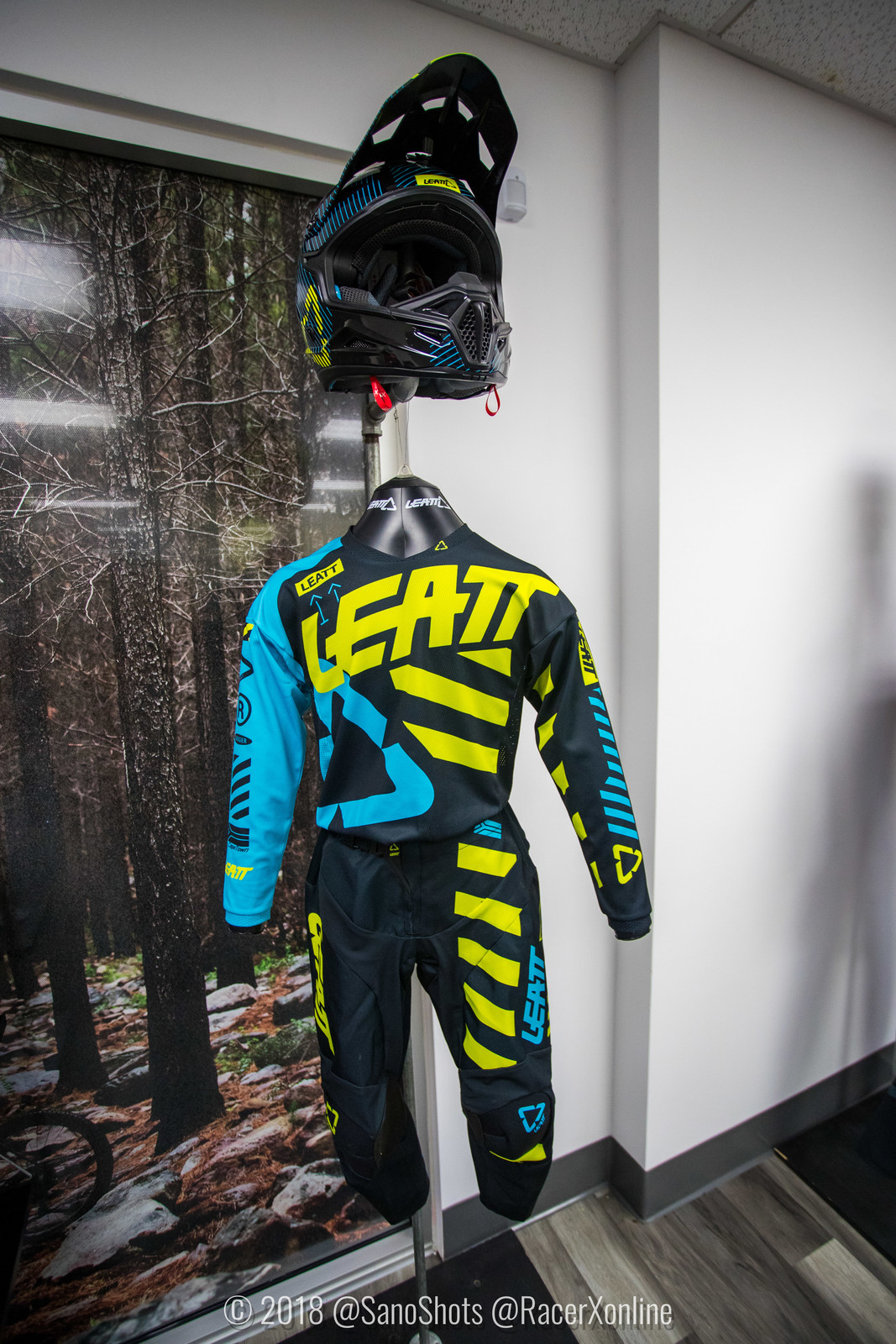 For the off-road guys, they've got some pretty sweet jackets that have removable sleeves—plus built in storage pockets for the sleeves—and pockets everywhere, which include a water hydration pouch with multiple ways to run the hose. If you have a Leatt helmet, you can run that same hydration hose with the built-in routing on the shell to a hands-free way to quench that thirst while riding and without having to take your hands off the bars. What's really cool about the products is they're designed to work together. Just like the water integration, the jackets are designed to easily secure your neck brace, as are all the jerseys (whether you want to run it outside the jersey or inside, a.k.a. Euro style). And here's what guys everywhere will appreciate about the GPX 5.5 Enduro pant: You can fit two cans of your favorite brew in a pocket on each leg—share those four beers with your buddies who will be without so you can make it back in one piece, (and don't forget to haul those empties back with you, too). Their 2019 line is in stores now, and you can check out the entire catalog for yourself here.
Hey, Watch It!
The New England Sports Committee (NESC) celebrated its 60-year anniversary on July 21, 2018, at Crow Hill MX Park in Baldwinville, Massachusetts. Hear advice on motocross from Motorcycle Hall of Fame's three-time AMA Motocross Champion Doug Henry, relive Jimmy Meenan's best NESC wins, and celebrate the tradition that the NESC has left on the sport of motocross and its fastest and most talented riders:
We mentioned the Vet MX Des Nations earlier—here's the promo commercial from Farleigh Castle:
Chad Reed rides Ronnie Mac's Screamin' Eagle 1998 CR250… or does he?
Racer X Films: Dialed In: 2019 KTM 350 SX-F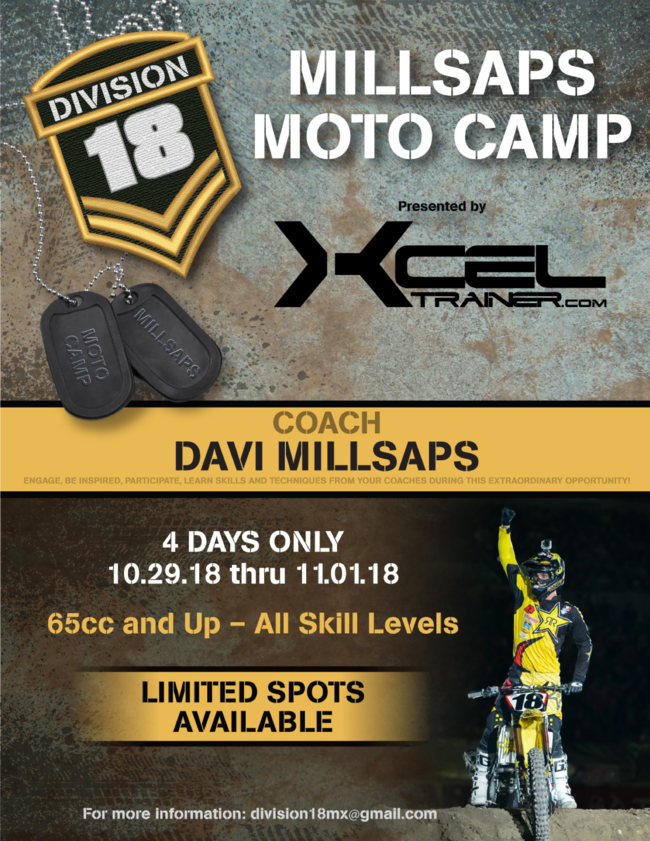 $500 Bounty on Stank Dog
We received this note in our inbox:
Sleepy Hollow MX Park Inc., host of the Ninth Annual Two-Stroke Shootout, is excited to announce the addition of Stank Dog himself to our annual celebration of two-stroke MX. It is only fitting for this legendary two-stroke icon to be in attendance. When he's not racing, Stank will serve as an honorary judge at the popular "Best Smell" and "Best Sound" contests.
We have placed a $500 Bounty on Stank's head. Beat him straight up at Sunday's 5K pro open to nab the $500. If he wins, he goes home with the $500.
This is a two-stroke-only event. Absolutely no four-strokes all weekend, including Friday's open practice.
For more info, call or text owner/promoter Jere Swarr at 717-278-8998 or visit www.sleepymx.com.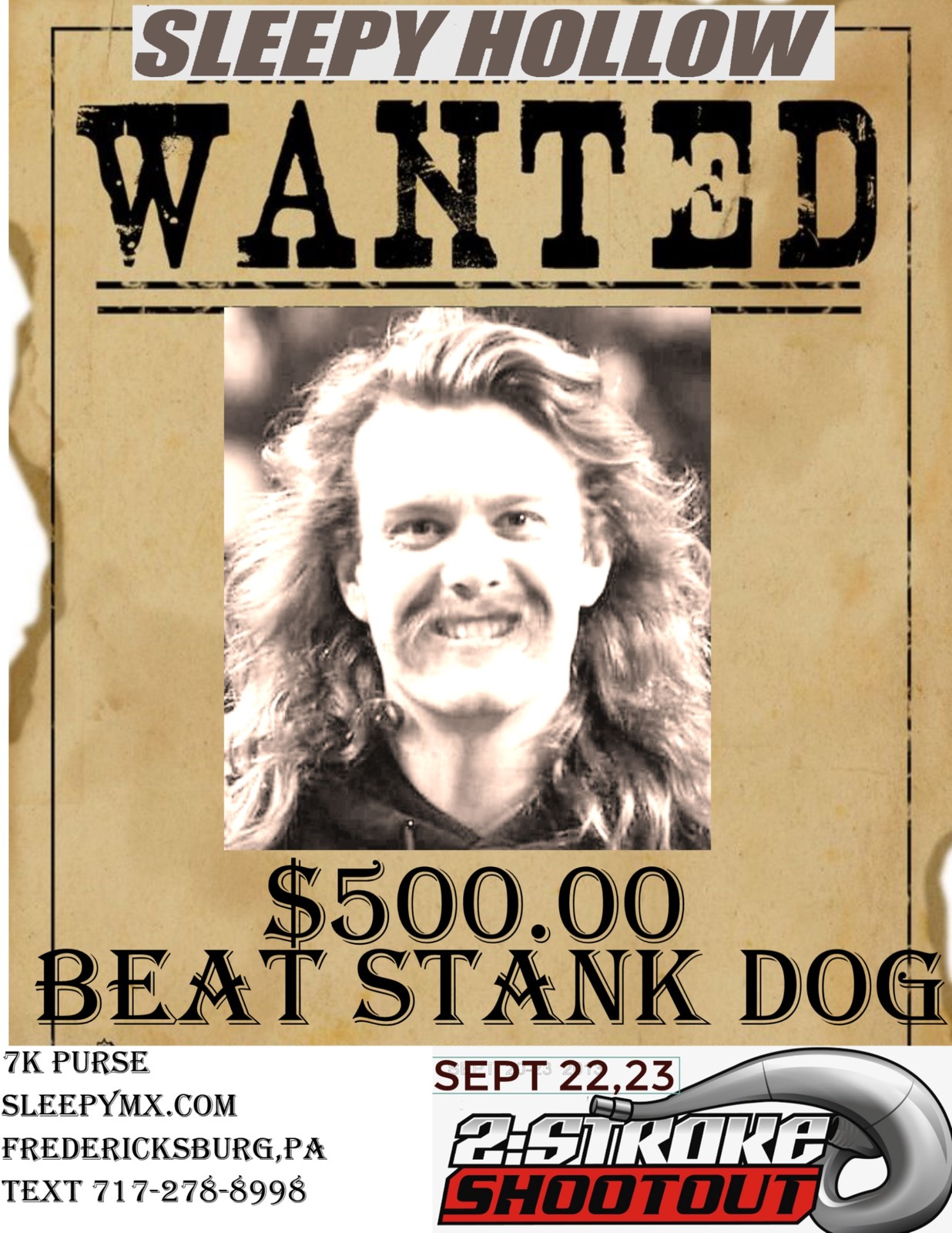 Subscribe or Renew Now for Your Chance to Win an All-New Electric Bike From Stacyc
Subscribe or renew now for your chance to win an all-new electric bike from Stacyc! Two winners will be chosen and given their choice of the 12" and 16" models. The winners will be announced on Racer X Online on September 19, 2018, and will also be contacted directly.
Every person who enters will also receive a FREE pack of all 12 official 2018 Lucas Oil Pro Motocross event stickers.
See official rules here.
LAST DAY: End of Summer sale! Take 20% off sitewide
Lucas Oil Pro Motocross has finished and summer is coming to a close, we know—it's very sad. Fear not, you can dry your tears with one of our fresh Retro Tanks when you receive 20 percent off your order with code: GUNSOUT. Sale ends tonight at midnight!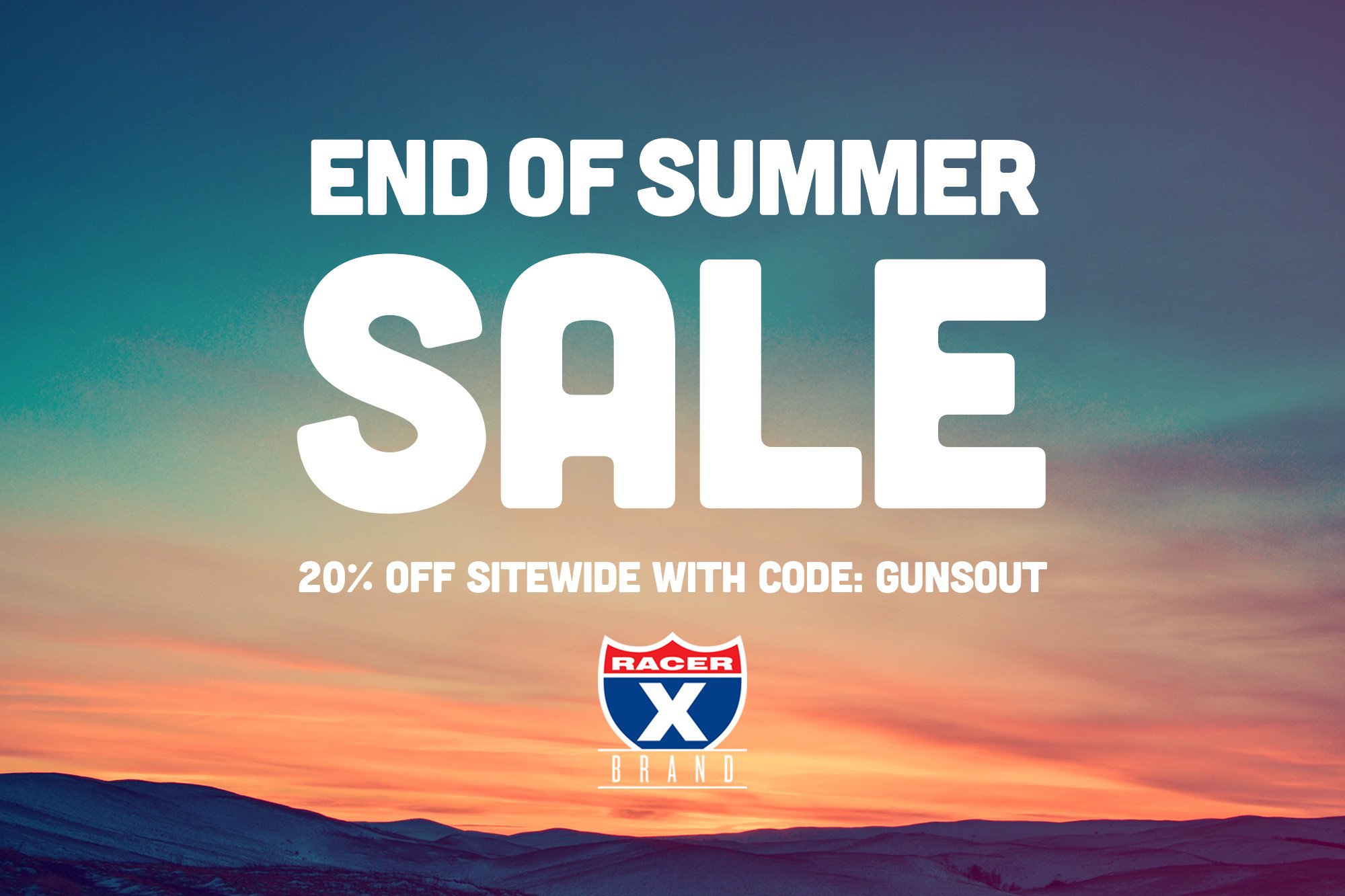 Also be sure to check out our Retro Tees:
Thanks for reading Racerhead. See you at the races.