September 7
1984
At 4:00 p.m. Friday afternoon, September 7, 1984, motocross lost a legendary place. Saddleback Park, the famous riding spot just outside of Orange, California, had its front gate locked to motorcyclists forever. After months of back and forth following a couple of tragic deaths at the park, the landowners (the Irvine Company) and the park operator (Marvin Henricks) could not reach an agreement on how exactly to insure the place from lawsuits related to riding there. One of them involved a ten-year-old minicycle racer named John Shaver who was actually riding elsewhere in the park, and not on the race track, and had a head-on collision with another rider. The park was closed for a month, then briefly re-opened for a CMC race. (Among the winners of that last race held there were longtime friends Jody Weisel (Vet Masters), the Motocross Action editor; master mechanic Alan Olson (250 Intermediate); and his son Tim Olson (Mini Novice), also a longtime member of the motorcycle industry.) It was rumored that the Irvine Company, a massive commercial real estate conglomerate, really just wanted to develop the land, but all of these years later it's still sitting there, empty.
Saddleback Park opened in 1968 and held many prestigious events over the years, including Trans-AMAs, AMA Pro Motocross Nationals, the original Superbikers, the NMA World Mini Grand Prix, and much, much more. It even had the distinction of being the first motocross race to begin with a starting gate in 1971. It was popular for photo shoots for all of the magazines located in Southern California, as well as all of the factories, which did testing and photo shoots there, too. Track features like Banzai Hill, Webco Hill, Suicide Mountain, and the Magoo Doubles became iconic in their own right.
Over the years since its closing, there have been rumors about Saddleback reopening, but it's never happened.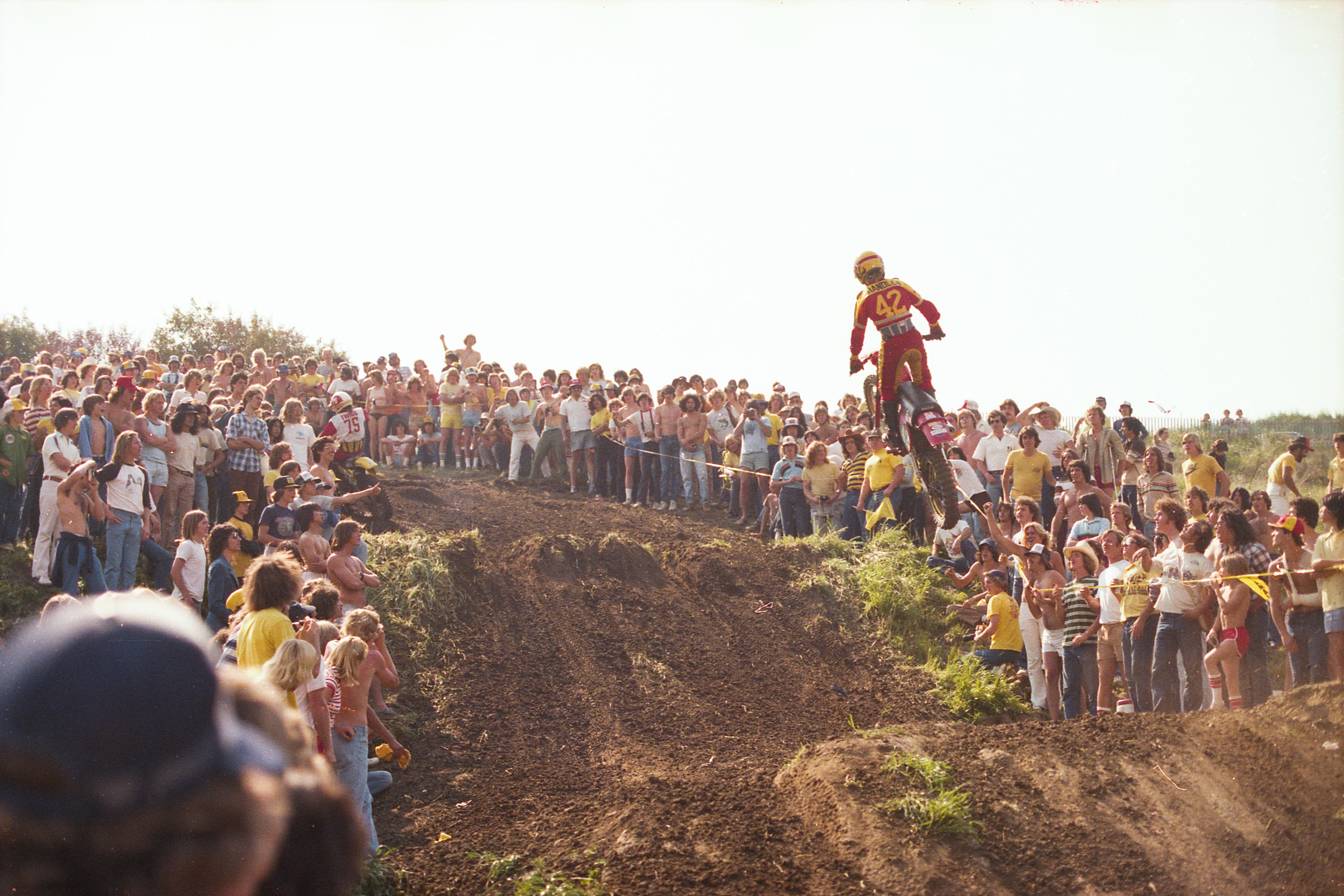 1980
Belgium got back on top of the 250cc Trophee des Nations in Maggiora, Italy, one year after being upset by the USSR and seeing its ten-year winning streak end. The Belgian team was led by Suzuki's Georges Jobe, who went 1-3 in the two motos. Andre Malherbe, Harry Everts, and Andre Vromans were also on the winning team. The home Italian team, led by second-moto winner Maurizio Dolce, finished second. This was the last time any country other than the United States won this event. Coincidentally, the Americans did not attend in 1980.
1975
Jim Pomeroy, the first American to win an FIM Motocross World Championship race, became the first American to win a moto at the Trophee des Nations, taking the opening moto in Maggiora, Italy. In doing so, Pomeroy also became the first rider in motocross history to beat all three reigning FIM Motocross World Champions in a single race, as Roger DeCoster (500), Harry Everts (250), and Gaston Rahier (125) were all riding for Team Belgium. DeCoster won the second moto and Belgium would go on to win the overall, but the Pomeroy-led U.S. team finished third. Pomeroy went 1-6, Tony DiStefano went 6-11, Kent Howerton had a pair of 16th-place finishes, and Brad Lackey had a tough day with a 36th and a DNF.