Welcome to Racerhead and the start of the off-season. Lucas Oil Pro Motocross wrapped up last weekend at a very wet and muddy Ironman National in Indiana, where Justin Barcia scored a popular win, Eli Tomac closed out his second straight 450 Pro Motocross title, and Aaron Plessinger put an exclamation point on his championship season that saw him win both titles in Monster Energy AMA Supercross and Lucas Oil 250 Pro Motocross. It was a fun, competitive season, with a few surprises and a lot of great races.
Indiana could have been one of them, but when we woke up on Saturday morning to massive thunder showers that were on and off for some time, it turned the pristine Ironman track into a muddy mess. Practice was delayed a couple of hours, shortened to a single session for each group, and LCQs were scrapped so we would have time to get the track as race-worthy as possible. The change in schedule made for some real surprises in the 250 Class because the B group of privateers would go out first, and what's usually a slight disadvantage became a massive advantage, as the top ten times all came out of the B practice! The highest "A group" qualifier on the deteriorating track was 11th-place Joey Savatgy of the Monster Energy/Pro Circuit Kawasaki team, but his bike was late to staging and he lost his gate pick and had to start 40th anyway!
And when it was time for the first-moto gate picks, this was the order they were called out in: #367 Hunter Sayles, #570 Cody Vanbuskirk, #303 Michael Hand, #162 Maxwell Sanford, #841 Jeffrey Walker, #136 Josh Philbrick, #546 Tylor Skodras, #993 Austin Wagner, #509 Alex Nagy, #340 Blake Taylor…. Here is where Savatgy should have been, but he wasn't, so the privateer roll call kept going… #767 Mason Wharton. Finally, #62 Justin Cooper, of the Monster Energy/Yamalube/Star Racing Yamaha team went at 13. He would be followed by his teammates Dylan Ferrandis (17th) and Aaron Plessinger (19th). It was truly weird—and kind of cool—to see almost all of the good gates on the inside go to privateers, though as soon as you got past the gate, it was "all peanut butter" as John Tomac called the mud. Watch how far back series points leader Plessinger is with his pick….
A cool thing to remember: Some of those privateers were pretty darn good mud riders, including top-qualifier Hunter Sayles, who finished 11th overall, smack-dab between two guys who signed big contracts this week, Alex Martin and Joey Savatgy. And congrats to Cale Kuchnicki, a full-time programmer from Alanson, Michigan, who scored 20th in the first 250 moto for his first professional point.
The second thing that happened that was just crazy and downright cool was Chad Reed coming back out to race outdoors for the first time since 2015 and actually grabbing the start in both motos! Reed got a bike from Autotrader/Yoshimura Suzuki and came out to test the waters (pardon the pun) and ended up with a big smile on his face for much of the day. He qualified seventh and went to the gate looking for a good spot. On the far-right side of the gate on the inside was a small strip of grass that almost ran to the first turn. It was maybe eight inches wide, buffered by the repeater banner on the right and the muddy start stretch. I don't know who lined up there in the first 250 moto, but it wasn't the guy who got the holeshot, Justin Cooper. Reed saw the line, took the far inside gate, and nailed the start perfectly. Nearly 40 minutes later he crossed the finish line a solid fifth-place.
One person watching all of this was GEICO Honda's RJ Hampshire, and if you remember correctly, RJ used a similar line at the MXGP of the USA last September at WW Ranch in Florida to pull two holeshots there, using the hard-packed far outside Mobile Medical Unit lane to get up out of the soft sand and pull himself two great starts. Well, he saw Reed do his thing, realized it was part of the track, and used the second gate pic he got with his first-moto runner-up finish to grab the second moto's Motosport Holeshot! Here's how it looked on TV:
Now comes the funny part. John Tomac was standing next to me when I made the video of RJ's holeshot, so I was sure that Eli would almost certainly take that gate, but only if first moto winner Barcia didn't. Justin was even talking about the line while in staging. But when it was #51's turn to the gate, he decided to go a little further out. Then Tomac picked, and he didn't go there either. Ken Roczen was third, and he took the gate right next to it, second from the far inside. Then Musquin picked and he went further out, too. When it was Chad's turn to pick again, he laughed and said, "I can't believe you guys are giving me this gate again!" He lined up on the far inside, and here's what happened:
Afterward, a couple of guys asked me while Chad was allowed to do that, or why we didn't go block it with one of those big Acerbis barriers. I explained that because it was there for the first two motos, I didn't feel it was right to change it for the second moto. Whoever picked before him the second time out deserved the same chance to take the same risk, because if he didn't execute it perfectly, he would have been buried in the pack. It was a true feast-or-famine scenario, and that's probably why the four guys in front of him all passed on it. Chad took the risk and pulled it, just like Hampshire in the second 250 moto, as well as at the MXGP of the USA, and just like I've seen happen a few times at Loretta Lynn's on the far inside or far outside when it's dug deep. Even Jeffrey Herlings used a line like that at the MXGP of France earlier this year….
My point is that mud races make for some strange situations, shaking up the results and race order at times, but they also have a lot of character and race craft that make them more interesting than most dry races. Ironman was a mudder, but it was a lot of fun to watch—and work!
And another thanks to all of the riders, race teams, and fans for being patient with us as we did our best to bring the track around and make for some good, safe racing. Next stop: the Motocross of Nations!
Awesome Season (Weigandt)
A look at the stats for the 2018 Lucas Oil Pro Motocross Championship would indicate Eli Tomac and Aaron Plessinger dominated the season. Tomac won 15 out of 24 motos, and Plessinger wrapped up a title with three motos remaining. This was a year where the feeling and the numbers didn't match, though. The racing was really, really good. In the 250s, nine different riders won motos, and that list doesn't even include second-in-points Alex Martin. We usually start the 250 campaign saying "There are probably ten guys who can win races," and this year, that proved completely accurate.
In the 450s … thank goodness they don't have metal-grate starts in AMA Pro Motocross. Monster Energy Supercross switched to the grates behind the gates this year, and Tomac went from a so-so starter to lighting fast off the line. He actually turned a drawback into an asset. Without the metal grates, though, Eli was back to mid-pack off the line once the outdoor season began. He won a lot of races, but the way he did it—chopping through the field late in the race—was amazing. Eventually, I started to wonder if Eli was actually doing this on purpose. Once he got off to a tenth-place start, he could have ridden like a madman and taken huge risks to get to the front immediately. I wonder if, instead, Eli realized he had the speed to close the gap when needed and decided instead to calmly work his way forward, avoid carnage, and just get within a few seconds of the leaders with ten minutes to go.
At this point, I think Eli has become so confident in his speed that he knows he can close down a few seconds in the final five laps—he just has to be in position to do that. Rare is it that we see motocross races managed in this fashion, and we'll never know if that was Eli's actual strategy because he never reveals much. I think there might be something to this, though: once he gated poorly, he went into management mode over the next 30 minutes. It made the races really fun to watch.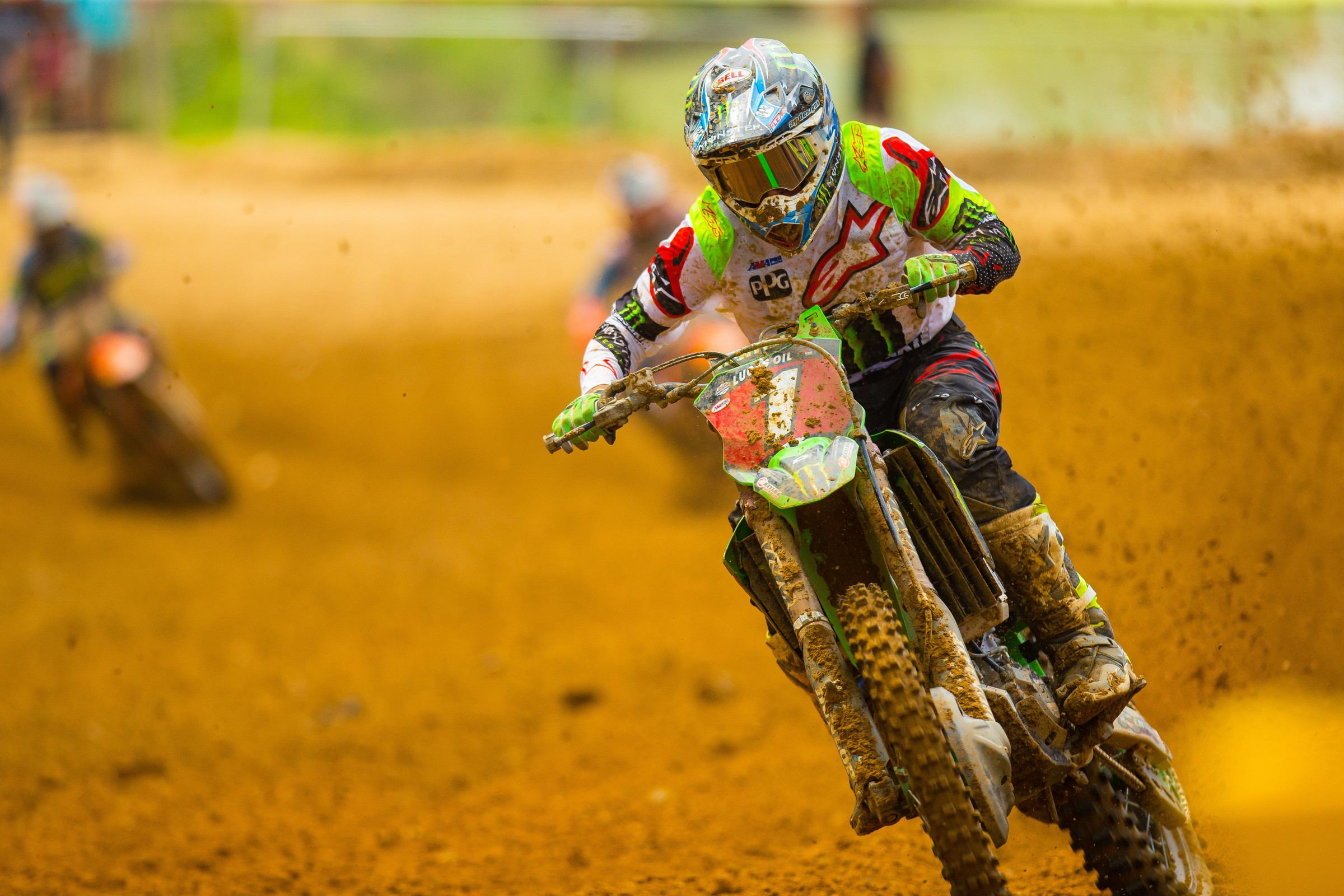 For each thrill of victory, though, there must be the agony of defeat. Marvin Musquin has now finished second in three straight 450 championships. He only lost this year's 450SX title by nine points. He was 17 points down on Tomac in last year's 450 Class standings and 16 down at the end of this season. That's agonizingly close. Marvin scored nearly 60 points more this summer compared to last year, but so did Tomac! Oh, and remember back in 2015 when Marvin and Jeremy Martin went into the Ironman finale basically tied in 250 points and Marvin's bike broke early in the first moto...?
Obviously, no need to cry for Musquin, who has had a great career, including tons of race wins, two MX2 Motocross World Championships, a 250SX title, the Monster Million at last year's Monster Energy Cup, and more. Still, the closer you get, the more it hurts when it doesn't happen. We'll see what happens in 2019.
FINI (Steve Matthes)
Well that's a wrap. Twenty-nine races indoors and out, 27 of which I attended in 2018—which is a lot, I'm not going to lie. Congrats to the champions, Jason Anderson, Zach Osborne, Aaron Plessinger, and Eli Tomac, and like Weege said, Marvin Musquin had a HELL of a year but doesn't come up with any championships.
The off-season is officially here, everyone, which means it's a perfect time to launch the second part of the critically acclaimed "Finding Stew" vlog this Monday night. I guess we were just looking on the wrong coast. Or were we? You'll have to watch to find out the exciting ending!
Coming up in two weeks is the new Montreal SX, which will feature all the Canadian series regulars plus riders like Malcolm Stewart, RJ Hampshire, Colt Nichols, Alex Martin (on a JGR Suzuki), Phil Nicoletti (on his OTSFF Yamaha; that's what he's doing in 2019), Mike Brown, Josh Hansen, and more. Should be a good time, right? I'll be there, so look for coverage on Racer X Online.
Coming to America: 2019s (Jason Weigandt)
Some cool news filtering out of the Ironman National is that several riders expect to switch to 2019 bikes by the time the Motocross of Nations rolls around in October. Eli Tomac will likely be on the all-new 2019 KX450, and Ken Roczen says he'll likely be on the 2019 Honda CRF450R, which has a revamped frame. Tomac told me he's ridden a production 2019 a few times, which you already know because he's riding one in the TV commercials. He hasn't jumped on a race bike yet, as the focus has been on locking down the Lucas Oil Pro Motocross Championship on his 2018. He says he'll start going to work on the '19 soon.
Roczen drew some attention by throwing a kick-starter back on his Honda for the last two nationals. I talked to Honda HRC team manager Erik Kehoe, and he said the last few races were a perfect time to do some experimenting before they get to work on the 2019. By the way, there's no way to run a kick-starter on the 2019 because the new frame design doesn't allow any room for it, so whatever feel Kenny likes on his kick-start bike will have to be replicated on the '19 with electric start.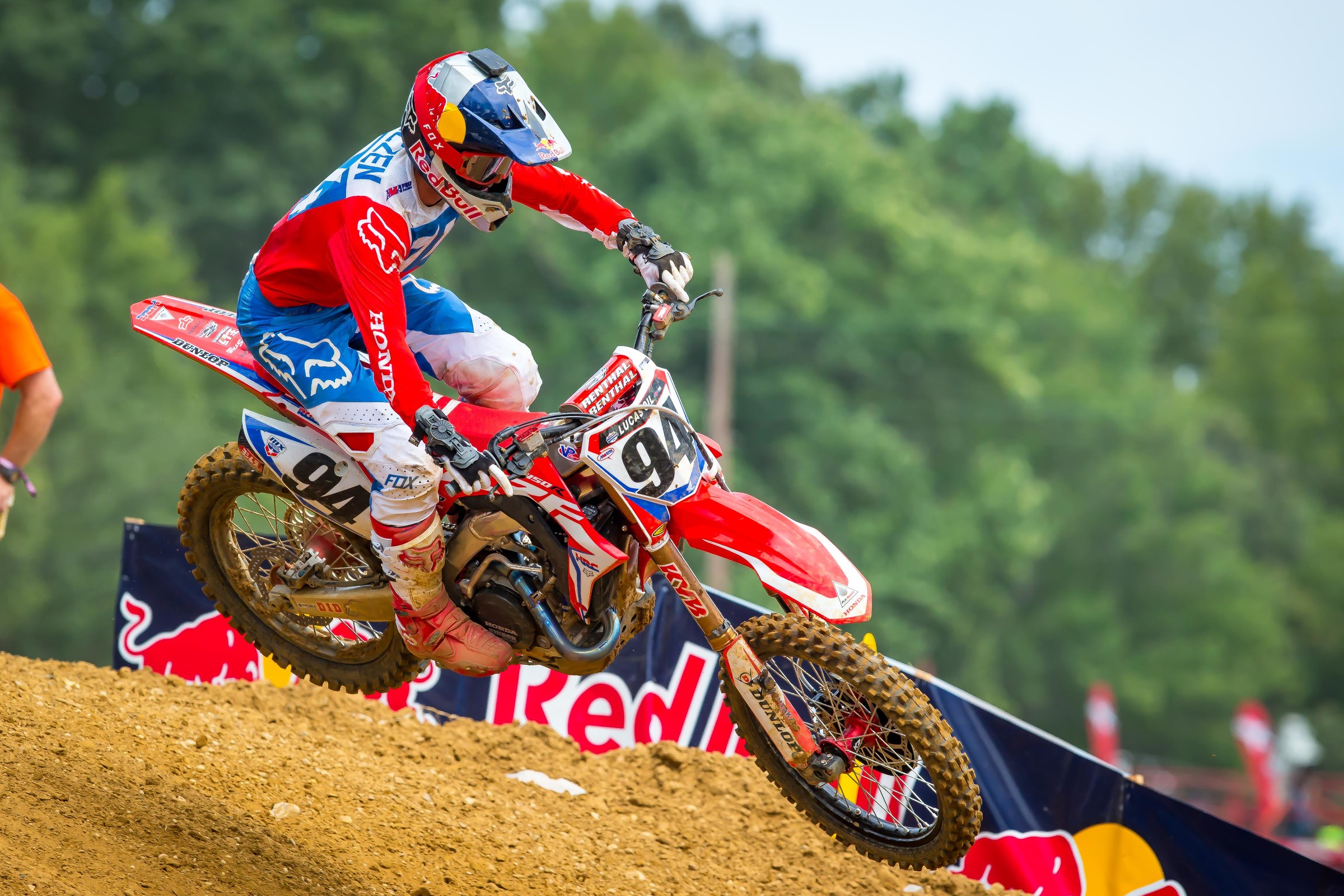 Yamaha has redesigned the YZ250F for 2019, and Aaron Plessinger says he'll test one before the Nations. He might switch for the race, or he might stick with his trusty 2018—no matter what, it's awesome to hear how dedicated Aaron is to his mission of racing a 250 at the MXoN. Often, when riders already know they're moving to the 450 class, they're just dying to get off the little bike forever. Remember, every single factory rider in the history of the sport says the bigger bike "suits their style" when asked about moving up. It's like a life requirement to say that or something.
Plus, Aaron is a big guy, so you know he wants some 450 time. He'll get it soon, because he'll be racing a YZ450F at the Monster Energy Cup right after the Motocross of Nations. But he says he wants to do well at RedBud, so he'll make sure he gets plenty of practice in on his 250 so he stays sharp and ready.
Silly Season Comes Early (Chase Stallo)
What happened to October 1? For ages, contracts for the following season would not be announced until October 1, which was when contracts for the previous season would expire. That has not been the case this year, as Monster Energy Yamaha announced multi-year deals with Justin Barcia and Aaron Plessinger last week, and this week, Monster Energy Kawasaki announced that Joey Savatgy will move to the 450 Class on a reported one-year deal.
Another piece of the 250 puzzle dropped this week as well, as Autotrader/Yoshimura Suzuki announced a two-year deal with Alex Martin, who finished second in Lucas Oil Pro Motocross in the 250 Class. Martin moves over from Troy Lee Designs/Red Bull KTM, where he spent the past two seasons. Always a true professional, Alex posted this about his old team on his Instagram:
"With the recent announcement I would like to give a massive thank you to the entire @tld_raceteam@tld_moto @redbull @ktmusa@gopro@naturesbakery team on an awesome two years! Lots of great memories with the whole crew. Thanks for everything guys! @jordantroxell @themotohighway #TK#Brandon @wp_usa"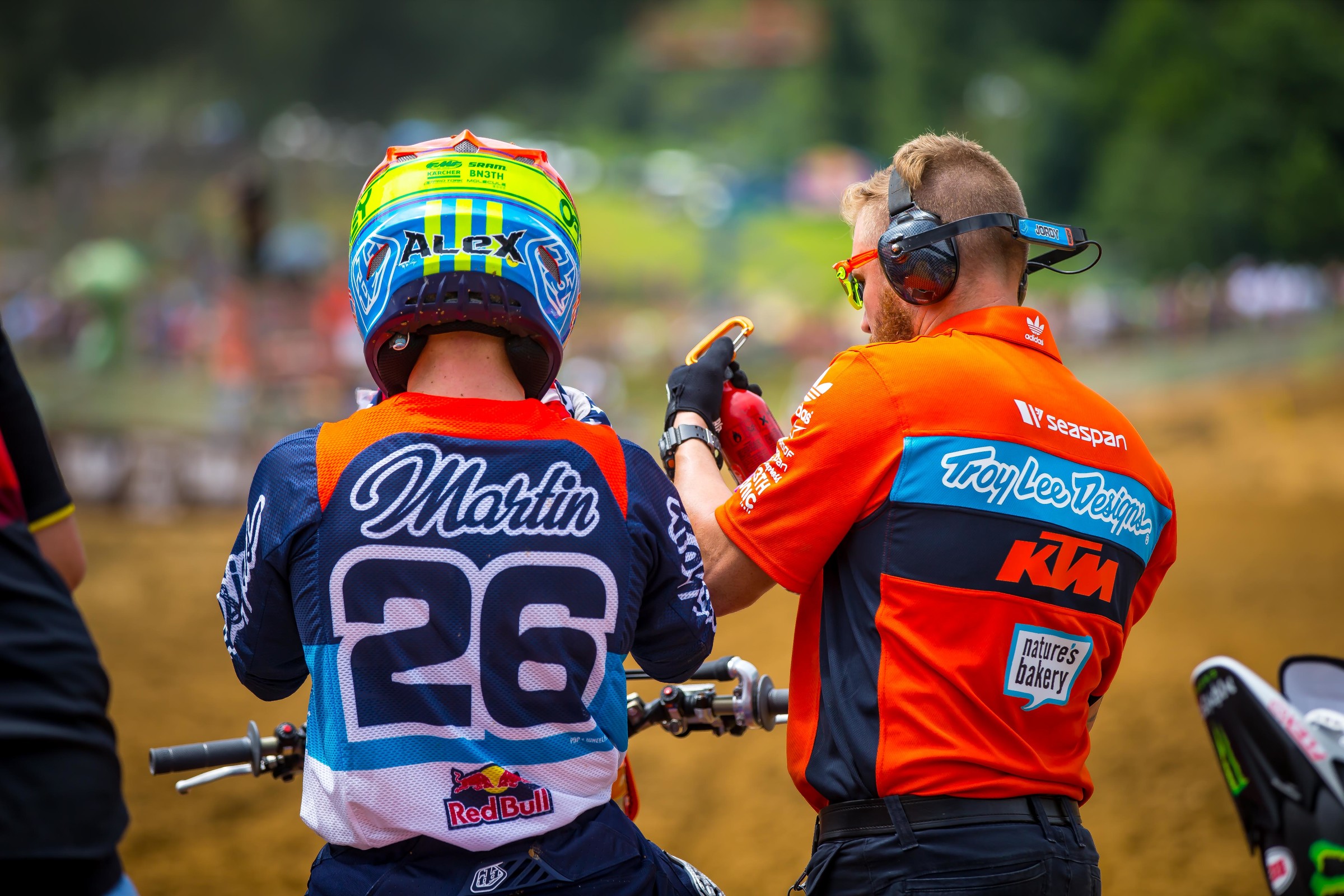 Most of the big 450 names are tied into long-term deals, so we're only waiting on a few names to sign this off-season. Notably, Cooper Webb (expected move to Red Bull KTM), Chad Reed, Malcolm Stewart, Josh Grant, Justin Bogle, Tyler Bowers, and more are still awaiting deals. And what about Broc Tickle? He has yet to be handed down an official suspension, so his 2019 season is very much in limbo.
Stay tuned, as we should find out very soon on most of these deals.
GUAM? (Matthes)
We had Chad Reed on the PulpMX Show this past Monday night to talk about showing up at Ironman, how the deal with JGRMX came together, and more. One interesting thing he talked about was maybe racing the upcoming MXoN for—get this—Guam! Yes, there's another territory out there that can field a team with U.S. citizens (Reed is an American citizen). Who knew? I don't know how far this idea has gone, but I'd think everyone needs to get things together right about, well, now. After the show posted, I got this comment:
I'm Stan Yasuhiro, president of the Guam federation. We are serious about MXoN. It is a start for us, but we will build year by year from this point on. Guam is not a slouch in FIM Asia. We have Sean Lipanovich, who grew up on Guam and has the native blood in him. We are trying to build something for Guam. We were very excited to hear from Chad, RJ [Hampshire], [Chris] Blose, [Josh] Hansen, and many others.
We were hoping Chad would ride with us in MXoN along with RJ. We are officially entering MXoN. So we are serious and not doing this out of amusement. Thanks, Chad, for talking about us, and let us know if you are still interested.
If you do some work on the Google, Stan is listed as the FIM delegate for Guam, and he also appears to be a dentist. So yeah, there's that. Good luck to Stan, Chad, and anyone else who wants to race for Guam. Pretty cool deal.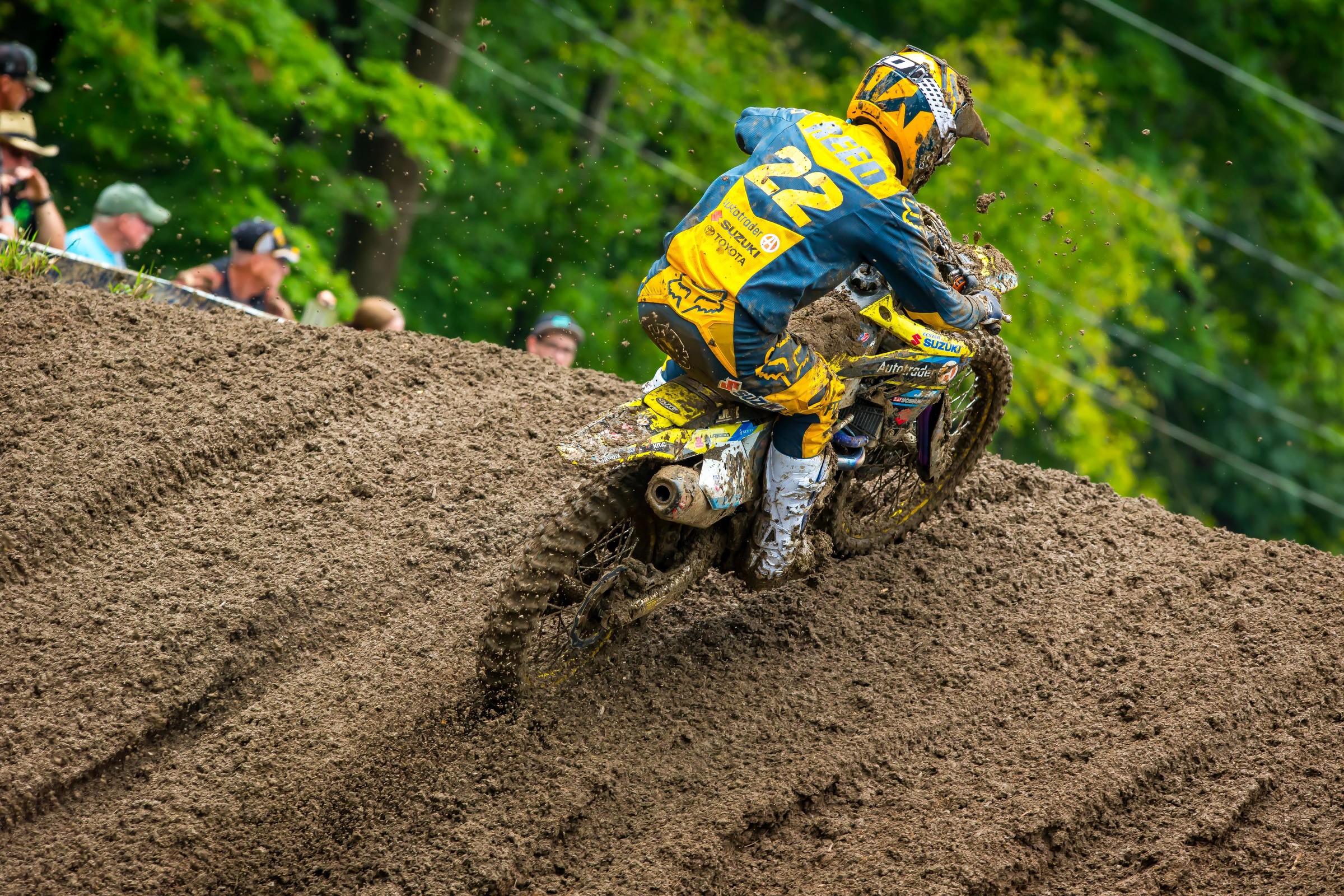 PREVIEWING THE MXON (DC/EJ)
The MXGP folks are in Turkey this weekend as they wind down their season. We, of course, are finished here in the U.S., and many are already looking ahead to the 2018 Monster Energy FIM Motocross of Nations. Eric Johnson recently worked on a feature for an upcoming issue of Racer X Illustrated in which he spoke with all of the protagonists of Team USA 2007 and the MXoN at Budds Creek. He also got to chance to ask them about the upcoming race and how things are looking for RedBud.
Team USA Roger DeCoster knows that it's going to be difficult, despite the race being on home soil: "The French have come a long way in recent years, and they're a tough team to deal with. And not only France, but I don't think we can count out the Netherlands with the way that Jeffrey has been riding. They will also have Glenn Coldenhoff and Calvin Vlaanderen on the team. Herlings is going to be really hard to beat with the way he is riding now.
"The cool thing is that Tomac, Barcia, and Plessinger all want to be there at RedBud, and all three rode really good at the national there this summer," DeCoster added. "The 250s will be the toughest class because it's really hard to get a good start against the 450s and come from behind. That's the thing I really like about Aaron—he's been able to come from behind. That's really important. What the 250 guy does could be the key to winning or not winning."
Ricky Carmichael was our MX1 man at the '07 MXoN, and he's a strong supporter of Team USA and the event itself. "I think it's a strong team for the 2018 Motocross of Nations, without a doubt," RC said. "I know there is a lot of speculation between Herlings and Tomac, and I think it would be fun to see those two guys square off. But if I'm the team manager of our country, I'm telling our three guys to worry about doing the best they can in their own respective class. If you can be the top guy in your own respective class—or at least in the top two—you're going to give our country a really good shot at doing its best. So yeah, I think we have a really good shot. I'm amped on the team."
Giuseppe Luongo, the main man at Youthstream, organizers of the FIM World Motocross Championship as well as the MXoN, had this to say: "This race is very important for everyone. It will be televised worldwide. Millions of fans will follow it. It's also very important because it's a great opportunity for the American team to return to victory. It won't be handed to them on a silver platter because there are many good teams, especially France and the Netherlands.
"I believe for Roger and for the U.S. team that it's a very important event, and they will feel the weight of their nation," Luongo added. "For what we have seen thus far, it will be an unbelievable success. Everything looks like it could be the biggest success of ever, and now the stress begins because we have to hope for good weather. But I really think it will be something unforgettable. I really hope so, because if this happens, we will be able to return to USA more often with the Monster Energy FIM Motocross of Nations."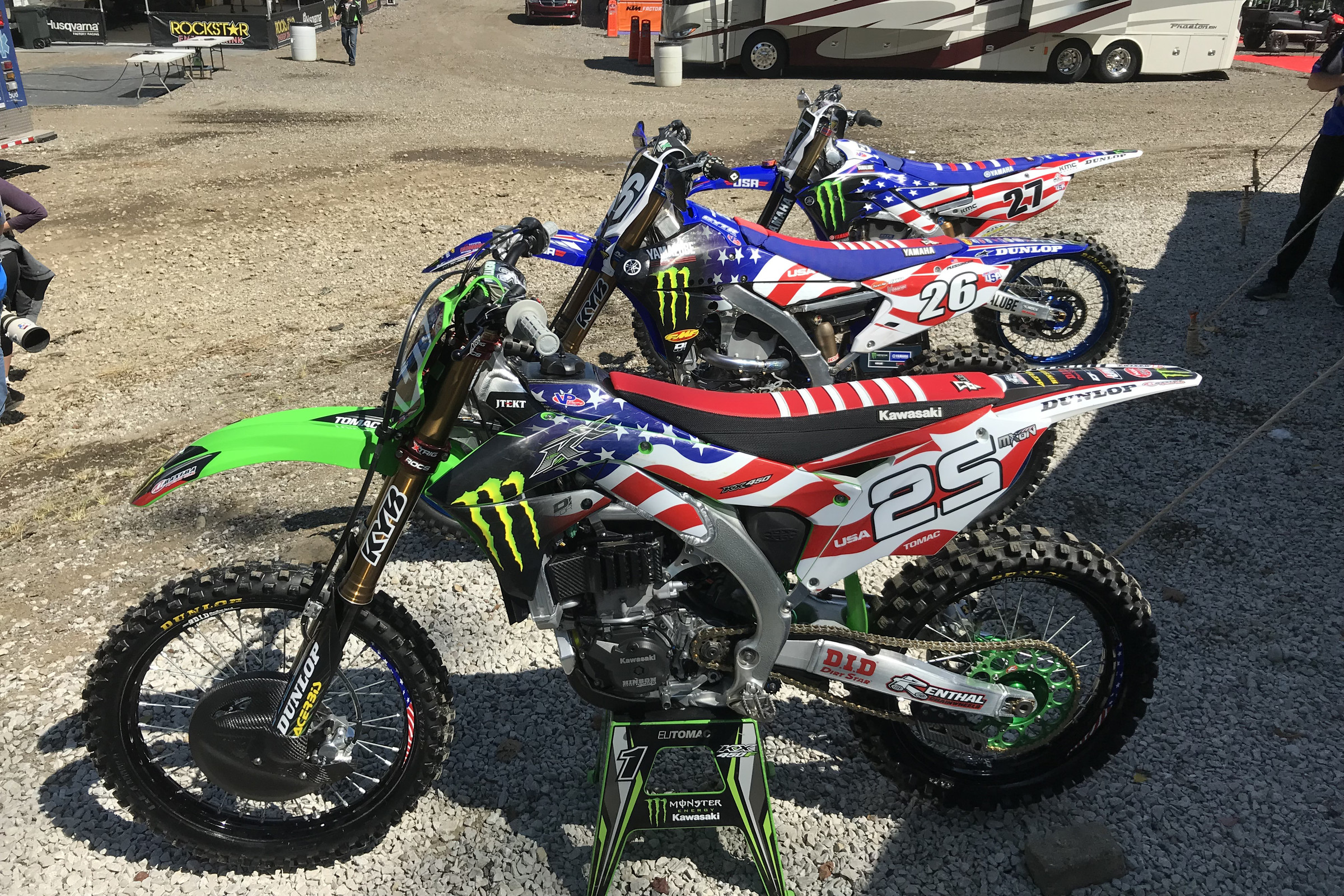 LOPEZ (Matthes)
This past week on the Privateer Island Life Podcast, I called up Felix Lopez to find out what his deal was. This is a dude who has scored points this year at the nationals he's done and finished fifth in a moto in MX1 at Walton, Ontario, at the final round of the Canadian nationals. Lopez is from Mexico, he just won the Mexican national championship in a tiebreaker that went to the fourth rule, and he's racing the MXoN for Mexico. He also trains and lives down at the Masterpool facility in Texas. Interesting guy, and he just adds more flavor to the Lucas Oil Pro Motocross Championship that includes Germans, Frenchmen, Australians, Englishmen, Canadians, Brazilians, Ecuadorians, and wherever Stank Dog is from. Anyway, here is the podcast.
FINDING KENWORTHY'S (DC)
Last Sunday on the way home, I decided to take a detour near Dayton and go have a look at the old Kenworthy's National track. It's a hobby of mine, trying to find tracks lost to history but maybe still physically there, just underneath the overgrowth and not necessarily a parking lot. I've explored the old Honda Hills Trans-AMA track in Linville, Ohio, found the old Mid-Ohio USGP track, checked out Carlsbad and Saddleback, and, closer to home, Appalachia Lake, Keyser's Ridge, and more.
But on Sunday, my mental Mapquest memory failed me and I couldn't figure out exactly which row of cornfields it was behind, or what the barn looked like. Fortunately, someone posted a few photos on Facebook of a recent visit and forwarded them to me, including this one: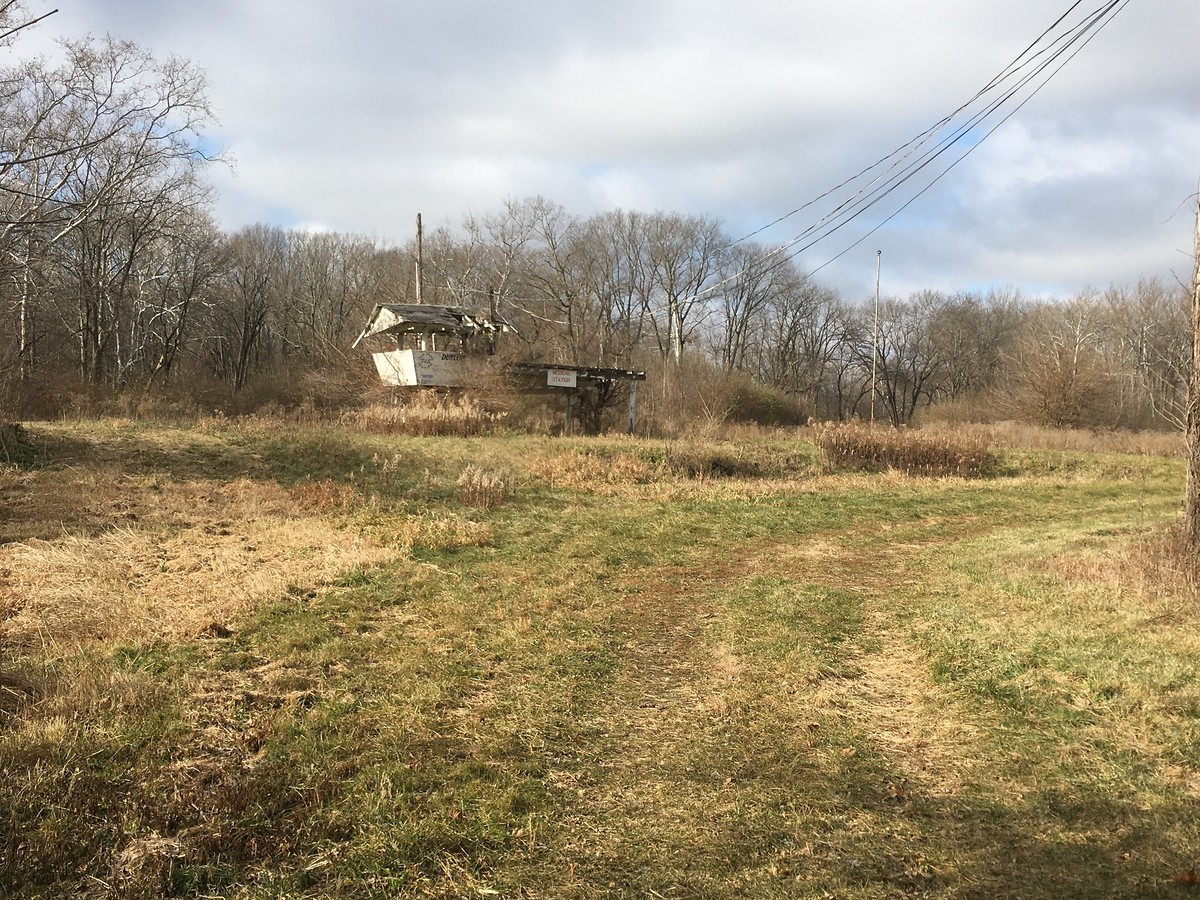 What really caught my eye, though, were some photos someone posted of Maggiora in Italy. Just two years ago, it hosted one of the biggest Motocross of Nations ever, marking the 30th anniversary of the remarkable Team USA efforts there in 1986 when David Bailey, Rick Johnson, and Johnny O'Mara dominated. The track was amazing for the return in '16, but since then, they have been unable to hold any races due to a problem with local restrictions and use permits. The promoters are still working on a fix, but they have since moved their round of MXGP to Ottobiano. The legendary Maggiora track has now returned to the overgrowth that engulfed it before its 2016 reemergence. It's an amazing track (I was there for the '99 250cc Grand Prix with Ryan Hughes), and I hope they get it back in working order. Even in its current abandoned state, it's a work of art….
Yamaha Double (Andras Hegyi)
Thanks to Aaron Plessinger and Justin Barcia, Yamaha riders swept the final round of a Lucas Oil Pro Motocross Championship. Besides Broc Glover and Jeff Emig, Plessinger is only the third Yamaha rider to get six wins in a season. Glover took six wins in 1978, Emig did it in 1992, and now AP. And what's cool is that Yamahas were yellow when Broc did it, white when Fro did it, and now blue!
Yamaha's total of eight victories equals its record year, which was the 2015 season. That's when Jeremy Martin, Cooper Webb, and Plessinger collected the eight wins for Yamaha, while this time it was Plessinger and the two added by Dylan Ferrandis.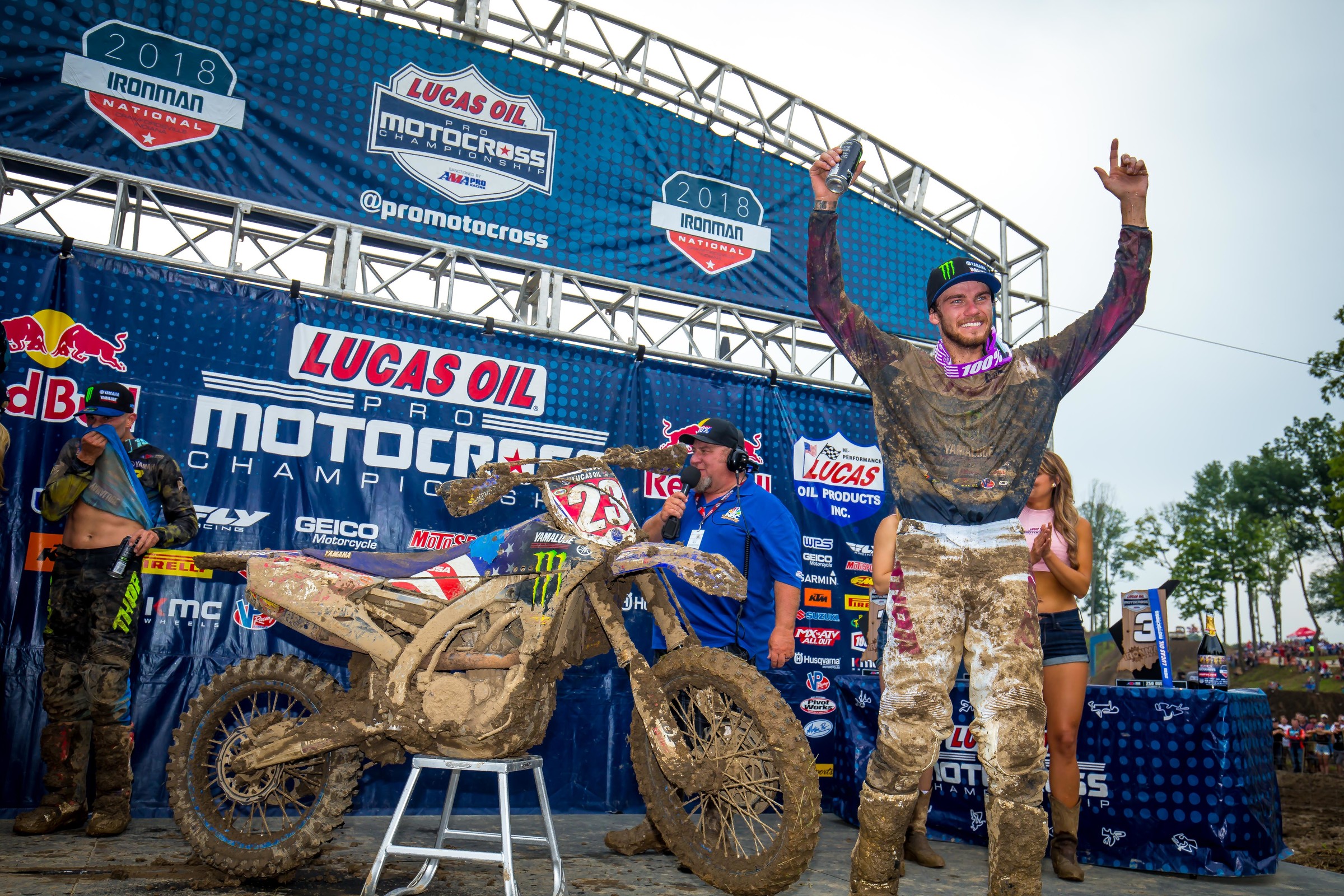 And thanks to Barcia, Yamaha's three-year winless streak in 450 Pro Motocross is over. You have to go back to 2015, after the seventh round of the season, for its most recent 450 win. That was 42 races ago! This winless streak was Yamaha's fourth-longest winless streak in the history of the 250/450 motocross. In the past, Yamaha had six-year and five-year winless runs. They happened between 1985 and '90, 2001 and '07, and 2009 and '15. Justin Barcia was also the guy in 2015 to put an end to Yamaha's multi-year winless series. Finally, Barcia became the ninth rider in 250/450 AMA Motocross to win after three or more years. The record-holder is Marty Tripes, who could win again after five years.
Riders to win again after three or more winless years in the 250/450 AMA motocross
Marty Tripes: After 1974 on a Husqvarna, the Californian waited five years to win again in 1979 aboard a Honda.
Damon Bradshaw: After 1993, the Beast from the East took a break with Yamaha, came back, and then won again in 1997 on a Manchester Honda.
James Stewart: After 2008, Bubba pretty much went SX-only for a time, then won again in 2012.
Kevin Windham: After 2003, when he shocked Ricky Carmichael twice, K-Dub didn't win again in 2007. Then it happened again, and he waited until 2010 to get another one.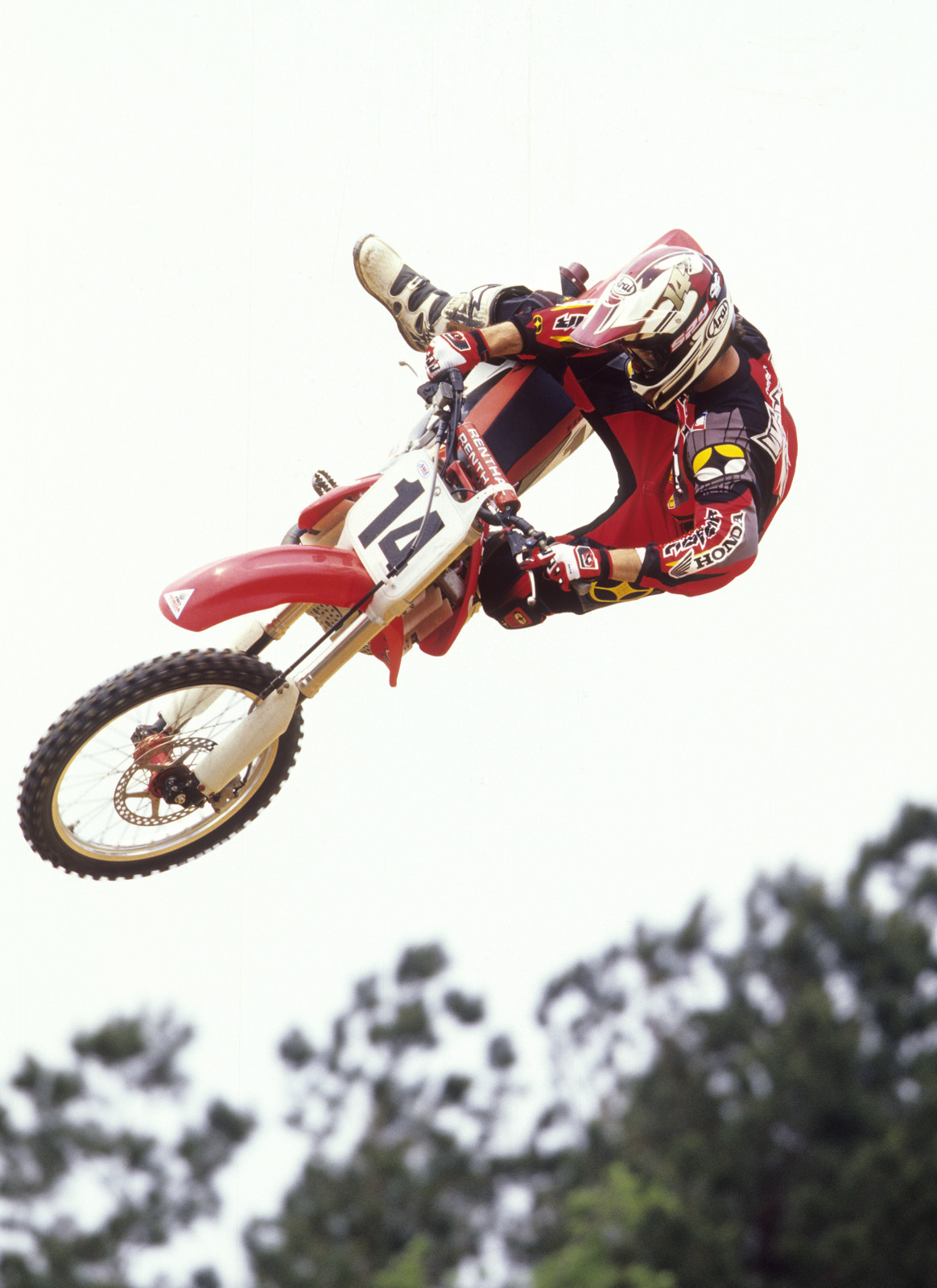 John Dowd: After winning that crazy mud race at Hangtown in 1991, the Junkyard Dog waited to win again in 1994, then he waited again to win in 1997.
Doug Henry: After 1995, when he got hurt at Budds Creek, Henry didn't win outdoors again until 1998.
Mike LaRocco: After 1996, the Rock didn't win again until 1999.
Ron Lechien: After 1984, Dogger didn't win in the 250 class again until 1987, but he was dispatched in 1985 to the 125 class and dominated.
Justin Barcia: After winning two in a row in the summer of 2015, he didn't win again until last Saturday at Ironman.
FINDING STEW, PART 1 (Matthes)
Adam Cianciarulo and I put out the first part of the two-part "Finding Stew" vlog. Please watch it and enjoy the weirdness/awesomeness of it, and part two will drop next week. We appreciate the comments, and hopefully, we all find something (maybe Stew?) in this that we enjoy.
PROUD (AND MUD-SAVVY) MOM (DC)
I got a really cool note and some photos from my longtime friend Lisa Wagner, one of the fastest female motocrossers ever and now the proud mom of privateer Austin Wagner, who probably smiled when he realized the Ironman National was going to be a mudder:
I thought I would share with you some photos from this weekend at Ironman and some photos of me racing in the mud. He qualified eighth and proved he can ride in the mud with a career-best overall finish of 14th. As you know, this is quite accomplishment for a privateer rider, and we had our hands full getting things ready after qualifying and first moto between the five of us. The smile on his face says so much!
Austin Wagner went 15-15 for 14th overall at Ironman. Like mother, like son: I remember the '81 AMA Amateur National Motocross Championships at a very muddy RedBud and Lisa almost winning a 100cc moto against the boys. I think only her Team Dynamic teammate Keith Bowen beat Lisa Akin! (And her husband Bobby was no slouch either!)
Racer X Films: Best Post-Race Show Ever | Ironman 2018
Racer X Films: 2018 Lucas Oil Pro Motocross Highlight Reel
Racer X Films: Dialed In: 2019 KTM 250 SX-F
Head-Scratching Headlines of the Week
"Sexually frustrated dolphin terrorizes tourists on beach" —Drudge Report
"U.K. and French fishermen clash over scallops" —CNN.com
"Weren't selected to race MXoN? Come race the same track @ RedBud MX, Sept. 8-9" —Pat Schutte's headline for the promo on the upcoming Edge of Summer race at Redbud
Random Notes
Smagical Benefit Ride Day/Auction (Wheels)
In May, Phil "Smagical" Smage was severely injured in a crash while attempting to set the world record for the longest distance jumped in an RZR. Smagical being one of my best friends, I felt a little helpless for the first few months he was in the hospital. It's been 97 days since the crash, and he is doing awesome with his recovery—you can follow his daily updates via Instagram—but the medical bills and rehab expenses are quite large.
In an effort to help raise funds to alleviate some of the costs, I and Road 2 Recovery have teamed up with Wienerschnitzel, DMXS Radio, AP Designs USA, Nitro Circus, Shades of Gray Custom Paint and Design, Dirt Addiction LLC, EVS Sports, Michelin, Travis Pastrana, and Racer X to put together a ride day/gear auction benefit in his honor.
The 2018 Smagical Ride Day Benefit will take place at Sweeney MX in Park Hills, Missouri, on September 29. Riders and fans can come hang out and enjoy prepped organized practice on one of the Midwest's finest motocross tracks, lunch by Wienerschnitzel, raffle items, a catered dinner, and a gear auction with signed moto memorabilia. If you're interested in pre-registering for this event, click here.
More information is also available at www.road2recovery.com/events, or you can contact me through my Instagram.
See you on September 29! #SmagicalStrong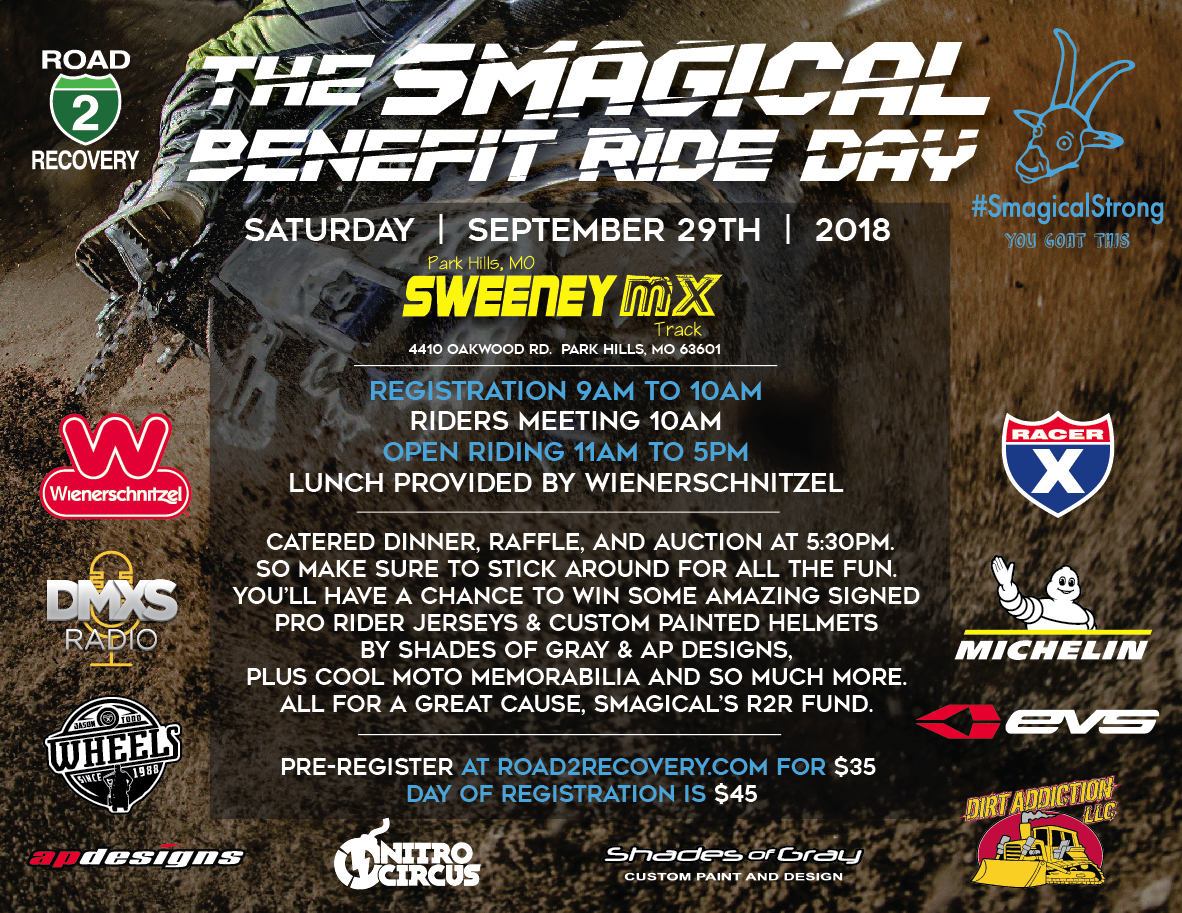 Check out this cool note we got from Pirelli, who clinched their 70th FIM Motocross World Championship last weekend:
Pirelli Tire became FIM Motocross World Champion for the 70th time in history by mathematically obtaining the MXGP Championship at the MXGP of Bulgaria. Just one week prior, the brand mathematically captured the 2018 MX2 Championship, thanks to the results of Jorge Prado and Pauls Jonass. The MXGP and MX2 success brings the total number of world titles to 70 since 1980, thanks to the high performance of its championship proven Scorpion MX32 tires.
From the beginning of the 2018 season, Pirelli riders have won 53 out of 54 races (26 out of 27 in MXGP and all in MX2). Pirelli continues to stand by its motto, "We sell what we race, we race what we sell," which means any motorcyclist can buy the exact tires found on the bikes of its world champions. Stefan Everts (7), Antonio Cairoli (6), Eric Geboers (3), Joel Smets (3), Jeffrey Herlings (3) and Tim Gajser (2) are just a few of the athletes who have relied on Pirelli during their championship seasons over the years.
We also got a note this week about a new track in Montana called Big Air Montana, located just outside Bozeman. Check out more below:
Montana's newest public motocross track is open! The track is located in Wilsall, approximately 20 miles northeast of Bozeman.
Situated on a large ranch at the base of the Bridger Mountain Range in the scenic Shields Valley,
Big Air Montana was professionally built by MX Track Builders, a leader in Design/Build motocross track construction projects. What can a rider expect at Big Air Montana? Over one mile of machine-crafted motocross terrain over a naturally undulating landscape. One can also expect to be captivated by lush green scenery, snowcapped mountains, wildlife, and all the beauty that Big Sky Country has to offer.
For hours, directions, and contact information, please visit Big Air Montana on Facebook. For more information on the team that's been creating the North American motocross landscape since 2006, please visit www.mxtrackbuilders.com.
Here's a Monster Energy Cup update, too:
Everyone knows that a rider can win the Monster Million if he sweeps all three races at the Monster Energy Cup. But new this year, a fan also has a shot at a million dollars—but you have to sign up for this sweepstakes by tonight (12 a.m. PDT) at www.monsterenergy.com. Your best move is to celebrate a big Friday night tonight just like you would do in Vegas, then sign up for this contest and take a shot at the big money.
The Monster Millions Sweepstakes is the biggest consumer promotion in the event's history. Ten lucky winners will receive a grand prize trip to Las Vegas, VIP tickets to the event, and a $1,000 grab-for-cash contest during the evening's festivities. In front of an exuberant crowd, the contestant who collects the most cash also becomes eligible to win a bonus $1 million if one of the racers also wins $1 million by winning all three main events. No small feat, but it is certainly possible, as Marvin Musquin proved last year. We hope a rider wins the first two races this year and we get to watch this fan freaking out throughout the entire third race. Now that's good TV!
End of Summer Sale on Racer X Brand! Take 20% Off Site-Wide
As summer is coming to a close, we are running out of days to keep those upper arms looking nice and tan. Fear not! Racer X Brand is offering 20 percent off sitewide with code GUNSOUT for its End Of Summer Sale.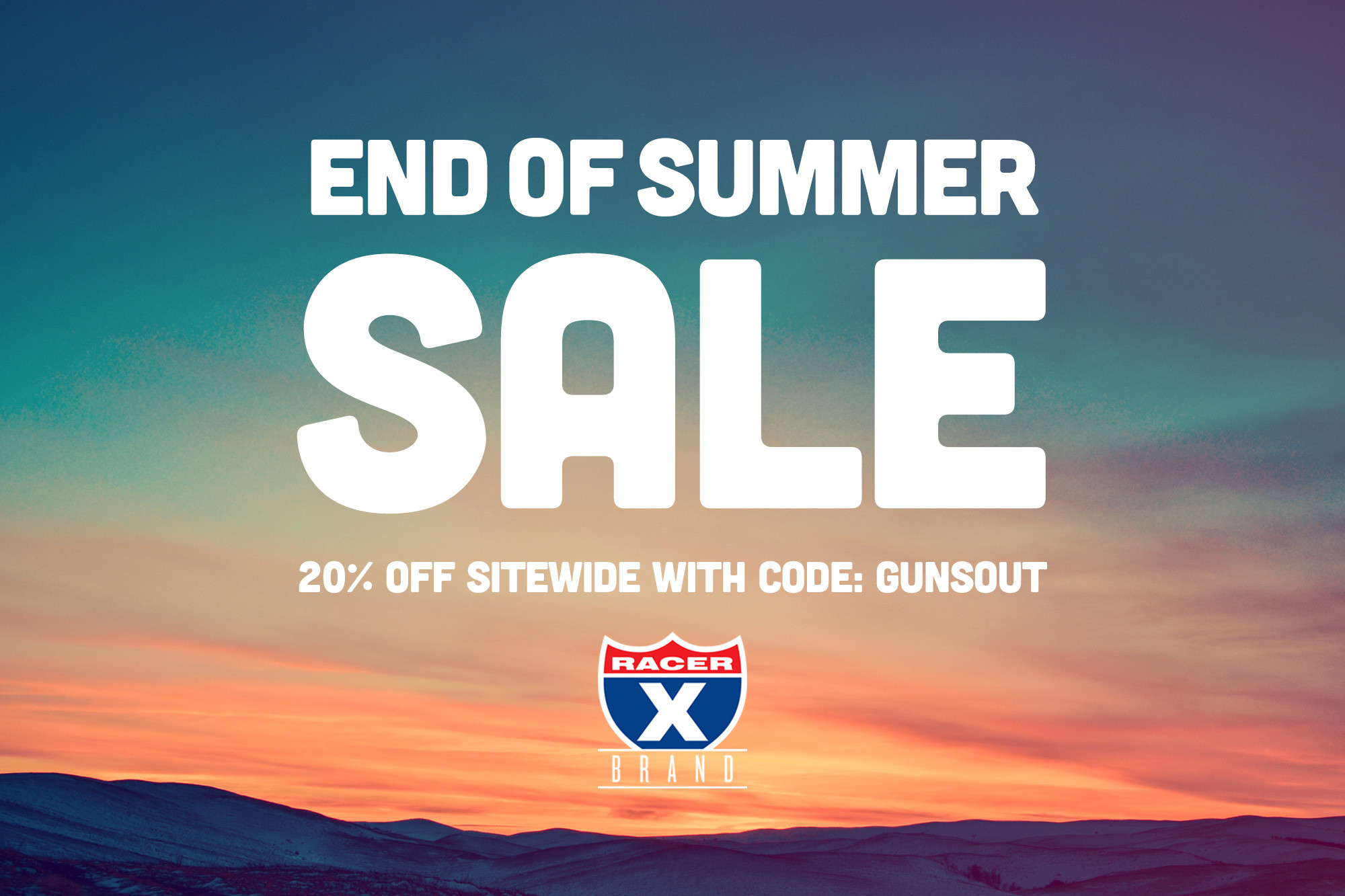 Also make sure you stop by and pick up a fresh Retro Tank while they're still available and keep those guns looking good.
SUBSCRIBE OR RENEW NOW FOR YOUR CHANCE TO WIN AN ALL-NEW ELECTRIC BIKE FROM STACYC
Subscribe or renew now for your chance to win an all-new electric bike from Stacyc! Two winners will be chosen and given their choice of the 12" and 16" models. The winners will be announced on Racer X Online on September 19, 2018, and will also be contacted directly.
Every person who enters will also receive a FREE pack of all 12 official 2018 Lucas Oil Pro Motocross event stickers.
See official rules here.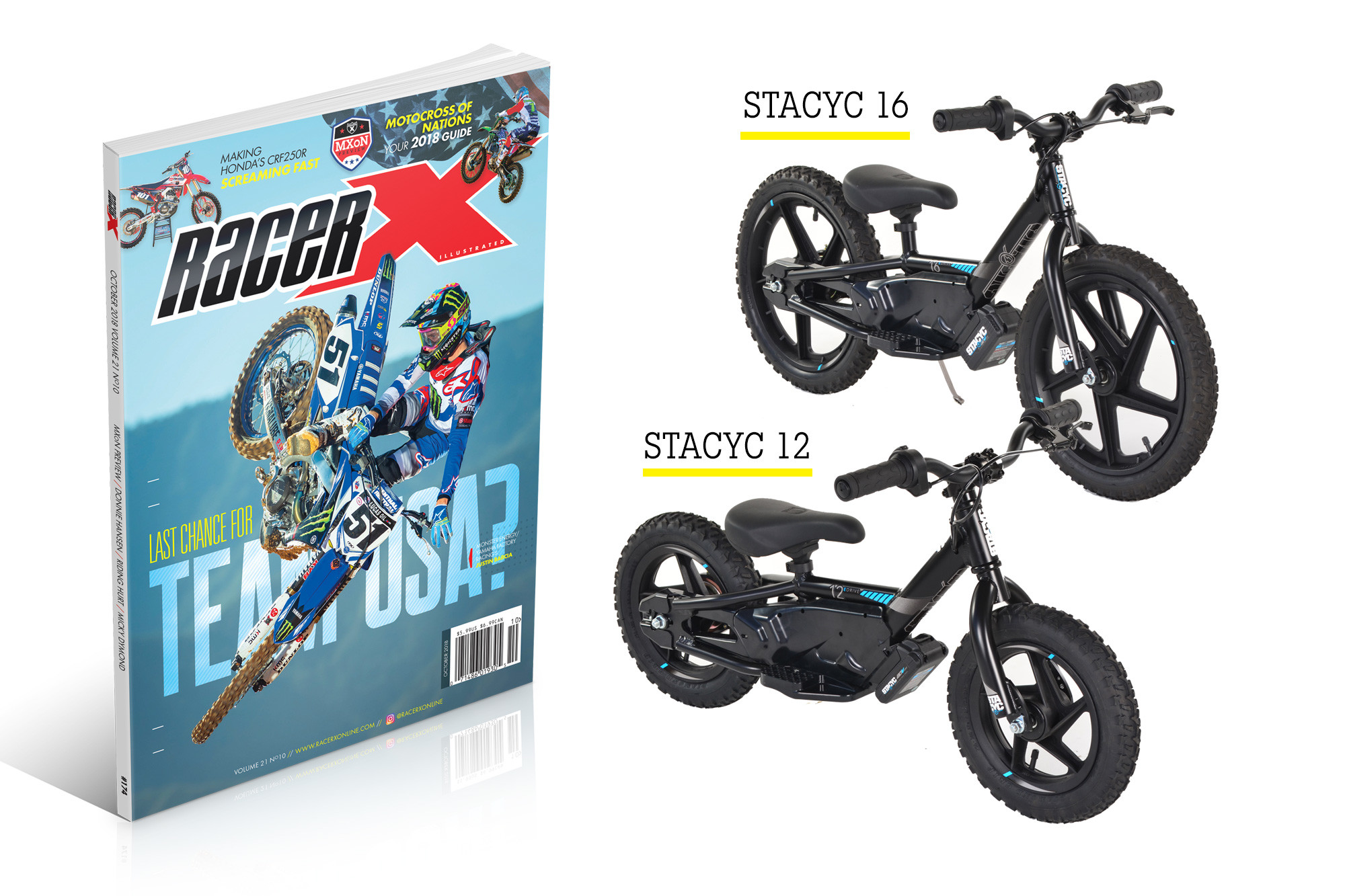 That's it for this week. Thanks for reading Racerhead. See you at the races.