Crawfordsville, IN
Ironman
Lucas Oil AMA Pro Motocross Championship
By The Numbers
527
Points scored by Eli Tomac en route to the 2018 Lucas Oil Pro Motocross 450 title.
470
Points scored by Eli Tomac en route to the 2017 Lucas Oil Pro Motocross 450 title.
511
Points scored by Marvin Musquin en route to second in 2018.
453
Points scored by Marvin Musquin en route to second in 2017
500
Points scored by Aaron Plessinger en route to the 2018 Lucas Oil Pro Motocross 250 title.
501
Points scored by Zach Osborne en route to the 2017 Lucas Oil Pro Motocross 250 title.
8
Overall wins for Tomac in 2018. He earned just four overall wins in his 2017 championship run.
15
Moto wins for Tomac in 2018. He earned just nine moto wins in his 2017 championship run.
6
Overall wins for Plessinger in 2018. Zach Osborne won five overalls during his 2017 championship run.
11
Moto wins for Plessinger in 2018. Osborne won ten motos during his 2017 championship run.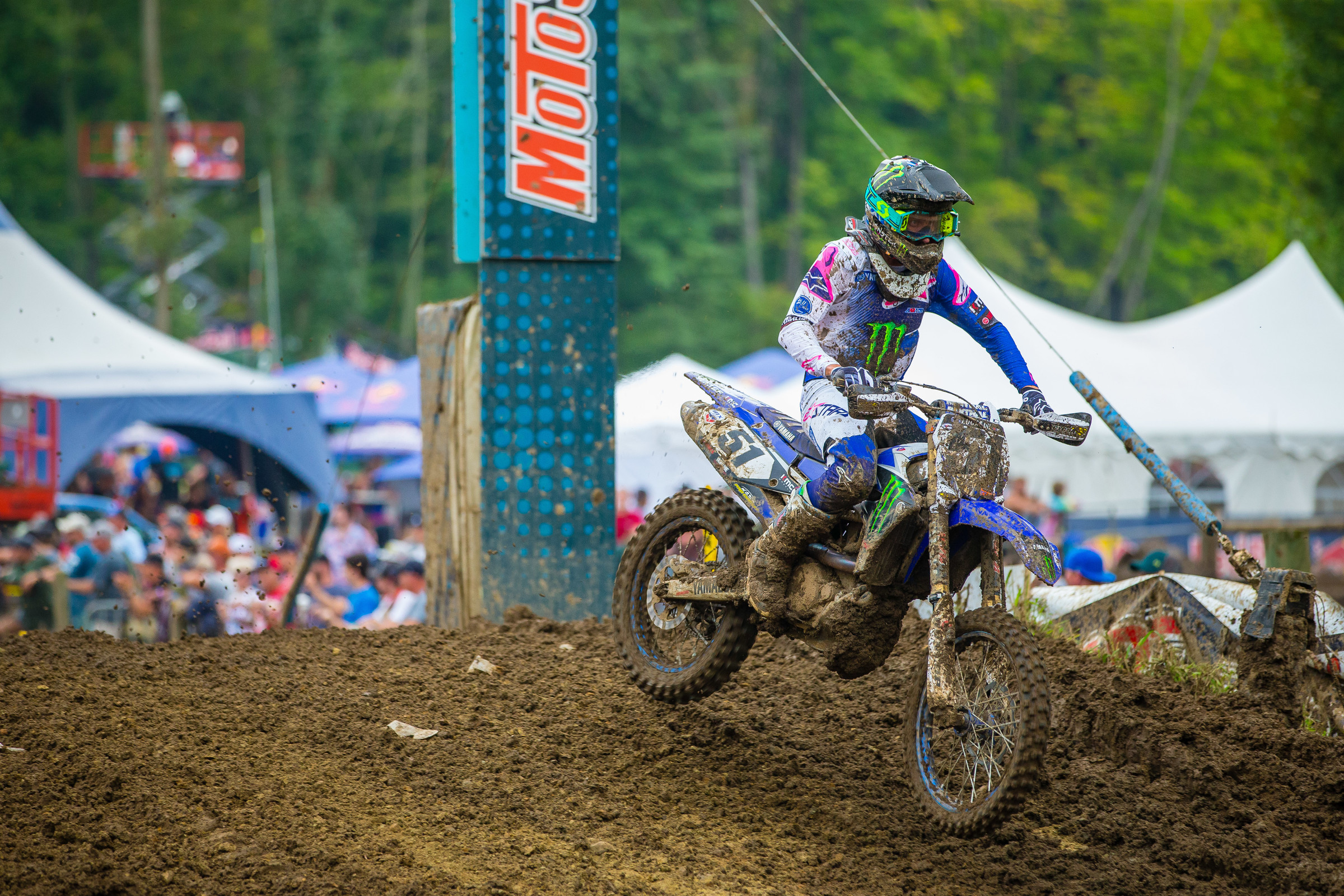 1,148
Days between overall wins in Pro Motocross for Justin Barcia, who went 1-1 at Ironman. His last win prior to Saturday came at RedBud in 2015.
1,127
Days between moto wins in Pro Motocross for Barcia. His last moto win prior to Saturday came at Washougal in 2015.
1-1
For the first time in his 450 career, Barcia swept both motos on Saturday.
1,169
Days between Lucas Oil Pro Motocross races for Chad Reed, who went 6-7 for eighth overall in his return for Pro Motocross as a fill-in for Autotrader/Yoshimura Suzuki.
Top 250 Guys Fail to Qualify
It's not often that the 250 B riders, who are the first group out in qualifying, have a distinct advantage; Southwick is really the only time. The only other exception is a mud race. As rain pounded Iroman on Saturday morning and qualifying was cut to one session, the B riders had to be licking their chops. The privateers took advantage, as the track was fresh for them and completely torn up by the time the factory riders rolled out for the next section. The B group was led by fastest qualifier Hunter Sayles and the group took the top ten spots in combined qualifying. With B riders littered throughout the top 40, it also meant a lot of factory guys would be watching from the sidelines with the consolation race cancelled due to track conditions. A few riders got a reprieve due to the rules allowing for the current top ten in points to get automatically seeded.
Here is what the rulebook states:
The current top 10 riders in points will be automatically seeded into the national motos. For Round 1, the top 10 riders from the previous year's final standings will be automatically seeded. Provided, however, the seeded riders must have at least one time posted or complete one lap during timed qualifying sessions in order to compete in the national motos.
The next 26 riders will be determined based on the top 26 qualifying times (excluding seeded rider times).
A Consolation Race will be held to determine the last 4 positions for the national motos. Riders with the next 40 qualifying positions will be eligible for the Consolation Race.
This allowed Shane McElrath (41st in qualifying) and Austin Forkner (43rd) to get into the motos. Jordon Smith, who qualified 65th, would have also gotten in, but he apparently sustained an injury in qualifying and elected not to race.
The rule didn't save riders like Ryan Sipes (42nd), Enzo Lopes (44th), Dakota Alix (50th), Jimmy Decotis (52nd), Sean Cantrell (56th), Hayden Mellross (59th), Mitchell Harrison (63rd), and others.
"I can't believe that 27 guys qualified from the unseeded 250 practice. Almost ten factory bikes were out of the race," Lopes said in a team statement. "That's because the track was flat and without ruts. It didn't help that I'm dealing with a knee injury, as the mud was very difficult on it. I'm going to head home to Brazil, get my knee looked at, take some time to rest, and come out swinging at the Motocross of Nations."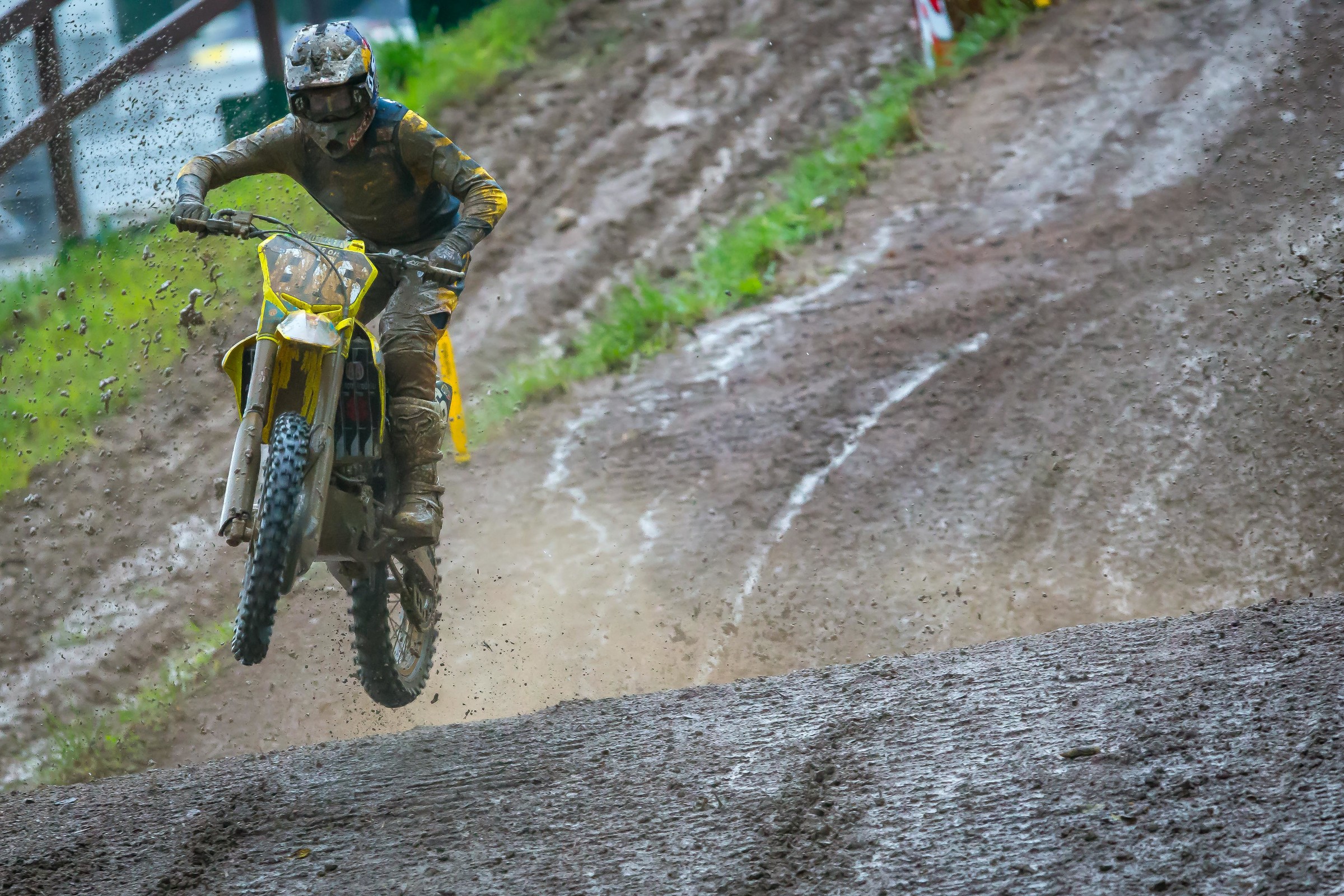 "Unfortunately, the weekend didn't go as planned," Decotis said. "The group A practice times were much slower than the unseeded riders. It's too bad MX Sports didn't have a consolation race to allow the group A riders to race for the last four spots. However, I did do a fast lap that put me in the top ten in the seeded group, which would have put me in the motos. It was a tough situation, but it's on me as a racer. I'm really thankful to the Autotrader/Yoshimura Suzuki Factory Racing Team for being so supportive in these tough situations."
Reed Returns
As we noted above, Chad Reed was back in Pro Motocross for the first time since High Point in 2015, when he shuttered his TwoTwo Motorsports team. Using a crafty line—where he started on the far-right gate and used the grass to his advantage—Reed was impressive in his return. Steve Matthes talked with him after the race.
"It wasn't easy, by no means. I was out there and I was pushing. I think with the conditions, it brought certain things physically that I got tired. I wasn't breathing hard, like cardio. I wasn't necessarily tired, but my body got sore. I was already going out for the second moto and I'm like, oof. My lower back. All you can do is ride, ride, ride. But I think in my opinion, had it been dry, a lot of those muscle things would have been maybe not as bad, but then I think that the pace would have been higher so then cardio maybe would have been pushed out a little bit. So it's kind of give and take. I raced on the same race track that everybody else had to. Two good starts and two races in the top ten for a guy that kind of has really sucked at outdoors. Like '13, '14, and '15, I was horrendous."
You can read the full interview here.
Canadian Invasion
Prior to the motos on Saturday, I was talking with Direct Motocross' Billy Rainford about Tyler Medaglia. Billy travels Canada attending every round of the Rockstar Energy Triple Crown series, so he's watched Medaglia race each week. Full disclosure: This had more to do with my PulpMX Fantasy picks than anything. Billy said Medaglia was great in the mud, and dang, did the Canadian Motocross regular shine at Ironman, going 7-6 for sixth overall on Saturday. Of course, fellow Canadian Steve Matthes caught up with him after the race.
"Actually, I had a shit start in the first moto. I was way back. I got hit with a rock and blew my roll-off apart right away, so I had no goggles on. I was contemplating going into the pits. I just kept picking people off, and I'm like, okay, there's enough lines that I can make it work. I remember [Tim] Gajser at des Nations last year. That guy didn't even ride with goggles the whole weekend. It was crazy. So I'm like, if he can do it, I can do it for one moto. Then I got a good start in the second moto. Baggett was on me going nuts and I'm like, oh man, I hope that's not Eli. The last thing I want to do is mess up Eli. So I looked back and it's Baggett. I looked and there was nobody behind him, so once Baggett got me, I tried to stay on him for a bit. Then I had like 20 seconds on Phil, and three laps to go, Lorenzo Locurcio crashed in front of me. I landed, hit him, and went over the bars. I was stuck under my bike, and he actually helped me lift it back up. Then I came around with three laps to go and they had plus-eight on the pit board, and I was smoked trying to pick that freaking bike up, and then re-passed a couple of lappers that were actually pretty fast dudes. Then the last lap was good."
You can listen to the entire interview here.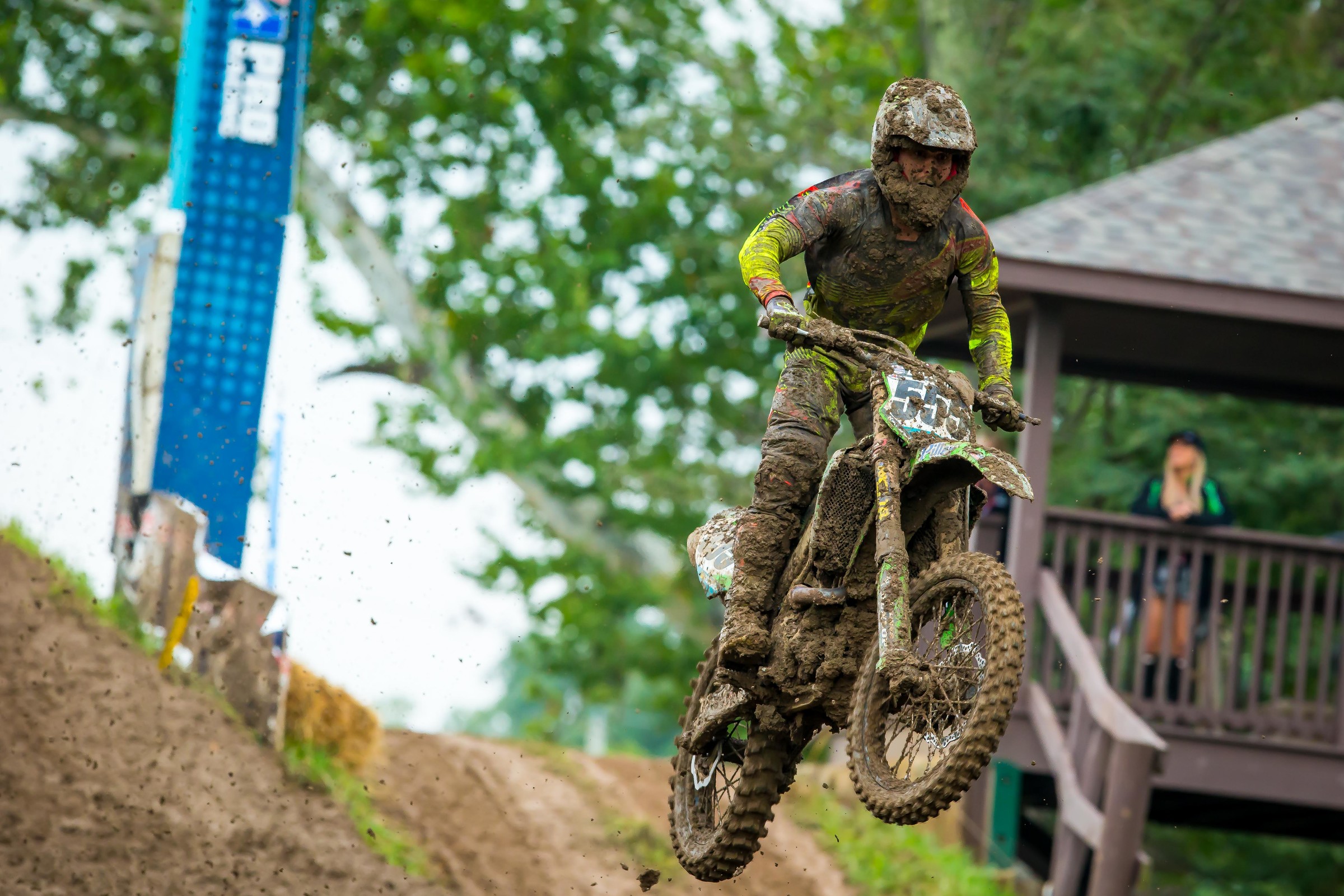 Not that you care, but I did pick him in fantasy and he killed it. The more you know.
Also, shout-out to France's Valentin Teillet, who showed up on Saturday and went 8-10 for ninth overall in the 450 Class. Yes, I also picked him in fantasy too. #winning
Photo of the Week
Justin Barcia causally ripping a tear-off on the start is everything I love about this sport.
Gif of the Week
Reed is such a crafty veteran.
Video of the Week
Tomac launching the Godzilla triple in the mud during qualifying was gnarly.