Crawfordsville, IN
Ironman
Lucas Oil AMA Pro Motocross Championship
After a long summer, it's time to wrap this series up. Ironman Raceway in Crawfordsville, Indiana, is the final round on the schedule, and for most, it's a welcome sight. Racing has been ongoing since January, leaving everyone ready for the off-season. That being said, there is still a 450 title on the line and several contracts left unsigned for prospective teams. This the last chance to make an impression and lock down a ride for 2019.
The Ironman track is a difficult one. The deep ruts take precision, but also demand aggression to lower lap times. I rode Ironman at the Legends race in 2015, and I was amazed at how rough the track was. There were also heavy rains that week which made for deeper, softer ruts, but that could be the exact same scenario this year. The forecast calls for rain on Friday and possibly Saturday, too. Remember how muddy this race was in 2014? It would be a wild finish to the 450 championship if we woke up to a mud bog on Saturday morning. I don't think anyone wants that, but it's definitely possible.
The key to going fast at Ironman is finding a flow in the deep corners. Jeffrey Herlings was a master of this in 2017, carrying incredible speed through mid-corner when most riders are struggling to avoid the brakes. The ruts often form irregular arcs because of the early-morning mud, and it's difficult to flow through them. That rhythm becomes key, as overriding the track simply doesn't work. I liken this track to putting a puzzle together. It's key to finding the flow that opens up corners and avoid the start/stop habit. It's hard to do that, but that's how to go fast at Ironman.
The storylines will be the 450 championship, of course, but with Eli Tomac's heroics at Budds Creek, he has made life much easier on himself. A 20-point lead will take some of the pressure off, but anything goes when it's less than a one-moto advantage. I am curious to see how Tomac approaches the weekend with that cushion. It will be difficult to ride loose with so much at stake. With the depleted field, I don't see much risk for Tomac as long as he can avoid a RedBud-type catastrophe. Musquin will be fast and could quite possibly win the overall, but I just don't see it being enough to close 20 points, even if Tomac stumbles a bit.
Another interesting development will be how Chad Reed does in his return to Lucas Oil Pro Motocross. He hasn't raced an outdoor event since 2015. With the departure of TwoTwo Motorsports, Reed switched to a "supercross-only" schedule, making this Ironman appearance a special occasion. How he fares is anyone's guess. The field is weaker than usual, which helps, but he is also not as prepared as he would like. This decision was a hasty one, and Ironman is not an easy track. If he can get good starts and find the pace, I do expect a top-ten moto finish from him. The second moto may be difficult as fatigue and soreness will set in, but if he jumps out to a good start in the first moto, look for a big effort early. Simply showing he has the speed to run up front may be mission accomplished for such a last-minute entry.
Questions I Want Answered
Will Plessinger dominate Ironman with all of that pressure finally laid to rest?
Will rain impact the event?
What in the world was eating Joey Savatgy last weekend?
With Tomac thinking championship, who will step up and grab the 450 overall?
Can Blake Baggett find more buried treasure?
Which one of my PulpMX fantasy riders will ruin my Saturday?
Can Austin Forkner put it together on a track he has done well on in the past?
Will Jason Anderson and Blake Baggett reunite on Saturday?
Who's Hot
Eli Tomac won the overall at Budds Creek when it looked like he might give up big points to Musquin. His ability to dig deep at the end of motos has been nothing short of incredible.
Aaron Plessinger won his first outdoor championship, but struggled with the emotion of his win in the second moto. I look for a big day on Saturday from the #23.
GEICO Honda had a great day in Maryland, with RJ Hampshire grabbing the win and Chase Sexton also putting in his best ride of the year.
Blake Baggett grabbed a runner-up finish in the second moto and looked back on form.
Dylan Merriam bounced back into the top ten after struggling for a week or six.
Ken Roczen rode incredibly well to win the first moto and, similarly to Washougal, nearly had the overall locked up until Tomac stormed to the front.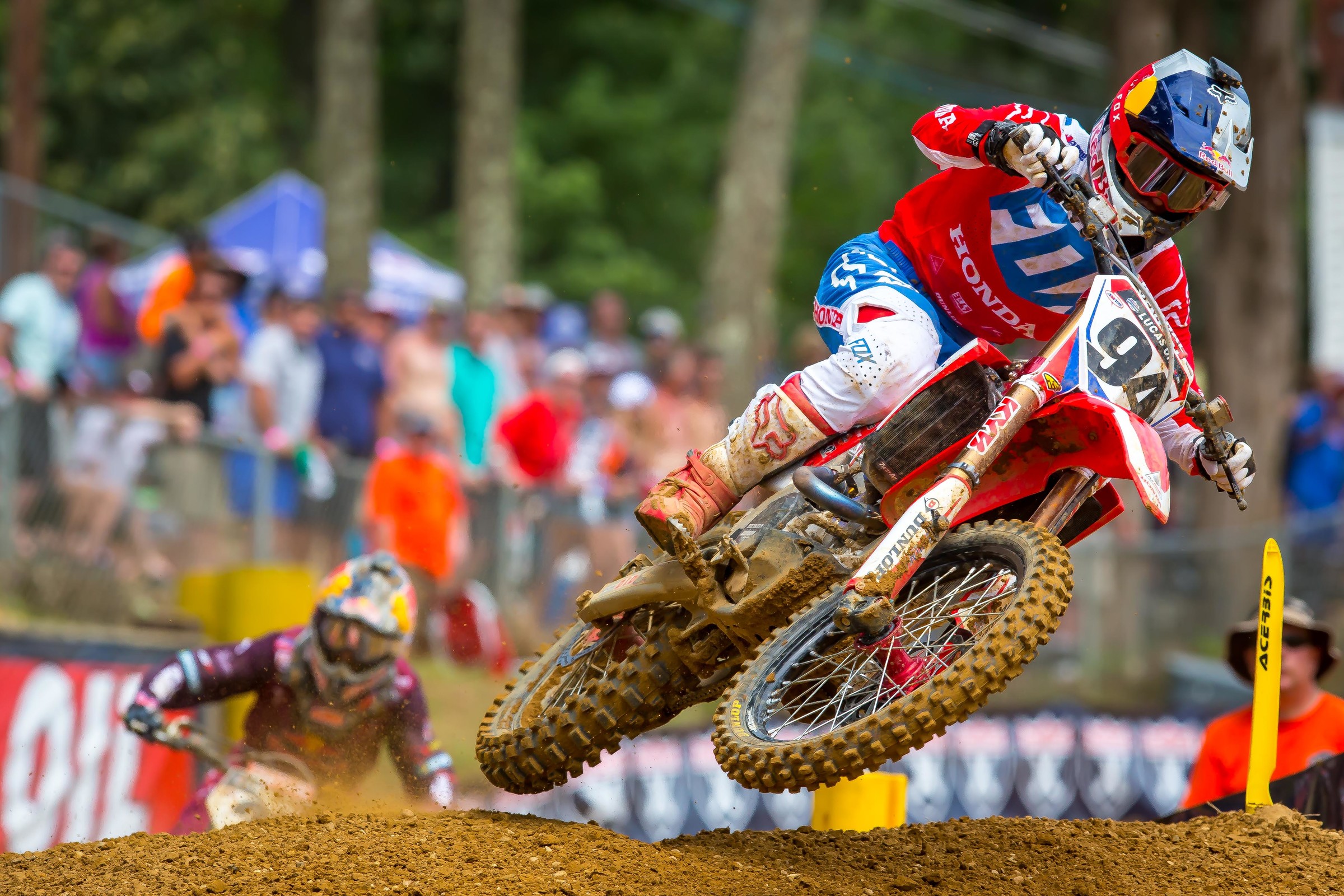 Who's Not
Joey Savatgy had a tough day and had me mumbling at my TV several times (#fantasyprobs).
Ryan Sipes rode one of two motos, finishing 20-DNS in his factory fill-in role.
Jordan Bailey DNF'd both motos. He could use a strong finish to the season at Ironman.
Bold Predictions
Ken Roczen holeshots a moto.
Aaron Plessinger wins the 250 overall.
Justin Cooper is the fastest qualifier.
Blake Baggett sinks Jason Anderson's battleship and they both go find buried treasure together.
Chase Sexton lands on the podium.
Austin Forkner holeshots a moto.
Chad Reed goes 9-14 on the day.
My Picks
250
Aaron Plessinger
Austin Forkner
Justin Cooper
450
Ken Roczen
Marvin Musquin
Eli Tomac