Millville, MN
Spring Creek (Millville)
Lucas Oil AMA Pro Motocross Championship
My dad isn't a motocross fan, per se, but he watches the races so he can follow what I'm doing. As such, he's not a keen observer of riding styles or gossip in the pits. Only the obvious stuff, then, becomes obvious to him. When someone in the race really gets things rolling, he generally turns to the same phrase. "It just seems like he can pick any line he wants and still go faster than the rest of the guys."
He first made this observation after watching the 2002 Southwick National, as James Stewart carved through the field on his famous #259 KX125. Southwick is awesome, but it can be hard to pass there—unless you can simply carry 10 percent more corner speed through every turn than anyone else. Do that, and you can simply pick the line no one else is in and blow past dudes. Even if your line is five percent slower, you're going to 10 percent faster, so you're still faster than the competition even in the slower line. This is the same reason, by the way, why we see races where 99 percent of riders can claim a track is one-lined, but there's one guy launching an epic comeback at the same time. That's when you hear, "If the track is so one-lined, then why did Rider X pass 20 riders on it?"
The answer is because, again, if you can go 10 percent faster than anyone else through a section, you can pass people no matter what. You can line up great defense against LeBron James, too—the type of defense that would stop just about anyone. It won't stop a super-human, though.
Eli Tomac reached that status again during Millville's second moto. Even as prolific as he is, he had a tough time making moves on Ken Roczen all day, as Kenny is wise beyond his years as a racer and possesses a Chad Reed-like knack for both being hard to pass while also not being dirty. Kenny doesn't cross-jump or cut off; he just magically puts his bike exactly where he knows you're planning to put yours. Reed does the same thing—you can ask Ryan Dungey about that, to the point where we used to joke that Chad should run "Hi, Ryan" on his butt patch.
As such, even superhuman Eli has had his hands full passing Kenny at times this year, like at Glen Helen and again this weekend at Millville. It was especially evident in the sand whoops, where Eli was ready for missile launch, but he often found a #94 Honda sitting right in the blast zone. It actually took a lapped rider in moto one for Eli to get the opening he wanted—Kenny got slowed enough for Eli to motor on by. He took off from there.
In moto two, again, Kenny held Eli at bay; great defense against great offense. With Kenny shutting off the whoops, Eli started working an opening on Millville's first downhill. This was beautiful gamesmanship between two riders who know how to play the game. The first time, Tomac went wide and got a huge run for the uphill, but Kenny fought back from the inside, stayed even at the top, and shut the door. A lap later, Tomac changed from the outside to the inside, then Kenny switched to the outside—they flip-flopped lines but ended up side-by-side again. It was close at the top, but this time Tomac was close enough to complete the pass at the top of the hill.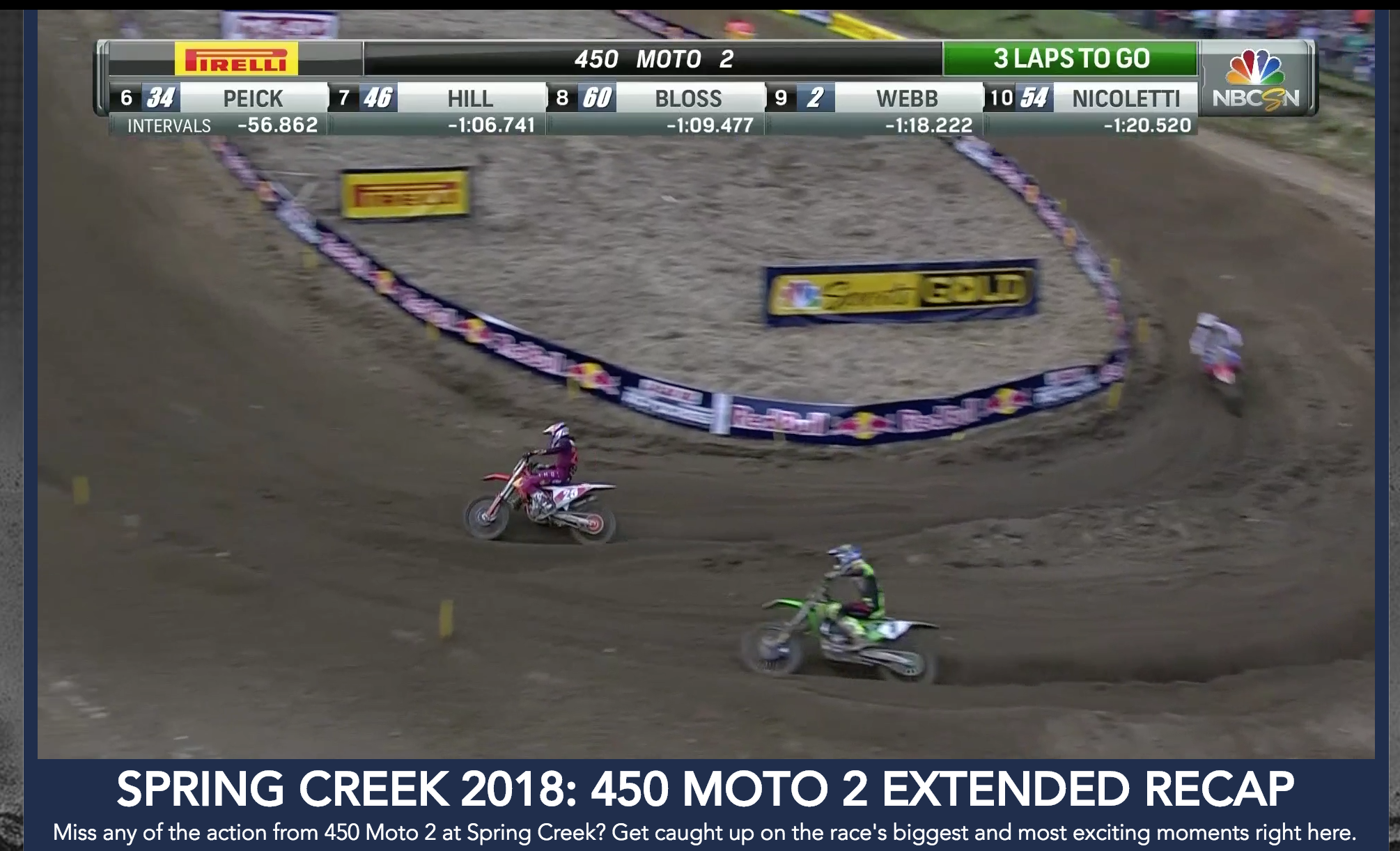 At that point, though, Marvin Musquin was nearly five seconds ahead, and Eli only had five minutes and two laps to work with. No matter—he simply went four seconds faster on one lap to whittle that gap down. Part of the reason? Without Roczen taking his line away in the whoops, Eli could finally uncork it. He made up huge time there.
"I never really had a lot of clear track back there in the roller section, and that's where I was making up a lot of my time," Tomac explained. "It was tough to make a pass back there and finish it, but once I had clear track, that's where I made most of my ground."
Once he got to Musquin, the first downhill loomed again. Tomac passed Roczen using the inside—but when Marvin went inside, Tomac switched back to the outside and still made it happen. The mark of the elitist of the elite? They can go anywhere they want and still go fast enough to make a pass.
"It worked," Tomac said of the downhill. "It was a spot where you could finish the pass. There's a lot of spots where you could go outside and try to make the pass but couldn't finish it. It was good."
It certainly was. When you have that kind of speed in the bank, it takes the edge off of bad weekends like RedBud. I talked to Eli and his Monster Energy Kawasaki crew on Saturday morning and they seemed as loose and laid-back as ever. The points are close, but they'll bet on themselves in a ten-moto shootout to end the season. In the first two motos of these final ten, Eli has put up a scintillating 1-1. Yeah, some obstacles have been thrown in the way of this championship run, but Eli has shown he can just take a different route and still get the job done.