Buchanan, MI
RedBud
Lucas Oil AMA Pro Motocross Championship
Racer X: Marvin, you came in today. A win just a week ago. Tied on points. Didn't make up points, but got the win. Today has to be one of the biggest points swings we've ever seen. What's your take on that?
Marvin Musquin: Yeah. Definitely not expected to leave RedBud with the red plate, to be honest. I was 32 points back. Obviously, the goal is to give my best every weekend and try to win and try to take a few points here and there on Tomac. It didn't start off really good. I had a great start in the first moto but lost the front and came back last. I got up and charged hard and came back to second place. I couldn't believe when Franky showed me second. Obviously, I saw [Eli] Tomac on the side of the track. What a crazy day. Then with that second place, I knew I had a shot of winning the overall. All I had to do is, obviously, to win the second moto. It was a great race. Those guys never gave up. That was intense. They were right there behind me when I got into the lead. I had to be really consistent and mistake-free. That was the key today for me. To win that second moto was awesome.
Ken Roczen, it's been quite a few years. You ran up front early in the series, but this was a moto win. It has to feel like the program is really starting to come around for you.
Ken Roczen: Yeah. I think all in all we've kind of had a little dip down the last few races. I think we are kind of just figuring the bike out more and more. Obviously with those guys being in California and me in Florida, there's not that much you can do throughout the week to make changes, but we did something drastic this week just to see which way we should go. That helped me out a lot. I just kind of had a mellow week and came back this weekend pretty hungry. I feel like I rode a lot better. I was able to ride a lot better. Being in that first moto, grabbing that moto win—obviously, I got lucky. Things were really messed up. Most of the good guys were in the back. Obviously Eli was in the front and then his bike broke down. But I'll take a win for sure. It was a good weekend overall. I think it was my second podium this year, so it feels good.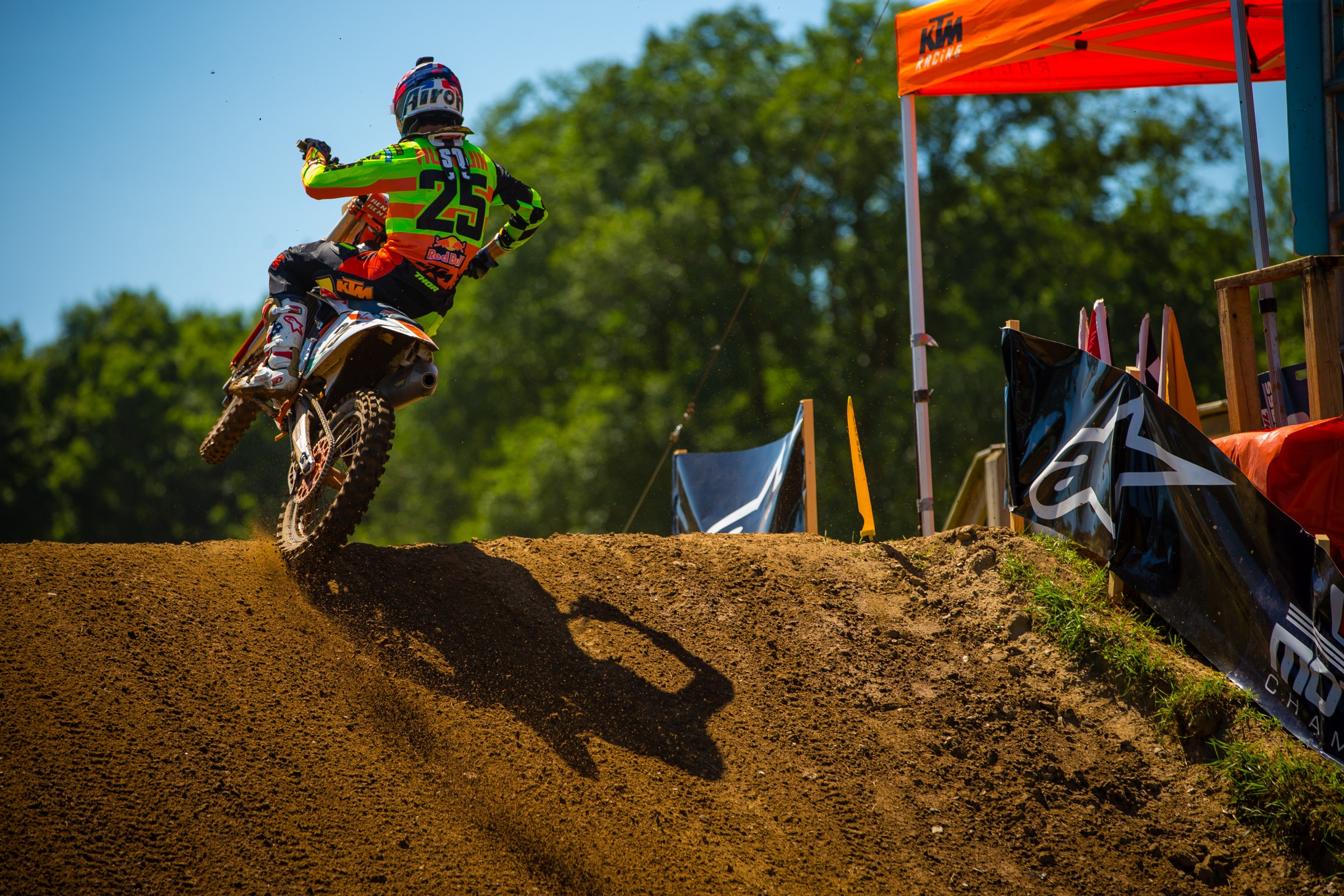 Justin Barcia, RedBud has been a track that you ride very well at. Today it looked like they made a lot of soil changes. There were some deep, deep, deep ruts. Take us through what the 2018 Red Bud track was like.
Justin Barcia: Yeah, for sure. It's interesting. This year there was a little bit of different conditions. There was obviously some sand. There was that really deep section after the mechanics' area that was pretty gnarly for the motos. Then there was actually some rocks and hard pack that came up near LaRocco's Leap. It was a little bit of everything thrown at us today with the dirt conditions. I've never seen it like that here as much. It was definitely interesting. You had to be on your toes for sure. Like Marvin said, you needed to try to be mistake-free as much as you can, but it was a difficult track to do that.
Marvin, could you talk about the start of the first race where you fell off the bike? You got run over. Did that ever happen to you before?
Musquin: Yeah, it happens. That's definitely the last thing I want to do off the start, is to crash, obviously. It definitely doesn't feel good. You get up and you have to pass as many riders as you can. It's not fun.
Did you feel people going over you?
Musquin: No, I obviously thought I was going to get run over, but I got lucky. I was able to pick up my bike.
Barcia: Your bike got ran over.
Musquin: Yeah, but those guys are coming right behind me so sometimes you have no choice. It's better when they run over the bike than you, but sometimes your bike can get damaged and you can't finish the moto. So I kind of got lucky in a way. I was able to get back out there and charging.
Kenny, you've raced a lot of Motocross of Nations around the world—different countries and tracks and everything. I'd like to get your opinion. How do you feel about this track, RedBud, hosting the 2018 Des Nations?
Roczen: I think it's sweet. This has always been definitely one of my favorite tracks throughout the entire season. I'm excited. Plus, it's a pretty quick trip for us to come here. My plan, obviously, is to race this year, for sure. I think it's going to be great if we can get the same crowd, and probably going to be a lot more as well. A bunch of Europeans coming over. I think it will be great. I've ridden quite a few Des Nations whether they were in Europe. I've actually gone to Budds Creek years and years ago and I didn't race. I've always really liked that race just because it gives you a completely different atmosphere and people are going crazy. It's pretty fun catching up with the GP guys as well.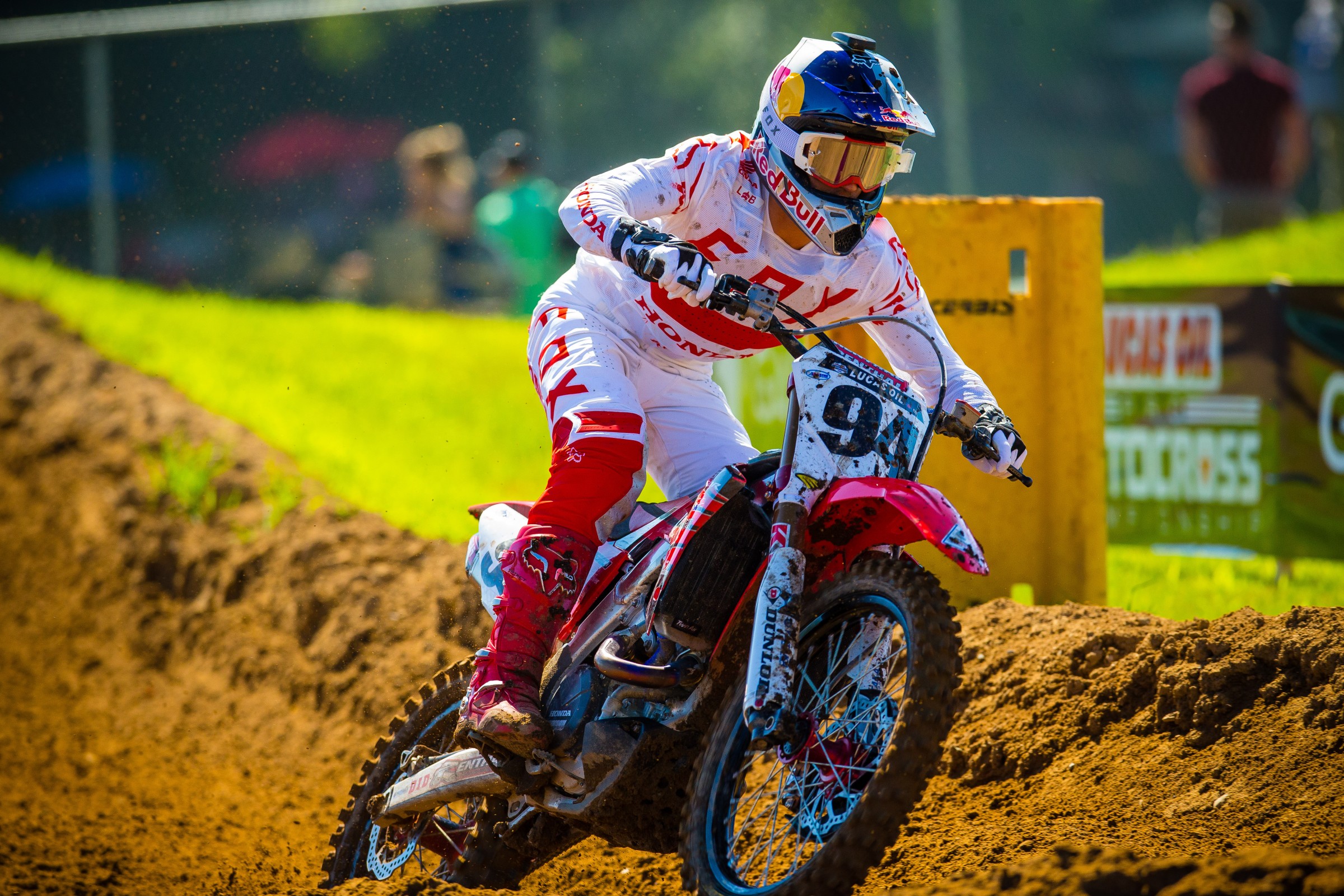 Ken, just talk about that first moto and what it meant to you. This is your first one since your injury. Did you ever think at some point you may not get to that level again?
Roczen: No, definitely not. I never thought about not getting back there. It was really just a matter of time. Technically I'm on a new bike for this outdoor season, even though I've been with them last year, but didn't get to ride much. So it's really just learning and taking some of the pieces out already for next year preparing. I think we're getting more and more direction. Actually, the first moto, like I said, I ran over Marvin's bike and that cost me a lot of spots. I was definitely outside the top ten and had to make something happen. Then I saw Eli at one point and I was catching him a little bit, then he would gain on me a little bit. I saw somebody on the side, kind of, and I was focused on my line so I wasn't 100 percent sure if it was him. So on the last lap, I knew that I was leading. It was just sweet, especially with the fans. I heard them throughout the entire last lap, which was pretty cool. Then finally making it happen, like I said, we kind of got lucky, but I'll take it. I'll take it for sure. It's been a great weekend, and then obviously third in the second moto was good, too. Second podium this year. It was great.
Justin, what happened on the first moto crash on the start? We just kind of saw you flipping.
Barcia: Yeah, kind of the same as Marvin, I think. Just kind of pushed that front end a little bit and went down on my own. That definitely made it difficult for sure. I came back to fourth, which was pretty good. I was kind of obviously bummed on that, but it was a good ride.
Marv, you were down 32 coming into this weekend. You're leaving with the red plate. How does it change your approach going forward? You were down 32, which is a lot to come back from, especially against someone like Eli.
Musquin: It's definitely crazy. I've been patient and I've been trying my best every weekend. Obviously, things like that definitely can happen. It happened today. We just have to focus on ourselves and just keep on pushing and giving our best every time and minimize the mistakes. When you see last year, I was down over 70 points or 60 at one point and I was able to gain a lot of points. You never know in motocross what can happen, so we give our best every time. But definitely, it changed a lot in the championship and it will make it even more interesting.
Kenny, talk about coming into the second moto. Were you thinking you had a shot at the overall there? What was the mindset there?
Roczen: I was feeling pretty good in the first moto and everything, so my mindset was definitely going out there and trying my best to go 1-1, but at the same time I just kind of remained calm and wanted to have fun with it and really enjoy it. That first moto was already pretty sweet. I was kind of just imaging myself winning. It kind of gives you a happy feeling. Went out there and tried my best to do it.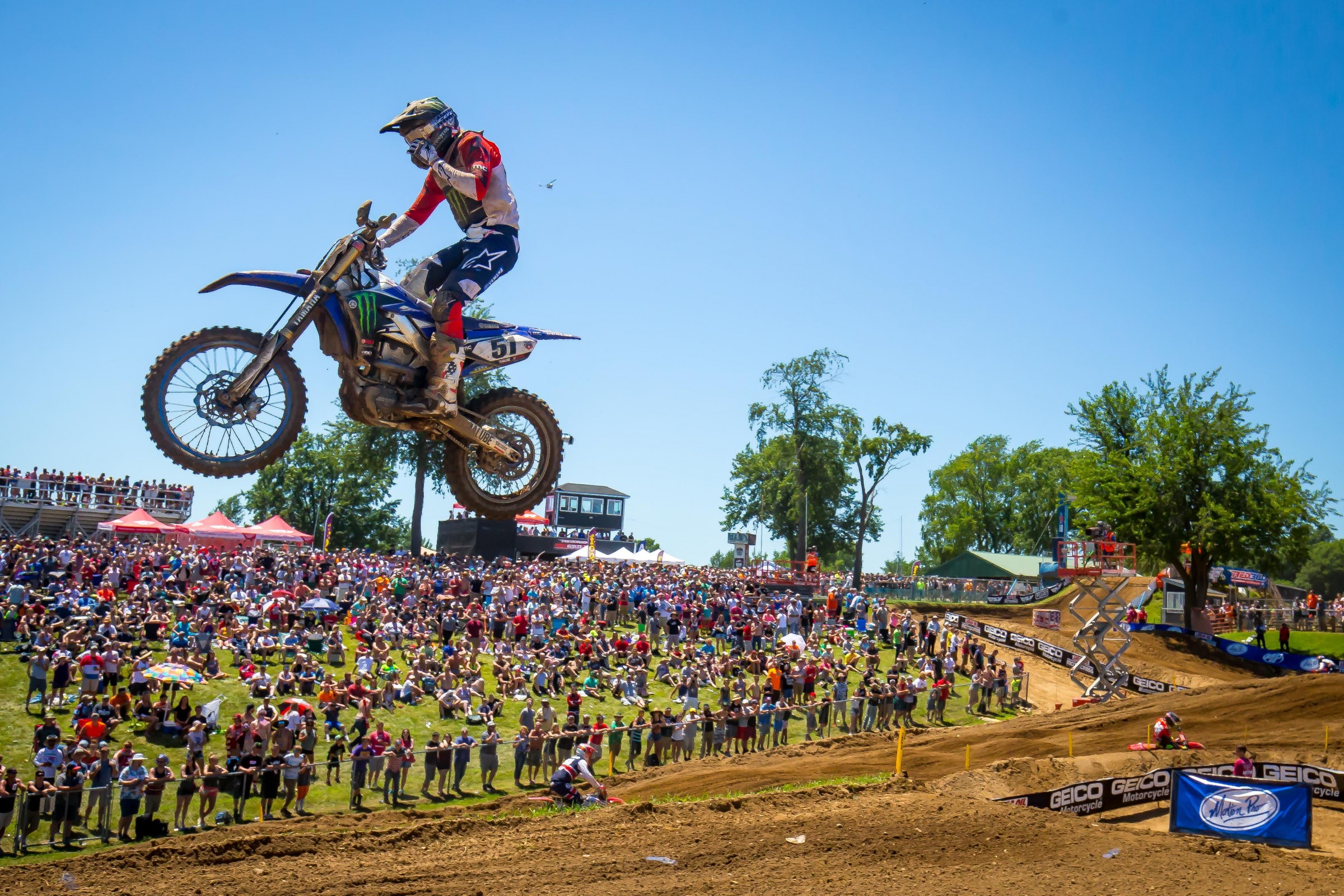 Justin, could you touch on the second moto, the last couple laps? You were trailing Kenny and then you made the pass, I think, on the very last lap. Were you kind of stalking him? Did you have a spot in mind to where you could pass him?
Barcia: Not necessarily. It was kind of like a yo-yo race for me a bit. I got close in the beginning. I lost him a little bit, got close again, and then got into some lappers. Didn't do the leap one lap. So it was kind of like an up-and-down race for me. But those last three laps, I really put a hard charge in and kind of got that flow back that I had in the beginning of the race. Once I hit that tabletop, I kind of set up my line pretty good and I was able to kind of cut under Kenny a little bit and just get out of those bumps and carry some more momentum to the next corner and make the pass stick. It was a tough second moto. The track was really hard to get a good flow. Luckily I got a good flow the last couple laps and made it happen.
Big weekend off. One of the next breaks in the season. Any special plans or anything we should know about heading into the week off for you guys?
Roczen: Going on the boat tomorrow.
Marv, you going on the boat too?
Musquin: Maybe I'll text Kenny tomorrow morning.
Justin?
Barcia: I don't know. I got a boat. I might go on the boat fishing.
I think you've got some Yamaha guys coming over.
Barcia: I don't know, do I? They haven't told me yet. Might be testing, I'm not sure. I'm just going to chill out a little bit. Maybe do something we don't usually do on off weekends. Maybe go to the beach or something. I definitely don't want to travel too much because we travel a lot.