RedBud MX
Buchanan

,

MI
RedBud
Lucas Oil AMA Pro Motocross Championship
Racer X: What a day, what a race this afternoon. Aaron, a little bit of critics. I don't know what he's doing right now. You came out and silenced everybody with the 1-1.
Aaron Plessinger: Yeah. I had to show them I'm not playing around anymore. The last two races—I think Muddy Creek messed me up when I went down after I got the holeshot. It kind of messed my confidence up. After that, I don't know. I did a lot of testing this past week and a lot of starts. A lot of starts. I think that was the biggest thing that was hindering me, because at High Point I got really good starts and I finished really good. So we practiced on those and I think that's what helped me out today.
Alex Martin, you're now into the number-two spot and pretty much from this race on, the championship really gets close. We have five rounds left. You've been in these championship hunts before. What's your take on the series to this point?
Alex Martin: Obviously, I'm kind of known as the consistent, hardworking guy. This season I seemed to have a lot of uncharacteristic mistakes and some crashes. High Point, Muddy Creek especially, where I lost a lot of points. Obviously, consistency is one thing, but today we were looking to go 1-1. That was the goal, especially with RedBud being Des Nations. Obviously a little bit disappointed with how today went. Really struggled in the first moto. Just couldn't get a rhythm going, couldn't find my flow. I don't know how I salvaged fourth. Then the second moto, that was mine to go battle with AP, and we weren't able to make it happen, but obviously still got the podium and second overall. So consistency seems to be there. I think I've been second overall four times already this year. If we're going to win this championship and contend with AP, we got to be up there a little bit more. We got a weekend off, so we have a little break. We'll go back and work on some things. Definitely nowhere near perfect, obviously, but definitely still feeling good about our chances.
Dylan Ferrandis, you joined the series late and are able to make up quite a bit of points, especially in the last couple of rounds. Today was a typical late-race, Dylan Ferrandis charge. What is it about the last three laps of the races where you really come alive?
Dylan Ferrandis: Definitely. Both motos I had a terrible start and I had to come from the back. For sure in the last few laps, everybody is tired, and I try to just stay at my speed and try to pass the guys. So that's what happened today. But definitely, I'm really disappointed by my weekend. It's not what I expect, especially at RedBud. I was really looking forward to win. I'm kind of mad by myself because it's two bad starts just killed me. Sure, I had the speed. I had the physical endurance and everything, but I had just start too last and that killed me today. But it's good to be on the podium.
Aaron Plessinger, moto number one was going pretty good. You guys get into a battle, you and Forkner. You come together before the big tabletop. What was the story of those couple laps?
Plessinger: He was riding really good and he got by me. Then he took an outside line and I saw an opening, so I went for it. I don't know if he didn't let off or what, but all I felt was him hit my back tire and then I had a 12-second lead. I don't want to say I did it intentionally, but a win is a win and I got to make it happen.
Any of you guys, talk a little bit about the track conditions today, the ruts that developed in the track. What do you like about this track? What do you like about this atmosphere here?
Plessinger: I really liked how the track shaped up today. It was really deep. Some sections there were two-foot-deep ruts and then other sections there were two-foot-tall braking bumps. You had to be really on your toes or you would end up on the ground. The last lap of the first moto, I crashed in one of the ruts. I didn't actually fall down. I just got stuck between my bike. I was still standing straight up. It was pretty crazy. I like this track. I've never actually had a podium here, so I dig it. When I get starts, I like this track.
Dylan, your coach David Vuillemin said on this guy's Pulp site: "I don't use starts as an excuse. You should be able to come through." Do you agree with that, or do you wish the starts were a little bit better, like you kind of already said?
Ferrandis: For sure, the start is not an excuse, but it can help a lot. We saw the last couple races—Muddy Creek in the second moto, I start in the top three and it was much more easy to win than when you start 20 or 25, it's way difficult. I think I just need to start a little bit more in front. To not do the holeshot is okay, but just top ten could be better.
For both of you, you're teammates. I know Aaron, you train with Swanny. A lot of your teammates do, and you're with Vuillemin. Do you guys ride together? What's the program for you guys? Do you ride together a lot, or how does that all work?
Plessinger: Sometimes we ride together. Dylan shows up a little bit later. No problem, but we still get to do a little bit of riding together. I think it helps a little bit.
Ferrandis: DV likes to train me when it's really hot and the track is not fun at all and dry, so that's why I came a little bit later. We almost go on the same track every week.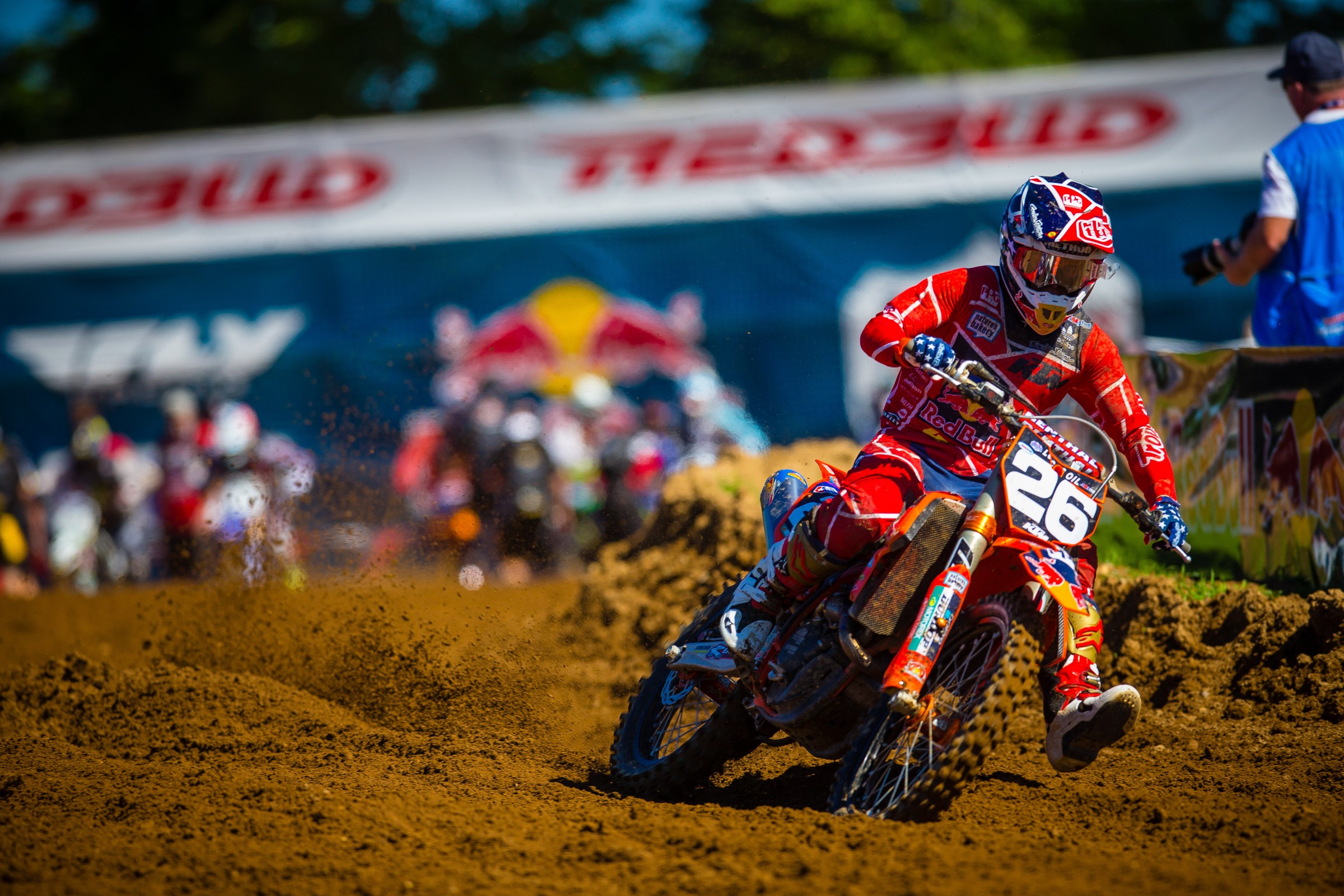 A lot of the riders have an East Coast base, but are you guys going to be California through the whole summer?
Plessinger: Yeah. My fiancee can't really travel, so right now we're out west. That's where we're sticking for the rest of the season.
Ferrandis: Yeah. Last year we went altogether to the East Coast, but it was really bad.
Plessinger: In my mind, you need to start over there to finish over there, because if you come from California and you deal with no humidity and then you go straight into training really hard in the humidity, it makes you a little bit tired on the weekends. That's just my thinking.
Alex, everyone around you was jumping the leap all day long, and you didn't do it until about four laps to go. What was the reasoning behind that? Generally it's faster when you jump it.
Martin: I think we all agree that your reporting skills are terrible. Definitely the worst guy in the media. [Laughs] I definitely at least jumped that thing eight laps of the second moto for sure. I was actually getting over it good enough to where I had a nice brake tap downside it. Last lap I kind of did a little vroom-vroom to the crowd and looked over. I don't know what you want me to say. I thought I looked amazing over it, and I jumped it eight times. So, suck it, Steve.
Aaron, I guess when you have a couple motos you're not happy with, like Muddy Creek and so on, is it hard to kind of not change everything? You were still in the points lead, and I think you were even gaining points at some of those races. It is hard not to overthink it and change the whole program?
Plessinger: Yeah, definitely. You just got to trust what you're doing. I know we're doing the right thing, but those few races were just kind of… I wasn't really feeling it, I guess. Muddy Creek, the track was kind of weird. If you didn't get a good start, you weren't passing anybody. Then Southwick was just gnarly. It was hot. It was rough. It was just a gnarly race. It definitely lit a fire under me, though.
I think we got a little bit of Motocross of Nations preview this weekend. Are all three of you guys feel like you're in contention for sports? Obviously, we've got the Team France manager here. What do you think?
Plessinger: Hopefully. I would definitely love to do that, especially here. I think even if I don't get to do it, I'm still coming here because it's going to be the greatest race of all time.
Martin: Obviously, 250 class I think it's down to me and AP. We're the most consistent, I think for sure, this far in the season. Obviously, I don't know 450-wise what's going on. Eli obviously is probably a contender, maybe [Blake] Baggett. I think Dylan would be a great pick for France. So I guess we'll see.
Ferrandis: For sure, the French manager was there this week, and today watching a little bit for this big event. For us, it's really important. We won the last three years. I hope to be on the team. I think I have my chance. I think we can have a really strong team, like America. It could be a really nice battle between America and France again this year.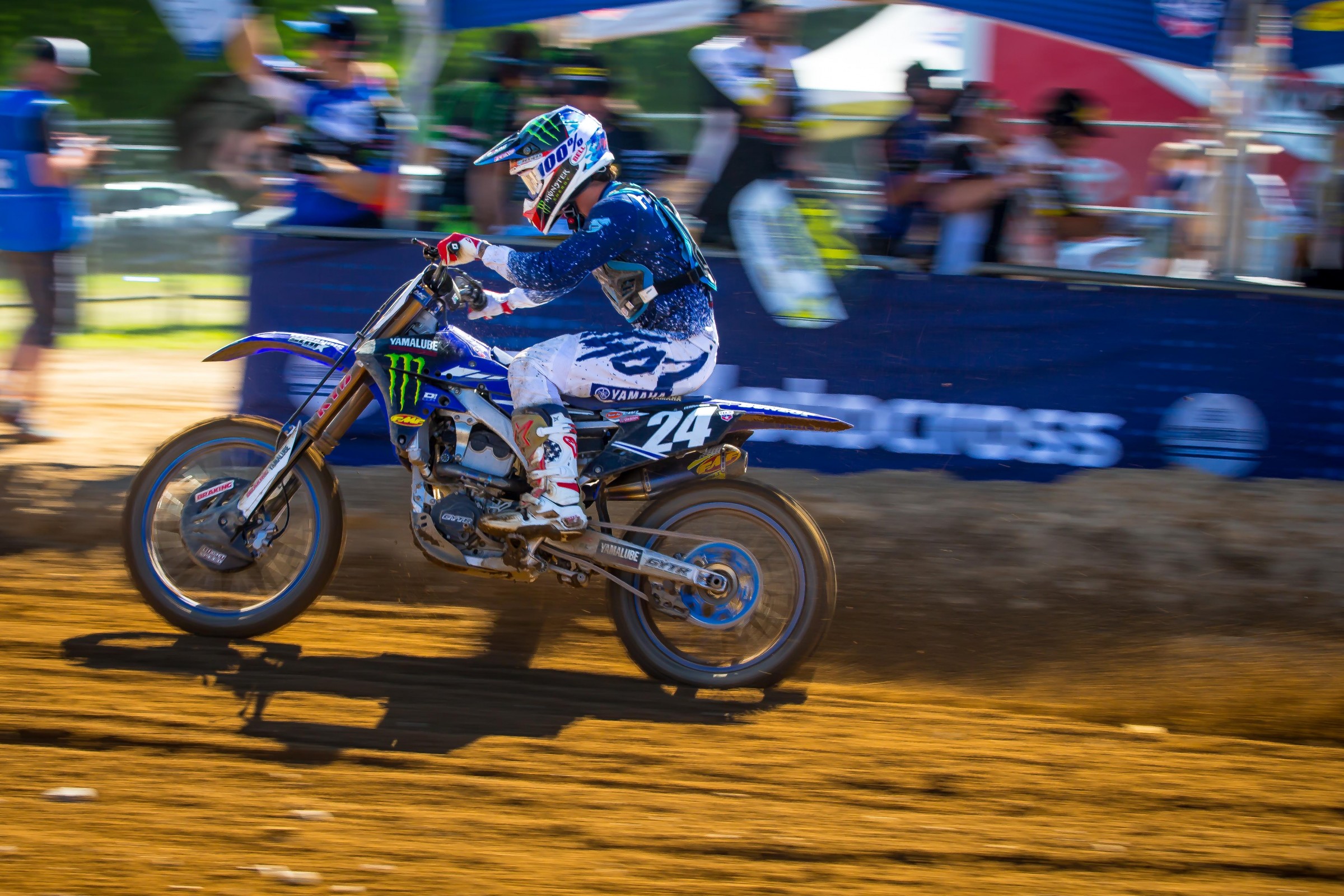 The crowd that we have here is always crazy. What's it going to be like for Motocross of Nations? Add that much more flavor to it?
Ferrandis: I think it's going to be crazy, but I think they are going to cheer only for America, but it's okay. When it's Europe, there are not so much American fans, so it's good. We're going to have to show what we can do on American track.
Would any of you guys, if you had to race a 450, if that was open, guys got hurt or whatever, would you guys be willing to do that for Des Nations?
Martin: Absolutely. I rode the 450 this week, actually, first time this year. I forgot how much fun I have on that thing. I feel like I can manhandle it fairly well. You never know.
Plessinger: I would definitely ride a 450. I love 450s.
Ferrandis: I can. I love riding 450, but in France we have a lot of 450 riders, so it needs to be three or four riders injured before I'm selected to do 450.
We went to the folks on the internet and we went to Vital MX. We had FLMXer from southwest Florida. Here's his question: "RedBud has evolved to be a better track than a year ago. With the sand addition, does it get a lot rougher now than it did in previous years? Do you feel like it will be closer to an equal playing field for the MXoN?"
Plessinger: I think it was a lot better than last year. Last year I just watched it and it seemed pretty smooth—at least the first moto did. I think it's going to get really, really gnarly for MX of Nations. I think it's a pretty equal playing field.
Martin: I'm on par with AP on that comment. I thought the RedBud crew did a great job prepping the track this year. It just seemed like it was a little bit easier to pass. Last year it was really tough to pass, so there was some better line choices. Overall prep job, I thought, was really good. Definitely got rough and developed a lot more this year. Overall, I think it was a great racetrack.
Ferrandis: Like they said, the track was much better this year than last year, but also last year I think they were waiting for rain, and they don't rip the track like they used to. I liked the track this year much better.