Southwick, MA
Southwick
Lucas Oil AMA Pro Motocross Championship
YEAH, SOUTHWICK! This is the track that I ranked tied as the best national on the circuit, and the sands of The 'Wick provided a real test for the riders this year. The temps were up there, the track was beat up, and man, some dudes were really struggling out there. There was a rider who pulled into the mechanics' area with 11 minutes to go in his first moto and he needed quite a bit of cooling-down assistance. I saw more guys out for a trail ride than maybe ever before. This year's Southwick was a man's track.
I was walking out of the press tent at the end of the day when I ran into NESC legends Keith Johnson and John Dowd. Keith runs the track now and Dowdy helps him out, so it's in good hands. On Saturday morning, the track had already been disked up, which is a change from the usual, as the track is normally glass-smooth before the first practice. I figured they did this to make the practices more even, as in the past the smooth track in the morning always gave riders in the first practice a huge advantage. They both expressed surprise at this and said no, they didn't disk the track to make the practices more even, instead, it was done to make it rough and gnarly like what they thought it was back in the day. I told them that after talking to some riders, it was mission accomplished. Then they both giggled in a sadistic way.
We've seen some really great racing in a couple of motos this year—a few weeks ago at High Point with Marvin Musquin all over Eli Tomac in moto two, and this weekend in moto one, where Tomac was pushing hard to get Musquin. Always cool to see two amazing riders going for it. Tomac has won both battles by holding off Marv at High Point and getting Marv on the last lap at Southwick, but it's cool to watch. Tomac was using outsides and grabbing handfuls of throttle and Marv was taking insides, jumping braking bumps, and being his usual crafty self. Great racing!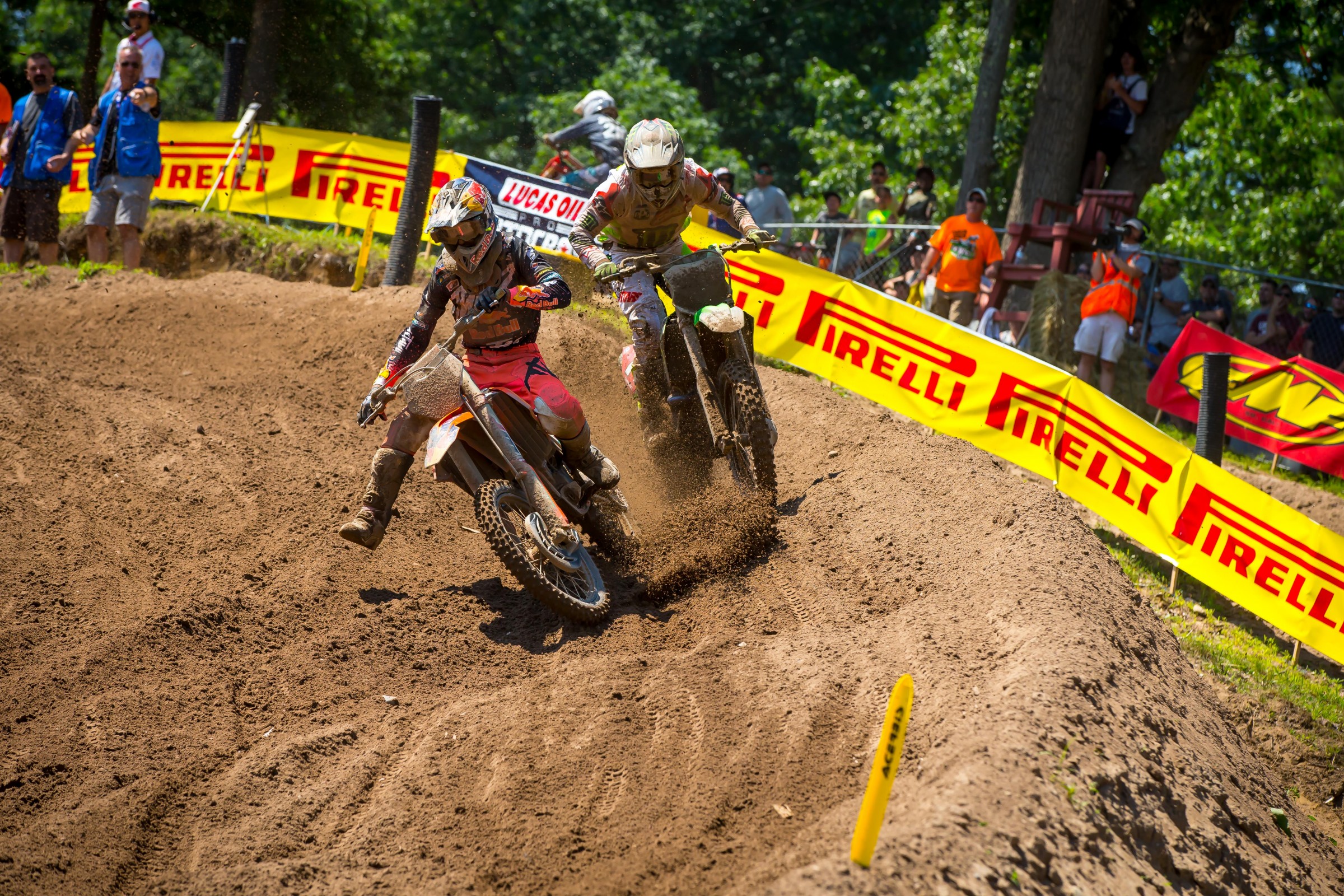 Second moto saw Tomac somehow work his way from around 15th around the first turn to third a few turns later. Then he absolutely kicked it into overdrive and was KILLING IT. Like, Tomac was crushing it. I can't stress this enough. I wasn't sure if it was Eli Tomac on a Kawasaki or Jesus himself out there. He was that good.
But it couldn't last. Tomac went down going into a turn, this knocked his clutch lever down (which jacked him up), and although he got up right in front of Marv, he crashed again a few minutes later. Eli Tomac was a supernova out there in the second moto. His best time was almost FOUR SECONDS better than the next guy (Marv).
I asked him about it at the end of the day: "This is the one race of the year where I'm like, no one's going to take that trophy from me," and "…Made a little change between motos. It was good. But it bit me. I jumped into some bumps and then tucked my front end and that was that. Big kicker was it knocked my clutch lever down and then I just kind of lost my mojo."
Yeah, he did. Anyway, Tomac's overall streak was broken but he didn't lose any points, and we'll always have that first half of moto two to talk about. Oh, and the great moto one.
We had Marv on the PulpMX Show this past Monday: "…My riding has been good, especially this weekend coming into the sand. We know Tomac is always good over there. Every year he has been winning. So it was good to battle with him this year. We're not too far off. It was definitely a good battle. The first moto, it was a bummer to get passed a lap or two to the end, but I gave my best."
I asked Eli about how hard he was pushing it out there. "I didn't feel like I was going out of control. That was my warp speed in the sand."
Then I asked Marv how hard he was going. "No, I'm [at] 50 percent."
CALM DOWN, EVERYONE. Marv was just joking. He laughed after that statement. Put down the pitchforks.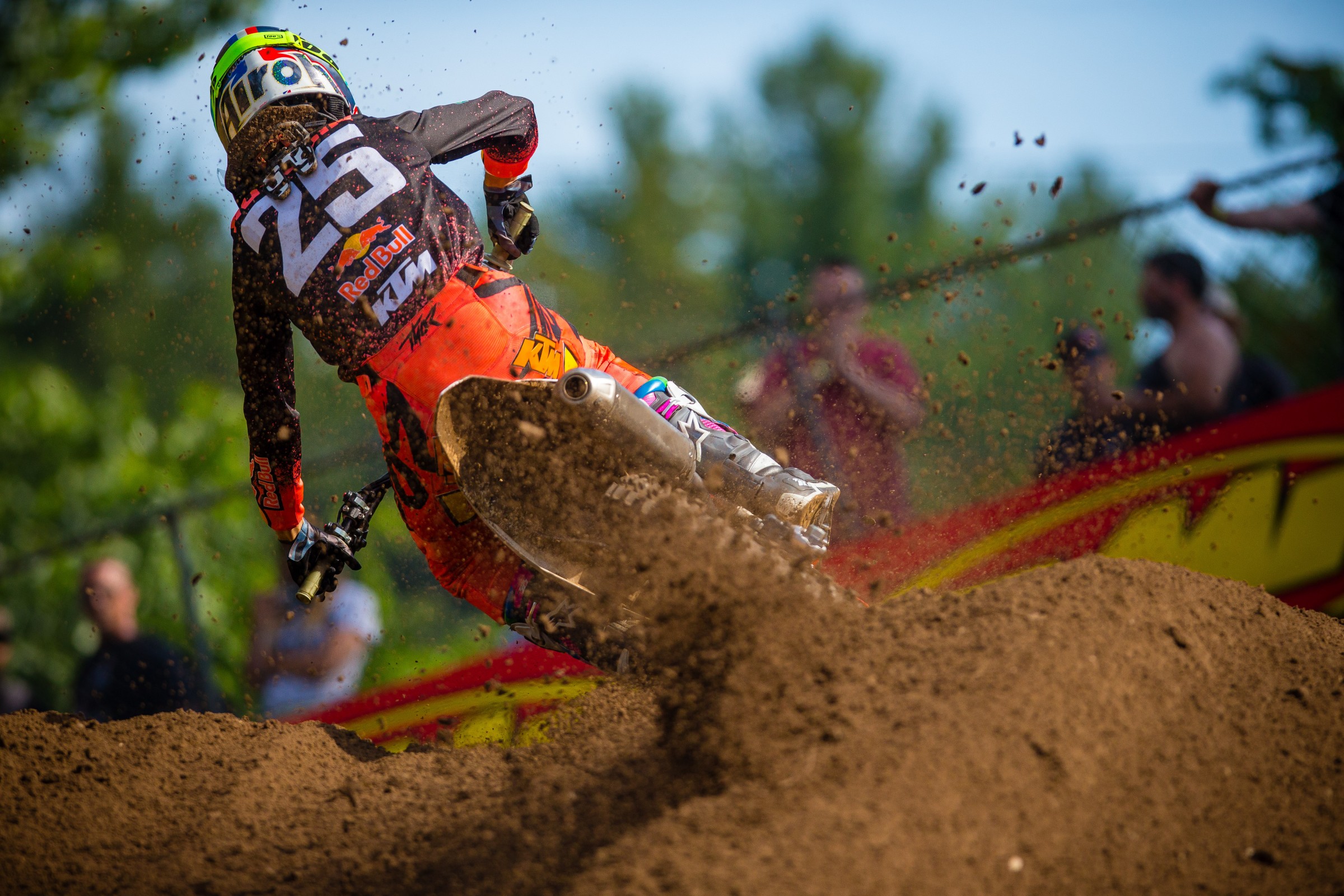 I have a ton of respect for Justin Barcia, Blake Baggett, and Ken Roczen, so with all due respect to those guys (any time someone says that, you know there's a hard hit coming)… I can't believe that Marv and Eli dropped them as badly as they did. Eli was almost 30 seconds ahead of Marv in moto one and Marv was almost 20 seconds ahead of Barcia in third. Really?
Second moto, the #25 KTM was 30 seconds ahead of Barcia again. And Baggett and Roczen were even further back! Crazy race, man, and if you're one of those guys, you've got to be bummed and put into the back of your mind where you keep other things you never, ever want to ever think about again.
Since leading both motos and going 2-2 at Thunder Valley, Ken Roczen's been a bit mystifying. I covered his suspension switch last week and Roczen told us on the PulpmMX Show that he's dealing with a thumb that's bothering him, so there is that. Somehow, the #94 has been regressing the last couple of weeks. I've admired how Kenny's had a positive attitude out there and is trying his best to get back to being his best. I think it'll come here at some point—although maybe not until he gets a full off-season—but I have to think he's getting a bit frustrated. He's got to keep doing the work, have faith in his bike and team, and know that it'll come back. But boy, I bet that's hard to do for an elite athlete like Ken. He's never, ever, ever, ever, ever, ever been beaten like this.
Dylan Ferrandis had a bit of good fortune to take the win in the 250 Class (his first ever overall in the U.S.) with 4-1 scores. He came around a corner and saw Alex Martin and Austin Forkner laid out, so merci beaucoup mon amis, one supposes. I mentioned to Dylan that he might owe A-Mart a thank-you card for Muddy Creek moto two and then this week's moto two when he told me, "Today my plan was to pass the two guys at the end of the moto. I never expect a crash or anything happen. It's okay. It's racing. It happens every day crash, and it's happened to me too many times in my career. Maybe two races was a little bit of luck. I'll take it."
I mean, I can't prove he was wrong that his plan was to get them at the end of the moto. In related news, I'd like everyone to know that my plan is be an astronaut and go to the moon.
But anyway, in all seriousness, Ferrandis has been great so far in his return from injury. He's going to win races the rest of the way and be right there. He's out of the title hunt and it'll be interesting as the motos wind down (we're halfway done with this thing, everyone!) if he starts to help red plate teammate Aaron Plessinger.
Speaking of Aaron, he's still holds about a one moto lead on A-Mart in the standings, and I thought his first moto was great. That's what points leaders do when they aren't on their best days: They fight through the pack using fitness and speed to—slowly, before you even notice it, really—grab a podium. What points leaders don't do is what Aaron did in the second moto and let a rider that you've beaten in 98 out of the last 100 motos (all stats not official) pass you on the last lap to bump you to seventh. Mitchell Harrison slipped past AP for his best moto since returning from injury at High Point. For Plessinger, that's bad, mmmk?
You don't really think of Alex Martin as someone who forces the issue, crashes, and throw races away, but don't look now—in this crazy world we live in, that's what A-Mart's done lately. He's become a short Travis Pastrana! Alex gained some points on Plessinger this weekend, but once again, oh, what could have been for the Troll Train. First moto, he rode great and was lurking around Austin Forkner (more on him in a moment) and couldn't make the pass. So a second is very good; Martin's always good at Southwick.
Second moto, Forkner once again got out front quickly with some nice moves and Martin followed through. He got close a couple of times and then went for it up a hill going into a right-hander. It didn't work. Martin hit Forkner and both riders went down. Poof went a first overall for either guy as Ferrandis rode on by. I'm sure Alex was getting frustrated and all that because he's been so close to wins but keeps coming up, um, short, but I didn't think he had position at that time for his move, and the fact that both guys went down proves it. Afterward, some people were saying he had to do it, but there were still four laps left; he had some time to make a different pass stick. Still, he rode very well all day long.
By my count, Martin has:
Crashed first lap of first moto at High Point and came from 30th to 12th.
Muddy Creek first moto, crashed halfway while in a comfortable second place and ended up 12th. Loss of points: 13.
Muddy Creek second moto, crashed with two laps to go while infirst and ended up third. Loss of points: five.
Southwick second moto incident, second to fourth. Loss of points: four.
That's an easy 21 points right there for Martin through uncharacteristic crashes. He's down 23 on Plessinger. Tough deal for the #26. He's still been riding very well and has to cut down on these errors. Alex Martin, 2018 250 National Champion, is something that could very much happen.
I got a call from just about everyone involved when I wrote—or maybe I said it on the PulpMX Show—that I believe Martin will be on the Autotrader/Yoshimura Suzuki team next year. The calls I got were wondering how in the eff I know that. I mean, it's simple—where else can he go? GEICO Honda is full, Troy Lee Designs/Red Bull KTM is full (adding rookie Mitchell Faulk in 2019), Monster Energy/Pro Circuit Kawasaki is full (I tried to sell Mitch Payton on Martin, but he's got Martin Davalos and his belief that in his 13th year—or is it 14th?—in 250SX, he'll finally break through and win a title), Monster Energy/Yamalube/Star Racing Yamaha is full, and the only team with factory bikes left is JGR. It's not hard to figure out, everyone.
Suzuki's going to have an all-new 250 next year, Martin's fast and a total pro, JGR has money, and bingo-bango, we have a match.
Speaking of Mitch Payton, he must wonder what in the hell he did to get such bad luck lately. Maybe he ran over a black cat with his wheelchair? His team just can't catch a break in 2018. From Forkner leading in SX points to going out with injury, to Joey Savatgy's humdrum SX year to having his bike break while leading a moto on the last lap in Thunder Valley, to the impressive rookie Garrett Marchbanks hurting himself at High Point to Forkner going from 1-1 to 1-20 in a blink of an eye at The 'Wick… seriously, it's been rough. Also, add Martin Davalos doing Martin Davalos things indoors and Adam Cianciarulo needing knee surgery and missing the entire outdoors. Look, none of Payton's competitors are going to light a candle for the guy who's been kicking their asses forever, but man, it's been a tough year for PC. At least my ranking of all the PC riders seemed to cheer him up when we spoke about it.
By the way, I got a call from a VIP on a 250SX/MX team last week talking about the class, and this guy sort of gave me credit for talking about some of the issues with riders staying in the class too long. This person told me that amateurs who are locked up for multi-year deals need to be put on the teams, but the vets aren't getting out, which is bogging the whole system down. (He also admitted that deep commitments to non-elite amateurs has been a bit silly.) Even if you're a good rider, leaving the 250 class isn't a good idea. Justin Bogle and Malcolm Stewart winning titles was (just about) the worst thing they ever did for their careers! Martin Davalos, Jeremy Martin, Zach Osborne, etc., are killing it with great rides and salaries. Last year, we a couple of riders amazingly got to point where they had to leave the class, with Savatgy and Davalos, but thank god the AMA stepped in, bowed to team pressure, and allowed them to stay in the class!
That was sarcasm, by the way.
Anyway, this person told me to keep pounding the drum for the silliness of guys just parking in the support class, and my comment back was that maybe there should be no rules. Just make the 250s a wide-open, 17-race SX series, no pointing out, and see what happens. This person was more on the side of booting riders out sooner, but remember, there are not that many 450 rides available. These OEMs pay $2-3 million for one guy (Tomac, Roczen, Musquin, Anderson) and don't have budgets for two more guys, which is understandable. I don't know, man, the whole 250 class thing is jacked up (if you include amateur support in that, which I am). Blow the class up, in my opinion, and start over, because it ain't working now.
Weston Peick was pretty funny in his post-race interview in telling me, "Me and one of the local boys from out here, they're pretty dirty out here. They don't back down. They're cross-jumping me, slicing my front wheel off when I'm trying to pass them and whatnot," and then kept it up some more. "They [local riders] were the worst here. I'm telling you. Every single guy that I passed or tried to pass that was a local guy on a KTM—they were all on KTMs—I'm like, what the hell is going on? I thought I just passed this guy. They would literally look back at me and just cross-jump the shit out of me every single lap."
Welcome to The 'Wick, yah bastard!
other news and notes
Cooper Webb came back, but the people around the Yamaha truck knew he was just there to get back into the racing groove. Even Webb on his social seemed to indicate he wasn't 100 percent. Still, you gotta start somewhere, and that's what Webb did in putting two motos together in the top ten. I'm sure he'll be closer to the podium soon, and it's good to see him back; the class needed it.


Justin Cooper had his first "rookie" day at The 'Wick, but it still came with him impressing in that he set the fastest time in practice. He was cruising in third about halfway through moto one when he cartwheeled pretty good in a whooped-out turn. Chase Sexton ran into him and he was down a while. But you know what? He got up, collected himself, and got a 17th. Which was cool, some guys would've pulled it in (as we've seen this year), but he kept grinding. His second moto was no doubt affected by his first. Maybe he was upset about the New York Islanders (his hometown hockey team) losing John Tavares to the Leafs?


Speaking of "you gotta start somewhere," Justin Bogle came back! Remember him? Bogle's had a rough year and told me afterward that he's not even considering the few SX races he did earlier this year as part of being back because of "the fog" he was in from hitting his head earlier. Bogle pulled one holeshot and got a great start in the other, then faded back pretty hard. He was in a good mood afterward, and hey, it can only get better from there, right? Gotta admire a guy who goes for it off the start even when he knows he can't hang at that pace. He told me, "The thing is about that, the whole JGR team, I'm trying to get them some love on TV, if not just for a lap. I've got to do something," which is a great quote.
Cameron McAdoo and Colt Nichols were locked in a titanic duel in the first moto for, like, 25 minutes. Absolutely a battle royale that Nichols ended up winning.


Mitchell Harrison hit the gate in the first moto. How pros still do that is beyond me. He did ride very well, though, to come up to 15th on the day. I hear the Rockstar Husqvarna 250 spots next year will be Thomas Covington and Jordan Bailey, with one more guy coming from Mosiman, Harrison, and maybe another guy. Talk about pressure!


Lorenzo Locurcio absolutely killed it in going 7-7 on the day. Lorenzo was a privateer earlier this year but got picked up with the TiLube Honda team and has been pretty impressive. Yes, again, the 450 Class isn't the deepest ever, but the Venezuelan just went 7-7, bro. He beat Cooper Webb both motos, he beat Filthy, he beat Peick—that's legit. Bravo to Lorenzo!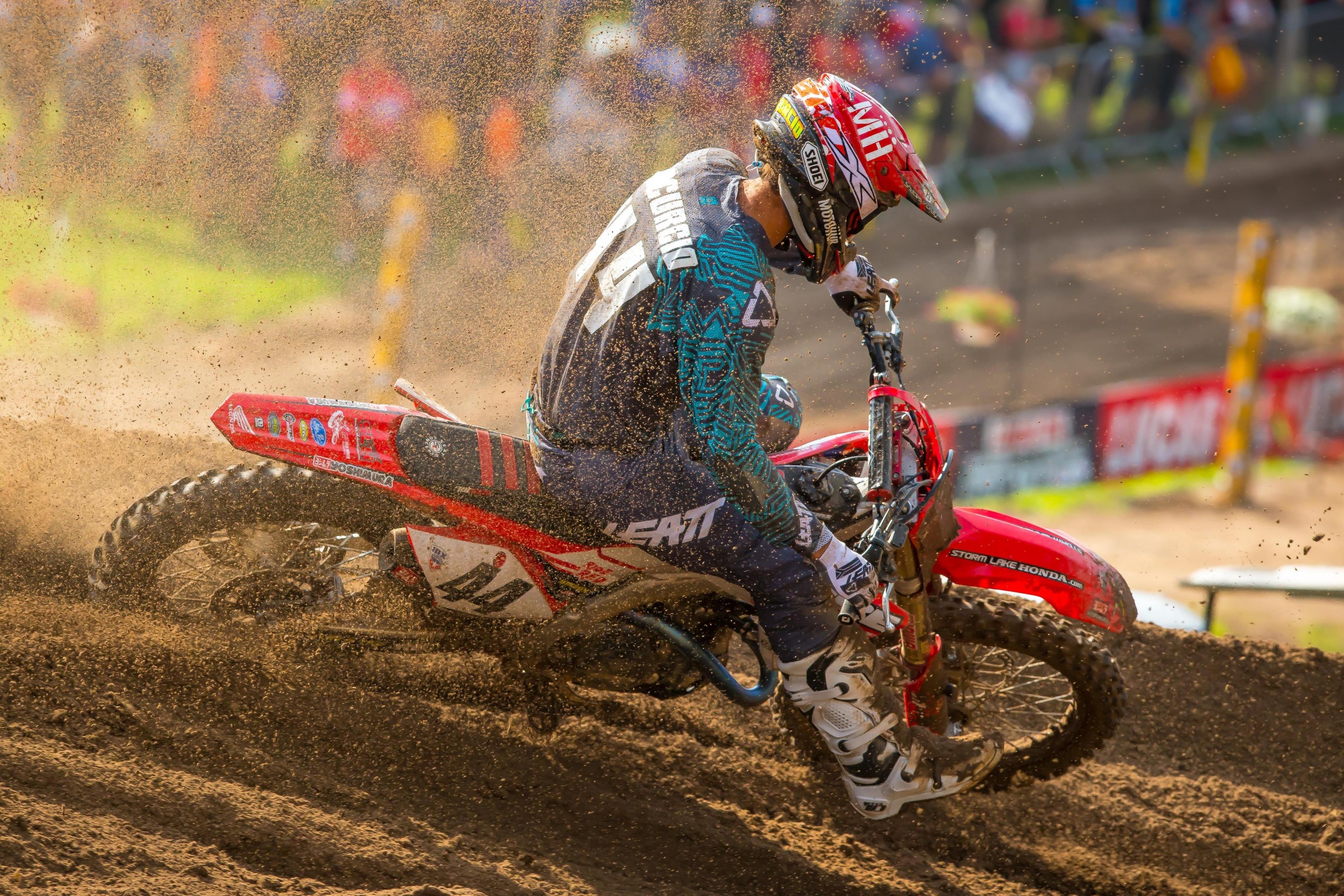 Chris Canning, local NESC rippah, did very well. First moto he got a good start and rode steady to an 11th, although JT was saying he just pulled off on the last lap right as he was about to be lapped. Can we confirm this? I mean, something had to happen—the dude had a 3:53 lap! Anyway, second moto, he fell in the first turn and passed 25 guys to end up 15th. Nice work! Brandon Leith, he of the famed Utah sand tracks, also scored a tenth overall. Good job, fellows.


I think the best pass of the day I saw was Benny Bloss going around the outside of Chris Canning and Justin Bogle in a right-hand turn with huge bumps. He made them look like they had concrete anchors around them. Benji was just soaking it up with his giraffe-like legs. That wasn't even the best part of the day for Benny's mechanic, Derek. Nope, Derek the biggest wrestling fan ever (he even beat Weege in a wrestling trivia contest earlier this year here, saw WWE super-manager Jimmy Hart at the airport. His texts to me and Alex Ray when he was about to board and Hart was sleeping was the stuff of a panicked mom when her kids are trapped in a burning house.


Chase Sexton had one hell of a second moto. He goes down in the first turn and is last. He rides like hell and passes 28 guys to get up to 12th. Proceeds to crash. Passes four guys back to get to 13th. Crashes again. Passes two more guys back again to get to 14th. Years from now, people will just look at his 14th and shrug their shoulders, but I'm here to tell you it was one of the hardest-earned 14ths ever. I think he passed Hayden Mellross three times!


There's a new rule this year where alternates can go into either moto if other guys don't line up. Before, the field was set before the first moto, and if a rider couldn't get to moto two, then he would just leave an empty gate. New this year, if a rider withdraws from the race after the first moto (injury or bike problem) someone else can take his spot in moto two. I was walking down to the line for the 250 Class moto one when Travis Delnicki stopped me to ask if Luke Renzland was going to make it for moto one. I had texted with Skip Norfolk, Luke's crew chief, maybe 15 minutes before and he told me Luke was out with a concussion in practice and would not be racing, so I relayed this to Delnicki and he was stoked because he was the first alternate. These guys are down at the line, in full gear with a bike that's ready (they're picked from fifth on down in the LCQs) and hoping for a chance to go beat their brains in out there in the sand. Then Travis asked me about PulpMX Fantasy and who I picked and how he didn't pick himself (good move, Travis!). Anyway, life as an alternate must be stressful!
(Delnicki once had Weege wrench for him at last year's Racer X Maine Event. Dude understands the stressful life.)
Thanks for reading, everyone; good times indeed at The 'Wick! LONG LIVE THE SANDBOX IN MASS! Email me at matthes@racerxonline.com if you want to chat about this or anything else.