San Bernardino, CA
Glen Helen
Lucas Oil AMA Pro Motocross Championship
Round two of the Lucas Oil Pro Motocross Championship took place at Glen Helen, a track no one really loves (outside of a few guys). This is partly because they ride there a ton during the week, partly because it's got a weird surface that they only see at The Helen, and partly because it's gnarly and a tad scary. Although very few riders would admit that, it's true. The track features big hills and big jumps, and the sun is usually setting right in a rider's face at some point during the race day. This equals puckered bums for the riders.
Lots of talk before the race about the huge jumps put in for the National, and the riders even spoke out about it at last week's press conference. MX Sports (well, Davey Coombs, our boss over here at Racer X who also runs the Nationals) went straight to the track to work with the builders and try to make everyone happier. Although there was some pushback, in the end the jumps were modified, the riders were (mostly) happy, and life went on. Look for the next issue of Motocross Action magazine to have a blurb of "Glen Helen: A Track So Tough, Riders Wanted to Boycott," because I'd bet that was the idea the whole time.
Eli Tomac went 1-1 for the second-straight week. Weigandt wanted to—I think seriously—get the Tomac perfect-season stuff started after the race in his dumb Racer X post-show video, but I mean, c'mon here. [Ed. note: Uh, I was just kidding around but we now have a lot of chatter going so I'm going to run with this—Weigandt] Tomac was amazing, he looks like he's got everything together, but this is a guy that made enough mistakes and had enough weird stuff happen to where we eventually started saying "Eli's gonna Eli" when something went wrong. I'm glad Kawasaki and Tomac himself were basically ignoring Weege and his talk. Kawasaki's Mike Williamson, who took James Stewart to a perfect season as his mechanic, also doesn't want to hear it.
But I will say this: The rest of the class is in trouble here if Eli Tomac can generate enough speed and endurance late in races like he did at Glen Helen. The Helen is a different animal—lap times vary greatly and it's the longest track of the series—but what Eli did was amazing.
Before the season, I had Zach Osborne as the favorite to repeat in this 250 Class title chase. Jeremy Martin was slightly behind him, then the field all had an equal chance after that… "field" being Aaron Plessinger, Alex Martin, Joey Savatgy, and Austin Forkner. Well, after two rounds, I'm ready and prepared to put Plessinger ahead of J-Mart as Osborne's greatest challenger. I've written time and time again that Plessinger just has to find that magic consistency to be a real title threat. Before the season, I wondered out loud if Plessinger could perhaps end the season as a double champion (250SX and 250MX). He has the tools to do it. He's always been a threat to win races, but could never find the week-to-week speed he needed. Well, it says here he's found it. Glen Helen was great for him, and it's now Osborne, Plessinger, and J-Mart racing to this title. This ain't no recency bias, bro.
Let's take a look at the results, shall we?
250 Class Results
1st | #23, Aaron Plessinger | Hamilton, OH | Yamaha YZ250F | 1-1
What a day for Plessinger. Two dominant moto wins and a share of the red plate. I wrote this about AP last week: "I think Plessinger has an outside shot at this title—watch out if he can figure out the moto-to-moto consistency," and maybe this win will help him. He told me he's never led this many laps before, he's never gone 1-1 before, and winning the National this way is cooler than a 250SX win (which I agree with). Watch out, he's just going to get better as this series heads east and maybe, just maybe, the switch has flipped with him.
2nd | #26, Alex Martin | Millville, MN | KTM 250 SX-F FE | 3-3
I'm, like, super biased, but I thought that A-Mart was going to win the second moto. He's very good at The Helen and he's got everything he needs to win. He was stretching it out early, but Plessinger and his brother got him, which caused me to lower the pompoms. Still, "we'll" take second overall and move onto Colorado.
3rd | #6, Jeremy Martin | Millville, MN | Honda CRF250R | 5-2
Jeremy was frustrated with the track and its lack of passing lines for sure (he couldn't get around Justin Cooper in moto one), but during the second moto, he dug deep to grab that runner-up spot. No one was going to beat Plessinger on this day, but Jeremy sure tried hard. The favorite part of my day was him telling me that his brother Alex was "an asshole" for leading laps in the second moto. That's awesome.
4th | #1, Zachary Osborne | Abingdon, VA | Husqvarna FC 250 | 2-5
Osborne hurt his thumb earlier last week and had it wrapped up for the race. He told me before the race that if he had hurt it on Thursday and not on Tuesday, things could've been rough—he needed a few extra days for the thumb to heal. He was making a charge at AP in moto one when he tipped over. Second moto, he never got it into full "Wacko" mode and even had a pretty good crash later on that could've been a good one, but luckily for him, it wasn't. Fourth overall on probably his least-favorite track—he'll take it.
5th | #17, Joseph Savatgy | Tallahassee, FL | Kawasaki KX250F | 6-4
Not a great day for Joe Dawg, but a solid one for him. He didn't do anything to stand out, but a fifth overall is something he can walk away from and be okay with. This weekend we're at a track that he's done very well at before, so it'll be interesting to see if he can get onto the podium.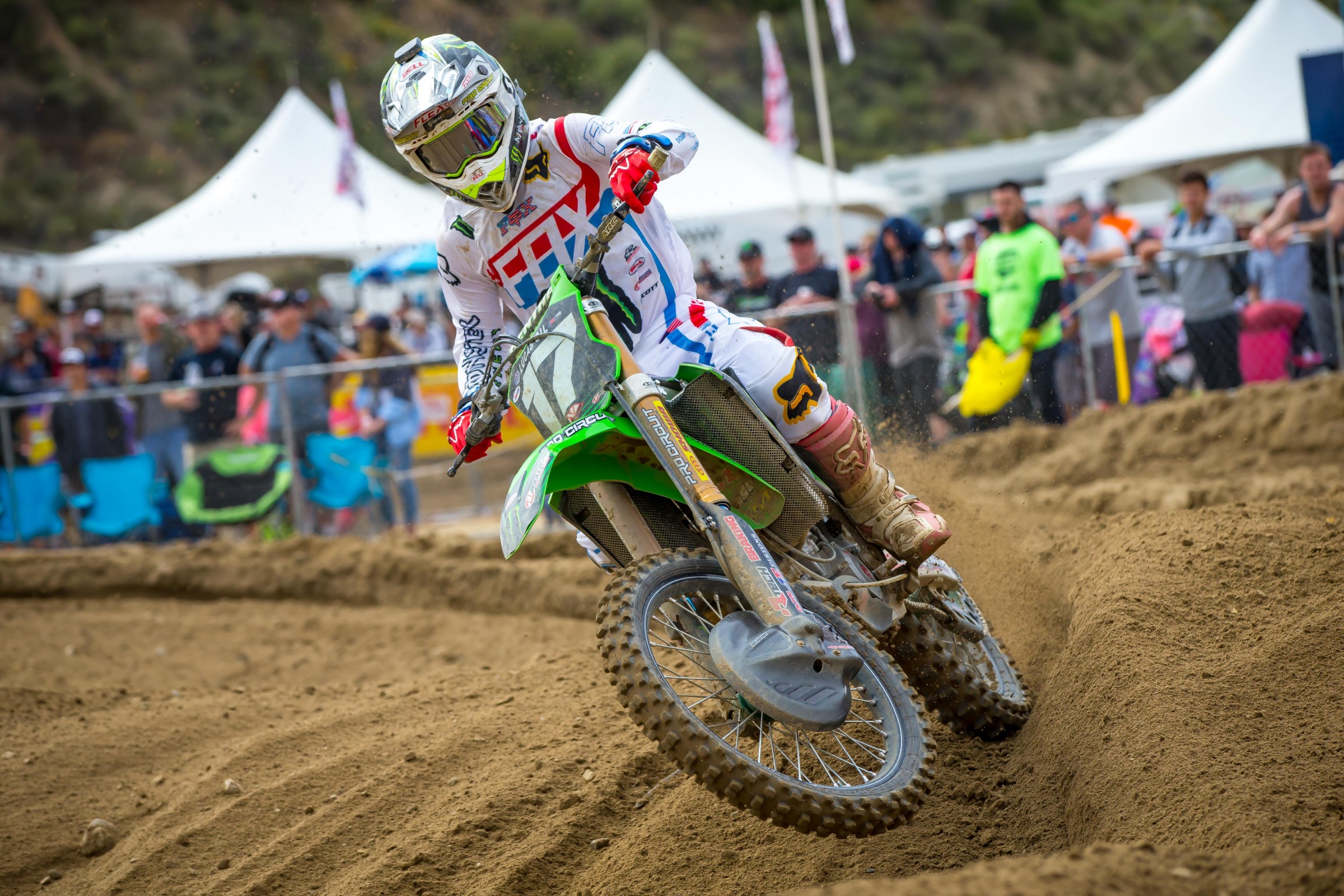 6th | #62, Justin Cooper | Cold Spring Harbor, NY | Yamaha YZ250F | 4-7
Cooper was going forward in both motos and was involved in battle royale with Jeremy Martin and Savatgy for almost the whole first moto. And you know what? He won the battle against a rider who has won this title before and a rider who has won a bunch of races. Cooper was once again very impressive. Remember, this is his first time racing a National at any of these tracks.
7th | #36, RJ Hampshire | Hudson, FL | Honda CRF250R | 8-9
RJ, and his teammate Chase Sexton, have been quiet to start the series. I haven't asked RJ about it, but I imagine that he's not a huge fan of the first two California rounds and, like a lot of riders, will look forward to heading east.
8th | #182, Garrett Marchbanks | Coalville, UT | Kawasaki KX250F | 7-10
I don't know how much the kid from Utah has ridden Glen Helen before, but it's a unique animal for many, and so his 7-10 scores are pretty good for a first-timer.
9th | #40, Chase Sexton | La Moille, IL | Honda CRF250R | 10-8
Cooper is stealing Sexton's thunder right now as the "kid with a few Nationals under his belt who impresses the hell out of everyone." The big thing I see is that Chase hasn't gotten anywhere near a start in any of the four motos this year. He's got the bike, the team, and the fitness to be "a guy," but without starts, he can't.
10th | #35, Austin Forkner | Richards, MO | Kawasaki KX250F | 13-6
Mitch Payton is almost always willing to talk, but he declined an interview with me after the race. He was not happy with his team's finishes, and I imagine Forkner's day was a big reason. You can't start second and drop back to sixth if you're Forkner; that's not acceptable on this team.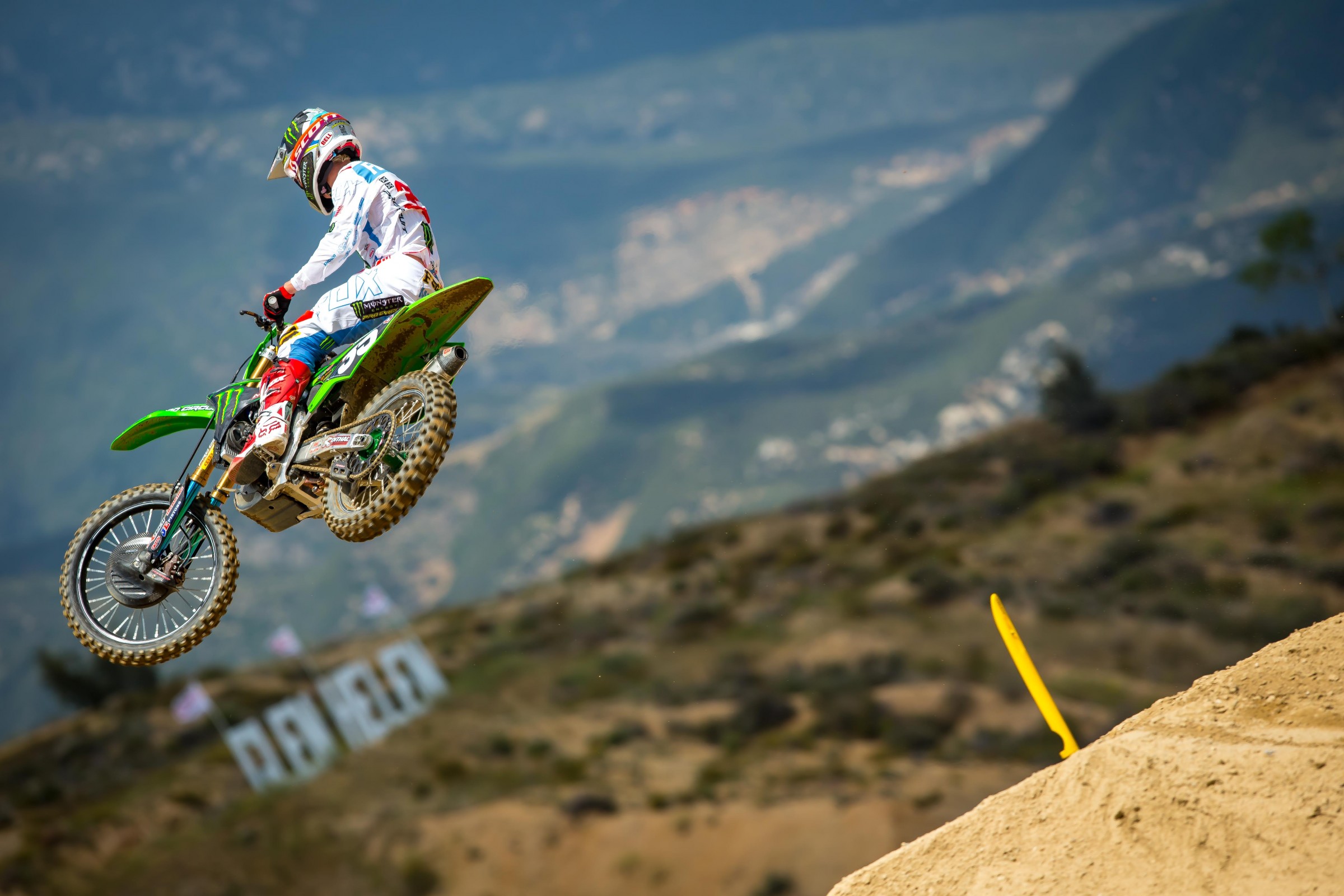 11th | #28, Shane McElrath | Canton, NC | KTM 250 SX-F FE | 9-12
VERY puzzling day for Shane, as he went backward in moto one and then never really got it going in moto two. Like, seriously, his fade in moto one was very strange. I was thinking he must have a bike or body issue, because you don't see that from Shane often.
12th | #45, Jordon Smith | Belmont, NC | KTM 250 SX-F FE | 11-14
Smith was at the back all day to get up into the mix. He said on social media that he fell on the first lap of both motos, so this is what you get, I suppose.
13th | #133, Jordan Bailey | Orlando, FL | Husqvarna FC 250 | 14-13
Good rebound from Bailey after a bit of a rough Hangtown. The rookie was in the mix all day and his fitness seemed pretty good, also.
14th | #43, Sean Cantrell | Murrieta, CA | KTM 250 SX-F FE | 12-15
Quiet start to the season for Sean so far.
15th | #46, Justin Hill | Yoncalla, OR | Suzuki RM-Z250 | 17-11
Good second moto for Hill, as I was interested to see if the Suzuki RM-Z250 was able to get him a decent start, and it kind of did.
16th | #137, Martin Castelo | Ecuador | Yamaha YZ250F | 16-17
This is four good motos for Castelo to start the year. Why don't he and Marty Davalos ride for Ecuador at the Motocross of Nations? You just need one more guy!
17th | #64, Michael Mosiman | Sebastopol, CA | Husqvarna FC 250 | 18-18
I find it interesting that there are some in the pits who are eyeing the Rockstar Husky team giving Mosiman and Bailey full factory rides and saying that they could be better off with other guys. But then sometimes the same people complain that teams don't stick with kids long enough and dump them too fast. I don't think you can have both, right?
18th | #42, Dakota Alix | Jay, VT | KTM 250 SX-F FE | 15-37
Not sure what happened to Alix in the second moto; he was up there then dropped back. I don't want to harp on this, but with this field and Dakota's results last year in the 450 Class, he'd be close to the top ten if he was back in the big-bike class this year.
19th | #114, Brandon Hartranft | Brick, NJ | Yamaha YZ250F | 35-16
Hartranft was up there around tenth in the first moto when he suffered a bike issue and had to DNF. Second moto, he got a garbage start and had to come from the back to this spot.
20th | #169, Challen Tennant | Willis, TX | Yamaha YZ250F | 38-19
At one point, Tennant was on the fast track to be on Star Yamaha, but then… something happened. Justin Cooper now has that position. He's not on that same track, but he's still on a Yamaha, so something tells me that whatever happened to him wasn't that bad.
450 Class Results
1st | #1, Eli Tomac | Cortez, CO | Kawasaki KX450F | 1-1
Oh. Wow. Uh, yeah, Tomac was very good again this weekend. I mean, his late second-moto charge was something else. I don't know where he found those seconds out there late on a track that was like bombed-out Beruit, but he did. I really didn't think he was going to do it—he got the gap to Anderson from 12 seconds to eight, but then couldn't get it any lower. And then… he did it. He found a second, then two, and Anderson wilted a bit and he zoomed by. It was an incredible ride. He's perfect to start the season (thank you—Weigandt), and like Hangtown, the only flaw is the starts; they're not perfect like the rest of him. But again, don't start with the perfect-season stuff. Stop it.
[Ed note: Look, if you extrapolate his current moto win pace over the next ten years, Eli will be 240-0. Just saying. —Weigandt]
2nd | #25, Marvin Musquin | France | KTM 450 SX-F FE | 2-3
Funny that Marv got second overall, and that's good, but I bet he's not too happy with his day. He wants to win this title, and he very nearly did last year, but this weekend he was off the pace (from his usual riding) badly in both motos. Glen Helen isn't a great track for Marv; you have to ride out of your comfort zone, and that's not something Musquin usually wants to do. Still, on an off weekend, he'll take a second overall and live to fight another day.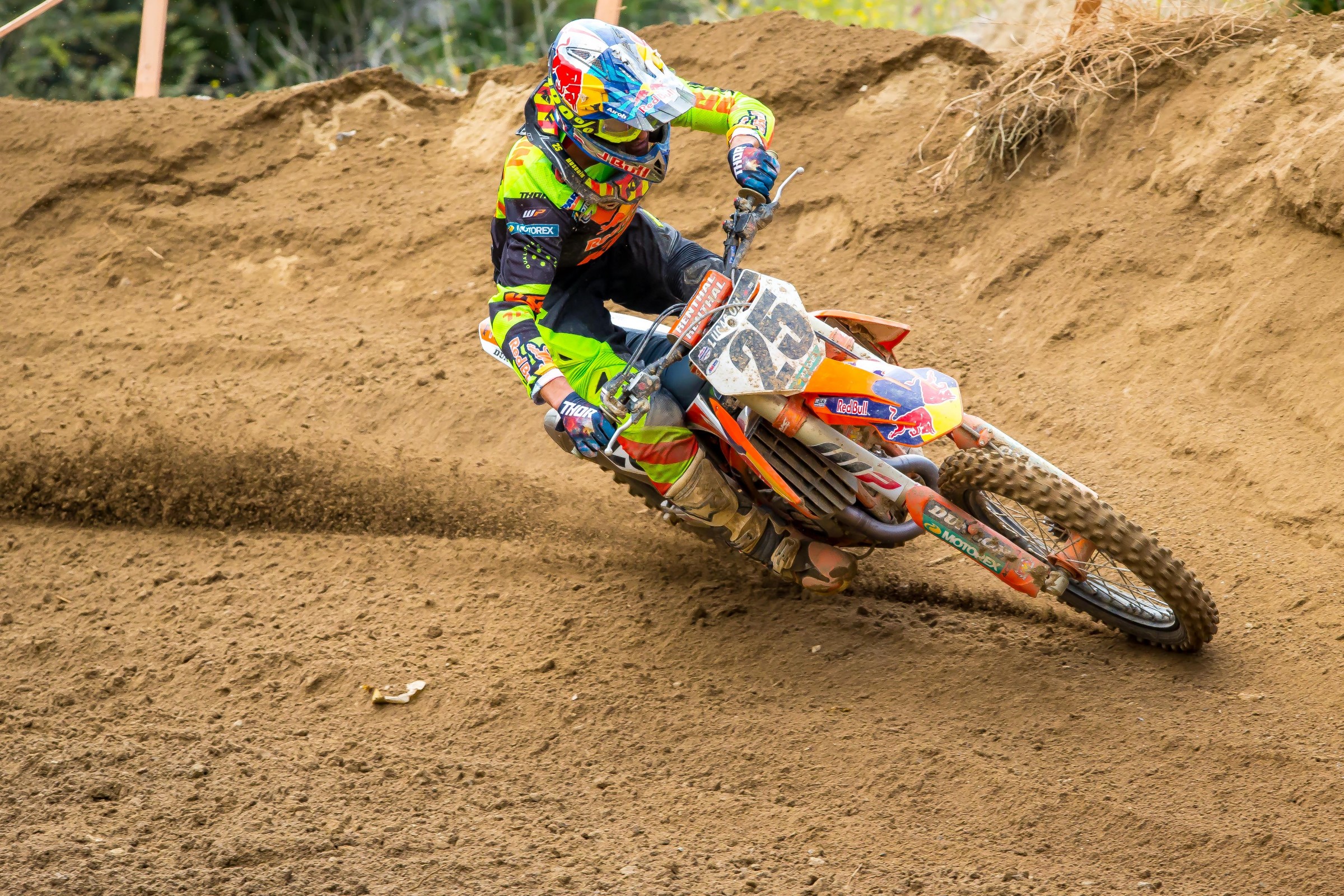 3rd | #21, Jason Anderson | Rio Rancho, NM | Husqvarna FC 450 | 4-2
Much better for Anderson this week than last. I mean, yeah, he gave up a late lead to Tomac but what can you do when a dude puts it into superhuman gear? You look at Jason's lap times and they didn't drop off really bad or anything; Tomac was just that good. A podium for Anderson is getting back onto the right track.
4th | #51, Justin Barcia | Greenville, FL | Yamaha YZ450F | 6-4
Barcia rode well like he did last week, but he didn't get the start (or in one moto, he got caught up in that Baggett crash), and that's it. You can't do that with the top three in this class. By the time he got up there, he was 30 seconds back of the last guy (moto two) and 40 seconds in moto one. Crazy that a 30-minute race comes down to a start, but yup, they do. So, yeah, it's not a podium like last week, but he still looked good riding up through the pack.
5th | #94, Ken Roczen | Germany | Honda CRF450R | 3-8
Wow, that didn't take that long, huh? After a horrible second moto at Hangtown, Roczen grabbed the lead in moto one, led laps for a long time, and ended up on the box. That had to feel good, and what a comeback from last week. I ran into Roczen after the race and he joked that I don't want to talk to him because he's not winning, to which I agreed. Nah, but he did say that he had a bit of a cold last week and it wasn't just his arm that caused the fade to the back. He said it is tough being patient, as he knows he's better than what he's showing. His second moto was pretty impressive—yes, the depth of the class isn't great, but he was IN THE MECHANICS' AREA (there was a rock in his chain guide that caused some strange sounds, he thought was his motor blowing up) early on and still got a top ten. We talked about him being back to his old level by halfway through the Nationals—well, maybe scratch that. It might be sooner!
6th | #34, Weston Peick | Menifee, CA | Suzuki RM-Z450 | 7-5
Peick had a quiet day with a good start in moto two. He couldn't have been happy with Barcia catching and passing him in both motos, but still, a good day for the local SoCal guy.
7th | #4, Blake Baggett | Grand Terrace, CA | KTM 450 SX-F FE | 5-9
Baggett crashed in the first few turns of moto two and had NO grip on the left side for the whole moto. At Glen Helen. Down the hills. Gnarly. Anyway, he wasn't too happy with his day, although that second moto charge was pretty impressive.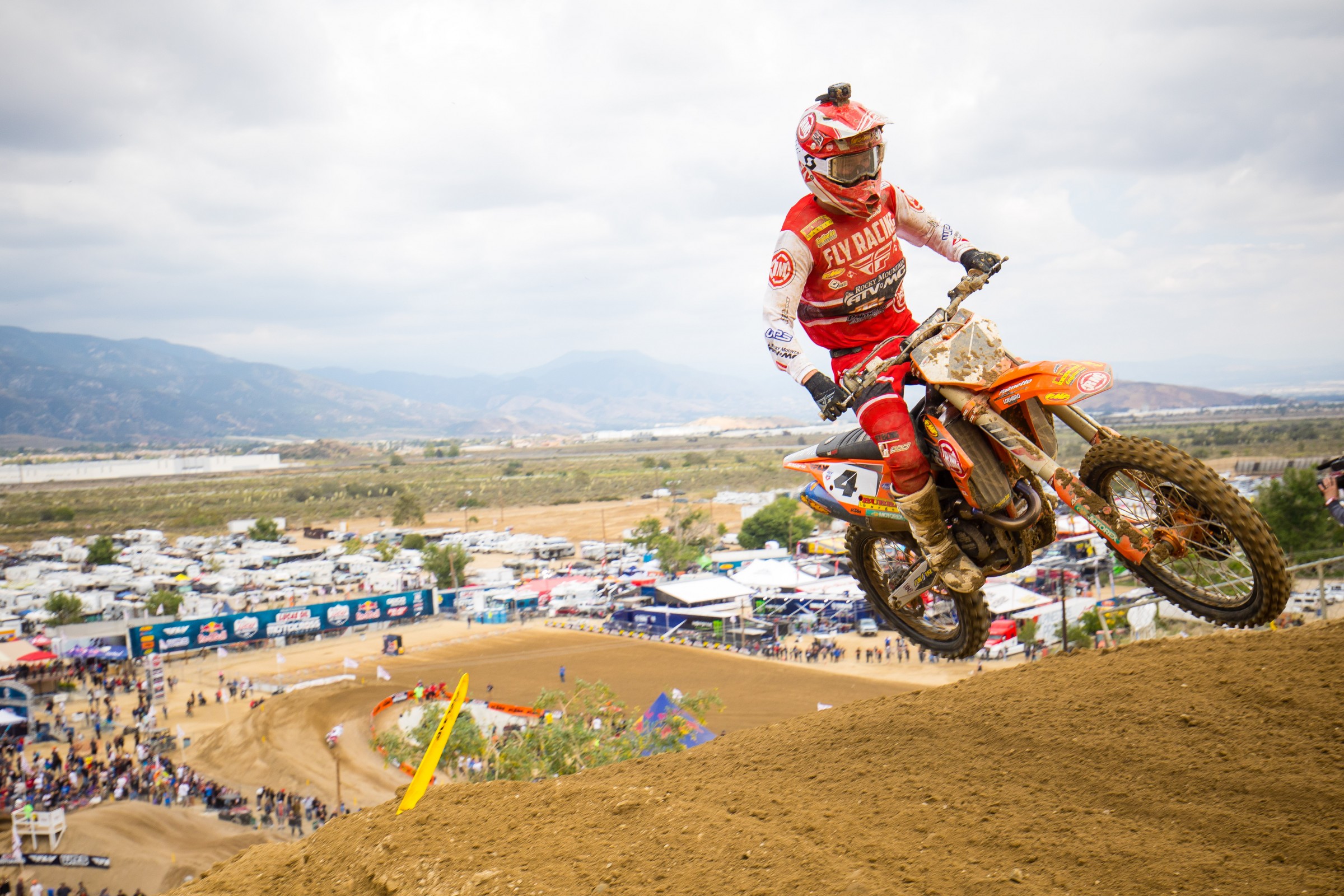 8th | #54, Phillip Nicoletti | Cohocton, NY | Suzuki RM-Z450 | 10-7
Phil was somewhere around seventh in the first moto when he went down late, and that dropped him back to tenth. Afterward, he told me he's riding "like dog shit."
9th | #11, Kyle Chisholm | Valrico, FL | Yamaha YZ450F | 11-11
Great finish for Chiz—he's now going to be a privateer from here on out with some help from his 51Fifty Energy Drink Yamaha team. He was limping badly after the moto from a rock that hit him in the leg in the beginning of the moto. I had to laugh at Alex Ray talking about Chiz passing him in moto two: "Chisholm got me. He's a brick shit house, man. He just keeps chugging away. He's a seasoned vet…"
10th | #121, Cody Cooper | New Zealand | Honda CRF450R | 16-10
Good day for the Kiwi out there, and by the way, Alpinestars had four out of the top ten and THEY DON'T EVEN SELL GEAR IN THE USA! That's a strong power move by them.
11th | #60, Benny Bloss | Oak Grove, MO | KTM 450 SX-F FE | 22-6
Ah man, Benji was one lap away from a 7-6 day when he crashed and DNF'd moto one. He almost didn't make moto two after the Alpinestars Medics almost didn't release him to ride, but they did and he rode a strong moto two. Bloss has been a real surprise to start the year.
12th | #73, Brandon Scharer | Los Angeles, CA | Yamaha YZ450F | 14-13
Great day for the working man's privateer. I'm sure like some other guys out there, Brandon is probably wondering why Yamaha picked Ray for the fill-in spot and not him, because Scharer definitely has better results in MX than Alex.
13th | #39, Kyle Cunningham | Willow Park, TX | Suzuki RM-Z450 | 8-37
Cunningham had a scary crash in the second moto while he was working his way up from the back after another crash, I believe. I checked with a H.E.P. Motorsports Suzuki guys and it seems like he's going to be okay, but hit his head pretty good.
14th | #718, Toshiki Tomita | Japan | Honda CRF450R | 15-15
Good work for Tomita, I wonder with Christian Craig tearing up his ACL (bad news by the way) if Tomita will slide over to the empty factory bike under the HRC tent.
15th | #907, Ben LaMay | Wasilla, AK | Honda CRF450R | 13-17
Good showing for LaMay. I said it last week and I'll say it again: I think he can get into the top ten with this field once he gets some outdoor legs under him again. It's been a bit since he's raced motocross; Ben's not going to wow you with speed, but he's in shape, never gives up, and is a racer. LaMay's also leaving the TPJ program for High Point and doing something else, so look for that PR sometime.
16th | #53, Bradley Taft | Nixa, MO | Husqvarna FC 450 | 12-18
Taft had a good day, but not as good as last week. To be honest, he was steady for both motos, but not spectacular.
17th | #86, Dylan Merriam | Corona, CA | Yamaha YZ450F | 9-39
Wow, a top ten for Merriam was impressive for sure in the first moto. Second moto he went down and DNF'd, but he's been a real privateer hero to start the year. Guys like him getting these results (like Taft), need to find a way to head out east.
18th | #91, Alex Ray | Atwood, TN | Yamaha YZ450F | 19-12
Well, look at this. Alex Ray, a factory rider! A-Ray's getting a shot at Cooper Webb's vacant YZ450F, and despite never scoring a point outdoors before (granted, he hasn't raced many of them), Yamaha selected him for three races and then a "we'll see how it's going" talk for more. This being Alex Ray, he then went out and cartwheeled the bike in the first practice. But he told me afterward that it's cool, this new team of his has plenty of new parts! I polled a bunch of friends in the industry to see what Ray's moto scores would be, and what do you know, Adam Cianciarulo got it closest! Anyway, nice work by A-Ray out there and pretty cool deal all around. You can discuss amongst yourselves if Alex would've gotten this shot if he had never appeared on the PulpMX Show….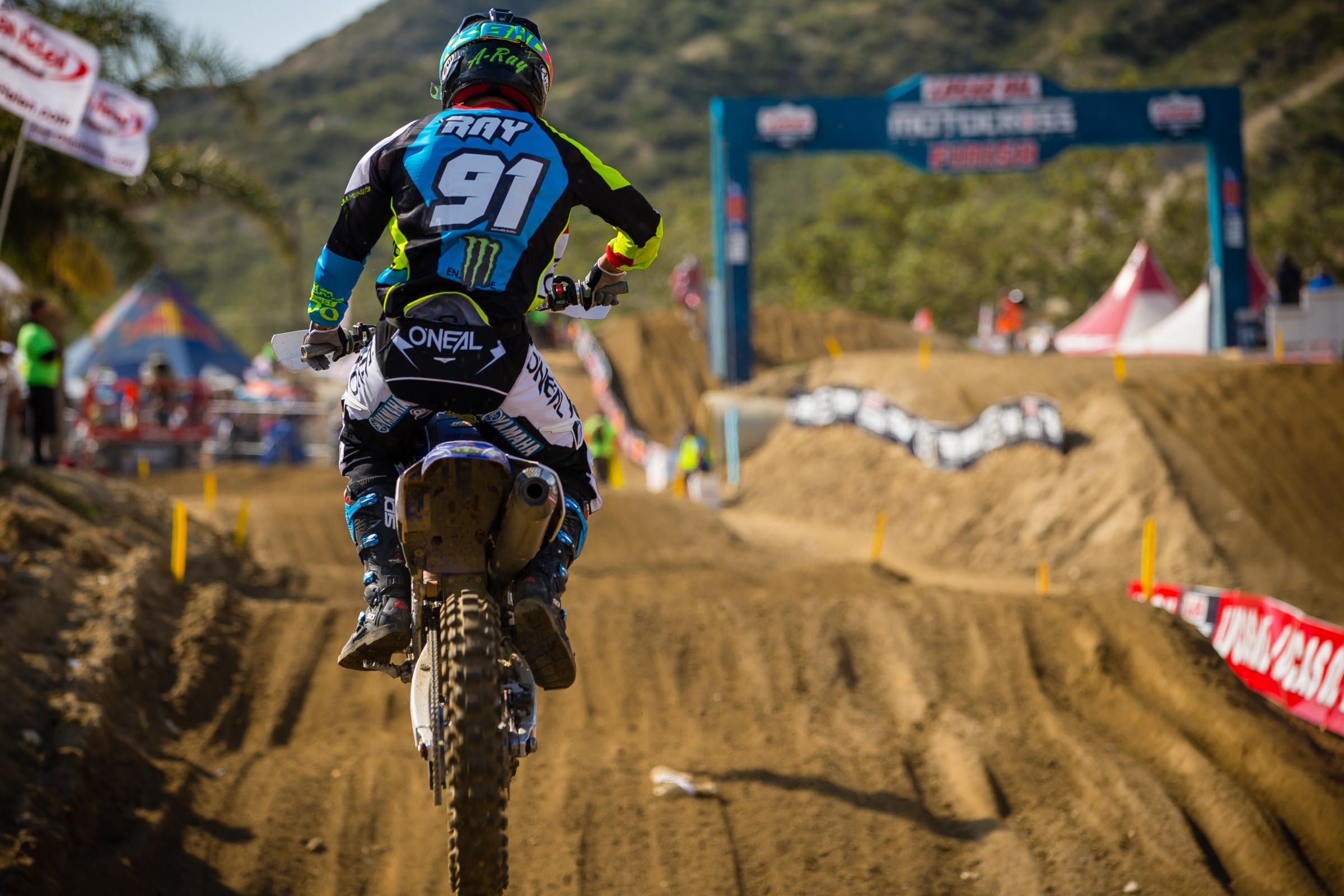 19th | #330, Cade Autenrieth | Hemet, CA | KTM 450 SX-F FE | 20-14
So far, Cade's been impressive through the first two rounds. I'm glad he's taken my advice (although I didn't talk to him personally) of, "If you're not getting a ride in the 250 Class with good equipment and your window for being a hot young rider is closed, move to 450s and get on with your career of making money." I recommend this to anyone instead of trying to battle the factories with your privateer 250.
20th | #207, Dare DeMartile | Lincoln, CA | Honda CRF450R | 21-16
This kid had only lined up for one National before the 2018 season, Washougal last year. This is his second-straight week of really good results! I "dare" you to have predicted this was going to happen.
That's it, thanks for reading OBS from The Helen. Onto Lakewood this weekend, and a sneaky good race in my opinion. Email me at matthes@racerxonline.com if you want to chat about this race or anything else.