San Bernardino, CA
Glen Helen
AMA Pro Motocross Championship
It was supposed to be the next great rivalry: two riders pulling ahead of a crowded field to become the de facto 1-2 punch in each title race. The same way The Ryans did before them, the same way Stew/Reed became the thing, and the same way Rick Johnson and Jeff Ward eventually emerged from a crowded eighties pack, Tomac and Roczen were going to be it—heck, I wrote about them taking over back in 2015, when they won the first two races of the #WhosNext Monster Energy Supercross season.
Well, #Whosnext ended up being the guy who was already there—Ryan Dungey. Eli and Kenny reached the 450 promised lands in Lucas Oil Pro Motocross, combining for three of the last four titles, but they still stand empty-handed in pursuit of that supercross goal. Further, they grew empty in pursuit of each other. After chasing each other around the world and through multiple classes, the rivalry simply stopped existing.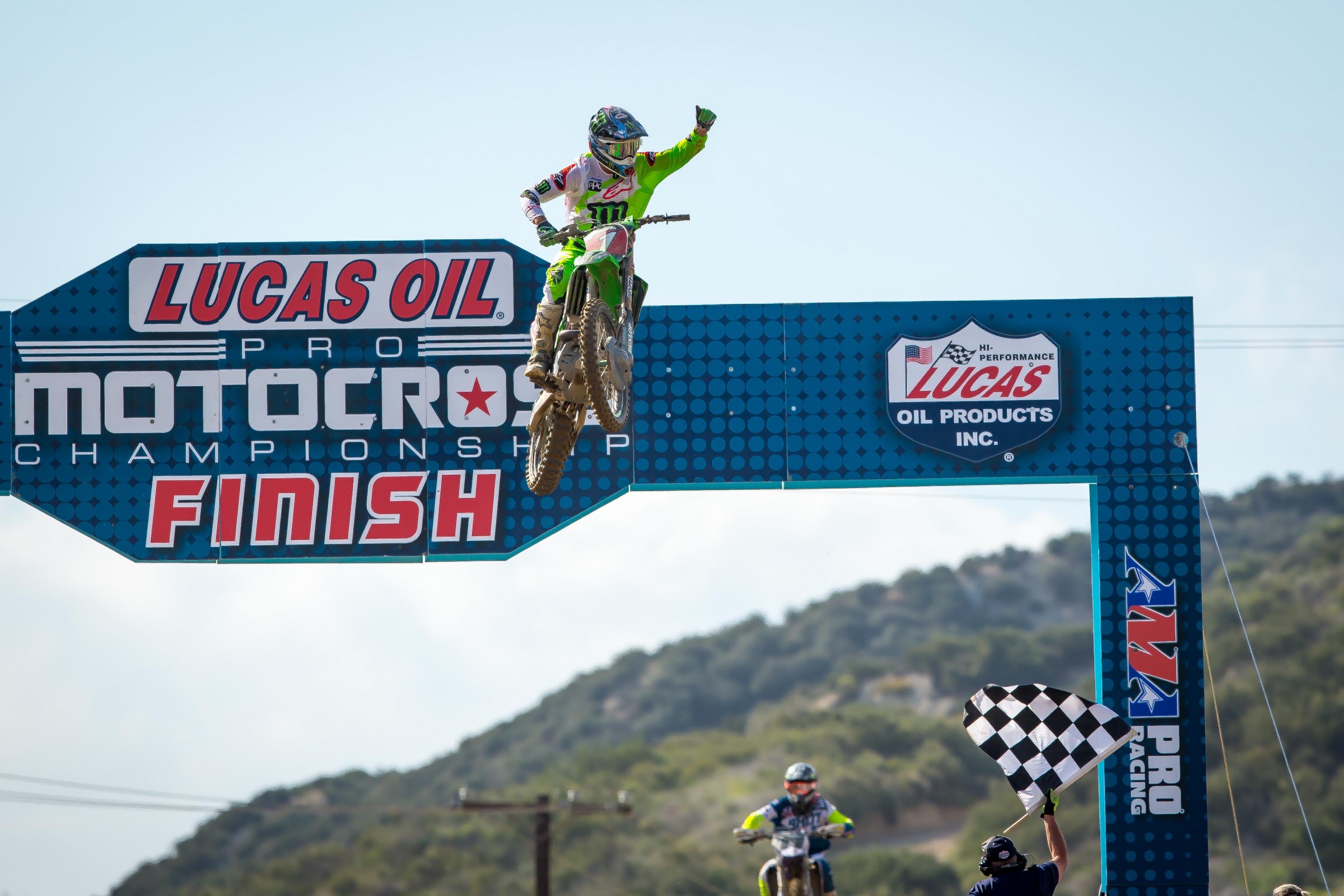 Roczen came out on fire early in 2017 while Tomac struggled. Kenny then crashed out of round three, and the very next week, Tomac awakened thanks to some new settings on his Kawasaki. Since then, Tomac hasn't won all the titles, but he has cut a dominant figure in terms of race wins, winning half of the supercross races over the last two seasons. He also won the 450 National Motocross Championship last year. He didn't tangle with Roczen in any of those races. Kenny has been mired in injury hell, and even in the five supercross races he did compete in this year, he and Eli never really found each other on the track. You have to go all the way back to the end of 2016 to find a legit Tomac/Roczen battle.
Two years is an eternity when you consider how often they used to battle. They spent 2012 and 2013 battling on 250s—especially 2013, when Roczen took Tomac's 250SX West Region Supercross Championship, but Eli struck revenge by grabbing the 250 National Motocross Championship. They were 1-2 in both series. They carried it over to Motocross of Nations on Roczen's home turf in Germany with a rousing battle at the head of the overall pack—on 250s—that ended with Eli's spectacular flying W while trying to pass his rival. Go to 1:02 to see the action:
Into the 450s they went with spectacular speed and plenty of wins, and while the rock that is Dungey proved hard to move, no one could blame Honda or Kawasaki for placing big bets on these guys. They had all the markings of the future.
It's taken two years, but Glen Helen's first 450 moto welcomed Tomac-versus-Roczen back to the present. The first 20 minutes of the race were not just exciting because it was close, but because of the duo's completely-opposite approaches to going fast. Rivalries require more than just 1-2 finishes; they require contrasting styles that make the action jump off the results sheet. Roczen-versus-Tomac has that. With Roczen, you're looking at European technique, skill, and race craft, and with Tomac, you're looking at an all-American hammering it hard. Roczen is known for great line choice and making the difficult look easy. Tomac just mashes it. Which style is better? That's the ultimate motocross question. There are two ways to cut it, but which is better: the butcher, or the surgeon?
Obviously, Kenny doesn't have all of his Kenny powers back yet, but he's good enough to give a glimpse of his old ways. If anything, riding with his injuries is accentuating his tendencies—he's forced to ride even smoother and avoid the rough stuff even more. Roczen's career will now forever be defined by these massive injuries, but that's kind of a strange fit because he is not known as a reckless hang-it-out kind of rider. In his comeback, he's emerged even more calculated. He has no choice.
Tomac, meanwhile, is at next-level comfort on his Kawasaki now (his team explained to me that the machine is now far ahead of where it was a year ago at this time). He's also at his max as far as strength and health. This simply means he can hammer the nail that much harder. When Tomac gets up and goes, he leaves no doubt where the extra speed comes from: He can physically overwhelm the competition. Tomac is like watching LeBron James dunk on someone. You just look at him and say, "Well, how is anyone supposed to stop that?"
Even Jason Anderson, no stranger to hanging it out, had to tip the visor to Eli on Saturday after being caught late in the race. Anderson has never been shy on complimenting Tomac's speed.
Roczen fights back with a totally different strategy. During that great first moto duel, Roczen used his race craft to play defense. Tomac would ready a strike, and Roczen would end up putting his bike right where he needed to stop him from launching it. Roczen wasn't dirty, Tomac wasn't overly aggressive. They just dueled. They sparred. No contact, no junk. Just two contrasting styles back in the ring again.
Stretch out the years of these battles and you are still looking at a roughly 50-50 success rate against each other. It's impossible to say which approach is best. That's what makes a rivalry work. James Stewart attacked with crazy raw speed, but Chad Reed countered with crazy consistency. Arguments between them will never be settled.
The arguments, though, can only continue by accruing more data, more memories, and more battles. For the first time in a while, we appear set for much more Tomac-versus-Roczen duels. It's going to look good.