San Bernardino, CA
Glen Helen
Lucas Oil AMA Pro Motocross Championship
Ken Roczen tempered his expectations entering Lucas Oil Pro Motocross. He was coming off a second major injury and knew it would take some time to get up to speed. Well, Roczen had a great second race at Glen Helen on Saturday, leading seven laps in the first moto and finishing third. In the second moto, he came from nearly dead last after a stop in the mechanics' area early in the race to get eighth. We talked with Roczen after his fifth overall finish on Saturday.
Racer X: How was the day?
Ken Roczen: I was leading for about 20 minutes in the first moto and got good starts again. Dropped back to third, which was fine. I tried to attack Marv [Musquin] at the end but got really screwed by lappers, and I kind of just settled in. I was hungry for more in the second one. Got off to a good start in the second one, but heard a really weird noise coming from the bike. I wasn't going to just send it and possibly have the motor blow up. The jumps are too big. Turned out I had a rock stuck where the front sprocket and front sprocket guard are. There was a rock in there and it was really bent up, which is probably what made that noise.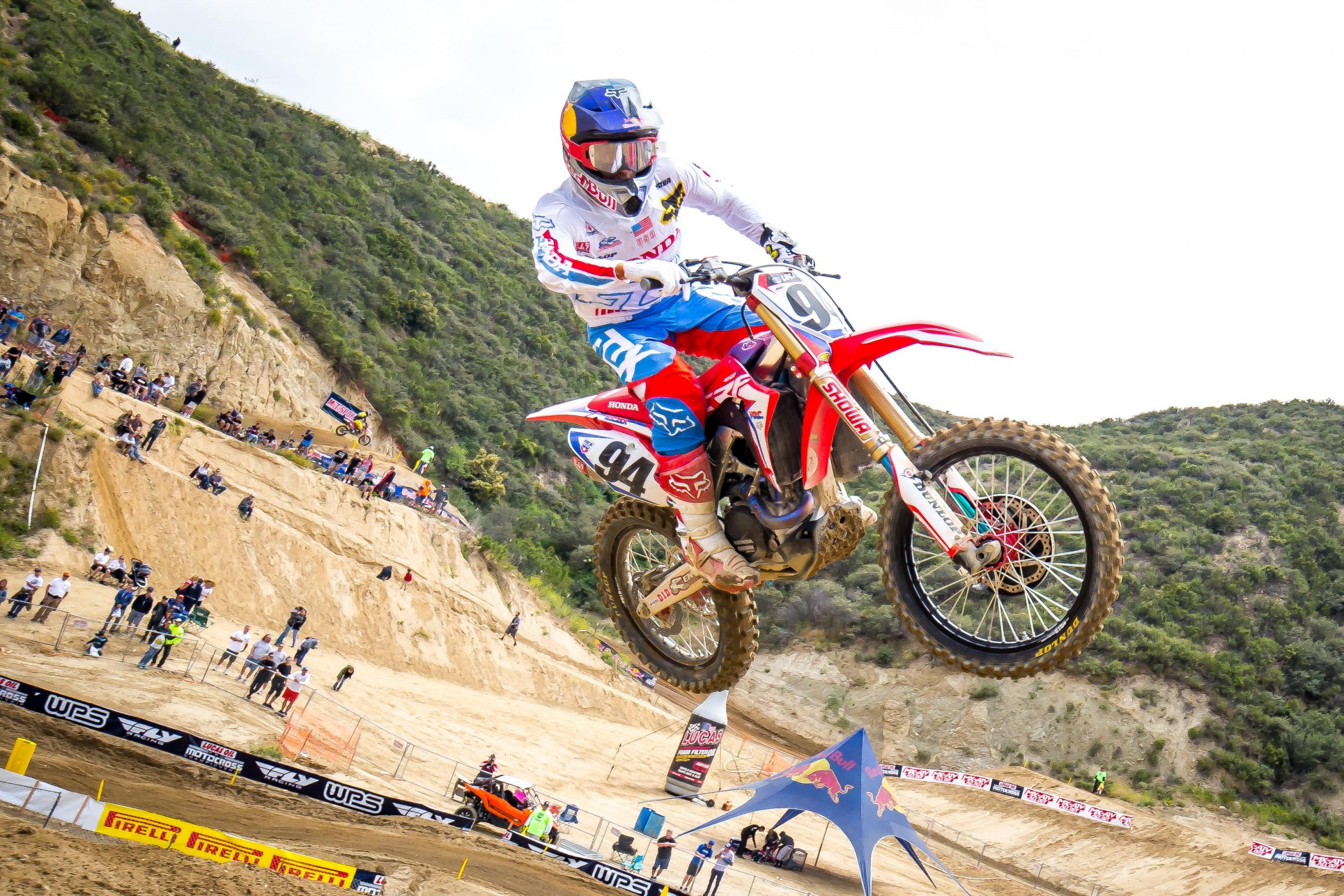 As soon as I got the green light, I got back out there—it's the best practice I can get. I wanted to ride hard for the team and myself, and we came up to eighth place, which I was totally happy with. I gave it my all throughout the entire moto. Last weekend I went from third to 16th, but there were a lot of other factors there, too. We rode good today and made improvements to the bike. We're going in the right direction.
Certainly better than last week. How much better did you feel?
Even just one race under my belt, it just made it all feel familiar. We've been working a lot on the bike and I'm not 100 percent happy yet, but we're working really hard. I think we'll get better results once I start having a good base where I can just ride. My hand isn't having it right now, I can tell you that much. The jumps were too big and the landings were too flat. It made it really tough for my hand, and it's definitely sore right now.
How good did it feel to be leading again?
It felt great, and not even just leading, but to finish third. Today was our day to be on the podium for sure, but we had that little problem. But I never care about the result too much if I ride good and give everything I have. I left nothing on the table. Sometimes things are out of your hands.
Thoughts going into next week?
Just trying to improve on the bike and have good week of practice. Recover my hand and try to fight back. As long as we make steps forward, I'm happy.