San Bernardino, CA
Glen Helen
AMA Pro Motocross Championship
Patience is a virtue. That reference is hundreds of years old, but it still rings true. What patience means for different people in different situations can vary, though. For the 450 Class riders hoping for success this season, patience is a concept to embrace. Whether it's Eli Tomac, Marvin Musquin, Ken Roczen, Jason Anderson, or Blake Baggett, they all have their own reasons to exercise patience right now.
For Tomac, he is in the driver's seat. He is the reigning 450 Lucas Oil Pro Motocross Champion and has won the first four motos of 2018. The end of Glen Helen's second moto served notice that Tomac is able to hold a different pace than the other riders can. When everyone else lost their peak pace, Tomac kept on charging. His 2:40 lap times on laps 12 and 13 jump off the page in comparison to the field. Anderson was able to keep it respectable with a 2:43 on lap 12, but dropped off to a 2:46 on lap 13. For comparison, the next best lap for either lap 12 or 13 was a 2:46 by Roczen, and as for Musquin and Justin Barcia, they had long since relinquished hopes of moving forward and were lapping at 2:50.
Yes, you read that correctly. Tomac was ten seconds better per lap than Musquin and Barcia in the waning laps of moto two. It's a bit unfair to paint the picture that way, as those two had zero incentive to push the edge at that point, with their deficits too big to realistically overcome. Still, Tomac's point was well made. If anyone wants to tangle late in the day, they better bring their best stuff. Anderson's lead seemed safe, but Tomac's ability to hold his best lap time on a rougher track and battle shadows and fatigue neutralized the gap.
Tomac's patience is showing in his ability to wait out his opponent. The first moto cat-and-mouse with Ken Roczen coupled with his relentless pursuit of Anderson in the second moto showed a level of maturity I haven't seen before. Eli's speed has never really been a question. His ability to manage a series from beginning to end has been more of a struggle, though. Last year's title was filled with strange weekends, leaving me with more questions than answers at times. If he can master this patience of late, though, he will own this 450 Class for the near future. The rare ability to harness awesome speed when it's needed, yet also know when caution is necessary—that's a tough repertoire to overcome.
For Musquin, patience is one of his most powerful weapons. He rarely puts himself into dangerous territory or loses points unnecessarily. He is a thinking man's racer, analyzing situations better than most. He surely remembers last summer and the opportunities that arose. Being on the podium every moto, taking wins when they are available, applying pressure at every turn… that's Musquin's game. He may not have the raw speed of Tomac, but he is also playing the long game. He knows that if he is second to Tomac, even if it's a minute behind and 10 seconds slower per lap, it's only three points lost. His patience is in waiting for the weekend when Tomac gets it wrong. Like last year's Glen Helen, High Point, or Unadilla, when Tomac opened the door, Musquin will be ready to blow it off the hinges. He's gone 2-2-2-3 thus far and given up 14 points along the way. He will have his day this summer, though. He knows it's coming. The question is, will it be enough to offset Tomac's onslaught?
Ken Roczen's patience is a different animal. Roczen is coming back from a bevy of injuries and is simply trying to get back to his old self. He knows he isn't ready to go 70 minutes just yet, but Glen Helen was a huge step in the right direction. He led Tomac around for 20 minutes in that first moto. Tomac wasn't being blocked or held back; the pace was lightning-fast.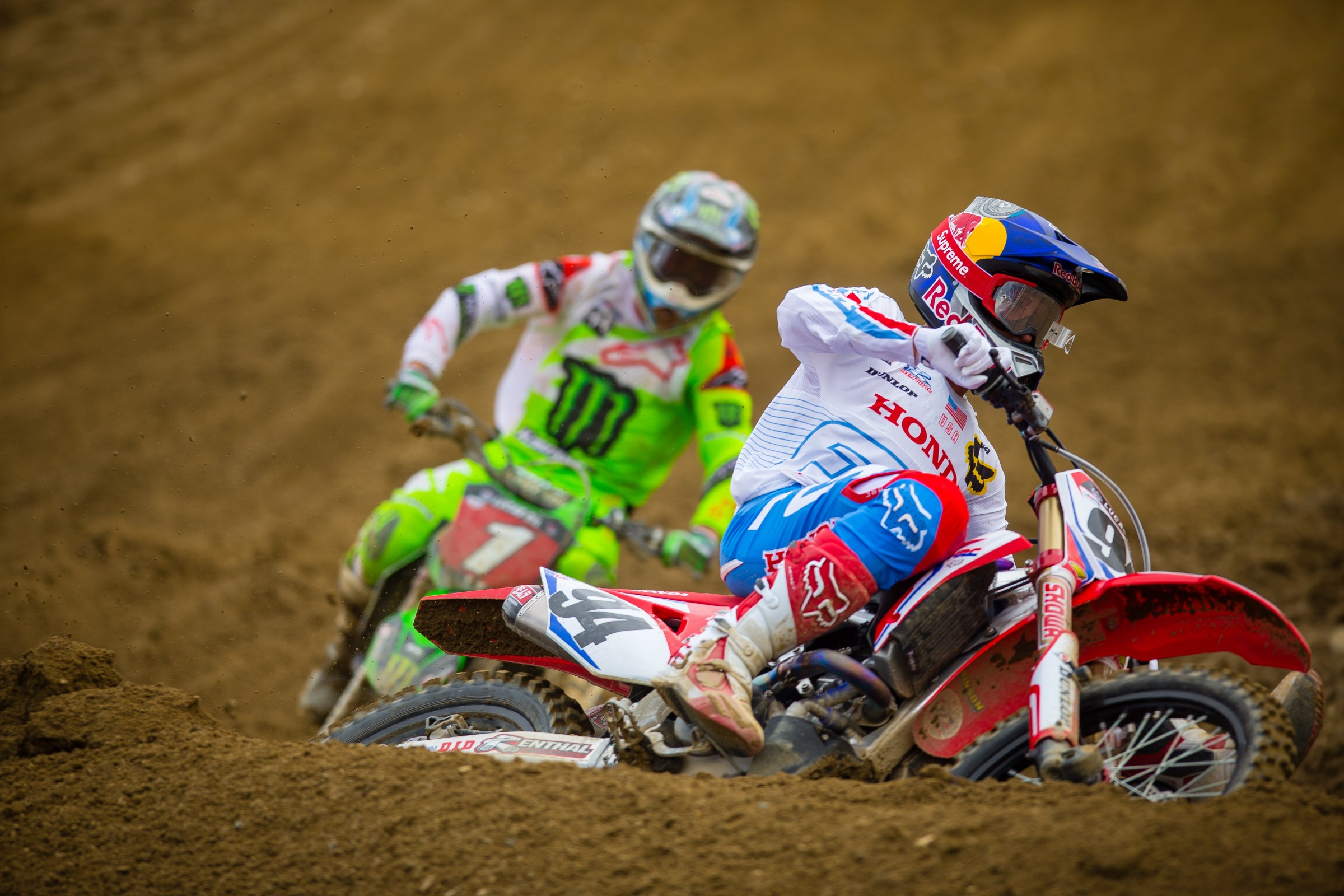 After a tough moto two in Hangtown, Roczen's improvement from week one to week two should be a little scary for the rest of the field. After all, Roczen dominated this series the last time he raced it. His 2016 title run left no doubt who the man was. He bested Tomac and was taking it to defending champion Ryan Dungey before a neck injury ended Dungey's season. Roczen's patience is a familiar theme for him by now, but it has never been more relevant. Much like the NBA's Philadelphia 76ers, Roczen simply needs to trust the process and allow himself the time to regain the strength and fitness needed. He can go fast; we just saw that on Saturday. The rest of the equation will come in time.
Jason Anderson's need for patience reminds me of Ryan Dungey in 2010 and Ryan Villopoto in 2011. Both had just come off of their first 450 supercross titles, and their results suffered at the opening rounds. Their focus on locking up the supercross title left them unprepared, stressed out, and mentally drained as Hangtown came calling. Dungey's 10-6 and Villopoto's distant 3-3 finishes in those years were direct results of their supercross success. Both would still go on to win the motocross championship in those years. For Anderson, he will need patience to work himself into the outdoor swing like they did. Dungey was able to figure it out by round two, dominating Freestone with 1-1 scores.
Anderson took a huge step forward in round two as well. His second moto near-win was a great sign for those wearing Rockstar Husky colors. Knowing he didn't ride outdoors nearly enough going in, he is playing catch up to Tomac & Co. They've had outdoors on the brain for months. Anderson just needs patience with his own results and expectations. While he was anxiously clicking off supercross weekends, his rivals were putting in 30-minute motos, focusing on summer's brutality. That preparation and lack of it on both sides is apparent now, but it will even out as the weekends roll on.
Blake Baggett needs yet another kind of patience. Coming into Hangtown, expectations were high. Baggett won races last season and held the red plate for a few weeks. He beat Tomac and Musquin straight-up more than once, something that most can't claim. Much like the beginning of this supercross season, though, he hasn't found a comfort level on the newest KTM model. For Blake to be at his best, he needs to be at one with the bike. His frustration has been evident in his post-race comments both weekends thus far, just missing the feeling he needs. This is where he needs patience.
Remember, last year was similar: He struggled mightily at Hangtown in 2017, improved at Glen Helen, and then dominated Thunder Valley. We are only one-sixth of the way through the season. There will be several drama-filled days to come. These next days are critical, though, offering testing opportunities before the season gets too deep. Understanding the urgency is important, but keeping an even keel under duress is even more important. Panic for the sake of panic won't help matters. Patiently working on the issues today, tomorrow, and Thursday can mean the difference when Saturday rolls around. Remembering last season and patiently waiting for the hard work to show up—that's Blake's best move.