Rice-eccles Stadium
Salt Lake City

,

UT
Salt Lake City
Monster Energy AMA Supercross Championship
Welcome to the Race Day Feed, coming to you from Rice-Eccles Stadium in Salt Lake City. Round sixteen of Monster Energy Supercross is set to play out today, and right here is where you can keep track of all the action. We'll be posting updates right here on Racer X Online all day, so be sure to check back often. Posts are in chronological order, so scroll to the bottom for the latest info.
Morning Report
Being this late in the season, the biggest question is whether or not any titles will be clinched today. In the 450SX Class, the answer is likely yes. Jason Anderson currently holds a thirty-four point lead over Marvin Musquin, and while there are a variety of options that could end up with him clinching the title, the main thing to keep track of is that as long as he doesn't give up more than seven points to Musquin, the championship is his. In other words, a fourth or better will clinch no matter what. And if you're wondering, he's only finished worse than fourth one time this season, a seventh in Daytona.
In the 250SX Class there's a possibility Aaron Plessinger could be crowned champion tonight, but the odds aren't totally in his favor. If he wins, he'll need Adam Cianciarulo to finish sixth or worse, something AC hasn't made it a habit of doing this season. Still, definitely worth keeping an eye on. For a deeper look at tonight's title scenarios, go here.
Elsewhere we'll have to wait and see if the fireworks between Musquin and Eli Tomac (in case you hadn't heard, Musquin took Tomac out at the end of last week's main event for the win) that exploded last week spill into today's action. Tomac made no attempt to hide his displeasure with Musquin's move, calling it a "cheap shot" afterward, and the general feeling is that, at some point, he'll return the favor.
On the injury front, Jake Weimer is back after getting hurt in San Diego, Mitch Oldenburg is out with an injured knee, and Josh Hill is filling in for Cooper Webb. For a full list of who's in and who's out, go here.
Qualifying will begin shortly, so check back soon for a report on who's fast in Salt Lake City. And remember, today is a day race, so updates will be coming sooner than normal.
Qualifying – First Session
Blake Wharton was king in the first 250B qualifier. He set the fastest time right away, with nobody else, except his teammate Michcael Leib, even coming close. Wharton would lower his time again late in the session. Things didn't go as well for his teammate, Martin Castelo, who took a nasty spill exiting the sand section and was limping pretty hard when he got off the track. He ended up leaving in the back of the Alpinestars Medical Mule.
In 250A action Adam Cianciarulo was fastest early on, but plenty of guys took turns holding down the fastest time—Shane McElrath, Aaron Plessinger, and Chase Sexton were all up there at one point or another. One rider who didn't look like he was on the gas was Justin Hill, who ended the session in eighth, just over two seconds off McElrath's best lap, which was the fastest of the session. To be fair, it looked like Hill got held up by traffic a couple times while attempting to lay down a hot lap, but it also looked like he wasn't pushing it. He pulled off the track multiple times, had some words with his mechanic, and opted to jump through the second set of whoops instead of blitzing. You have to think he'll be better in the second qualifier.
Salt Lake City - 250SX West Group B Qualifying 1
Full Results
Salt Lake City - 250SX West Group A Qualifying 1
Full Results
When the 450s rolled out things got even busier at the top of the board. Weston Peick, Eli Tomac, Marvin Musquin, and Malcolm Stewart all took turns at the top. When it was over, Tomac had dipped into the low 47-second range (47.378) to post the fastest time. Jason Anderson, who has a good shot at clinching the title tonight, didn't look like he was pushing it too hard and was tenth fastest with a 48.999. Chad Reed didn't look like he was going all out either and seemed to spend portions of the qualifier looking for different lines. He ended up thirteenth fastest with a 50.763.
Temperatures are pretty warm already (a high of eighty degrees is expected), which will likely have an effect on the dirt. Track crews are spreading water when they can, but there's only so much you can do when the sun is beating down directly onto the track.
Salt Lake City - 450SX Group B Qualifying 1
Full Results
Salt Lake City - 450SX Group A Qualifying 1
Full Results
Qualifying – Second Session
Blake Wharton was fast again in the 250B session. His teammate, Michael Leib, was ripping too, and held the fastest time for a while. Wharton posted the fastest lap on his final lap though. Leib tried to retaliate on his last lap but came up just short. Martin Castelo, who left the first session in the back of the Alpinestars Medical Mule after a hard crash, was back for this one, which was good to see.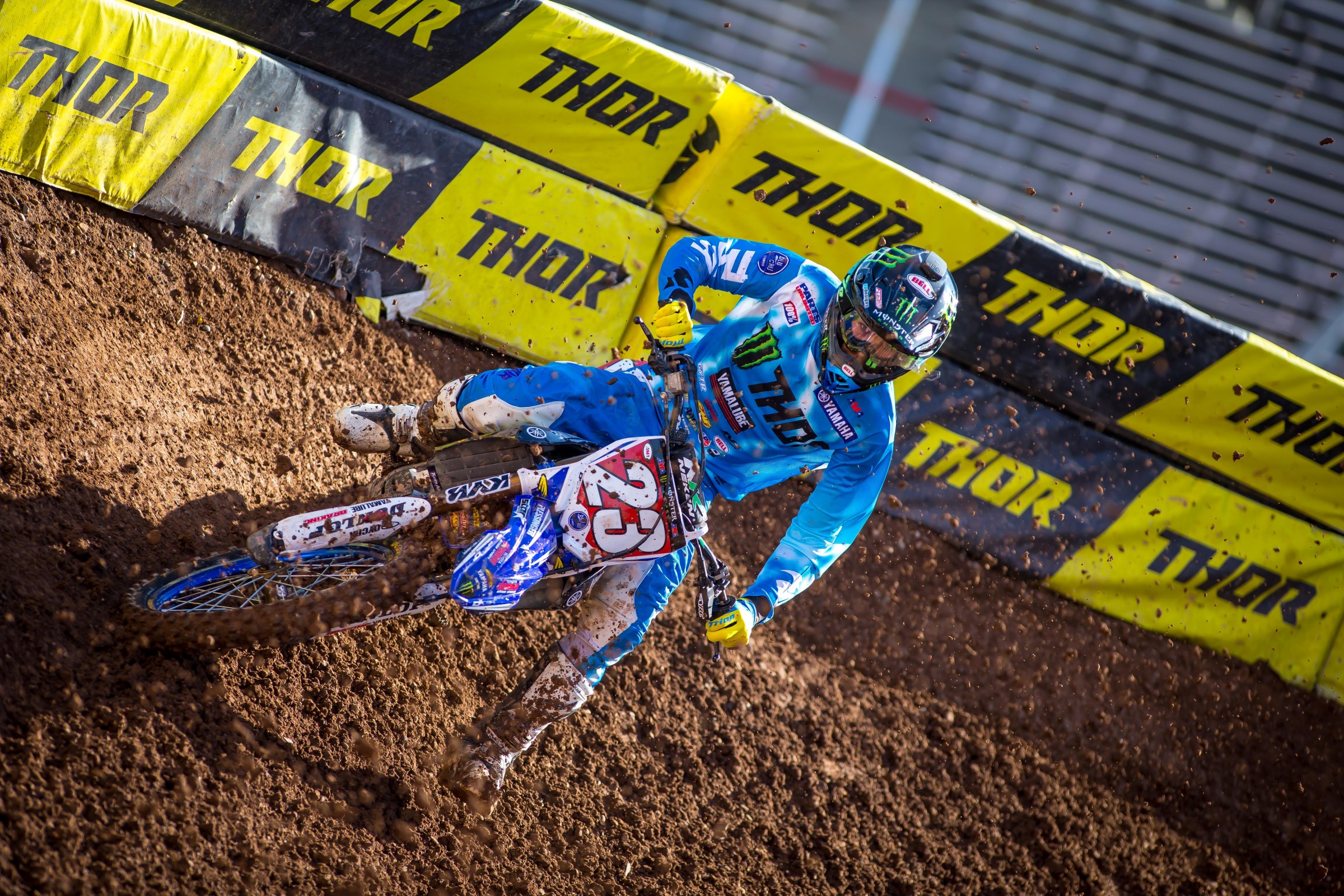 Not much to report from the 250A qualifier. Joey Savatgy held down the fastest time for a while, but was unseated by Adam Cianciarulo, who closed it out with a 48.358, the fastest of all the 250s. Justin Hill, who cased a triple pretty hard in the first qualifier, looked much better in this one than the first. He ended up sixth fastest overall.
Salt Lake City - 250SX West Combined Qualifying
Full Results
Things were a bit busier in the final 450 qualifier. Tyler Bowers found himself up top initially with a 48.818, but then Weston Peick, Jason Anderson, Marvin Musquin, and Eli Tomac all started duking it out for the fastest time. Tomac ended up fastest with a 46.618, and was the only rider to turn a lap under 47 seconds. This session was definitely faster than the others. That much was reflected in lap times, but you could see it too. There were fewer ruts (the track gets worked on between practices), it was probably harder, and the guys seemed to be attacking in more places. There's also a steep single jump right before a left-hand sweeper that about half the guys were sucking up, with the other half just launching into the sweeper. Not only did it look cool, it looked a bit faster too. The whoops seemed pretty tough, particularly the second set, with plenty of guys opting to jump through them rather than blitz them. The tractors are out right now doing maintenance, so we'll see how much of the whoops remain for the main program.
Salt Lake City - 450SX Combined Qualifying
Full Results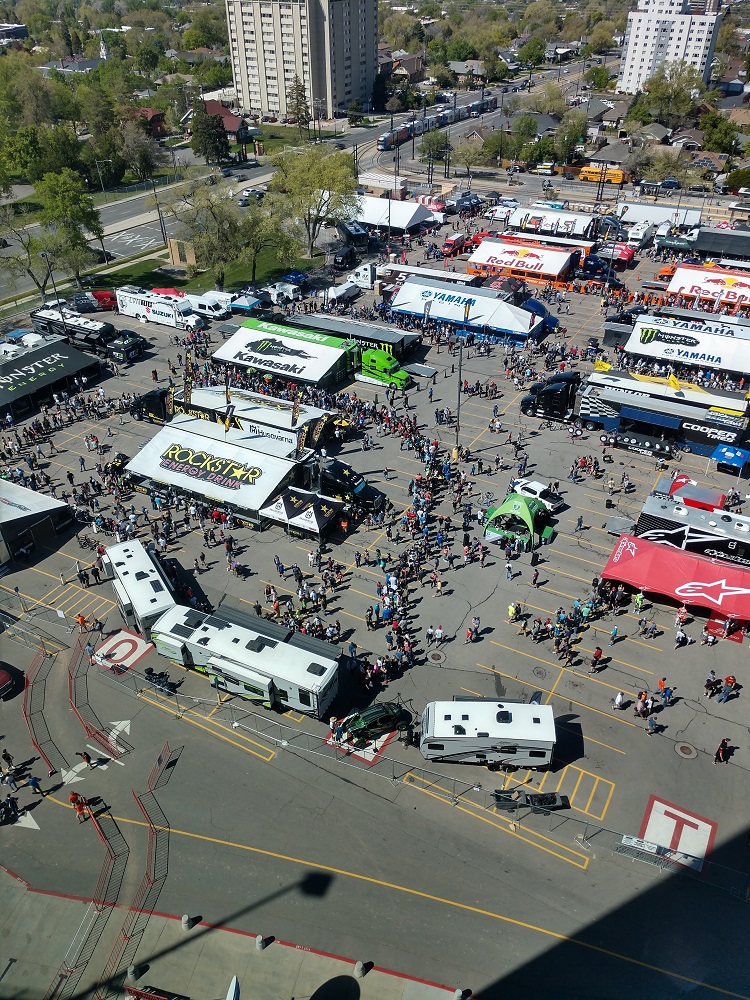 250SX Heat 1
Chase Sexton and Aaron Plessinger came out bar-to-bar in this one but it didn't take long for Plessinger to pull a gap and ride to a lonely win. Sexton was able to cut into the gap just a bit in the final two laps, but Plessinger was never in any danger and a small brush with a Tuff Block slowed Sexton's progress. Justin Hill, who didn't get a great start, took third, followed by Kyle Chisholm, Dakota Alix, Justin Starling, Bradley Lionnet, Robbie Wageman, and Brandan Leith.
Salt Lake City - 250SX West Heat 1
Full Results
250SX Heat Two
The start of this one was the most entertaining part. Adam Cianciarulo and Joey Savatgy both drove it in hard into the first turn, both seemingly unwilling to let off. It looked like Savatgy got pushed a little wide though and Cianciarulo emerged as the leader, with Savatgy dropping back a couple spots. Shortly after that Mitchell Harrison crashed exiting the whoops while running second. He was able to come back and qualify in ninth. Other than that, there just wasn't a whole lot of racing for position going on, as the guys got pretty spread out. Cianciarulo made the win look easy, with Shane McElrath, Savatgy, Blake Wharton, Hayden Mellross, Phil Nicoletti, Michael Leib, Dylan Merriam, and Harrison taking the remaining transfer spots.
Salt Lake City - 250SX West Heat 2
Full Results
450SX Heat One
Blake Baggett kicked this one off with a holeshot but Marvin Musquin was all over him. After about a lap Musquin took over the spot. Baggett stayed right with him for a bit, even challenging back, but after a while Muquin was able to get away and take the win by a comfortable margin. Cody Vanbuskirk was looking good to transfer to the main, but his hopes evaporated when Kyle Cunningham, who'd gotten a lousy start and was working through the pack, passed him to take over the final transfer spot. Cunningham kept going, eventually passing Alex Ray before the checkers flew. Elsewhere not much happened, with the guys getting spread out. Musquin, Baggett, Malcolm Stewart, Benny Bloss, Dean Wilson, Chad Reed, Cedric Soubeyras, Cunningham, and Ray all transferred to the main.
Salt Lake City - 450SX Heat 1
Full Results
450SX Heat Two
Vince Friese got out to the early lead with Weston Peick and Jason Anderson behind him. Peick took the spot eventually, with Anderson following suit about half a lap or so later. Tomac, meanwhile, was coming through the pack, and with about two and a half minutes left was going after Christian Craig for third. It took about a lap but he got it done and set out after Anderson. One lap later, Tomac took over second and went after Peick with two laps remaining. Tomac closed the gap, but ran out of time before getting a chance to put a move on Peick. Peick, Tomac, Anderson, Craig, Justin Barcia, Tyler Bowers, Justin Brayton, Friese, and Austin Politelli all transferred to the main. Josh Hill was in this one but missed qualifying by one spot.
Salt Lake City - 450SX Heat 2
Full Results
250SX LCQ
Heartbreak for Tallon Lafountaine, who holeshot and was leading when he crashed all by himself in the whoops. That handed the lead to Chase Marquier, with literally eight or nine guys battling for a potential transfer spot behind him. The pack thinned after a bit though, with Jess Pettis holding second, but then Marquier went down in the lead! The running order was then Pettis, Josh Mosiman, Martin Castelo, and Marquier, and that's how they'd finish. Nice job by Marquier to recover and qualify after a potentially disastrous crash.
Salt Lake City - 250SX West LCQ
Full Results
450SX LCQ
Carlen Gardner shot out to the lead but it wasn't long before Josh Hill knifed past and into the lead. Dakota Tedder then went to work on Gardner, with Cody Vanbuskirk just behind them watching the battle. Gardner and Tedder then got into each other, handing second to Vanbuskirk and third to Champoin. Tedder was able to get going again in fourth. With half a lap remaining Henry Miller made a run on Dakota Tedder and passed him in the whoops right before the final turn. Tedder cut to the inside and got him back, but Miller railed the turn and the two went over the finish line jump side by side. It was literally too close to tell who crossed first, but timing and scoring has Tedder taking the final transfer spot by a tenth of a second. Hill, Vanbuskirk, Champion, and Tedder filled the final transfer spots of the night.
Salt Lake City - 450SX LCQ
Full Results
250SX Main
Savatgy and Cianciarulo took the lead right away, but Plessinger got by Cianciarulo half a lap into it. Savatgy continued to lead, but Plessinger, Cianciarulo, and Shane McElrath were all right on top of him. Then Cianciarulo made a move on Plessinger in a turn after the whoops to take over second, and McElrath went by shortly after, shuffling Plessinger to fourth! McElrath put a move on Cianciarulo but AC hung tough and held on to second, barely. The onslaught continued and vvery turn it seemed like McElrath was right next to Cianciarulo, but Cianciarulo somehow held on every time. Plessinger, meanwhile, was losing touch ever so slightly from the top three. Up front McElrath blitzed by Cianciarulo and Savatgy in the whoops to take the lead. Cianciarulo saw an opening and also went by Savatgy. With seven minutes remaining they were into lappers, and Cianciarulo was forced to slow slightly when Bradley Lionnet went down in the whoops in front of him. As the race started to wind down Plessinger started catching Savatgy and it wasn't long before he was all over him. Savatgy was able to stretch it back out though and take third with relatively little pressure. McElrath won, but barely. It should have been a comfortable margin but he slowed up in the final turn and kind of coasted across the line. He must not have known Cianciarulo was as close as he was, but Cianciarulo saw the opportunity and dropped the hammer, nearly stealing one, missing out by less than half a second. Savatgy took third, followed by Plessinger and Chase Sexton. Justin Hill was never really a factor in this one and had some issues that dropped him all the way down to fourteenth.
Salt Lake City - 250SX West Main Event
Full Results
Supercross 250SX West Standings - 2018
Full Standings
450SX Main
Jason Anderson started this one out with, well, not a holeshot. Quite the opposite, in fact. He went down in the first turn and found himself dead last, the absolute last thing he needed. Scratch that. The last thing he needed was to develop a mechanical problem and have to pull into the mechanic's area to have his front wheel swapped, but that's exactly what happened. Of course, all that was exactly what Marvin Musquin, who had passed Blake Baggett and was running away with the lead, needed to get back into championship contention. Eli Tomac, meanwhile, hadn't gotten the greatest start and was working his way forward but found himself unable to slice by Barcia. Finally, after multiple laps, Tomac blew by him in the whoops. Barcia tried to come back in the next turn but Tomac had already put enough ground on him. Next up on Tomac's hit list was Christian Craig, who he passed on the outside in a bowl turn. But when Tomac was about to go by Baggett, he just barely clipped a Tuff Block with his leg and went down. The contact with the Tuff Block was so light it may not have even contributed to the crash. That knocked Tomac to fourth with about six minutes remaining. He got back past Craig and started closing the gap on Baggett again. By this point the hope of catching Musquin was all but gone, as the race was winding down and Musquin had a huge lead, but Tomac was still ripping and moved into second past Baggett. From there the running order was, for the most part, set, as everyone was pretty spread out. Anderson kept his head down after he got back on the track, taking seventeenth. His points lead took a huge hit, but he'll still have a pretty good cushion heading into Vegas next week.
Salt Lake City - 450SX Main Event
Full Results
Supercross 450SX Standings - 2018
Full Standings