Rice-eccles Stadium
Salt Lake City

,

UT
Salt Lake City
Monster Energy AMA Supercross Championship
Musquin versus Tomac
By now everyone has seen, judged, and argued about the full-contact block-pass Marvin Musquin threw Eli Tomac's way last week in Foxborough. If for some reason you've been living under a stack of worn-out Dunlops with no internet, you can learn all about it here. Neither Tomac nor Musquin see eye-to-eye on the matter, and you can make a case for both sides. What really matters now is how the two will handle it moving forward. Will Musquin run it in hard on Tomac again if he finds himself in the same situation? Will Tomac even the score and "blast away" if the roles are reversed? We'll find out on Saturday night. —Aaron Hansel
Championship Math — 450SX
Thirty-four points. That's the deficit Musquin, the only 450SX rider who has yet to be mathematically eliminated from the championship by Jason Anderson, currently faces. If Anderson gives up seven points or fewer to Musquin this weekend, he wins the title. So if Musquin wins again, Anderson would have to finish fourth or better to put this thing on ice. Considering how well Anderson's been riding all season, that shouldn't be a problem. Look for Anderson to deliver Rockstar Energy Husqvarna their first 450SX title in Salt Lake City. —Hansel
Championship Math — 250SX
In the 250 ranks, Aaron Plessinger leads the charge, but the situation is a bit tighter, with Adam Cianciarulo and Joey Savatgy still in contention. Savatgy, in third, trails by 24 points, so if he gives up two more points to Plessinger, he's out. Yes, he could still come back and tie Plessinger in points in Vegas, but Plessinger would win the tie-breaker by having more main event wins than Savatgy. Cianciarulo stands a better chance of keeping his hopes alive. If he gives up nine more points (a sixth if Plessinger wins), his shot at a 250SX championship in 2018 evaporates. But considering Cianciarulo's average finishing position so far this season is just better than fourth (3.875, to be exact), Plessinger will probably have to wait until Vegas to party. You can check out all the championship math right here. —Hansel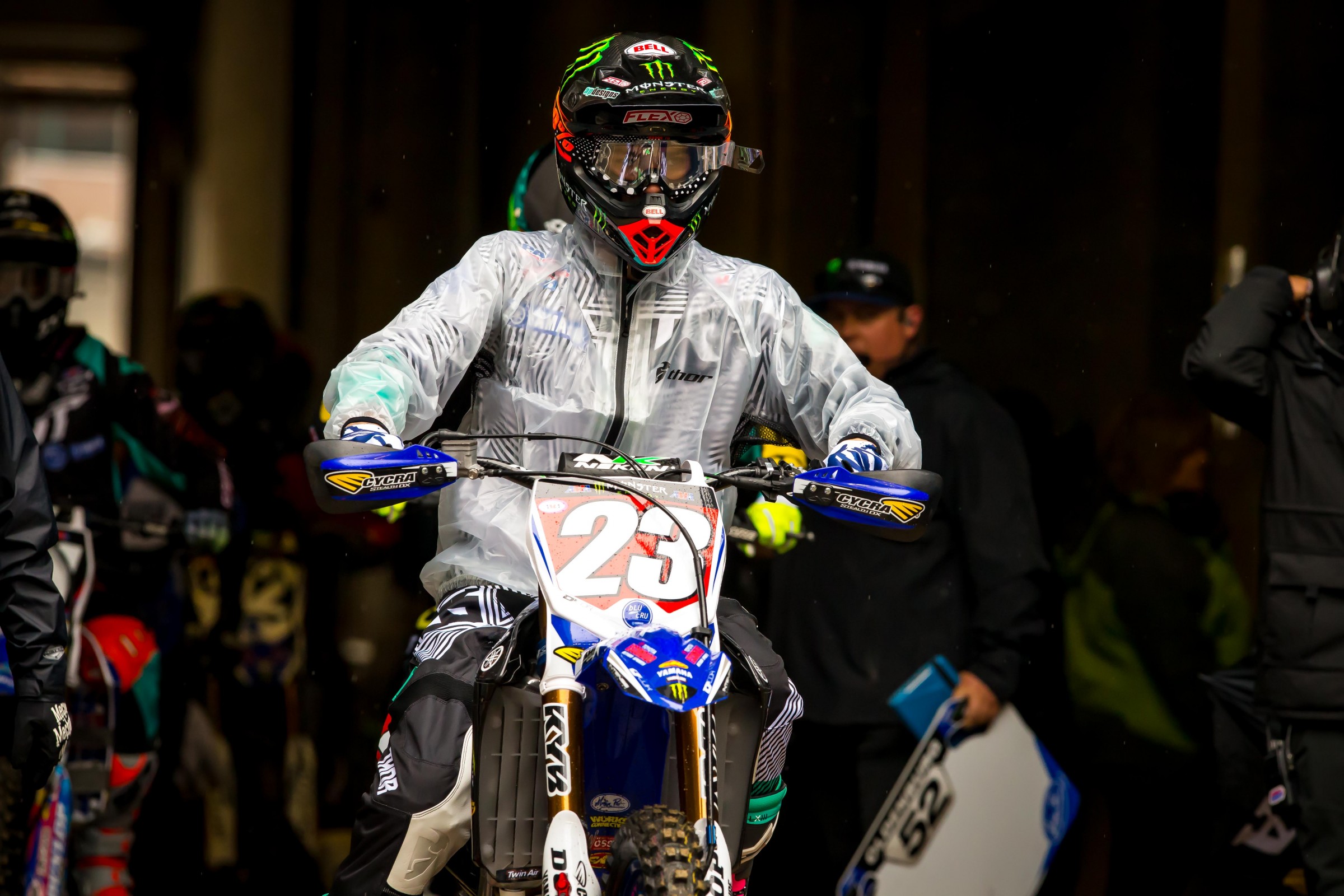 Battle for Fourth
While the fight for the 450SX title may be a snooze at this point, you can find a pretty tight points battle going on between Justin Brayton and Blake Baggett for fourth. Brayton, who currently holds the position, has four points on Baggett. Brayton's been extremely good lately, but Baggett logged his best result last week, a fourth, since taking third at round seven (Arlington). We'll see who leaves Salt Lake City with the upper hand. —Hansel
Third Time's a Charm
A glance at the score sheets would lead you to believe that Blake Wharton has only entered one race this season—Indianapolis. But that'd be wrong. He actually did race in Seattle, but thanks to a first-turn crash in an extremely muddy LCQ, he failed to qualify. He'll be back in action in Salt Lake City, and since Indy was a 250SX East/West Showdown event, this weekend will be the first time we see Wharton race a main event against the true 250SX West Class (and hopefully on a dry race track). Expect him to top his 14th-place finish from Indy. —Hansel
Hill, Back Again
With Cooper Webb out for the remainder of Monster Energy Supercross due to a fractured tibia and fibula, factory Yamaha again made the call to Josh Hill to ride the bike. As you may recall, Hill came out of retirement to fill in for Justin Barcia at his home race in Seattle earlier this year. It was Hill's first race since announcing he'd step away from the sport in 2015.
"After Seattle SX, the guys at Yamaha were gracious enough to get me hooked up with a brand new YZ450F and help me get some really good supercross suspension on it so I could get some practice in," Hill said. "Originally I was thinking about trying to get ready for Las Vegas SX, just to go have fun and put a dry race under my belt since Seattle was so muddy, but unfortunately Cooper Webb had a big get-off in Minneapolis and he's not going to be able to compete, and I was lucky enough to get the call to come and fill in for him for the last few remaining races. I'm really excited about the opportunity and hope that the extra weeks of preparation and being able to get acclimated to the Yamaha will hopefully pay off in results at the end of the day." Let's see what Hill can do with nice weather this weekend. —Chase Stallo
Weimer's Back
It's been a trying first year with Smartop/Bullfrog Spas/MotoConcepts Honda for Jake Weimer. The veteran worked all the way back from a devastating pre-season crash, but only made it one round before breaking two metacarpals in his hand during qualifying in San Diego. Currently on a one-year deal with the team, these last two rounds could be pivotal for Weimer heading into negotiations this off-season. —Stallo
Anderson At Altitude
As Hansel mentioned, Anderson can clinch his first 450SX title this weekend. It won't be the only thing to watch, though. For years, Anderson has dealt with altitude sickness and has yet to receive a TUE (Therapeutic Use Exemption) for the medicine he would need to take. Rockstar Energy Husqvarna team manager Bobby Hewitt told Aaron Hansel this prior to Thunder Valley last year:
"What happens, like most riders, [Anderson's] heart rate elevates in the first couple laps," Hewitt said. "It happens all the time, and under normal circumstances, he's able to control his breathing and bring his heart rate back down and finish the moto. When he's at altitude, he can't get his heart rate back down, and it continues to climb. If your heart rate is beating 200 times a minute, you feel that, and because he can't control it and bring it back down like he does at the other races, he starts to get panic attacks. It's something that's very serious, and it's not a joking matter. There have been people who have died from this stuff. Last year, he was leading, but it got to a point where he felt his heart was going to explode in his chest. He was scared he was going to die if he didn't pull off."
---
"He has medicine for it, but WADA won't approve it," Hewitt added. "He's got doctor's statements, we have documentation from hospital visits, but they keep denying him the ability to use the one medicine that would help him, and we only want to use it for one week."
Salt Lake City is at 4,226 feet above sea level, while Lakewood, Colorado, is at 5,518 feet above sea level. Without being able to take medicine, Anderson has resorted to showing up for the race as late as possible. Anderson has performed well in his three previous races in Salt Lake City (2-1-3 finishes), so don't expect his program to change too much. —Stallo
Can AC Get a Win?
Surprisingly, Adam Cianciarulo has yet to claim a win in 2018. AC has five podiums on the season but has yet to really put all the pieces together. "I'm really happy that I've been able to be pretty consistent overall," Cianciarulo said in a team statement. "I had two bad races that really kept me from pressuring the points leader, but now that we have two races to go, I'm really hungry to get a win under my belt." AC is still mathematically alive for the championship, so Saturday would be a great time to get his first win. —Stallo
The Younger Hill
It's been a whirlwind 250SX title defense for Justin Hill in his first year with Autotrader/Yoshimura Suzuki. After a slow start to the season, Hill won San Diego before the break. He moonlighted in 450SX and wowed everyone in Tampa, then sustained a toe injury in Atlanta, got sick when 250SX returned in Indy, and then finished ninth in the slop at his home race. Still, would it really surprise you if Hill, with no championship pressure this weekend, came out and won? Not really. —Stallo