Foxborough, MA
Foxborough
Monster Energy AMA Supercross Championship
We're in an alternating world when it comes to the Foxborough Supercross this weekend. Monster Energy Supercross has alternated between New Jersey (East Rutherford) and Boston (Foxborough) the last few years in trying to cover the Northeast, and lately, both locations have been day races. Let's dive into some differences between the locales and the day and night races as well. We do this because, let's be honest, outside of "the pass" this past weekend, there's not a lot going on in a depleted field of 250SX and 450SX.
Day races are something new in recent years. Feld uses them to fit into a time window on the main Fox network, where the ratings are much better than when the races are on FS1. This race was timed to end before Fox's Saturday night NASCAR coverage. They're definitely a different vibe for the teams and the fans.
Let's go through the positives and negatives of a day race compared to the usual nighttime ones.
Pro: The races end early, so you get to live like a normal human. Yes, they start earlier, which is rough to deal with, but it's more like a normal work day, you know? You start early in the a.m., work a bit of overtime, but then you're out of there at a reasonable time. Night races mean you're there at 8 a.m. and out of there at 11 p.m. or midnight. Eli Tomac's mechanic Brian Kranz says that he thinks every mechanic would vote for all day races, and since I'm a member of the mechanics' union, I'll go with that.
Pro: Well, yeah, the ratings are much better on the main network, and getting more eyeballs on the sport is a good thing. Just look at these ratings differences between Fox and FS1. It's weird for me because my whole life I've had these extra sports channels like FS1 and NBC Sports, but apparently, a lot of people still don't, and that's reflected in the ratings.
CON: It's just a different atmosphere during the day. The fans don't seem to be into it as much—this is totally unscientific, just a feel. Then again, I don't think that either Boston or NYC races have attracted a ton of fans, either. They haven't been duds, but they're not an Atlanta or Anaheim 1 or whatever other race has bonkers fans. Even when we've had day races in a dome, they're just not the same as a night race.
And now, the differences between having them just outside New York or Boston.
PROS: New York has more to do outside of the race than Boston. I mean, you're in perhaps the most-alive city in the world, and that's pretty cool. Yeah, the race is not in NYC, but it's close enough.
CONS: Again, non-scientific, but it seems to me that the Boston SX races get more people at them. Maybe it's the way the pits are situated, but they seem packed, and hey man, I know that both races probably draw from the same area so many fans go to either city, but the NESC fans are hardcore. These are Jo Jo's people.
Okay, onto the race. Well, did you hear about Red Bull KTM's Marvin Musquin winning it? I know people want to talk about "the pass" and we've discussed this over and over, but here are my thoughts on this:
First of all, it was dirty. That part is indisputable, but what's also indisputable is that these types of passes happen quite a lot in supercross. Watch any last-lap battle for the last transfer spot into the main event in either class. Monster Energy Kawasaki and Eli Tomac have every right to be upset about this, because when a pass is made and one or more riders are left on the ground, you went too far. That's pretty much a hard and fast rule.


Second of all, it was on the last lap and it was for a 450SX win. Many riders I spoke to said they would do the same thing as Musquin, so there's that.


What I didn't like about the whole deal was Musquin not owning up to it. Saying Tomac went low in the berm with a new line (not true), saying that he's been the victim of those passes before (and he has), saying whatever it was but falling short of saying, "Hey, I wish Eli hadn't ended up on the ground but it was the win, I saw an opening and I went for it. Sorry, not sorry." [Ed. Note: On the Fox broadcast, Musquin did own it, but he changed course during the press conference.]


I know there's talk of teams wanting stiffer penalties for these types of passes, but I just can't see that happening. I mean, they go on all the time in the back of the pack and throughout supercross history. If you create such a rule, then things become a judgment call, and I'm not sure anyone wants that. Look at what the NFL is going through with its catch rule or NHL with the body checking "was the head the point of contact" rules. It's such a thin line and things will go sideways when you start taking points away. If you were to do that, my prediction would be at some point things end up in the courts and no one wants that.


And finally, who knew the Marvin "The Leopard Seal" Musquin had this in him? I bet if you were to pour some truth serum into Roger DeCoster, he'd admit that he was proud of Marvin for going so balls-out.
Just in case you're wondering, here are some other greasy (re: dirty) passes throughout supercross history with some thoughts on how they compare to what Musquin did to Tomac.
Chad Reed on James Stewart
Chad Reed got to the same spot as where Musquin wanted to go, but he got there a split second before James Stewart did, unlike Marv's move where he pretty much torpedoed Eli. Technically, Chad had the position. I know, it's hard to say that without laughing, but for this reason, it's not as dirty as Marv's move.
Vince Friese on Weston Peick
Yeah, this one was pretty bad, but I'd argue, years later, that it still wasn't as bad as Musquin's move. But I bet Vince wished he just had a grip thrown at him after it was all over.
Chad Reed on Trey Canard
The less said about this, the better. Somehow Chad Reed got a black flag for this. Let's just move on.
Damon Bradshaw on Jeff Matiasevich
Granted, Damon Bradshaw actually loses control here and probably doesn't mean to slam his bike and Jeff Matiasevich into a concrete wall, but I would ask you, what exactly was his intent before he lost control? There wasn't much to do, but yes, this is also dirtier than what Marvin did to Tomac. In fact, it's not even in the same area code as Marv's.
Jason Anderson on Cole Seely
Here's what Marv could've done, should've done on Eli. This is pretty much picture-perfect dive to the exit of the turn, some small contact, but all in all a fair pass. Musquin wasn't close enough, obviously, to make this happen, but to me, although I'm sure Seely was pissed, this is as close to a perfect pass (with contact) that one could make.
And by the way, Marv's now probably going to live in fear the rest of the supercross schedule and perhaps the outdoors because Tomac is going to owe him one. And I would bet Marv knows this and accepts this fact. It's just going to be a constant wonder on when "it" will come. Tomac's got more raw speed than Marv, in my opinion, and can catch and pass him more than the other way around.
This weekend we saw some different qualifying results than we're used to seeing, and that was a shock to the system. Yeah, sure, it was Tomac and Musquin 1-2, but after that came Weston Peick, Tyler Bowers, and Dean Wilson. Yay for all these guys. It had to give them a lot of confidence going into the night, err, day show. Unfortunately for them, Peick got a bad start and had to come from the back to get sixth; Bowers crashed into Alex Ray off the start in the sand and then decided to take A-Ray out in the next corner, which ruined his race; and Wilson, while he rode well to a fifth, was 42 seconds back of race-winner Musquin. Not ideal for any of the guys going off qualifying, but some promising times can't hurt confidence going forward from here.
Speaking more about that Bowers/Ray incident, I spoke to both riders after the race and chronicled their feelings about the move here.
Look, 250SX wins are never easy, but in any case, Zach Osborne's win in Foxborough was one of the easier ones he'll ever have. Osborne's starts haven't been there this year as consistently as he would like them to be, but in Foxborough, he got the early lead and he led every single lap of the main event. Jordon Smith lurked behind, and sure, if Wacko had flown off the track, maybe Jordon would've passed him, but Osborne took this one pretty easily.
So with just the Showdown in Las Vegas left, Zach's got 15 points on Smith to repeat as the title winner. Yeah, anything can happen in a nutty Showdown format, but I would sleep pretty well at night if I was Zach. But he knows better than anyone else that anything can happen at the final round—that's what makes these Showdowns so sweet.
I was talking to Smith's team manager Tyler "Grumpy Cat" Keefe about Jordon and he reminded me that he crashed out of Vegas last year and hurt his back. Then he crashed out early in the Nationals and hurt his knee, missing the rest of the season. Smith came back for the Red Bull Straight Rhythm and broke his foot there. In short, Jordon Smith's been off the bike a ton. Contrast that to Osborne, who won SX, won MX, then had no issues his entire off-season. Smith's been a tick off of where he was last year, and it makes sense why.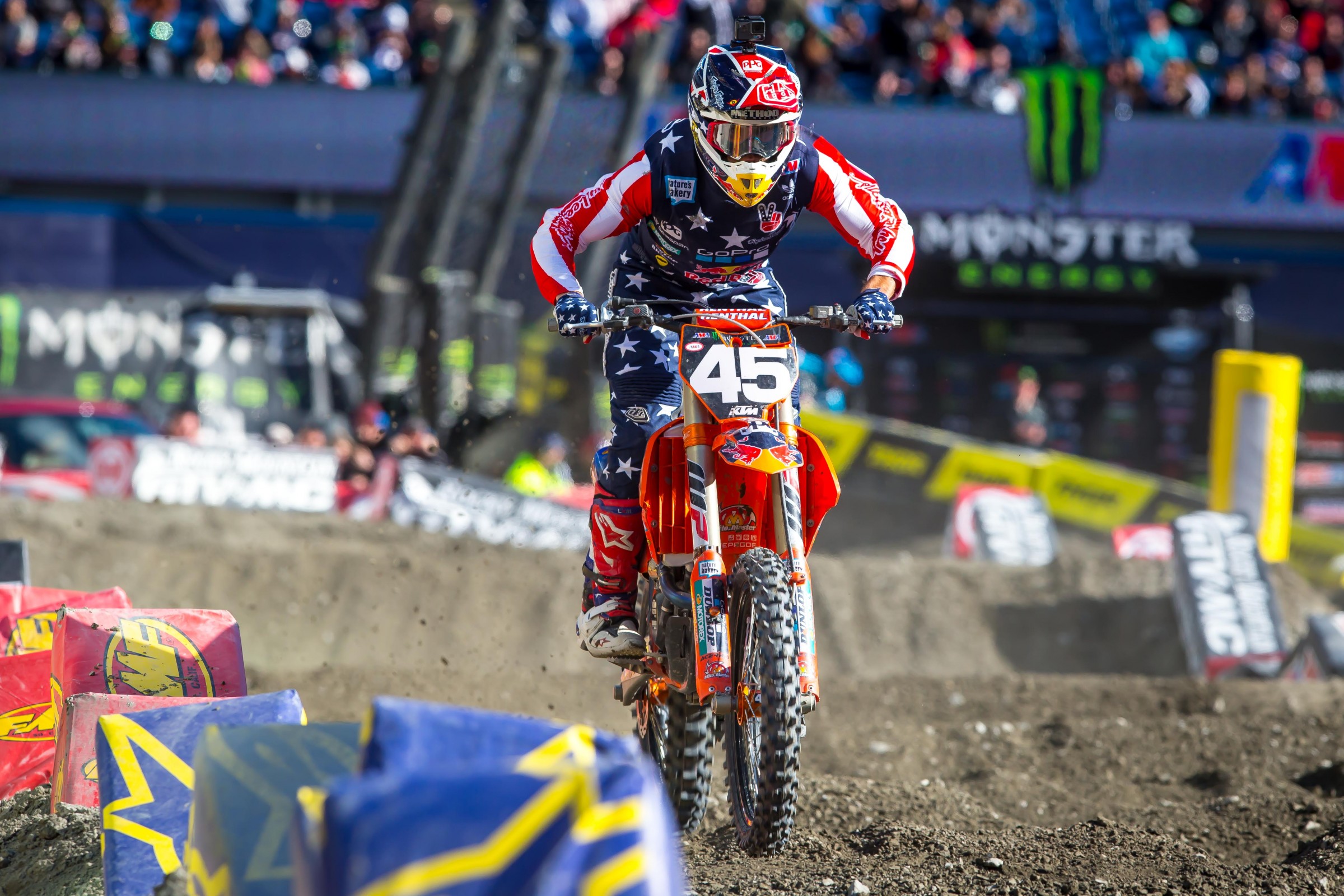 Jeremy Martin's been so good lately, it's like he's a whole new man. Some in the pits are saying, "Well, Matthes, he's riding with Eli Tomac week-in and week-out, it must be working," but there's more to it than that. Martin's been with Tomac since the off season, and remember, his East Coast 250SX season didn't start off amazing. A fourth at the opener, crashed back in Tampa, and then another fourth. Look, fourth isn't bad, but he's got a lot of experience in this class on a factory bike—fourth (and not really in the mix for a win) isn't going to cut it.
Then he started winning races. In Foxborough, he was the fastest rider all day in qualifying and then crushed his heat. He was my, and everyone else's, pick to win the main event. Instead, he crashed in a collision with Kyle Peters and was dead, dead, dead last. From there he rode amazingly to get to fourth and was ALL OVER Peters for third when the checkers flew. Great ride for sure.
What's been the deal with Martin? Well, we know the 2018 Honda CRF250 is all-new this year, and in talking to Jeremy and team people, it seems like they're learning some things about the bike as the year goes on, which is standard with a new model. Jeremy himself said that this year's bike is way better than last year's, which is usual rider BS stuff, but clearly Martin's better this year and he's also not a cliché-type of dude. So: riding at Eli Tomac's+ new bike + learning some things on said new bike= an improved Jeremy Martin.
Kyle Peters shouldn't have even been at Foxborough. He crashed on the ice in Minneapolis and tore his ACL and MCL in his knee. He told me he rode around lightly on Thursday to see how it was and then gingerly boarded a plane. Once there, the plan was to ride and push it as little as he could, so of course he crashed in the heat and had to ride the LCQ. But then he got a great start (Peters is always pretty good at starts) and rode a great race for his first podium in five years. Yes, you read that right. Peters said he had knee surgery scheduled for yesterday, but with this result, the team's taking him to Vegas!
Josh Osby's been pretty fast all year, even if his results haven't always shown it. His qualifying has been good, he's one of the first guys to jump the big stuff, and he's been riding with a lot of confidence, week-in and week-out. Well, this weekend it all came together as he tied a career-best sixth place, which he got last week in Minneapolis. Good starter, good supercross skills, and Osby's taking advantage of an injury-depleted 250SX East Region. Nice work!
Aw man, we had Christian Craig on the PulpMX Show last Monday and he talked his starts going south lately. Well, until Foxborough, that is, as he pulled the holeshot and led early. It was looking good for CC until he cross-rutted and flew off the track.
"Well first off, I give the props to Steve and the Pulp Show," Craig told me after the race, thereby pumping up my ego. "You really brought back my starts. It's all you. Obviously, I got off to a good start, holeshotted. Haven't done that in a while, so that felt good. Led half a lap and then cross-rutted and went right into a Tuff Block and decided to slide into first base off the track. Sitting there waiting for people to go by to get my bike, I was just furious."
I think the less said about Gronk being there, the better, yeah? I mean, the sport was all over mainstream press for Monster bringing in Gronk and pretending he was going to "vroom vroom" his dirt bike instead of play football, but everything I saw had no one really concerned with what actually goes on with our sport. Our riders are some of the best conditioned athletes in the world—yes, and I'd like for the mainstream media guys to sort of care about them. Oh well, the battle continues….
Gotta love Chad Reed, right? The legend has been struggling this year, first with an ankle injury and then just being a tad behind everyone else. He's 13th in points, with a season-best non-massive mudder of seventh. This just in—it's been rough. But man, he just refuses to go down quietly, and I admire that. Reed's been on the regular production Husky FC450 all year long, as the Factory Edition machines have been in short supply. Well, Reed decided that, with three races left, he wanted to try an FE model because he thought that would make him better. Three races left, the guy refuses to give in. He goes out, buys a bike from a dealer, and ships it part-by-part to Boston, where his crew built him a new bike. Did it make a difference? Not really, he rode well to a tenth, but man, most riders wouldn't do what he went through to try something new. But not Reed, there's no giving up. Ever.
Thanks for reading, just two left to go then onto the great outdoors. Got something on your mind? Email me at matthes@racerxonline.com and we can chat.