Foxborough, MA
Foxborough
Monster Energy AMA Supercross Championship
With an incident like Eli Tomac and Marvin Musquin's on Saturday, it's inevitable that opinions will vary widely on what exactly happened and who's to blame. There are so many factors influencing those interpretations, including biases, nationalities, one's own Mendoza line for aggression, etc. I am no different than anyone reading this. I have my opinion of what happened and the situational circumstances that ultimately led to heavy contact and Eli crashing. So, even armed with the foresight that half of the readers will side with me and half of the readers will think I am a colossal moron, I'm going to delve into it.
As Eli made the pass with just over a lap to go, Marvin felt robbed. He had led for 20 minutes and undoubtedly wanted that win. He explained that he felt good and wanted to strike back if possible. A late-race pass can leave many riders unable to make a counter move, be it from fatigue, mental frustration, or simply lack the pace to catch up. Marvin felt capable of putting in one last charge, which led him to think about potential passing spots on the final lap. With the track's layout, aggressive passing seemed to be necessary. Block passes were happening all afternoon, but for the most part they were taking place after both sets of whoops (Peick/Barcia, Vanbuskirk/Alves). Somewhat ironically, Tomac actually made his pass on Marvin in the turn after those whoops, but he didn't even need to use contact to get it done. It would have been a stretch for Marvin to pass Eli back in that same section—knowing Marvin's strength is not in the whoops.
Maybe Marvin knew he needed to think outside the box. Plus, Eli would also be ready for a pass attempt and would also have an idea of where a pass was possible. He had already spent the previous 20 minutes behind Marvin searching for an opening, so Eli knew where passes could happen while Marvin now had one lap to try to figure out where to make one. This last-lap cat and mouse is always fun to watch because it shows a rider's mental capacity while at max heart rate and under the brightest of lights.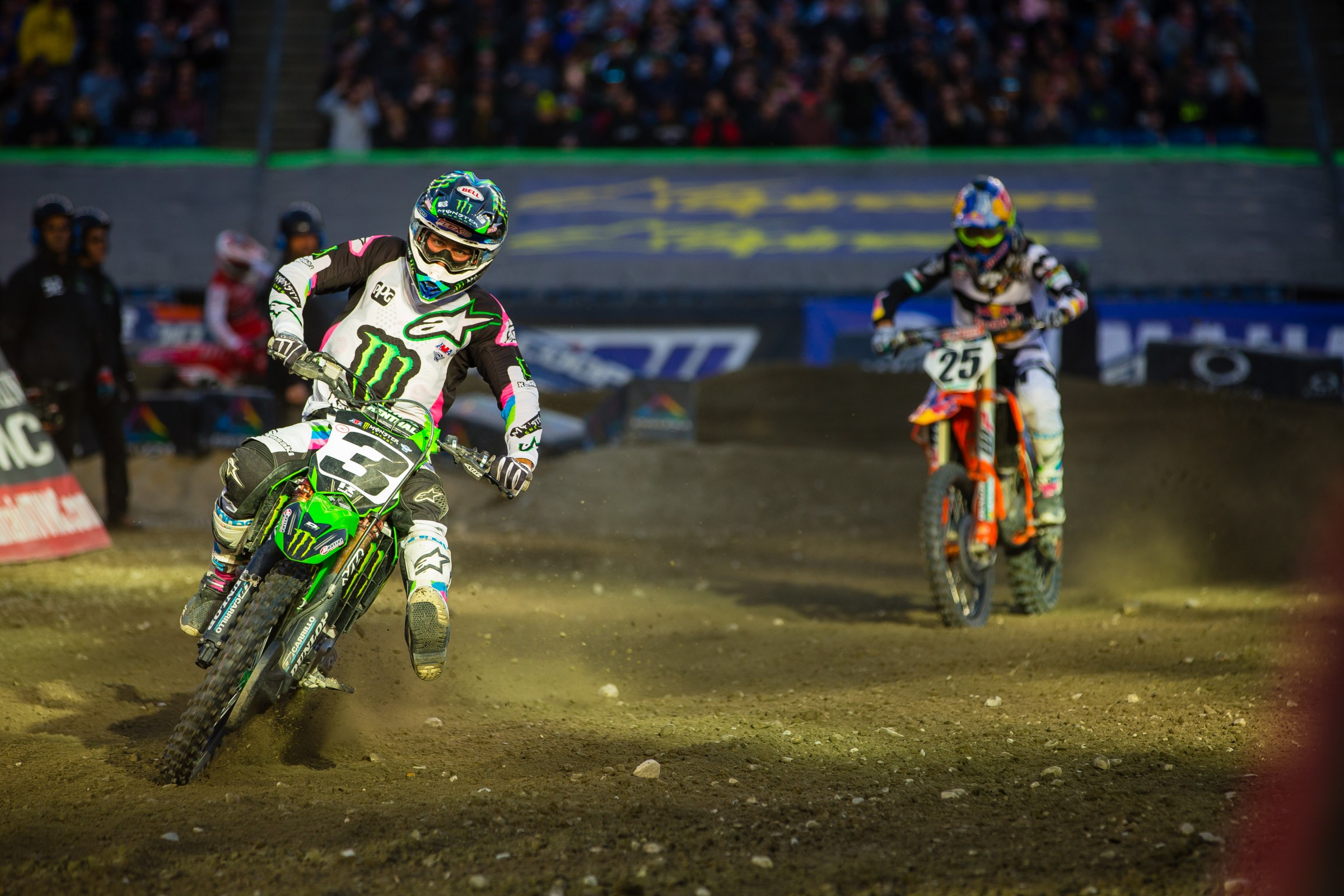 From my own experiences, I can usually see a pass attempt coming. Whether it's the setup before the actual strike or just the track's possibilities, I have an inkling of where to be alert. That's maybe what was so surprising in this situation. Marvin wasn't really close enough yet to make a move. Coming through the rhythm lane after the start, he was still several feet behind Eli. Ideally, he would want to be right on Eli's wheel or even closer, and then begin angling toward the middle of the turn before Eli begins his arc. That would give him the angle needed to make the block pass and also alert Eli that it's coming. Whether or not Eli would check up is anyone's guess, but at least he would know contact was imminent if he didn't.
Also, if Marvin was closer, he could come in to the turn slower and take a brief thought about his options on how to approach the pass and his own direction. With Marvin further back, though, he had to commit much sooner and with a lot more speed than he would like. He simply needed to pick a spot and hope it worked out by the time he got there. The commitment and speed he needed to close the bigger gap is a dangerous recipe, and that's why such hard contact was made.
Entering that turn, everyone was braking on the final single and slowing enough to pick up the rut at the apex. Instead of braking, Marvin committed to contact and flowed towards the middle of the berm where he expected Eli to be. If Eli had driven deep into the turn, maybe Marvin would have met him at the apex and they'd hit, but it would not have been a violent impact. Instead, Eli, trying to protect the inside, decided to brake hard and take the very inside rut. That closed the distance that Marvin needed to make up, but it also put Marvin in a bad spot because he was going much faster than he would now need to.
Marvin's speed was based on beating Eli to the outside of the berm, not the inside. He had no chance of stopping now that Eli was pivoting to the extreme inside. That's the worst-case scenario for both Marvin and Eli. Marvin was expecting Eli to go high, so he was in a panic to beat him there. Eli wasn't expecting Marvin's extreme angle, and when he pivoted, there was an orange 450 in his lap. Marvin wanted contact, yes, but not to that extent. Eli zigged when he was expected to zag. The resulting impact was hard, but it could have been much worse. The angle created from Marvin's approach and Eli's exit was nearly head-on, and both of them could have been injured in the process.
Ultimately, Marvin was willing to make hard contact and take out Eli for a win. That's understandable for most. The only thing I wished had been done differently in the aftermath was for Marvin to simply own the choice and move on. Eli was going to be mad regardless. Marvin's attempt to explain it by citing previous incidents with other riders in other classes is going to accomplish nothing. Eli will undoubtedly want payback, and Marvin had to know that was coming when he made the move on Saturday. No amount of talk will change that. Knowing that a move like this will never be kosher with Eli, why not just own it? Tell the public that it was worth it to win the race. Marvin said that much after the race on TV, but he skipped his in-stadium interview and then switched his tactic in the press conference, instead referencing block passes from the past.
Winning is what everyone dreams of doing, and with a win at stake, even the harshest skeptics will be able to at least understand a move like this. Some may never like it, but deep down, they will at least understand why. George Washington once said, "It is better to offer no excuse than a bad one." We all know why Marvin made the move. He wanted to win, and he felt the juice was worth the squeeze. He's going to have to deal with Eli's retribution at some point. Own it. Take the win, take the money, and take the consequences. That's all anyone could really ask for.