Foxborough, MA
Foxborough
Monster Energy AMA Supercross Championship
Disclaimer: Racers, fans, and keyboard warriors alike, don't let this article hurt your feelings. Racers, you may not like the honesty here. Fans, you may not agree with or understand my point of view, as you were not the one out there on the battlefield. Keyboard warriors, well, there's nothing I can tell you that you don't already know, right? I have to go through the LCQ to get to the main event, what do I really know?
Gillette Stadium, home of the Patriots. New England will always feel like home to me. Even though these New England folks are crazy, I love them. Lots of die-hard moto fans, and a very tight knit motocross community.
The racing and the track were almost as crazy as the fans, so let's dive in.
Track: I really liked this track layout. Two sets of whoops, a long technical rhythm section, and lots of bowl turns for passing opportunities. That dirt, though, was easily some of the worst dirt I've ever ridden a dirt bike on. It would crumble apart in spots, it would harden into cement in spots, and then on some jump faces, it was incredibly soft and spongey. Traction was non-existent to the point where I almost pulled off multiple times throughout the day thinking I had a flat tire. It was impossible to find a perfect bike setup. Too stiff and you were sliding around even more; too soft and you would have gotten killed on the takeoffs and landings of some of those triples. Ruts were footpeg-deep across the entire track, some were bottomless, and some had a base, making it very hard to change up lines and feel safe. In the main event, that was the scariest track I've ever ridden in my life, no doubt about it. The good news here is that the track rode very slow, which is right up my alley for applying the turtle technique.
Now let's get to the racing action.
250 Heat 1: I wish I could have ridden the track when it was that smooth, but I'll tell you what, it still didn't look easy. You could tell that everyone was fighting for traction even when the track was at its best. I think the track crew did everything they could to make it nice and keep it that way, but the dirt wouldn't allow.
That case on the triple by Tanner Basso hurt me just watching it. That was one of the bigger triples of the season, and the takeoff was extremely soft, causing the ruts to form quickly. Any mistake out of the turn and you weren't jumping it, especially on a 250F.
I love when they show the heart rates of the riders. It gives fans a little bit of perspective on how physically demanding this sport truly is. Everyone's heart rate is different, so it's hard to judge from one individual to the next, but when 90 percent of the riders out there are averaging 170 beats per minute the entire moto, you know it's tough. Zach Osborne riding around in the 150s is extremely impressive and shows how confident he is riding, as well as how fit he is.
How about the last-corner pass by Ramyller Alves on Cody Vanbuskirk? Was it dirty? I'll give you the breakdown: Let's preface this with the fact that it's last corner of the last lap—almost anything flies at this point. Every situation is different because there are so many dynamics, and what is okay in one situation may not be okay in another. What Alves did was 100 percent justified. What Vanbuskirk did was 100 percent justified.
Alves hit the whoops incredibly fast and in total control. With the Vanbuskirk riding a middle line, Alves thought there was a big enough opening on the inside to make something happen. Vanbuskirk cut down hard with one whoop to go, closing the door on Alves. Alves had no option at that point and contact was imminent. I would have done the same thing Alves did. The only thing I would have done differently if I were Vanbuskirk is ride a much tighter line through the whoops, forcing Alves to go around me. If you could force someone to go around you, you could have complete control of that corner. Anyone thinking that Alves was out of line in that situation is wrong.
Vanbuskirk can only be mad at himself in this situation because if he just went faster on the last lap, he wouldn't have been in that position. The same thing happened to me last year when Cade Clason sent me into the flaggers' tower in the final turn, and I put the blame on myself because he should not have been close enough to make that happen.
450 Heat 1: Coolest style in supercross right now? Jason Anderson. Man, I could watch him ride all day long. His footwork is just unmatched. If you don't know what I'm talking about, just watch his feet next time you see him ride. Toes are always pointed in, just giving him so much control of the bike from the waist down.
Interesting decision by Deven Raper to leave the door open like that going into last turn. It was almost as if he had that square-up move planned the whole time. Raper almost cut down too early because he nearly clipped Dustin Pipes' rear tire, but it worked out nicely. Props to Raper for making his second main event in a row.
450 Heat 2: For those of you watching at home, I wish I could explain to you how gnarly this track already was by this heat race. The ruts were footpeg-deep and square edges were starting to form. It was at this moment I knew that the main event would not be any fun....
Wow, Justin Barcia showed some serious racing smarts here, and Jeff Emig did a good job picking up on that as well on the broadcast. Now remember back to the other two heat races that had last corner passes and what the rider in front did (left the door open). Barcia made sure he covered the far left side of the whoops, and if you watch carefully, he purposely slowed down about halfway through them. He waited until Tomac was perfectly even with him, stuck on his outside, and then it was all over. At that point, Barcia could control Tomac's every move all the way through that corner. Kids, take notes on that one.
450 LCQ: What do you guys think of my balance standing up over seven different ruts as A-Ray block passed me in turn two? Maybe that was his payback for me goofing on him overriding in the mud back in Seattle.
250 Main: Jeremy Martin! I would have put Martin up against anyone on Saturday night to win. His aggression on that track was bizarre. Watching it back on TV, I really have no idea how he was pushing so hard on that track the way it was. Very cool to watch.
Huge props to Kyle Peters for making that podium happen. I tore my ACL in 2016 and continued racing that same night, and I also finished out the season. I'll tell you what this is like: The pain is excruciating, you don't have any strength in that leg, and your range of motion is non-existent. It is not easy. For him to come out the weekend after tearing an ACL and MCL and make the podium is a testament to how tough these supercross riders are.
Take note of where the sun is with a couple laps to go in the 250 main, because it would become a huge factor in the 450 race.
450 Main: Track is destroyed at this point, and the sun is completely in the eyes of all of the riders. On the face of the big triple, I couldn't see a single thing. As you can imagine, that's not the greatest feeling. You know it's bad when Anderson starts doubling the triple.
Now this is where things get good. This is the moment I've been waiting for this entire article... let's talk about that last lap. Every takeout situation is different, and you must draw your conclusion based on a variety of factors. I do not side with one rider over the other on this incident, let me just break down the facts in detail.
The ruts in that corner started forming lower and lower as the main ruts on the outside became unusable. Eli Tomac and Marvin Musquin, along with every other rider, would use the lowest rut to try and find some smooth real estate. In many take-out situations, you can argue that the rider on the offense didn't know the rider in front of them would cut down that hard. In this circumstance, Musquin knew where Tomac was going 100 percent, no question.
Squaring up a corner to ride a line that tight can leave you exposed, so if I were in Tomac's shoes, I would not have chosen that line on the last lap of a race. He would have been better off riding the high line or even across the ruts to get to the high line and protect himself.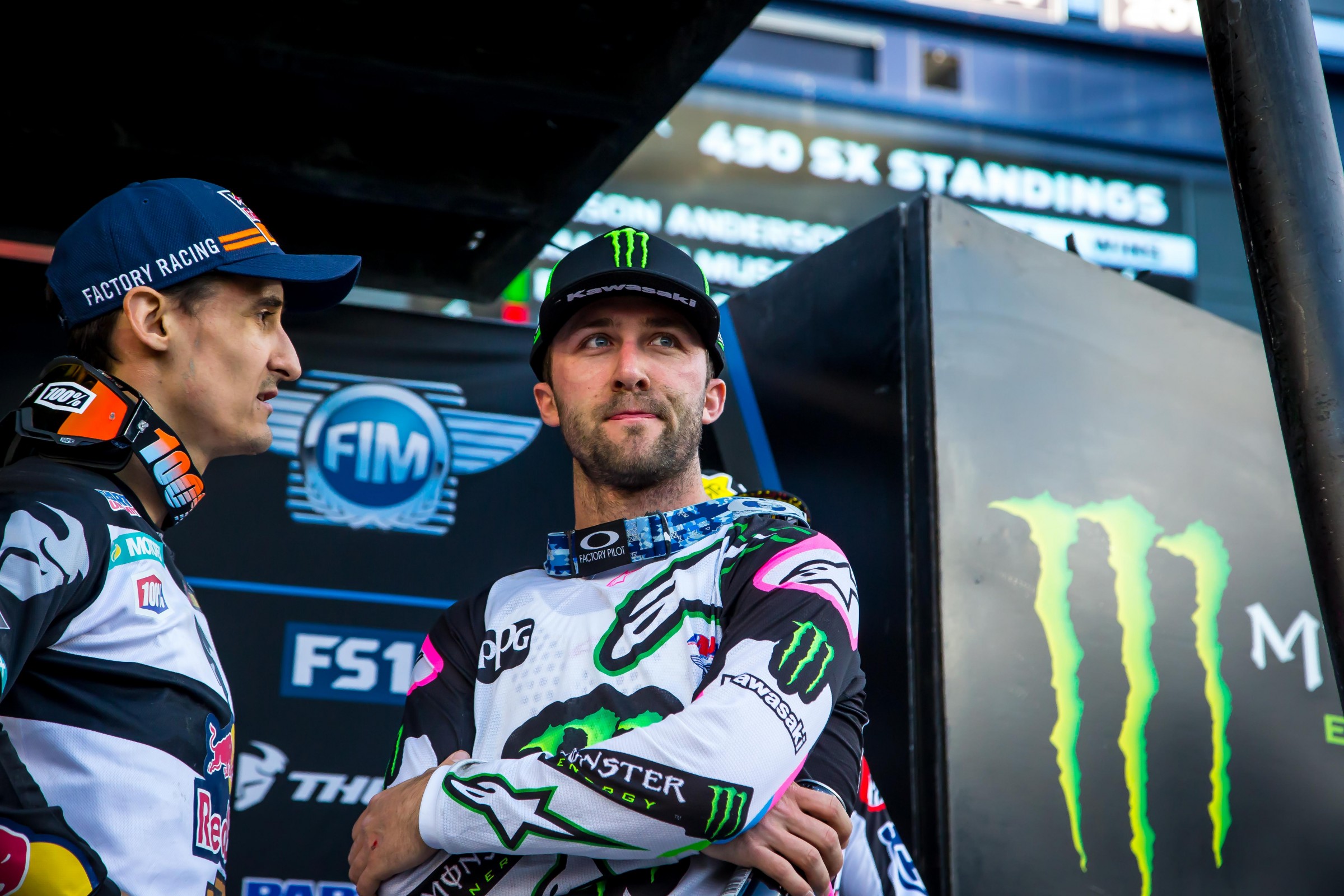 If Musquin were simply two bike lengths closer to Tomac, they would have made contact in the apex of turn rather than while Tomac was exiting. That would have been a far more acceptable take-out. When someone is exiting a turn, hard on the throttle, and you're coming right at them, that is sort of where the line is drawn. I think to be more tasteful, a take-out of that caliber could have been saved for the very last turn (but who knows if that opportunity would have been there in the last corner?).
In Musquin's defense, it is last lap for a 450 main event win. I've seen much worse happen for the last transfer spot in an LCQ, never mind when over $100,000 is on the line. This is where I'm torn. Would I have done it for a 450SX win and a crap-ton of money? I would have to go with yes.
Is Musquin a bad person for doing what he did? No. Is Tomac a baby for acting the way he did afterward? No. Should Musquin be penalized or fined for that move? No. These guys want to win more than anything and will do anything to make it happen. They dedicate every second of their lives to this, so of course tempers are going to rise when a race win swings in one direction or another, all based on one move. Tomac has every right to be pissed off. One thing I will say is that he definitely needs to get up a little quicker when he falls. Watching how quickly he gets back to his bike drives me nuts—when I crash, I'm in a scramble to get back on the machine.
Side note: Go watch the 450 post-race press conference. Talk about entertainment.
As a fan, you have to be entertained; as a rider, you have to have respect for the level of riding.
See you in SLC!