You can practically flatten all the jumps and take away the fancy factory motorcycles from the top riders in this sport, because all anyone likes to talk about is the mental game. Confidence and momentum get a lot more attention than fork settings or training logs—partially because those latter details remain secret, but also because everyone involved keeps reminding us how critical the mental game really is.
Ryan Dungey checked in on that topic during this week's Racer X Exhaust Podcast (make sure to subscribe to the Racer X Podcast Network on iTunes or your favorite podcast app), where I got to talk to last year's Monster Energy Supercross champion for about an hour. Dungey spent about a decade hovering around the top of the sport, and in that period everyone spent time analyzing the thoughts in his head. Dungey now admits some of the mental struggles we all thought he had, well, yeah, he really did have them. Now, Dungey isn't afraid to say that he was not the strongest guy mentally.
He figured out a way to get around that. He stopped making racing the most important thing in his life.
"It changed as my years in professional racing went on," he said. "[At first] my [only] goals were to win races and a championship and if anyone around me didn't have anything to do with that, I didn't want anything to do with them. 2008, I think we all remember that, my world came crashing down on me," Dungey said, referencing his 250SX mental meltdown against Jason Lawrence, who came from behind to steal the championship.
"Honestly that moment in my career was probably the best thing that could have ever happened to me. It brought balance to my life. It took years to keep evolving and see what was important in my life, but I realized racing didn't belong as the first thing in my life. It was something that I did, not something that I was."
Dungey says he started putting other things in his life first, starting with his faith, and then with his family. He kept pushing racing further down his priority list, which helped him deal with the pressure that much better. In his final few years, he even started to realize the impact he had on the team of people around him. It forced him to become a better person.
"As I got really late in my career, it was realizing the position I was in," he said. "It's not bad to be ambitious and work hard and go after it, but don't let it consume your life. I realized how people were feeding off of me to be better. Aldon [Baker] really woke me up to that. To me it wasn't about winning a race or a championship anymore. There were bigger things in life. I think that today we're lacking in that area, especially these kids. You watch the sport and its complete madness. Everyone is freaking out because it's all about the championship and there's nothing bigger in their life. It's hard to go through all of that pressure, and you're really just putting it on yourself."
Dungey handled the Monster Energy Supercross Championship pretty handily in 2015 and 2016, but coming into '17, the sharks were in the water. Ken Roczen had switched to Honda and appeared out for blood. Eli Tomac was set to be better in his second year—and now with stronger shoulders—on his Kawasaki. And Dungey's own training partners, Marvin Musquin and Jason Anderson, were legitimate threats. Yet when Dungey got to Anaheim 1, he seemed more relaxed and at ease with it all than at any point in his career. You could tell he wasn't consumed with the competition or whatever results the season would generate. At one point, as Tomac was closing in on him in the standings, Dungey let that slip. He wasn't going to beat himself up over a bad race.
That didn't resonate very well.
"When I sat up on the podium, everyone criticized me, saying, 'Oh he's feeling the pressure,' when I said, 'No, it's just a dirt bike race.' But for me, I know that! I was able to put things in perspective and see the bigger picture in life and what's important."
It would take every mental trick Dungey had to survive that 2017 onslaught from Tomac. The points kept getting tighter, and in the final weeks of the season, even believing it was just a dirt bike race could barely contain the pressure involved. It took all of the experience and all of the tricks had learned in his career to survive.
"I don't think even if it was 2015, I don't think I could have handled it," Dungey said. "Of course it was hard, it was one of the hardest things I've ever had to face in my life. Then the month after, having to recover physically and mentally from something like that, all I wanted to do was lay down and sleep! I remember Easter break, we had a good time with some family out in California, and we found a new setting that really helped with the bike. Had a really great week. But I was saying, 'This is going to be the hardest three weekends of my life.' But I remember going to Seattle thinking, don't give up, be ready for it and embrace it. It will be over in three weeks—you can lay on the couch in three weeks. And it was the hardest three weeks. Especially the last week. It was like… talk about the mind games you start playing on yourself, jeez."
The mind didn't need to play tricks to make the Vegas race seem crazy. That was the actual reality of it. Tomac unloaded a plan to slow Dungey, let the pack catch up, and try to shove riders between them to make up points. It was one of the most dramatic final races ever.
"Right away he went in to clean me out and I was like, oh boy. I don't want to say it angered me—actually, it did anger me. Like, 'Oh, here we go!' and it kind of kept me in the moment, which was the best thing for me. I realized right away he was trying to slow up the race. Realistically it all started [the week before in] East Rutherford, Marvin, he pulled over and let me win the race. Obviously, that really upset Kawi. They didn't have a good night and they were looking to do some damage [in Vegas] and win [the title]. It is what it is—it's what they went for and there's a lot of money on the line and a lot invested. People go for it! Yeah."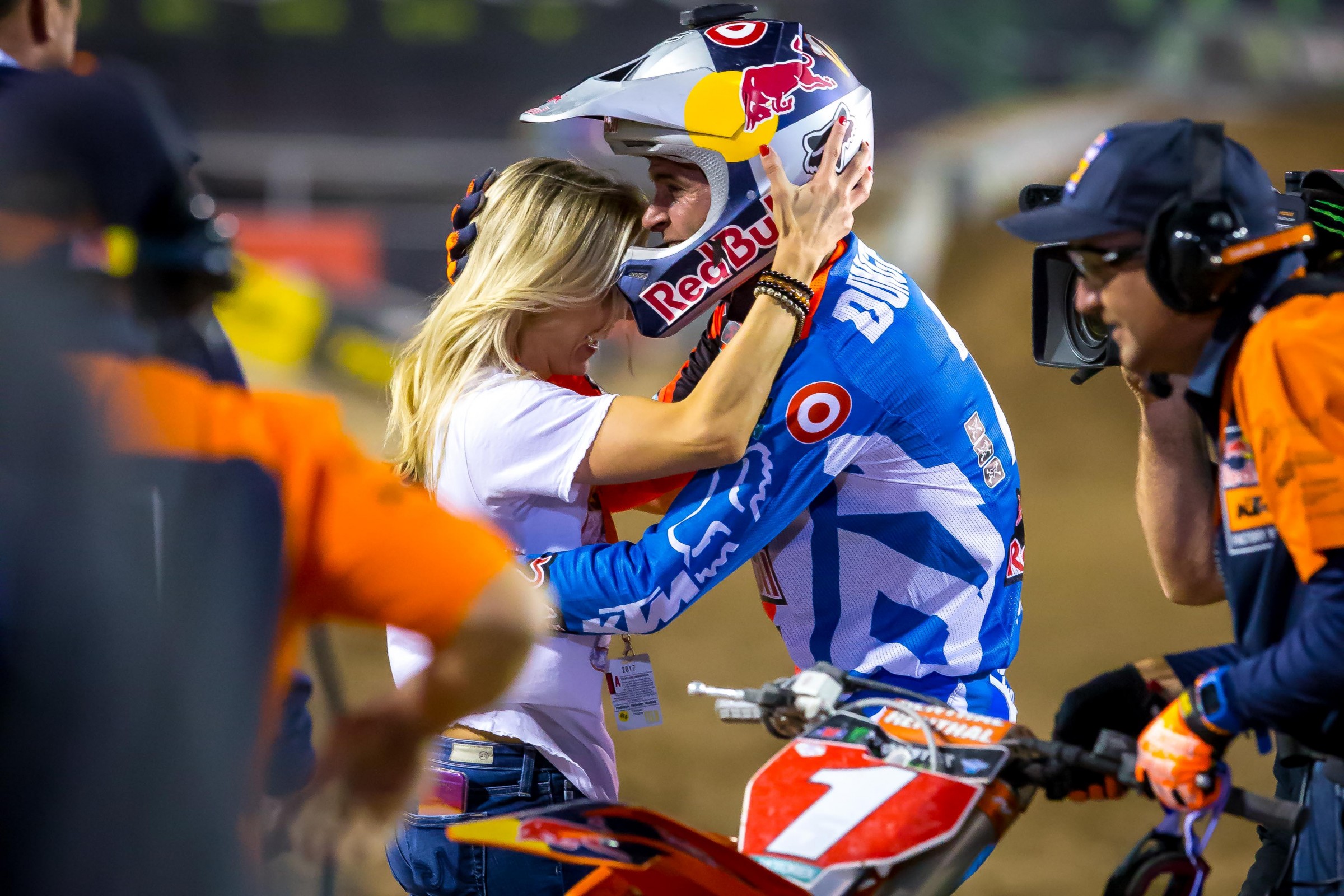 Dungey has admitted he already came into the 2017 season feeling mentally out-of-sorts. Somewhere during the summer of 2016, he had grown exhausted, and he thinks that led to him being less sharp, crashing and getting hurt at Thunder Valley in Colorado. At one point, he had decided he wouldn't even race the 2017 season. He changed his mind and lined up, but he was never quite the same. When Tomac stepped up, Dungey couldn't answer.
"The writing was on the wall," Dungey said. "I think it started to show in my performances in '17. Eli got onto this other level that I just couldn't compete at. I couldn't do it. Not to mention, I would think so much about doing this rhythm section that other people would do. There's no time to think about that stuff."
That led to a few months of just wanting to sleep. The sport had drained Dungey, someone never opposed to doing the work.
You can hear the entire interview in this week's Racer X Exhaust Podcast.