Daytona, FL
Daytona
Monster Energy AMA Supercross Championship
No doubt about it, Daytona is a special race. There also isn't a race that's changed more than Daytona. Some changes are for the good, some aren't, but it still remains a real test for the riders and teams. It's tough, it's rough, it's not always easy, and that's just making sure you have the right pass, never mind racing the track! Down at the speedway, some kind of Elvis thing indeed.
I've been hard on the Daytona Ricky Carmichael-designed tracks the last few years. Let's be real here, they were dog crap. It was switchbacks after switchbacks that were follow the leader. They weren't very good, but there were reasons for that— at least, that's what we were told. Sprinkler heads, shortened-up grass area, and lawyers wanting the speeds of the bikes down were all reasons given for the horri-awful track designs the last few years. And that made sense; there's no way RC wouldn't know that what he designed wasn't going to provide good racing.
But this year, we got a great Daytona track! And it was nothing like the old Daytona track! What happened to the lawyers, sprinkler heads, and reduced grass space? I don't know! But this was an awesome track that provided us with plenty of passing, thrills, jumps, and almost everything you want from Daytona. Great track and great race.
But—and because this is Observations, there is always a but—the guys at Daytona have to do a better job of concealing the air drop of the starting gate. The riders all reported they could hear the hiss of air releasing that meant the gate was dropping. Watch Dakota Tedder in the 450 LCQ, watch Cooper Webb in all his races. Justin Brayton admitted on the PulpMX Show that, yep, he went there for the main based on Jordon Smith's 250SX main event start. I guess at some point the officials tried to cover the noise, but it was still loud enough to where everyone wanted to go there and just about everyone yanked the start from there.
You know, a few years ago Marvin Musquin got just an amazing jump (I think he was in 250SX) and I tried to find it on YouTube but couldn't. I think he was on the very inside, so not sure whether the control for the gate was there or not. Now I'm thinking it was, and no longer thinking Marv was amazing.
Well, he did it. Justin Brayton won the Daytona SX. It was amazing and just about everyone is happy for him, right? What a story and it's so amazing that Brayton won Daytona. Daytona is not his style of track and he didn't even build a Daytona-style section at his practice track this week. In fact, here's a list of tracks that Brayton would be LEAST likely to win at, in my opinion:
Glen Helen
Hangtown
Southwick
Daytona SX
EVERY other Lucas Oil Pro Motocross Championship track than those three
EVERY other Monster Energy Supercross than Daytona
So there you have it. JB10 pulled off the impossible. I mean, obviously he had some good fortune with Jason Anderson, Marvin Musquin, and Eli Tomac all going down in the main (Musquin after he had passed Brayton for the lead) but you've got to be there to take advantage of these types of things. And let's not forget Brayton qualified sixth-fastest and won his heat. Rick Ryan in a mudder in '87, this was not. Brayton was so legit.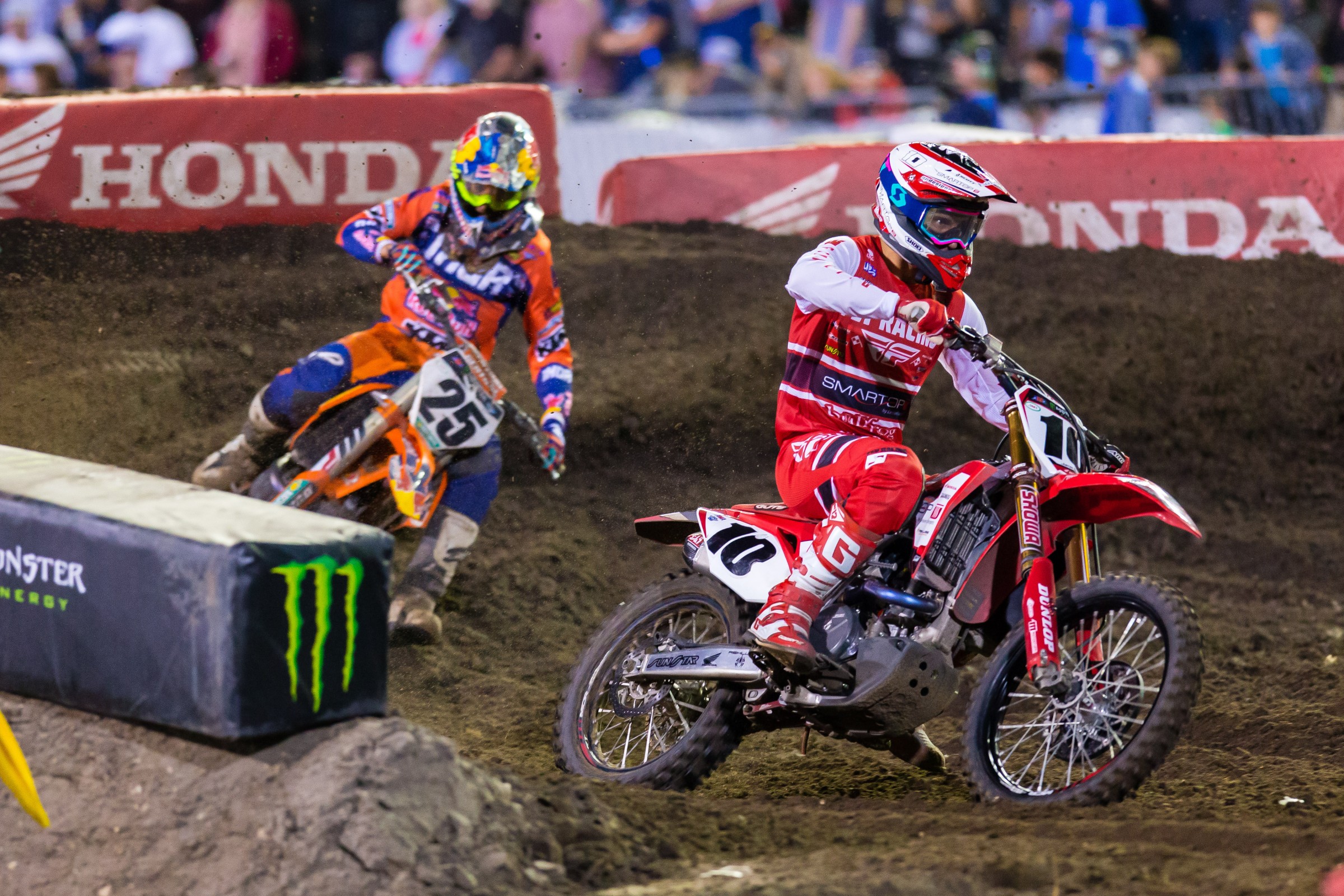 This track was very jumpy, if that's even a word. In fact, I saw on the TV broadcast that the riders spent more time in the air than they did in Atlanta, which was also a very busy track. Granted, there were bigger jumps in Daytona, but still, this wasn't your dad's Daytona track. It suited a guy who was technically precise and could make doubles, triples, and quads out of landings. And, of course, a guy who was great in the whoops.
And hey, what about MotoConcepts Racing? A joke in the pits for many years, with Tony Alessi working alongside his son and a team owner who seemed to relish in the controversy. MCR teamed with Honda a year ago, hired Brayton, and Tony dug in to work hard and try to make people forget about lasers, take-outs, gate jumps, riders being suspended, and having targets on their back. And this year, Brayton's been great and is third in the points, and Vince Friese has been mostly drama-free (and riding very well). Stoked for them as well—they just won the second biggest race of the year.
Let's take a look at the results, shall we?
250SX RESULTS
1st | #45, Jordon Smith | Belmont, NC | KTM 250 SX-F
If I had been asked how Jordon Smith's season had been going before Daytona, I'd have said, "Eh, whatever," because it seemed like he wasn't as good as last year. And I suppose that would've been true—he was on the box last weekend but never really showed up on TV (I wasn't there). BUT he won his first race of the year in commanding fashion, and look at this, he's just EIGHT points out of the lead. He's got to feel good that it's just gone so-so for him and now he's just eight back. Welcome back to the title fight, J Smith!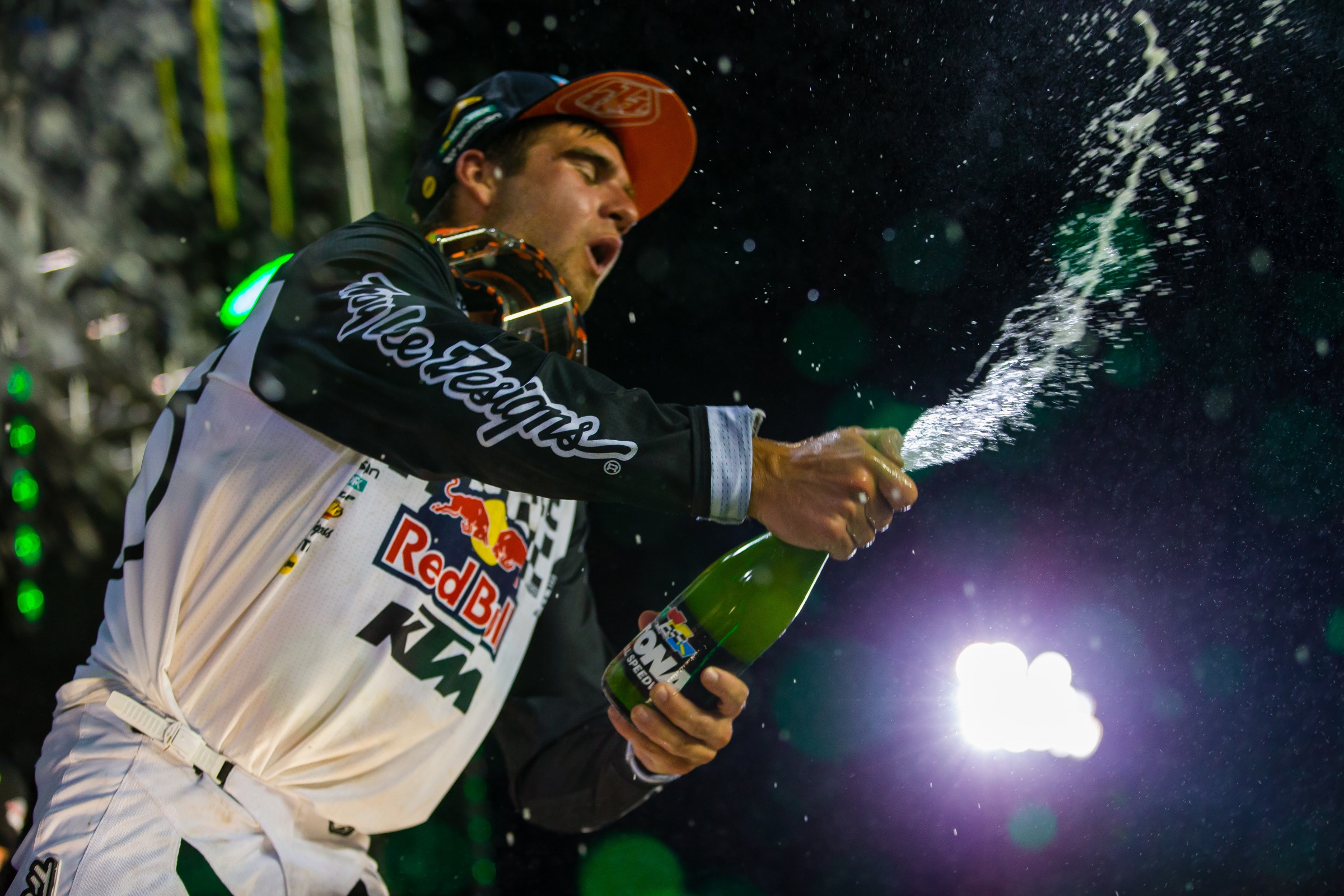 2nd | #6, Jeremy Martin | Millville, MN | Honda CRF250
J-Mart loves Daytona! He was very good and got close to Smith a few times, but couldn't make it stick. I think if Martin had gotten the start and not Smith, then the #6 would've won. It was that kind of night out there for the top three 250 dudes.
3rd | #35, Austin Forkner | Richards, MO | Kawasaki KX250F
Man, early on in the main I thought Forkner was either going to win this thing or eat poop. He was aggressive and pushing hard. Then he had some almost-big ones and backed it down a tad. He was yo-yo'ing with Martin and Smith every lap, and in the end, he had to take his third and a tie for the points going into St Louis.
4th | #1, Zach Osborne | Abingdon, VA | Husqvarna FC 250
Osborne rode very well to get this high after a bad start, but I suppose it's like what JT said in our review podcast: There are no congrats or holding your head high when you're expected to win and you don't make the podium. Riding well is not a blanket of security for Osborne.
5th | #29, Martin Davalos | Clermont, FL | Kawasaki KX250F
Marty's entire season went down the drain in Arlington when he was cleaned out in the first turn. At this point, it sounds like he's being held together with duct tape and gum. There's not much Marty magic out there these days.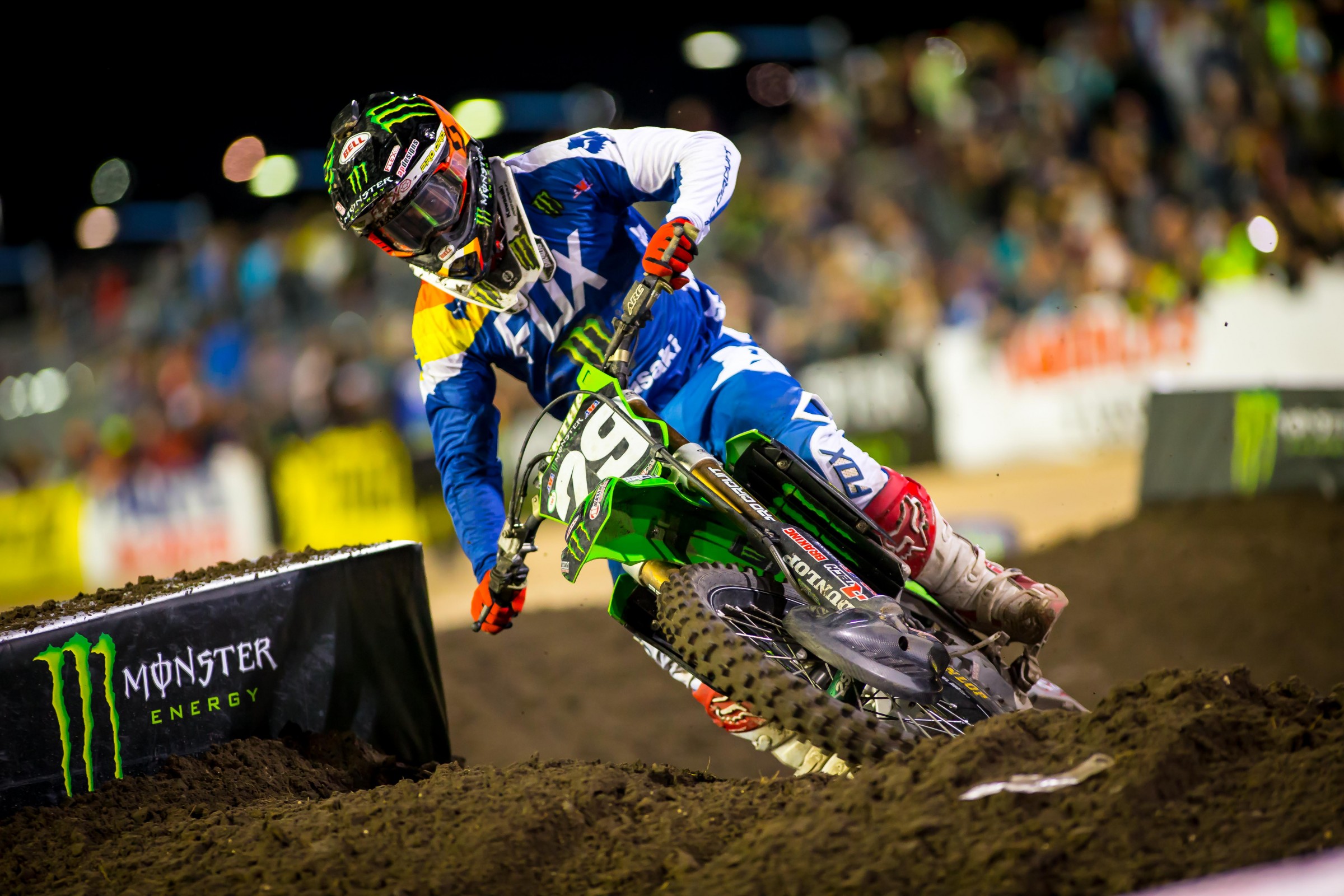 6th | #76, Kyle Peters | Greensboro, NC | Suzuki RM-Z250
Peters gonna Peters, bro. Good result for the perennially overlooked KP.
7th | #43, Sean Cantrell | Murrieta, CA | KTM 250 SX-F
Good result for the rookie. He ran third for a bit before dropping back to this. Daytona can come up and bite you at a moment's notice, so this fine for a debut at the speedway.
8th | #114, Brandon Hartranft | Brick, NJ | Yamaha YZ250F
Hartranft is, like, very good, bro. He's got good speed, and when I spoke with him after the race about his ride, he was very aware I've been upset with him about his fantasy performances, which was kind of awkward. He said he loved it and was going to retweet a bunch of people hating on him. So, at least he's got a good attitude. I told him, as I tell all riders: Never listen to what I say, you'll be better off.
9th | #222, Ramyller Alves | Coconut Creek, FL | Yamaha YZ250F
This is great for the Brazilian; nice to see. A privateer getting a top-ten in the 250 class is cool and not easy to do.
10th | #38, Luke Renzland | Hewitt, NJ | Yamaha YZ250F
A couple of things about Renzland. One is this is an excellent result because El Dozer was "el lasto" after a crash, and two, don't look now, but El Dozer is sixth in the points, soon to be fifth after he passes RJ Hampshire this weekend. He'll never wow you with pure speed, but El Dozer is just gonna El Doze, bro.
12th | #570, Cody Vanbuskirk | Harvard, IL | KTM 250 SX-F
I didn't notice Cody all that much out there, but he kills it in fantasy SX here and there.
13th | #61, Heath Harrison | Silverhill, AL | Honda CRF250
Heath rode well at Daytona and has the last couple of weeks, which made his Tampa result, where he didn't qualify, all the weirder. Back to arenacross for him to continue to beat up plumbers and carpenters in the Lites Class.
14th | #261, Wilson Fleming | Cairo, GA | Yamaha YZ250F
I don't know anything about Fleming, but he follows me on Twitter and was stoked to make his first main event. Also, he plays PulpMX Fantasy, picked himself (and scored the highest a rider could score). He also picked Jerry Robin, who was right in front of him in the LCQ where Jerry crashed, which Fleming said pained him. #FantasySXProblems
15th | #471, Logan Karnow | Vermilion, OH | Kawasaki KX250F
I feel like Karnow has been around a while and is one of those dudes we constantly overlook in the 250 class. Like Justin Starling on the West Coast.
16th | #49, Nick Gaines | Ringgold, GA | Yamaha YZ250F
At some point I head that Gaines was on a four race deal with Traders Racing Yamaha. But the teams other rider, Jayce Pennington, is hurt so Gaines is in for St. Louis.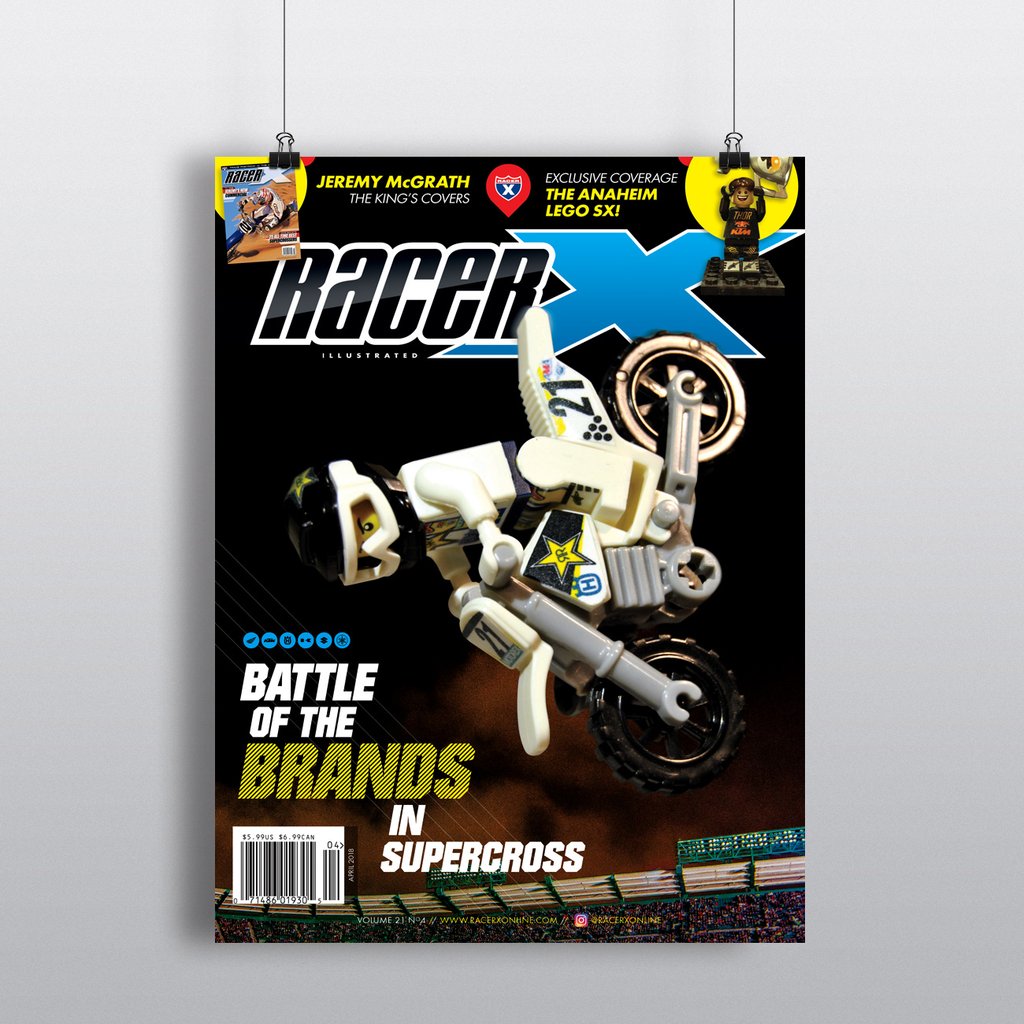 17th | #401, Samuel Redman | Clarksville, TN | Kawasaki KX250F
I'm of the vintage that whenever I see #401 out there on a Kawasaki, I think of Donnie Schmit. I just do.
18th | #57, John Short | Pilot Point, TX | Yamaha YZ250F
Short's more of a motocross kind of guy, so Daytona would be a good one for him.
19th | #986, Lane Shaw | Alvin, TX | Honda CRF250
Shaw qualified for his first main event and was so happy when he crossed the finish line; it was good to see. Shaw trains with the great Tim Ferry, so that's a HUGE bonus in his corner. I texted the great Tim Ferry to ask him what sage advice he gave Shaw before his first main, what kind of nugget of info he passed on to the rookie, what incredible insight he helped out with. His reply? "No clue."
20th | #725, Richard Jackson | Holdenville, OK | KTM 250 SX-F
I don't know anything about Jackson, but he should've won the LCQ last week in Atlanta and threw it away. This week he worked everyone to take the win, and like Shaw and Fleming, he was stoked to make the main.
21st | #47, James Decotis | Peabody, MA | Suzuki RM-Z250
Ahhhh man, Jimmy D got seriously hurt in the first lap of the main event and will be out for a while. RJ Hampshire also will be out until Lucas Oil Pro Motocross after crashing in his heat. What the hell is happening out there?
22nd | #64, Michael Mosiman | Sebastopol, CA | Husqvarna FC 250
Mosiman's main event didn't last long, as he also crashed in the first lap. I don't know how serious the injuries were, but if he's out for any length of time, that's gonna suck for him.
450SX RESULTS
1st | #10, Justin Brayton | Mint Hill, NC | Honda CRF450
Brayton's lap times had gotten up into the 1:15s just after midway and Tomac was a-coming, bro. Then Brayton lowered it a bit on lap 14 while Eli bettered that time by a full second. Yeah, Brayton's dream race was about to get sliced open by Eli "Freddie Kruger" Tomac. Then Brayton regrouped, did a 1:13.9 to Tomac's 1:13.6—only the third time he managed to get into that 1:13 time range—and the charge by Tomac came to a halt right there with a lap to go. It was impressive. (You can read more about the Tomac-Brayton lap time battle here.)
2nd | #3, Eli Tomac | Cortez, CO | Kawasaki KX450F
Tomac was going BALLS OUT after a crash early in the main. Man, was he flying, and with a badly bent clutch lever at that. But again, he wouldn't have needed to do that if he had just not kind of dorked out with his crash on the first lap. We spent 45 minutes on my shows trying to figure Eli out; he's the weirdest fastest dude ever right now. Dominant riders like him, guys that have everyone covered, don't have these small things happen to them. And don't give me Stew because James often had spectacular crashes. Oh, and where have Eli's excellent starts gone to? His average start was 2.5 after Tampa SX; now it's 5.6 and no longer best in the class.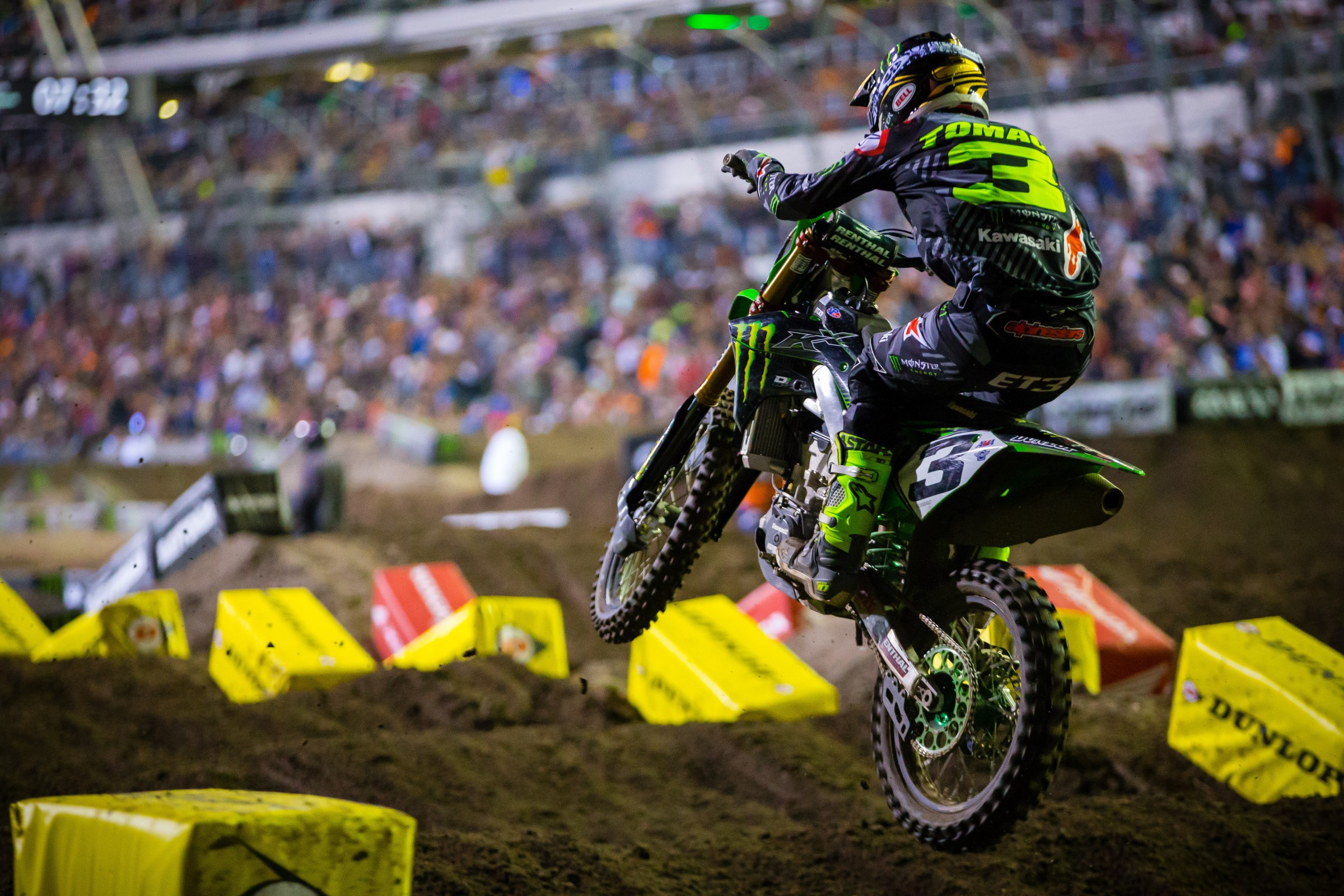 3rd | #2, Cooper Webb | Newport, NC | Yamaha YZ450F
Webb got his first podium of the year, and I'm not sure if you've been paying attention, but he's been very good the last month. Things are clicking for the kid as he figures this stuff out. Webb was involved in some controversy in his heat race when he moved over pretty blatantly on Tomac and even gave him some extra sauce with a rear wheel. Tomac took care of that by cleaning Webb and himself out in the next turn for the move. Pretty much everyone I spoke to about it condemned Cooper for the move, and I agree, it was bad. Webb was not happy with Musquin a couple of years ago for pulling that exact same stuff on him, and I stand by what I said on our podcasts when it comes to cross-jumping: just about everyone does it at one point or another—it's just how bad you do it.
4th | #32, Christian Craig | Orange, CA | Honda CRF450
Honda couldn't ask much more of Craig as a fill-in. He's now led laps, won a heat, and been just off the podium in two races. Pretty good stuff. I wouldn't think Daytona would be his specialty, but like Brayton, this was a much better track for him than you would think.
5th | #25, Marvin Musquin | CLERMONT, FL | KTM 450 SX-F
Marv blew it. He passed Brayton for the lead early and I would've bet one of my Basset Hounds (probably Willy, he's pretty dumb) and a bunch of money that he was going to win. Then he dorked out, almost looped out, saved it, but flew into then mechanics' area. Then he crashed again in the sand. It was so unlike Marv, really. He had set the fast time with two 1:12s before that and was on it. He could've cut ten points off Anderson's lead with the win. He'll be kicking himself about Daytona for a while.
6th | #34, Weston Peick | Menifee, CA | Suzuki RM-Z450
Peick ran third for a while before dropping back, and his manager Jeremy Albrecht said that his crash last week hurt his shoulder, which affected him late in the main event.
7th | #21, Jason Anderson | Rio Rancho, NM | Husqvarna FC 450
Anderson barely got into the top nine in his heat to make the main after a crash. Then he fell in the main as well. So, to come back and limit the damage done to him by getting a seventh is awesome. He and his team will take that.
8th | #15, Dean Wilson | Clermont, FL | Husqvarna FC 450
Wilson wasn't stoked with his Daytona. I saw a photo of his mechanic holding a pit board that said "No Brake," which I took to mean "No Break," but Dean-O confirmed that yes, he did have a "brake" and that it was supposed to mean to stay off his "brake" and nothing to do with a "break." Got it? Oh, and then Wilson told me he wished he didn't have a "brake" so that could be his excuse!
9th | #4, Blake Baggett | Grand Terrace, CA | KTM 450 SX-F
Sounds like Baggett's hand injury from Atlanta is gonna hold him back for the next little while. Usually he's magic at Daytona, but this week he was very mortal out there.
10th | #20, Broc Tickle | Holly, MI | KTM 450 SX-F
When do we start to worry? Broc's had a couple of good races here—like Arlington—but overall, Tick hasn't taken that leap that "we" thought he was going to.
11th | #60, Benny Bloss | Oak Grove, MO | KTM 450 SX-F
Another good, quiet ride for Benji in Daytona. Bloss is now in the top 20 in the points after missing some races with injury and struggling with crashes at some others.
12th | #22, Chad Reed | Dade City, FL | Husqvarna FC 450
Chad's ditched the KYB suspension on his Husky because, as he told me, the steel frame on the Husky is more flexible than the Japanese bikes and right now he needs some stuff more purpose-built for the Husky as his speed's getting better. He's got KYB internals with WP outer tubes (stiffer) and some sort of Franken-shock going on right now. He just needs a dash of Ohlins and he'll have all the suspension companies covered. Hey, man, whatever works, right? He felt good at Daytona but said it didn't really show, which I'll agree with.
13th | #11, Kyle Chisholm | Valrico, FL | Yamaha YZ450F
Chiz is gonna Chiz, bro. Good result, never noticed him.
14th | #69, Tyler Bowers | Lake Elsinore, Ca | Kawasaki KX450F
Bowers had to go to the LCQ, which, if you're a guy battling injuries like he is, is never a good thing. I imagine that with the way the Daytona track was shaping up, the Bear was struggling late in the race with his injuries from way back in Oakland.
15th | #39, Kyle Cunningham | Willow Park, TX | Suzuki RM-Z450
Cunningham got a bit fortunate in the heat when he was a ways out of qualifying, but Bowers crashed by himself and gave KC a spot into the main. Hey, they don't ask how, they just ask how many.
16th | #27, Malcolm Stewart | Haines City, FL | Suzuki RM-Z450
Malcolm came together with Dean Wilson while they were just outside the top five and it didn't seem like Albrecht was that happy with the move. I watched it on video but it seemed hard to tell, like a grainy Zapruder film or something. Anyway, it ruined what would've been a great race for Stewart in front of his home fans.
17th | #55, Vince Friese | Cape Girardeau, MO | Honda CRF450
Not sure what happened to Vince out there. I never really saw him run up front much, either.
18th | #53, Bradley Taft | Nixa, MO | Yamaha YZ250F
Taft rode in Atlanta and didn't make the main (which was a Triple Crown race), but this week he cruised in with a solid ride. Why they would put on the TV broadcast that he was racing his first 450 race when he was there just seven days ago is beyond me. Anyway, Taft was surprising to me.
19th | #90, Dakota Tedder | Surfside, CA | KTM 450 SX-F
Watch Tedder's LCQ start next to the box and tell me he doesn't know when the gate is going to drop. Hey, he still had to ride the rest of the race, so props to him. I spoke with Dakota before the race and his wrist isn't good, so he's not able to practice much. Sucks for him because he came into the year riding very well.
20th | #907, Ben LaMay | Wasilla, AK | Honda CRF450
LaMay posted on his social media that he's not been happy with his riding lately, and I agree, he's not been as good as he was early on. But you know what? He's still making it happen in the LCQs every week and getting into the main. That's a good thing.
21st | #805, Carlen Gardner | Paso Robles, CA | Honda CRF450
Great work for this privateer putting it into the main. Colton Facciotti was there and Gardner beat him; Brandon Schaer was there and Gardner beat him; Henry Miller, also. Last week we had Gardner on the PulpMX Show, so I have no doubt this result was due to that.
22nd | #201, Cedric Soubeyras | Venasque, France | Suzuki RM-Z450
Soubs got a fill-in ride with Josh Hansen's Suzuki team because of Matt Bisceglia getting hurt. No, I do not know why the team keeps bringing Hanny's bike out and he's not racing.
That's it, everyone. I was back at Daytona this year and sort of loved it. It was great to see Brayton win, I'll tell you that much. Thanks for reading, and email me at matthes@racerxonline.com if you want to chat about this or anything else.