Tampa, FL
Tampa
Monster Energy AMA Supercross Championship
Justin Hill's title defense in 250SX West Region has not gone as planned, with 7-10-10-7 finishes in the first four races putting him in a deep points hole. Then he turned it around with a podium at Oakland and a win at the final race at San Diego before the break. Somehow there's good news to this—he's 28 points back in the series, so there's no risk in hopping on a RM-Z450 starting this weekend in Tampa.
We watched Hill ride the 450 on Tuesday at the Autotrader/Yoshimura Suzuki test track in North Carolina and fired off some questions.
Racer X: Follow where I'm going with this, Justin. Lately we've talked a lot about Davi Millsaps retiring. He won the 2014 Monster Energy Cup, so we've talked about that race a lot. Trey Canard threw it away and Davi took advantage—but what no one remembers is that the guy who was actually sitting second to Trey in the first two races was not Millsaps, Ryan Dungey, or anyone else, but you, a 250 rider, on a 450!
Justin Hill: Yeah. I raced one [a 450] one time. And it was awesome! If I just would have stayed up, I would have won it. I was ahead of Davi in points heading into the third race, and I got my best start of the three in that third race. But they soaked the first turn, and there's no parade lap at Monster Energy Cup. So, I just tucked the front and washed out at 70 miles an hour. [Laughs] But hey, the moral of the story is, I don't know if people remember that race or not, but I know I do and I remember how much I liked racing a 450.
I feel like every rider says "it suits my style better," but I feel like you really, really mean it.
I do mean it! [Laughs] I don't have to ride it like I'm in desperation mode. I get to ride this bike the way I feel like a bike should be ridden. That's how I want to ride, and that's how I ride when I'm riding well. This last win in San Diego, I was smooth, but that was good because the track required that. So, no matter what, you can ride a 450 that way and that's what I'm geared toward.
Where does your 450 experience come from?
From amateurs. My first big bike was actually a Suzuki 450.
What?
[Laughs] Yeah. I pretty much skipped 250s. I was on 85s, I jumped up to a 125 for a couple of weeks. We were trying to sort out what brand to race, and I was like, "Bro, we're getting Suzukis." We picked up a couple 450s, got two 2008s in 2010. Leftover RM-Zs, and they hadn't changed so I hopped right on and felt good immediately. People don't remember it, but as an amateur I always had better results on 450s. For every one 250 championship I won, I won two or three on a 450 at the time. That's B class. The only races I did in A class were Texas, but I always sucked on the concrete start there. Then I raced Alabama. I blew my knee out, but won two titles on a 450, and one on a 250. That was the end of my amateur career. I was so bummed. I would have liked to have gone straight 450 as soon as I started my pro career. If I did really well my full A year in amateur, and if someone would have offered me a 450 ride, I would have done it.
Your brother Josh was the same way. Just always wanted to get off the 250F.
I think for him, it was a size thing. I weigh about 175, which is too big for the Lites class. But he was pushing 200. Way too big! He's a little taller than me, and just way big. They used to call him Fat Hill, but that's not really fair, he wasn't fat, we're just built pretty big. So, on a 450, I feel like I'm the correct weight. I'm not dragging it down, but it's not throwing me around, either.
Watching you ride today, you're running such a low RPM. It doesn't look or sound like you're going as fast as you probably are.
Right, and that's how I like it. I like to hit my marks and do everything calculated. We had really good lap times today compared to lap times I've seen out here before. But it didn't feel like I was going bonkers. That's what I like to do and that's what the big bike does for me.
Okay, back to this 250 season. People are going to figure this team found like 10 horsepower or something, because you went from struggling to podium to winning in a short time. But I've heard they've barely changed anything.
No. They haven't. Bike hasn't changed in a long time. Engine hasn't changed. I just needed to get used to it. I had some ideas at the beginning of the season, chassis-wise, and that's on me. I took it in the wrong direction when I was out in California and started chasing my tail with suspension early on. It took two bad races to get to the setting that I was on now, and then from there it just took me a few more weeks to get used to it.
Did you go back to where you were earlier in the off-season?
No, it's still different than that, I would just say it's a more normal setup. At Anaheim 1, I had the bike like this [motions like his front end was high]. Then I went like this [front end low] at Houston. Houston just sucked. One of my worst races ever. I never figured it out and never got better—that setup wasn't working in the whoops, and then I crashed in the whoops and just never progressed throughout the day. So then we ended up where we are now.
What were the emotions after those bad results?
I knew I wasn't myself, so I wasn't upset about it. I knew I would figure it out. I just felt bad for the team. I let them down. I wanted to come out on this new program and come out swinging and let everyone know this bike is killer. In the past it's taken me a while to figure it out, too. It's taken me six races to win before, too! I just didn't quite get it as soon as I wanted, but that was truthfully all my doing. I took too long to get it going.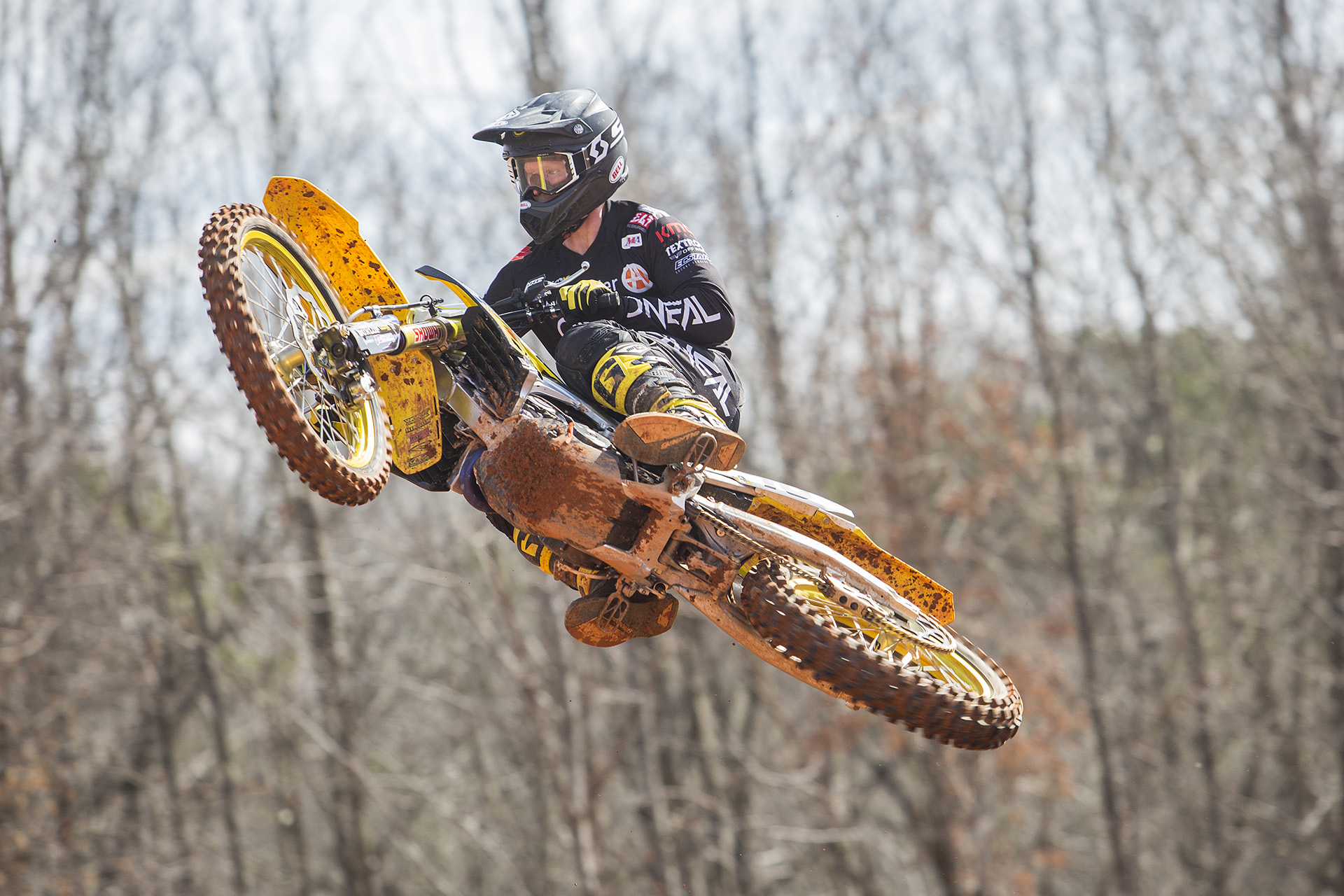 So they didn't find 10 horsepower?
The bike has always been good. I just went a little bonkers and did some other stuff. The bike has been the same. We haven't done anything with the engine at all. The engine has been good.
If you were better earlier and you were closer in points, I bet you wouldn't be riding this 450.
Jeremy Albrecht, team manager: Let me just answer that for you right now—he wouldn't have! I'm not saying he can't win the 250 title right now, he can, but this is different.
Hill: I just look at it like, hey, anything I can do to get better, I'm going to do. If I can learn something and get fitter and better racing these next few weekends, I want to do it. It will help me close the gap.
So you want to get better for the 250?
Albrecht: That's what he sold me on.
Hill: [Laughs] Yeah, well, that's what I told J-Bone!
You'll say anything because you love racing a 450.
Hill: I do! But it's going to help with fitness, no matter what. The longer races are going to help. The only thing is I have to take some time to get back on the 250, so it will take me a few days getting back on the little bike and learning to be more aggressive again. Just stuff like that. So, we'll do a few of these 450 races and then I'll put my focus back on the 250.