Tampa, FL
Tampa
Monster Energy AMA Supercross Championship
Sunny Tampa, Florida, hosts round eight of Monster Energy Supercross. I still own a home in Tampa and lived there for nearly a decade in my racing days. Tampa hasn't been on the schedule since 1999, and with Feld's offices being located nearby, it was only a matter of time before we returned. Attendance has always been a rocky road for Florida events, so let's all hope this year changes that narrative. With amateur day drawing families from across the East Coast, I think it will be a success in comparison to events of the nineties. The weather looks to be picture-perfect, and Feld will undoubtedly roll out the red carpet for the supercross world.
The track this weekend has some interesting tweaks. The over/under bridge is back and there are three separate sand sections. One of those sand sections spans the entire length of a rhythm section. As that dirt mixes into the clay, there will be some nasty holes and otherwise unique aspects to navigating that section. Let's take a look at how Raymond James Stadium has been laid out.
The start is long and bends into the slow 180 that I am such a fan of. It gives riders time to move around and separate themselves before they pivot left. The long bend to the left avoids the sharp angle that can result in huge pileups (see: 250 main event in Arlington). The outside riders can drive deep and hope to carry momentum around the outside while the inside riders can tiptoe through the inside and have at least some chance of success.
The first rhythm section looks pretty intense with a few options. The big decision is whether or not to triple into the section. If riders can triple in, they will then be able to get aggressive in their choices as they continue down the lane. If they can triple in and triple over the next tabletop variation, then triple-double or double-triple out, that looks to be best. The other choice will be to double in, hopefully then triple onto the tabletop and step off, then triple single into the turn. If you're the unlucky soul who isn't able to triple in or at least double-triple onto the tabletop, it's going to be a long day at the office.
A big bowl berm (look for a net here) leads into the aforementioned sand rhythm section. Normally riders would triple out of the berm, step over the next tabletop, then triple-double their way out of the section. It would be fairly easy, and with the sand added, it was drawn up accordingly. The sand is going to turn an otherwise easy rhythm section into much more. There will be ruts in every jump, and watch for some serious mishaps here all day and night.
A bowl berm leads riders into a steep finish line jump before an interesting small rhythm. The fastest way will be to triple onto the tabletop and step off. Whether or not that's possible will depend on the build, but at minimum, they will need to bounce off the top of the tall single and onto the tabletop.
Riders will cut across the starting line and past the mechanics' area and into an easy double before a sharp left. Sand greets the riders in the exit of the turn and quickly bends right and into a jump-over-tabletop that is also the bridge. The down ramp of the bridge will build speed into the upcoming whoop section. There looks to only be eight whoops or so, which makes things a bit easier for the riders. Some will jump in and jump out and some will blitz, but both should be about the same with an eight-pack.
A fast, sandy berm greets riders after the whoops, and this turn will be an absolute goggle-killer. With the inside berm being the preferred line, riders will be showered with sand each and every lap. A supercross triple is right out of this berm, so watch for the 250 riders struggling. The sand will sap their momentum and make their technique incredibly important. Upon landing the triple, a small single leads into the under section of the bridge and back onto the start straight for lap two.
Questions I Want Answered
Eli Tomac is staying true to his win-or-crash 2018 campaign. Which will we see in Tampa?
Is the podium the new normal for Blake Baggett?
Is 250 racing going to continue down this path of chaos?
What's Justin Hill got for the 450 boys?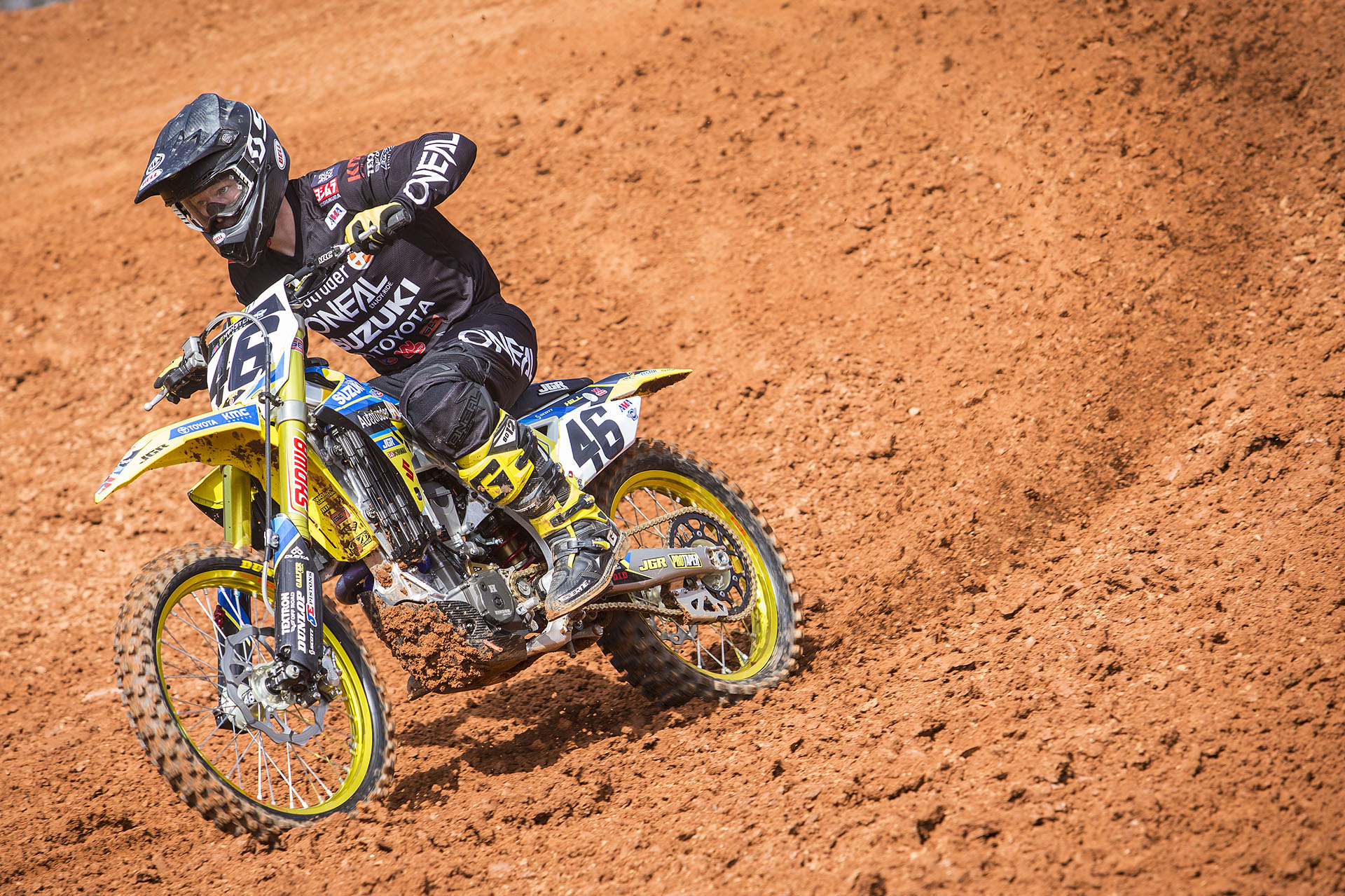 Who's Hot
Blake Baggett has three podiums in a row and his confidence is growing.
Zach Osborne won a wild 250 main event even after a ho-hum day.
Marvin Musquin has been second two weeks in a row and only 5 points out of second place in the series.
Colt Nichols and Jimmy Decotis both landed on the 250 podium. They weren't on many people's podium radar for Arlington, but staying out of trouble paid huge dividends.
Who's Not
Justin Barcia was clipped by Tyler Bowers in their heat race and left with a broken finger to show for it.
Martin Davalos should have had a great Arlington. His first-turn debacle ruined that, though, and he sits 25 points out of the lead after round one.
Josh Grant broke a bone in his leg and will be out several weeks.
Fergie sang the National Anthem at the NBA all-star game and it went poorly, to say the least.
Bold Predictions
"Heat Race Marty" wins his heat race.
Feld kills it with their Chad Reed tribute and he rides to an inspired top-ten finish.
The "Skull and Crossbones" flag debuts at Tampa.*
Eli Tomac wins again.
Marvin Musquin writes a strongly worded letter to Weston Peick about his move in Arlington and has it delivered by proxy.
Knich looks for another niche after ending their partnership with the Monster Energy/Yamaha squad.
Mike LaRocco signs up for Tampa. When asked about his plans, he states "nothing is over" and proceeds to apply war paint to his face.
My Picks
250
Zach Osborne
Martin Davalos
Jordon Smith
450
Eli Tomac
Jason Anderson
Marvin Musquin
*The "Skull and Crossbones" flag was a PulpMX-inspired concept in which all rules are removed for the final minutes of the main event. Similar to The Purge, this psychotic ending to main events would give an outlet to all of the unchecked aggression we see not only during the race, but even in the first turn. No sporting event on earth could compete with the excitement of the Skull and Crossbones flag. Insurance issues are still pending, but look for this addition soon! (Disclaimer: none of this is true so don't lose your mind in the comments section.)