Tampa, FL
Tampa
Monster Energy AMA Supercross Championship
Monster Energy/Yamaha Factory Racing's Cooper Webb hasn't made the 450SX podium yet this year, but he's making big strides. The first few races of the year were below where he'd hoped to be, but now we're seeing signs—winning a heat race in San Diego, fastest in a practice session last week, then holeshotting and leading a bit in Tampa before finishing fourth.
Webb has always been a rider that makes steady progress instead of one who blasts onto the scene. Is that in play again this year? We talked to him after the race.
Racer X: Seemed like a tough race, between the sand, and that track being slippery in spots. It looked like it was tough to be consistent lap to lap
Cooper Webb: It was a hard main event tonight, between the sand, the heat, and we did a lot of laps, I think like 24 laps. It was a much better night for me, for sure.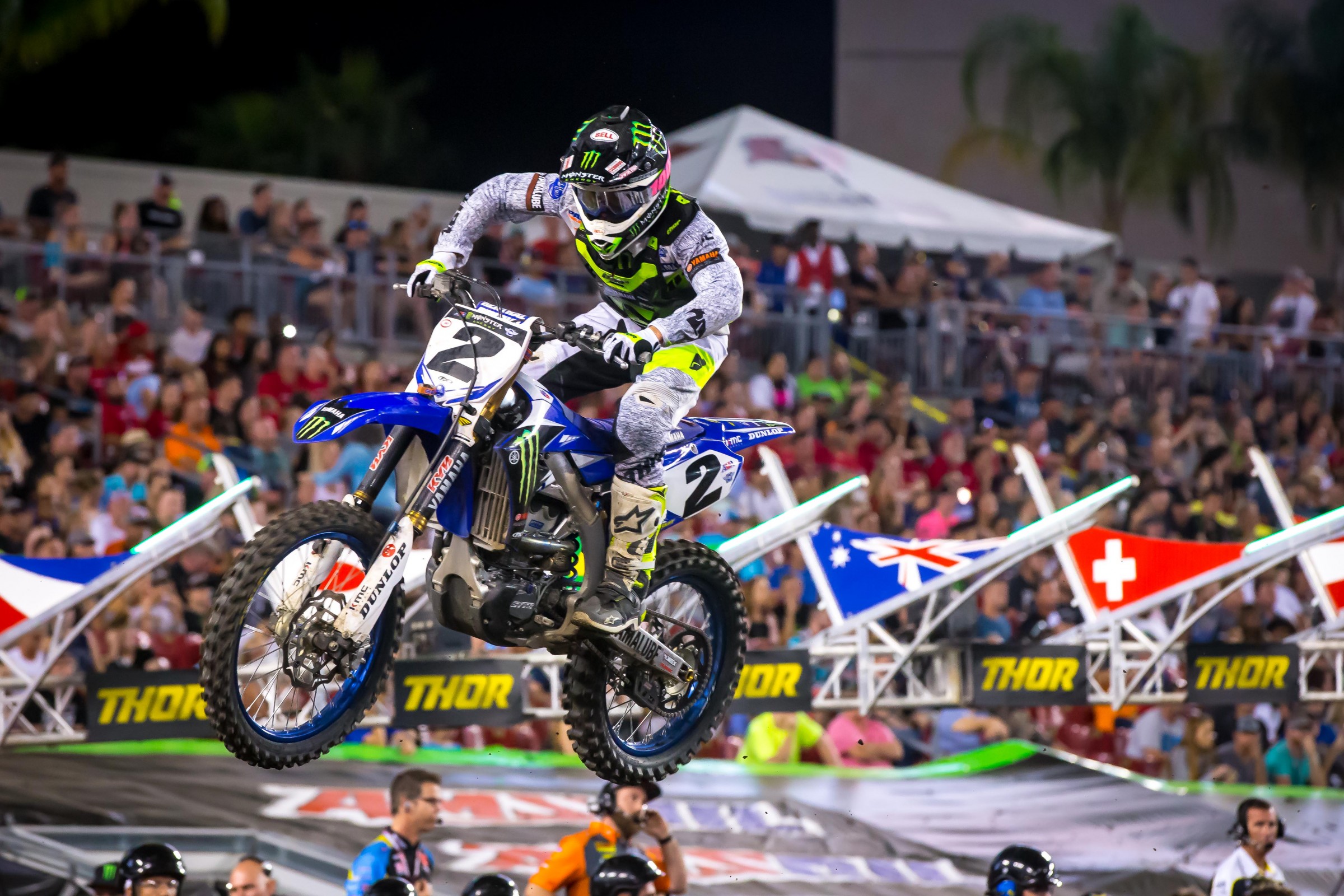 Was that the first time you've led laps in a long time?
Yeah. I led the heat race in San Diego and won the heat race, but I definitely hadn't led (a main event) in a while, and I think it kind of showed. Made some mistakes, tightened up a little bit. I started to get back in my flow once everyone got around me [laughs]. Started to settle down and ride some good laps.
Everyone saw the sand, but the rest of the dirt seemed slippery.
Yeah, it was strange. Underneath it was very slick, like a shiny, hard dirt. It changed all day. One practice it would be slick, then it would be super tacky, the heat race it was tacky, the main it was more slippery again. So, it was deceiving. Like I said, all the 450 mains this year, compared to the mornings, they get really slick at night when the moisture comes up.
Can you tell that when you're out on the parade lap?
Yeah, for sure. It's a pretty big change for us, and for me I feel like it's different because, in the 250s, by the end of your race you thought the track was pretty rough, but the 450s are starting on that track! But that's part of racing 450.
When it comes to setup on the bike, does that mean you're just guessing how things will change throughout the day and night? Trying to anticipate if it will stay tacky or get slick?
It's not so much guessing. You kind of come up with a game plan with the team and yourself. Coming here, though, I think everyone was in the same boat. No one really knew how the conditions were going to be. At most tracks, you can kind of go back to the notes from the year before and kind of know what to expect. For me, everyone coming here for the first time, it was kind of a guessing game.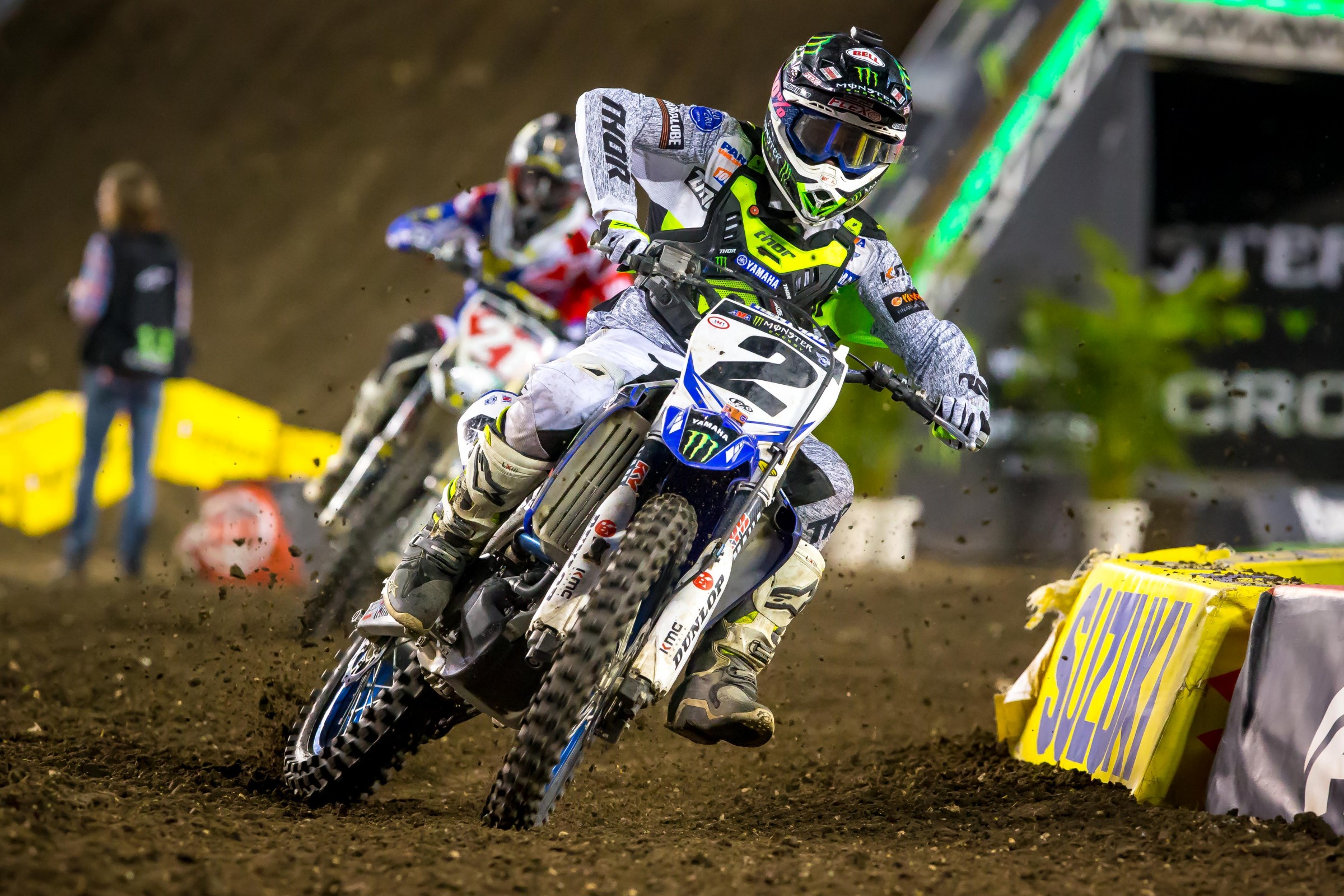 For you, how much progress do you feel you've made between Anaheim 1 and now?
I feel a lot better. Results are obviously better, but more than that, I'm right there, so I'm taking the positives with it. I'm obviously not quite up to these guys yet, but I feel like in practice I'm right there, but I need to be a better racer. Maybe I'm being a little bit conservative. Hey, it's all good, I'm getting better every weekend and getting more confidence. Making small steps, and now we're right there knocking on that podium. I think the three guys that are up there tonight are great riders and they're really pushing that edge. I need to be better.
Is it a relief to be back in the hunt, though, to see them right there?
Yeah, it is, but I never once questioned it. I knew what I was feeling and what I was going through. It's easy to get sucked into what everyone else thinks or says, but it's a tough class, and I'm still learning and still getting better. I'm really feeling like myself again during the week, during practice, during the races. Things are going well for me and we have a lot more races to go, so hopefully we can get on the podium and then maybe win one of these things.