The news broke late last fall: Andrew Short, just a year into his retirement, had signed a contract with the factory Rockstar Energy Husqvarna rally team and would be returning to racing. The team is a powerhouse in rally and off-road racing, and Short would be given access to some of the best bikes in the sport.
Short's American motocross career lasted 16 years and included nine professional wins. But rally racing and motocross are two very different sports. Motocross races are short, quick sprint events, while the major rally events take can take place over several weeks.
The 2018 edition of the Dakar Rally—arguably the most grueling off-road race in the world—took place during the first few weeks of January. Short went into the event not fully knowing what to expect, but despite breaking his ankle with two days to go, he was able to finish 17th overall. We recently talked with Short about the race and more.
Racer X: Last time we spoke with you was in November, just as news had just broke that you were going to go racing for the Rockstar Husqvarna rally program. The race is now over and you are home. How did it go?
Andrew Short: For me, looking back at it, it went really quick. I was excited to go to Dakar—it was honestly a dream come true. From my perspective, I've always heard so much about the race and have even read some books on how the race used to go through Africa. In 2009, the race switched to South America for safety issues. I read how big the race was and didn't really know what to expect.
I was amazed by just all the experiences and the people standing along the side of the road. They say there's more than four million people standing on the side of the road throughout the event. You go through all the different conditions, from the massive sand dunes and riding and racing on the beach to the high altitudes in Bolivia in the mountains. It's really tough conditions in Argentina. Between all that, as well as and competing against the other riders and dealing with the marathon stages, it is super hard.
At the end of the race, I ended up breaking my ankle with just two days to go. I should mention that it is a 14-day race. So, that was really tough. Just looking back, it went really quick. I wasn't as competitive as I hoped to be, especially when I talked to you guys in October. I thought I would catch on much quicker and be more competitive sooner. But I really struggled with the navigation and my speed on the high-speed roads, or piece, as they call it. I was really good in the sand, but there were definitely things I need to learn and respond to quickly. Overall, I just felt like it was an amazing experience and a dream come true.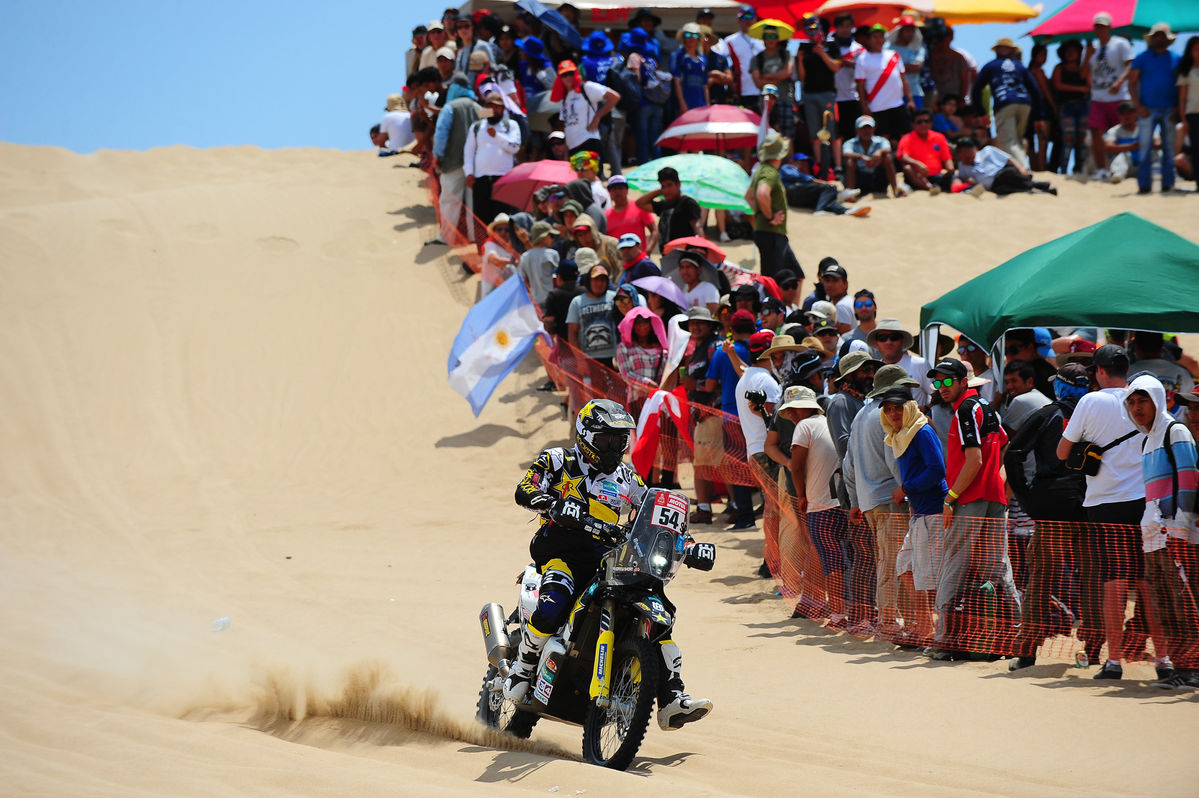 What did you finish overall?
I finished 17th. Honestly, I was in the mid-20s as far as my overall speed was concerned, but with crashes and bikes breaking, I moved up. I was just really happy to finish, especially with a broken leg. For me, it's like climbing a mountain and you can see the top, and to stop without getting to the top would have been crushing. So, for me, I was really stoked to make it through the end.
Given your motocross background, how did you do with the high-speed stuff? I could see that is an area where you might not have a ton of experience.
Basically, you need big balls with the high-speed stuff. Coming from supercross, I feel like you're on the edge and the conditions are extreme and pretty dangerous. Dakar is on another level—especially if you want to compete and be at that top. Those guys, they don't leave anything on the table. The course is gnarly and rough, and honestly more like a trail than a race track. The conditions that I'm used to pushing on, I had no problem wrapping my head around that as a motocross racer. But when you get on a road and you hit a blind crest or the speeds are over 100 miles an hour, my brain isn't quite comfortable pushing at those levels and in an unfamiliar environment. During the second week, I tried to push hard—but I had four big crashes.
So, for me, it was really tough to adjust to it. But that's something that I have to get better with. But everyone always talks about from the motocross side how big and heavy the bikes are. Honestly, that's not true. It's real similar to the Husqvarna 450 motocross bike. It just has more fuel. Obviously, I think the tanks hold about nine gallons of fuel, and that does equate to a lot of weight. I think it's 70 extra pounds when they are full. But the overall bike, it's a real similar feel to a motocross bike. That's what I really enjoyed. It's basically a motocross bike with another gear and you can cruise it down the road. It's a really enjoyable bike to ride.
Give us a quick layman's description of the route and location of the race. It starts and finishes where in South America?
Every year the route for Dakar is different. This year it started in Peru. The first six days were in a region that was full of sand dunes. For me, I really enjoyed that because there's not a lot of road sections. The riding is real technical, demanding, and the scenery is amazing. In and out of a lot of canyons and stuff like that. After that, it went to Bolivia, which, honestly, I didn't care for so much. The altitudes were really high. The next area was in La Paz, which we reached some altitudes that were close to 14,000 feet there. There were some roads, but the weather was really extreme. We went from the desert in Peru where it was really hot with the sand, to Bolivia where there were sections with snow. But the riding wasn't as enjoyable for me. Some sections were cool, but for the most part I didn't enjoy Bolivia.
Then the race, it finished in Argentina. That was really cool. It seems like motorsports just keeps growing in South America. I know worldwide rally is really big, just maybe not so much in North America. The people aren't familiar with it. Each year the route changes. This year the route was almost 9,000 kilometers (about 5,550 miles). To do that in 14 days is a lot of riding. The second-to-last day, I think, was the longest. It was 907 kilometers. It was basically all day of riding. It's tough. You don't get much sleep. Day after day, the fatigue sets in and wears on you. It's a big challenge. It is kind of similar to a Tour de France or climbing Mount Everest. It was a whole different challenge and adventure for me.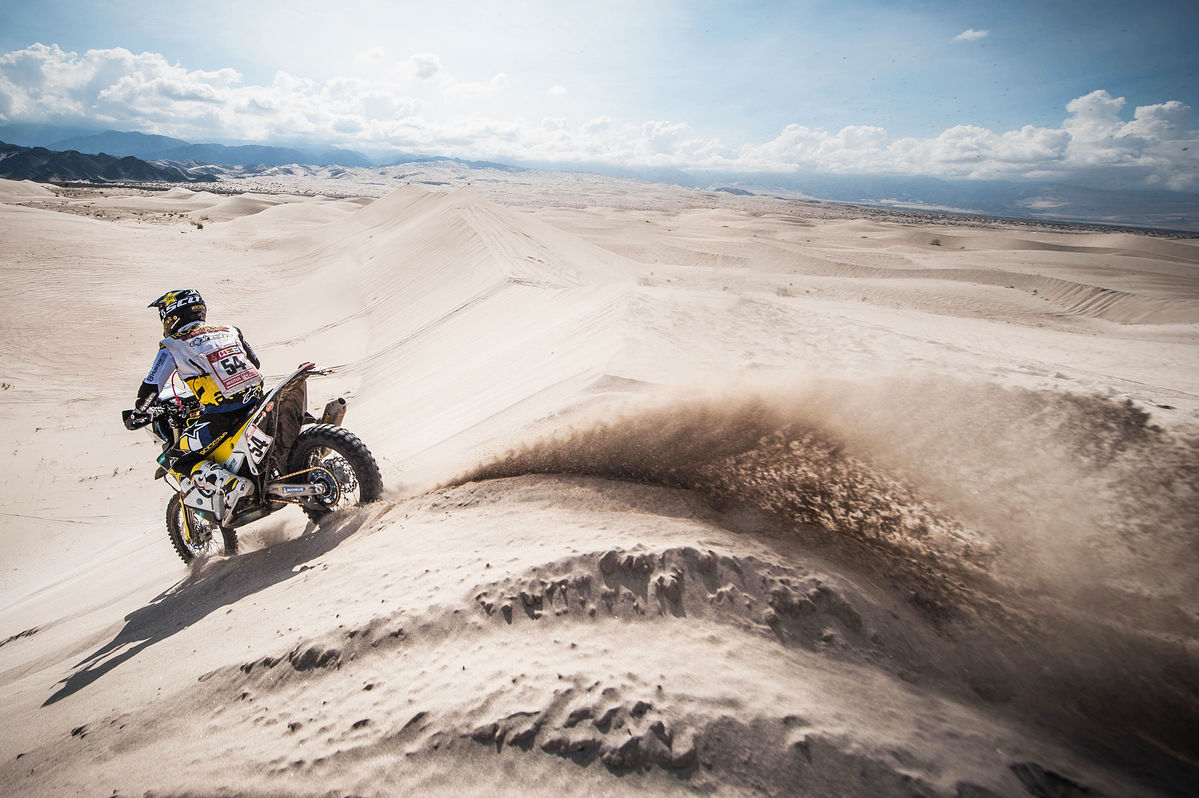 How many hours a day are you on the bike?
The first day obviously is kind of like a prologue. That's the shortest you're on the bike. The liaison is the longest, riding out of the city to where you're going to race. That's maybe four or five hours. Then we only race for 40 minutes. Then the longest day is probably 13, 14 hours. Average, I would say, seven or eight hours a day at least on the bike. If you factor in all the stops and getting fuel and all that stuff, it's some long days.
The worst part about rally, honestly, is preparing your road book for the next day. You get that at night and you mark it. When I say you mark it, you go through the road book and you mark the dangers. You try to study it to see where you're going to go. You put colors on there for important information. The book was in French, so for me I know some of the French language, the names for bumps or a left turn, right turn, mountain, sand dunes, and stuff like that. A lot of that is just going through to make sure that I understand what the road book is saying. So, that takes quite a long time at the race at night. So, there's long days, a lot of riding, and lot of fatigue. But that's what makes it so challenging and fun and addicting.
Unlike the Baja 1000 where you get to pre-run, I guess you don't get to pre-run this event.
That's correct. Baja is one long day and you know exactly where you're going. I think there's a lot of prep in that ahead of time. Rally, they try to keep the route secret. You don't get your road book until that night the day before, so that's the whole thing. You have to navigate through it. Honestly that's what separates the good guys from the rest. They can find their way really quick. If they make a mistake or the navigation is tricky, once they get to that point they can figure it out really quick where it might take me five minutes. Or if I go the wrong way, I go five minutes out of the way, then it's five minutes back and trying to figure it out. All that adds up. So that's kind of what I struggled with.
There was a lot going on with it, but I've gotten a lot better. To do that at such a high speed is really difficult. I hope to get better at it. I feel like all those riders, if you raced motocross and supercross and you see how good these guys are with their skills, it's pretty impressive. It's not just about going fast. It's saving your body, being smart, and navigating. There's all these different elements and factors. It's a huge difference. I love the strategy aspect, also. These guys, certain days they don't want to lead out. We talked about navigation. If you're the first guy trying to find your way, it's not the ideal position to be in. There's a lot of strategy involved and how you do one day because it leads to your starting position the next. That strategy with a passion of two-wheel and motorsports, it's really cool.
What did you do about the French situation? If you don't speak French, if you only speak a few words, did you have a translator?
No. It's not ideal, but there's people there at the race from all over the world. While the road book is in French, it's easy to translate or figure it out. They have like cheat sheets, almost. For me, I would rather learn Spanish than French just because of the team I'm on and the people. It seems like more people speak Spanish than French. But there's dudes from Russia that don't speak French, English, Spanish, or anything. They figure it out. For me, English is a good language to know obviously in the paddock, or the bivouac is what they call it, just because it's a pretty common language for racing. At the riders' meeting, they do it in French, then Spanish, and then lastly English. So, you might lose out on a few things, but you still get the gist of what's happening in them. It's not that big of a disadvantage.
What does the future hold? You obviously signed a contract with Rockstar Husky. What are your plans going forward? How can you train for an event like this?
I signed a two-year deal with the team. I got to do Dakar. I get to do Dakar again. In between, then there's six world rally rounds. The first one is March 22nd. It's in Abu Dhabi. The second round is in Qatar. Then there's three races in South America. One in Chile, one in Peru, and one in Argentina. Then the last one is in Morocco. The rally team also tests quite a bit. They like to go to Spain or Morocco to prepare the bike, but also to train for the road books. So, I didn't think I'd be as busy as I was when I raced motocross and supercross, and I don't think that's quite the case, but the calendar is really full.
For me, I want to make the most of this opportunity and try to be the best at it and have no regrets. I try to practice as much and learn as much as I can with the road book and stay fresh. I do some training on the dirt bike here at home, as well as riding in desert in Utah or California. Those are some of the ways I'm helping to stay prepared.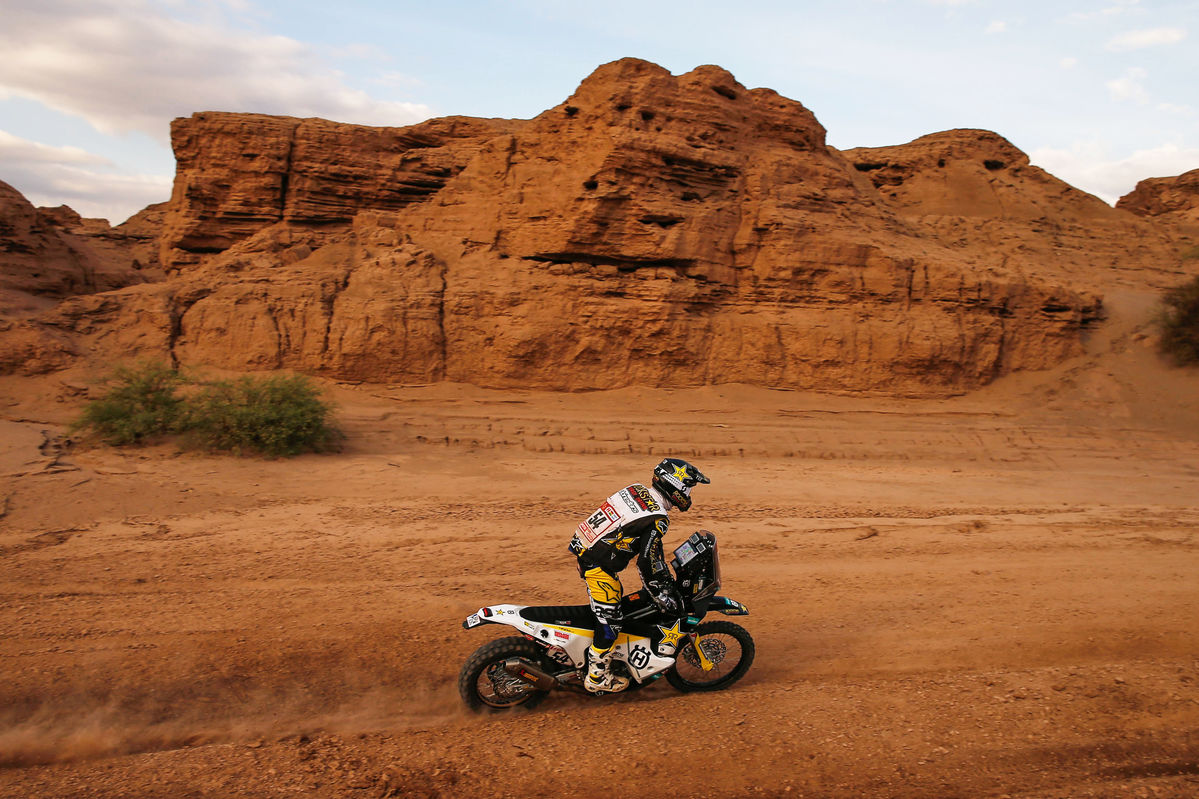 Have you been following this year's supercross series? What are your thoughts on that?
For sure I follow it, and I also keep in touch with a lot of my friends in the paddock. It's been an unusual year and a crazy year, I think, for racing. For me, I was disappointed to see Kenny [Roczen] get hurt at San Diego, but the racing and the certainty of knowing where everyone is at is really cool. It's been a good year for Husqvarna and Rockstar Energy, with Jason [Anderson] being so successful. But for me, I like to see the parity. It's a bummer when people get hurt. I think it's been a good year for the fans and I think for the series in general. I think the changes have been really good that the promoter made, and hopefully they implement more in the next coming years.
I don't think the riders would necessarily enjoy it, but I think the Triple Crown stuff's been good. There's a lot of 250 guys that I think in the future are going to be moving up. So, it seems like the sport's healthy and the crowds have been good, so that's great to see. But for me, it's different because for 17 years I've always been at the races, and this is the first year I've been away. It's a different perspective and a different view. Sometimes it bums me out, but I'm really happy and glad to be doing what I'm doing. It's different.
Looking beyond your two-year deal, do you think you're going to want to continue with the rally stuff?
I would love to, but I have to be competitive if that's the case. The team I'm on is part of the KTM group, and they race to win. My teammate is the FIM World Champion for rally and KTM has won Dakar for the last 17 years. The position I'm in, they don't pay me to get 17th. They've had great patience with me to learn, but eventually their patience is going to run out unless I'm able to get results. For me, I want to be the best that I can, and if I can continue in the future I would love to for as long as possible, but I have to get results first. I want to make the most of it, but if it doesn't work out, I would love to stay involved with the industry. I have a huge passion for two wheels and dirt bikes, and it's my life. We'll see what happens!
Who has been the greatest American rally racer?
Rally is not very big in North America just in general, but it's huge worldwide. I don't know who necessarily the best rally racers have been. Ricky Brabec is the best guy right now. He won a stage before. He was top three a few stages this year. So, he's really good. Chris Blais was pretty good as well. And I know Danny LaPorte did it, as well as Johnny Campbell. I'm going to forget names. There's been a ton of people who've done it before. There's been numerous Americans that have been really good and strong. There's just certain people that have taught me, and people I've met that I know have done pretty well.
I guess we get some of our top riders here who are top off-road guys who go over there and do well, but then it's hard to get support. You can't really do Dakar like a privateer like you might do the Nationals or something over here.
Yeah. You have to understand, it's so expensive. If you're not on a team, the bare minimum price to go do Dakar for 14 days is $100,000. If you do it right, it's $150,000. In saying that, Kurt Caselli, he was really good. If he would have had some more time—it's a shame—but he would have been amazing at it. There's been a few people like that that had the chance. Scot Harden was really good. I feel it's kind of like the Tour de France with Lance [Armstrong]. Once it had that Lance effect and an American did good, it took off. I feel like rally keeps gaining more and more traction and it's getting bigger here in the U.S., but obviously not like motocross and supercross. If you look at their statistics, it's the second biggest motorsport in the world behind F1. It's bigger than MotoGP and all these other things. It's crazy how big it is, but how small it is in the U.S.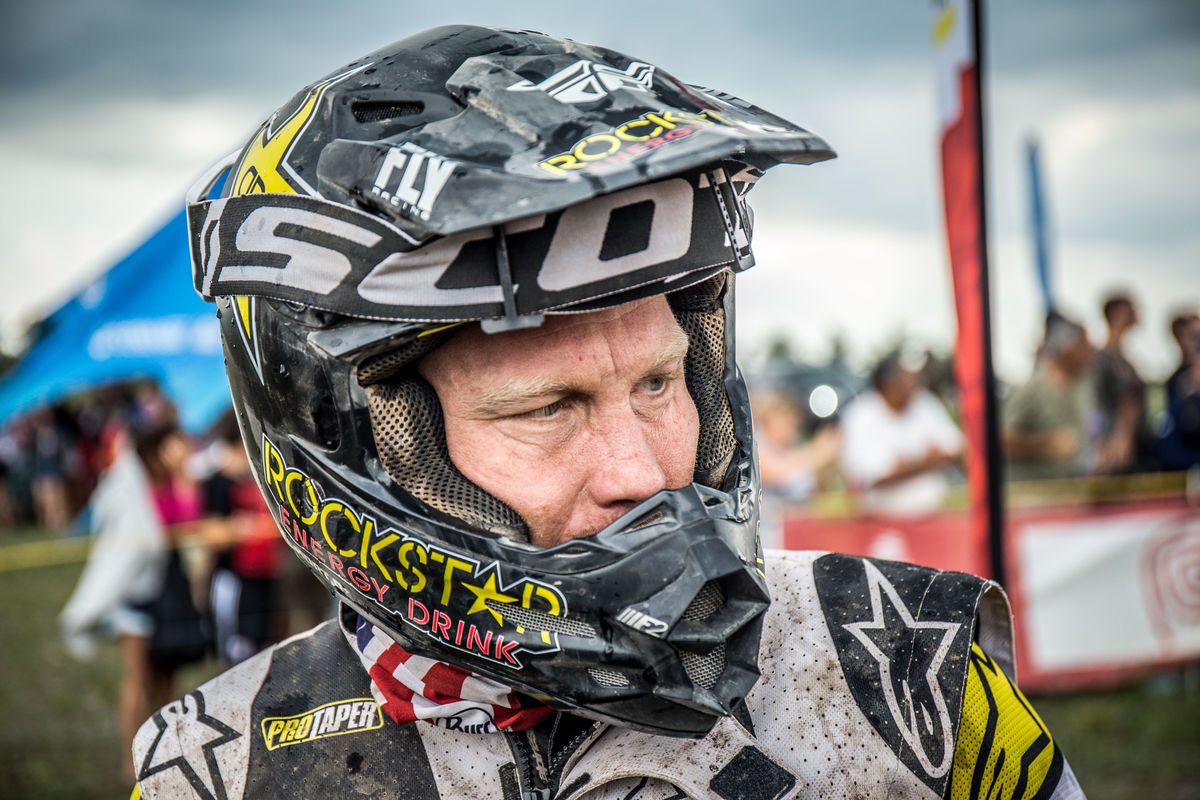 Any regrets on the retirement from motocross/supercross? Are you happy with the transition?
For sure I was blessed. At the end, I wasn't as competitive as I hoped to be. I had two really big concussions at the end, so that was tough. I was really blessed to know that it was my last year and to kind of go out on my own terms. Not many people get to do that. To race for 17 years was a dream come true, especially with the teams and the people I was associated with. Last year with my role was the perfect transition job or opportunity and also help with Western Power Sports (WPS), them and Fly Racing were really cool for me and opened doors to do rally. Not many people get to live their dream, let alone two of them. So, for me to get to do rally is a huge opportunity. It definitely helps with being retired from motocross and supercross. When you have a passion like that, it's definitely different when you stop.
Last questions: is your home base still in Texas, and how is the family doing?
Yes, it is. We live in Springfield still. It's good. It's not ideal for rally though. Obviously living in the desert would be much better, but for riding moto and just riding here at the farm, it's awesome. The kids are getting big. They're seven and ten now. They ride around the farm a little bit on minibikes and play the normal sports. My wife is doing good as well. She doesn't ride a dirt bike as much anymore, but sometimes she gets out and rides in the mountains with me in Colorado and does some trail riding events, but not as much moto because she's busy being mom. Everyone's doing good. We have a lot to be thankful for.
I'd just like to thank the team at Rockstar Energy Husqvarna for the opportunity, and the people associated with that along with WPS. They've always been a huge supporter of mine throughout my career. I still get to wear Fly helmets, which is a big thing for me. I'd like to thank those people for this opportunity. That's the main thing!