Arlington, TX
Arlington (Dallas)
Monster Energy AMA Supercross Championship
Can you believe it's round seven already? Wow. We're almost halfway through the 2018 Monster Energy AMA Supercross Championship and things have been pretty nutty so far. Arlington this weekend continued the nuttiness in so many ways. Let's get into it.
First, the track, and yeah, it's Arlington. For such a beautiful and massive dome, the size of the field is pretty small and just a football field size, so it's always a short, fast track. The dirt has been much improved over the years and it's actually soft and tacky. Man, the old Arlington dirt was concrete—partly, I'm sure, because the old dome had a hole in the roof so it was sun-baked for days.
Pretty uneventful track, but a couple of things I'd like to touch on. First, and I've written about A LOT, Feld has brought nets to supercross this year, which is awesome. It's something I've been ranting about for years now and yes, they are there for safety, as we saw with Colton Aeck in Glendale. I'd like to think of myself as a humanitarian and wanting these nets for safety, but that's totally not true. The main reason I wanted nets in supercross was because I wanted to bring berms back to supercross. I was tired of seeing riders grab brakes and file into a line to take the inside of a turn because there was no berm on the outside due to lawyers telling Feld that a bike could launch off said berm and into the stands like we saw with Matt Goerke years ago. Any corners on the outside sections of the track had no berms. So, my solution was to build berms again and put a net up to catch any bikes that fly off so no one ends up in the stands.
We've seen some nets and some bowl berms and life has been great. This weekend in Arlington, though, the second turn (the right-hander) screamed for a bowl berm and a net, but there was none. So the riders just all slowed down, filed into the turn, and basically did the same thing, lap after lap. So we have some nets in some corners, but now we need more nets! We need the nets put right there! #Bringbowlbermsback
I always love it when a rider or select few riders do an obstacle that others cannot. That's what gets me going— seeing the elite riders doing elite things. Maybe that's why I loved Stew so much, I'm not sure. Anyway, this weekend there was a section after turn three where the riders went outside, four over a tabletop, scrub three, and then hit the big triple. Eli Tomac was the first guy I saw do it clean, Jason Anderson followed, and I think Cole Seely did it as well. No one did it in the night show that I saw; I imagine you had to go too wide, but it's cool seeing something like that every week.
Ok, on with the ups and downs from Arlington.
(UP) — Tomac
The COW came through this week with a win, and a dominant one at that. Fastest in practice, won his heat, and took off with the main event victory. He looked great, and this is the Eli Tomac that we all expected to see this year. Every week. Question for you readers: I think last year, with nine wins (should've been ten), it was considered a successful season for Tomac and the team. No title, but I mean, he did pretty much everything but that. So, with heightened expectations this year but no chance at this title, if Eli rips off another five or six wins and again wins the majority of the races, is that "okay" for Eli and the team? I don't know, but I do know that Eli Tomac was amaze-balls in Arlington.
(DOWN) — Injuries, Man
We started off with Tomac, Dean Wilson, and Marvin Musquin hitting the deck at the first two rounds. But then things stabilized a bit as they all came fighting back from those injuries. Well, we're back to a mess right now. Second-in-the-points Ken Roczen will most likely be out for supercross with a hand injury. This week it was the new second-in-the-points Justin Barcia that is now out with a hand injury (hand injuries are the new shoulder injuries) after getting clipped by Tyler Bowers when he doubled the triple. It could've been way worse, so I suppose Justin's lucky. Also, Kawasaki's Josh Grant broke his leg when he cased a jump and will be out a month or so. Jason Anderson got fourth (after a fall) and somehow increased his points lead. Cole Seely is now second in the points and I suggest he avoid any black cats and ladders in the near future.
(UP) — Zach Osborne
The defending champion admitted afterward that he was nervous and didn't ride that well. I don't know, I guess I'd LOVE to have a night where I didn't feel well, yet still qualified third-fastest, got second in my heat to a rider that is the Jesus of 250SX heat races, and then fell and STILL won the main event. That was Zach Osborne's Arlington. To me, he was great. He could miss jumps, make mistakes, and still put the bike wherever he wanted to and make passes with ease. Wacko Zacho was as good as ever and I don't want to hear otherwise.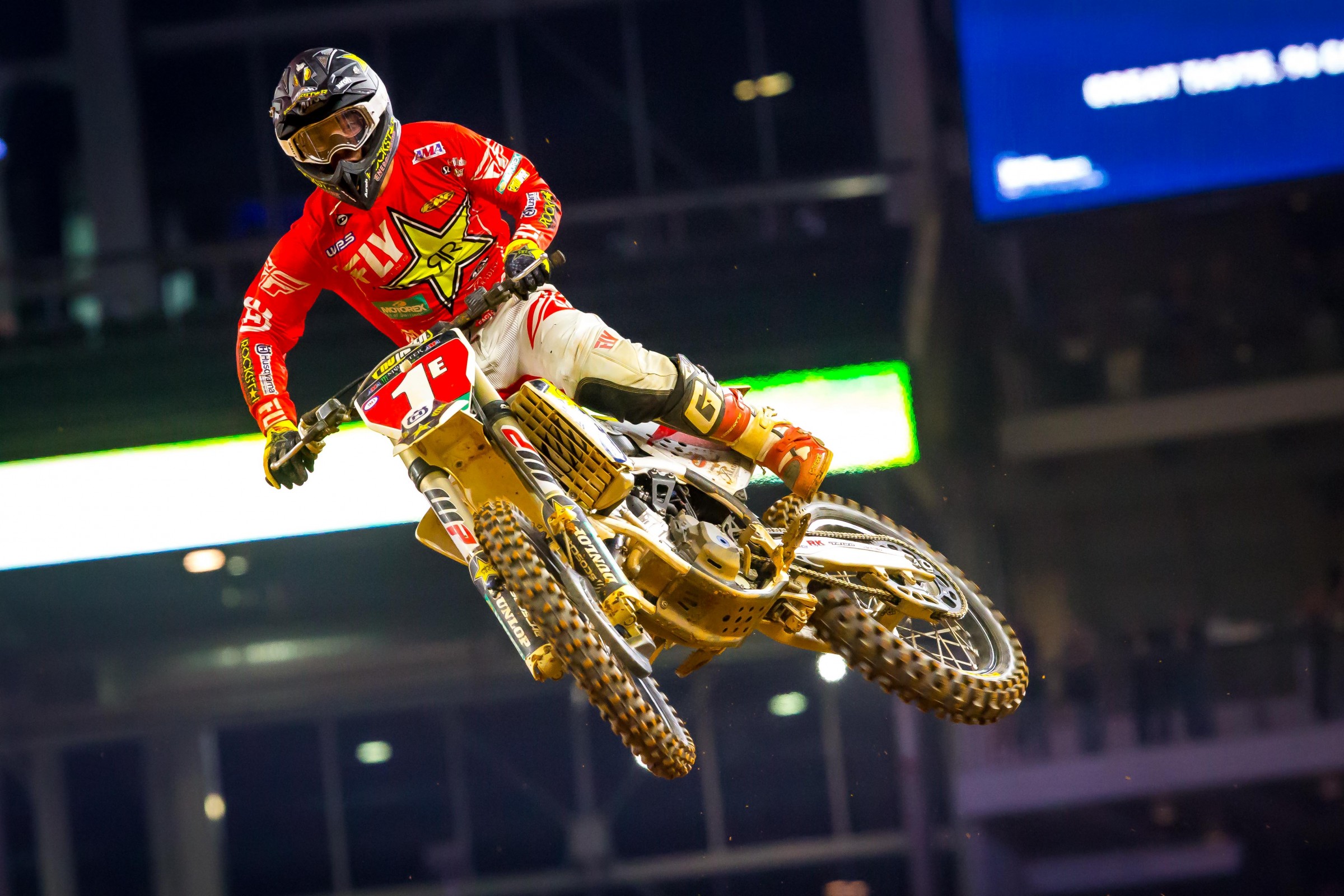 (UP) — Tickle Time
I wrote last week that I was done waiting for Broc Tickle to break though. He rode really well to get a fifth and this week, he was down on the ground again and came from last to ninth. Tickle thought that although his result was worse, he rode better this week and I'd have to agree. "I think the main thing I've been trying to focus on is my strengths. The last couple weeks I've been frustrated in practice because I feel like I'm laying it on the line but I'm not good," Tickle told me after he race. "I think that's just how I am. That's something I have to accept. That's not my strength. Not like, 'Oh yeah, Tickle just lights the laps on fire.' That's not my strength. Like tonight, 27 or 26 laps or whatever and the track's jacked up. That's main event time. That's when I do good and when I ride good." I would totally agree with this statement, by the way.
(DOWN) — That First-Turn Crash
Man, we were set up for a great 250SX East Region opener but thanks to Josh Osby and Jordon Smith missing their braking points on the inside, we got complete carnage with Martin Davalos and Dylan Ferrandis, two title favorites, on the ground and out of it along with ten other dudes. It was a rough way to start the opener for Kawasaki and Yamaha. With the defending champion winning the opener, this first-turn crash puts Marty and Dylan in a big hole.
(UP) — JIMMYYY DEEEEE and JGR
With Jimmy Decotis scoring a very solid third in Arlington, that's three straight podiums and a win for JGR Suzuki on the outdated RM-Z250F. Yeah, I said outdated. Yeah, I was one of the guys that wondered about this bike, and I'm still wondering. It's not on the level of the other factory machines in this class, but as we've seen time and time again in this sport that the rider can make up the difference (remember this the next time your favorite guy blames "setup"), and that's what Hill and Decotis did. Yes, Decotis benefitted from that first-turn crash but he was fast all day. He qualified fourth overall, bro. Give it up to Jimmy and the JGR guys, they deserve it.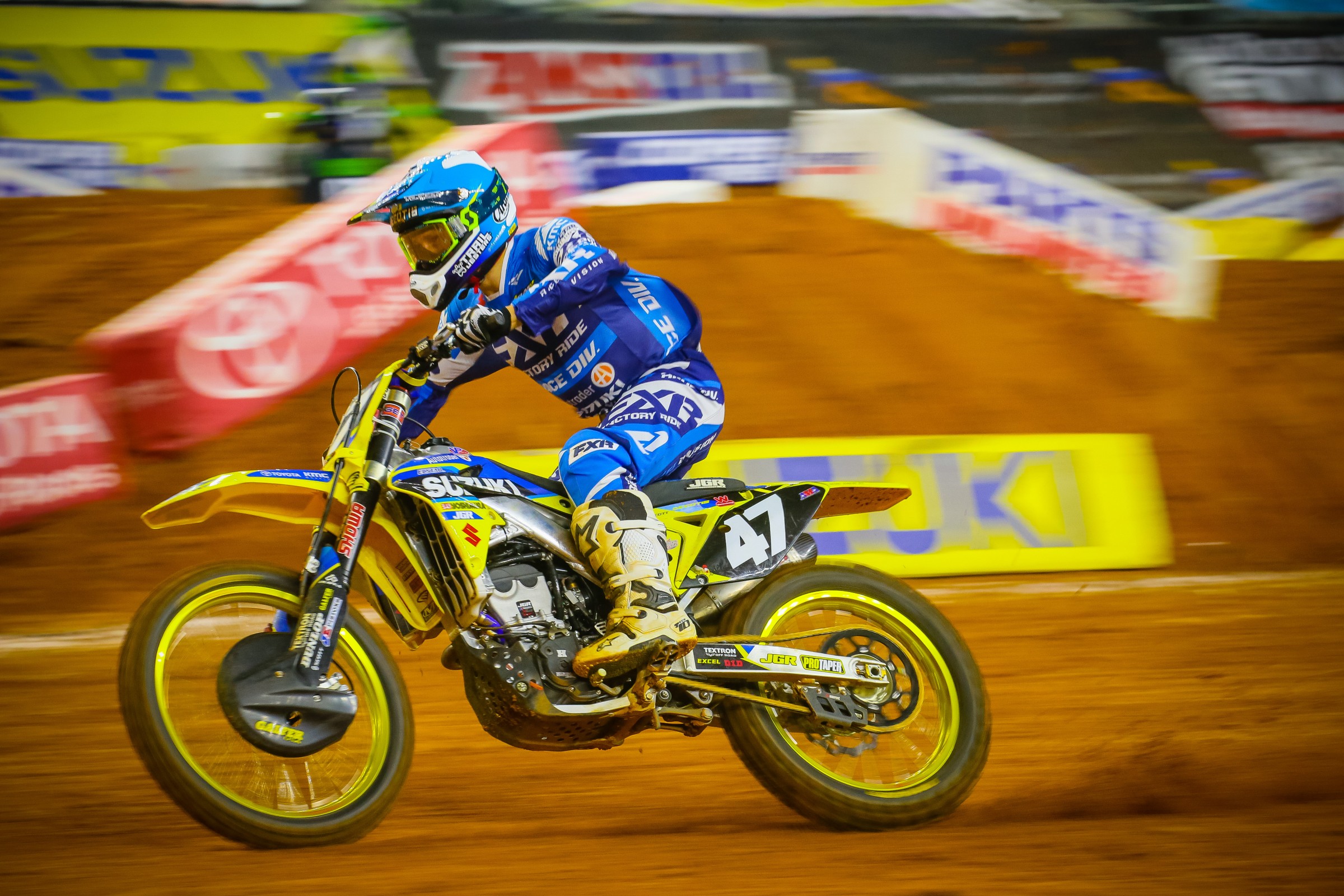 (DOWN) — Stats
Stats are for losers, I guess, because Eli Tomac's stat line is pretty incredible. Three wins (tied for the most in the series), 3.6 average qualifying position (tied for second in the series), four holeshots (most in the series), 55 laps led (most in the series), and 2.5 average starting position (the best in the series). Yet he sits SEVENTY POINTS out of the lead. Yep, these are amazing stats and yep, he doesn't care one bit about them.
(UP) — Our Entertainment Factor
Like I said after San Diego, we're all winners because I figured that Eli Tomac would spend some time trying to get Justin Barcia back after his aggressive pass in San Diego. That's on hold now, but can I interest you in an Austin Forkner/Zach Osborne battle? Seeing as how Forkner spent two laps going after RJ Hampshire's front wheel after RJ put kind of an aggressive pass on him in the heat race, I'm thinking Forkner might be out for revenge after the #1 put him down early in the main. I watched the pass a few times and Forkner turned down earlier than Osborne thought he was going to just as Zach was coming in hot on the inside. It wasn't really that bad, but that's not going to soothe Forkner's feelings. Kawasaki still has harsh feelings toward Zach's pass on Joey Savatgy and Osborne's retaliation on Adam Cianciarulo, so just throw this pass on the flames. Actually, wait…
(DOWN) — 250SX Riders Who Lose Their Minds
May as well make this a whole thing. I told you about Forkner and Hampshire and Forkner and Osborne. I mentioned the first-turn crash. Also, Jordon Smith took down Jeremy Martin on the last lap in such a violent manner that I thought Martin must have hit Smith earlier. Well, according to the GEICO guys, there wasn't anything. Wow, Smith cleaned him out and took himself down in the process. Anytime you pass another rider and you end up on the ground, you didn't have it, bro. To recap, Kawi is after Osborne, the entire field is probably after Osby, and Martin now has an axe to grind with Smith who got himself a little talking-to by the officials. AND THIS IS JUST THE FIRST RACE, PEOPLE.
(UP) — #21's Titles Chances
As detailed above, Rockstar Energy Husqvarana's Jason Anderson crashed in the main, got fourth, and still widened his points lead. He's looking, ahem, GREAT to win this 450SX title. It'll be interesting to see if he tries to go mano a mano with Tomac at some upcoming races to prove he's the better guy. I'm sure his team and entourages are reminding him to be smart and don't do anything dumb, but once you're out on the track, anything can happen, right? As someone pointed out a week or so ago, when's the last time a guy's first title was a 450SX title? (This doesn't include 250SX, of course, which Anderson has.) There's Chad Reed, of course, Jeremy McGrath and…?
(UP) — Battle for First Loser
Right now it's:
Cole Seely 124
Blake Baggett 120
Marvin Musquin 119
Weston Peick 114
Justin Brayton 112
So all these dudes who have all had good seasons are trying to take that spot behind Anderson in the points. I mean, Marv's missed a race and he's still right there, so perhaps he's got the edge, but I could make a case for any of these guys to emerge from the injured wreck that is 450SX.
(DOWN) — RJ
NOT RICK JOHNSON, HE'S NEVER DOWN! But last time we saw RJ Hampshire, he won the MXGP of USA in a great ride. Hampshire's taken the unusual route of basing himself in Florida and training and riding alone. Because of this, there hasn't been much RJ hype for the East Region. In Arlington, RJ admitted that he didn't ride well all day, but he pulled the start, there was that massive wreck, and he found himself all alone. He led 13 laps before Osborne got him and then fell over, costing himself a sure podium. Holeshot, 13 laps led, and a fourth really sucks. Kudos to RJ for admitting as much to me after the race. "I'm kind of getting old now, so that can't happen. I feel for my team and stuff," he said. "We haven't done too great on West Coast yet. We have a couple podiums, but I want to get these guys a win. Tonight I had an opportunity. A lot of guys going down, and I kind of threw it away. So, we'll get back to work this week, though, and be ready for next weekend."
(UP) — Privateers
With injuries causing Roczen, Barcia, Wilson, Tomac, Musquin, Weimer, and Bogle to miss one or more races, we've seen some privateers grab openings for main events like it's the last flight out of Da Nang. Adam Enticknap made a bunch of mains; Henry Miller, in his rookie 450SX season, has made a couple. The Cat's [AJ Catanzaro] in there, Austin Politelli's been good, and heck, Cole Martinez showed up on a 450 this weekend and rode 'er into the main. Pickings are quite good for the privateers right now—at least until the fill-ins start showing up. Oh, and speaking of privateers…
(UP) — Ben LaMay
This guy's been killing it. Big Ben's been in AX the last couple of years, but he's back and riding very well on a privateer Honda. Do you know that LaMay has a full-time job in Texas working for Monster? He takes Fridays off to go to the race, puts it in the main event each week, then heads back home to go to work on Monday. What I like about LaMay's season is that even he if doesn't get a good start, he rides himself into a qualifying spot a lot of the time. He's been great and it's a cool story. As JT said on our podcast, Monster should absolutely throw him a few coins from their couch cushions and hook him up with a helmet deal… he is a MONSTER!
(Up) — Fill-Ins
What's Kawasaki going to do with Josh Grant out? Probably put Tyler Bowers on the bike. What's Yamaha going to do with Barcia out? I don't know, but I bet they get someone. What's Honda going to do with Roczen out? Ehhh, probably nothing, they don't have an outside sponsor to satisfy. Either way, these injuries are about to be a real help to a couple of dudes.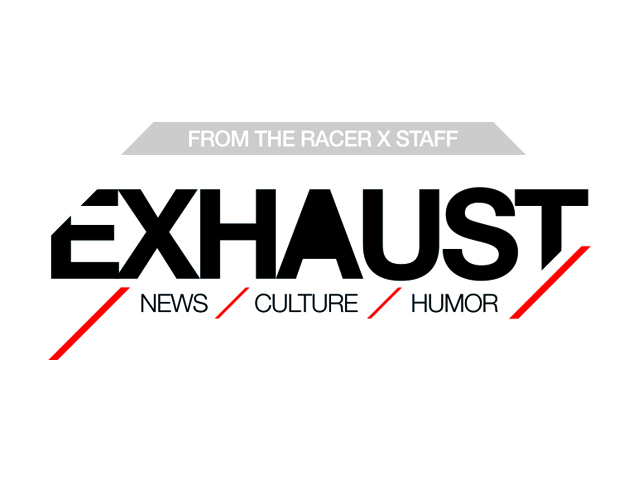 (DOWN) — Concession Prices
Look, AT&T Stadium is the nicest dome I've ever been in. It's amazing, and I say this even though I hate Jerry Jones and the Cowboys. Gotta give it up to Jerry, though; he built an awesome place. But, I mean, come on with those concession prices. Simply ridiculous. Luckily for Weege and me, we happened to have Thomas Fichter from N-Fab there who bought us a meal. But still, I feel for you people who need to take out a mortgage to buy your family some food.
(UP) — Me!
Yeah, that's right. Thanks to Flyin Kolors and Fly Racing, we're raffling a custom PulpMX painted Fly helmet for $20 a ticket to a privateer. And because I couldn't figure out who is a privateer any more than you could, we're doing it via a 450SX LCQ challenge. A PulpMX Quadruple Crown. We're two races down, with two to go, and Tevin Tapia leads Devon Raper by one point, with Ben LaMay in third. For all rules or to buy a ticket to help a privateer, go HERE. https://raffle.pulpmx.com/
Thanks for reading OBS, people. I appreciate it greatly, and email me at matthes@racerxonline.com if you want to chat about this race or something else.