Arlington, TX
Arlington (Dallas)
Monster Energy AMA Supercross Championship
Monster Energy Kawasaki's Eli Tomac grabbed his fourth holeshot of 2018 and his third win. He had a perfect day by qualifying fastest, winning his heat race, and leading all 25 laps of the main event. Tomac was asked what his reaction has been after his bad races in the post-race press conference. "It totally sucks, just because the amount of time you put into it. We all put in that work, but it's tough when you put in three months or whatever it is for getting ready for the season and you got your hopes high and then all of a sudden, you're 70 points down out of the lead. It's a place I never want to be in, but here we are. At least we're back to winning races." Tomac now sits tenth in points, 70 points behind Jason Anderson. Tomac's teammate Josh Grant suffered a leg injury in qualifying and was unable to compete in the evening's racing.
Consecutive second-place finishes for Red Bull KTM's Marvin Musquin, who said after the race he has made tremendous gains in regard to his shoulder injury. "Injuries, any type of injuries like that, it's really tough to keep on going every day and every weekend and keeping up with cardio, gym training, and then racing. It's hard. But I'm definitely doing a lot better every week. It's not like I would like to, but it's getting a lot better. We're able to race pretty hard, so that's good."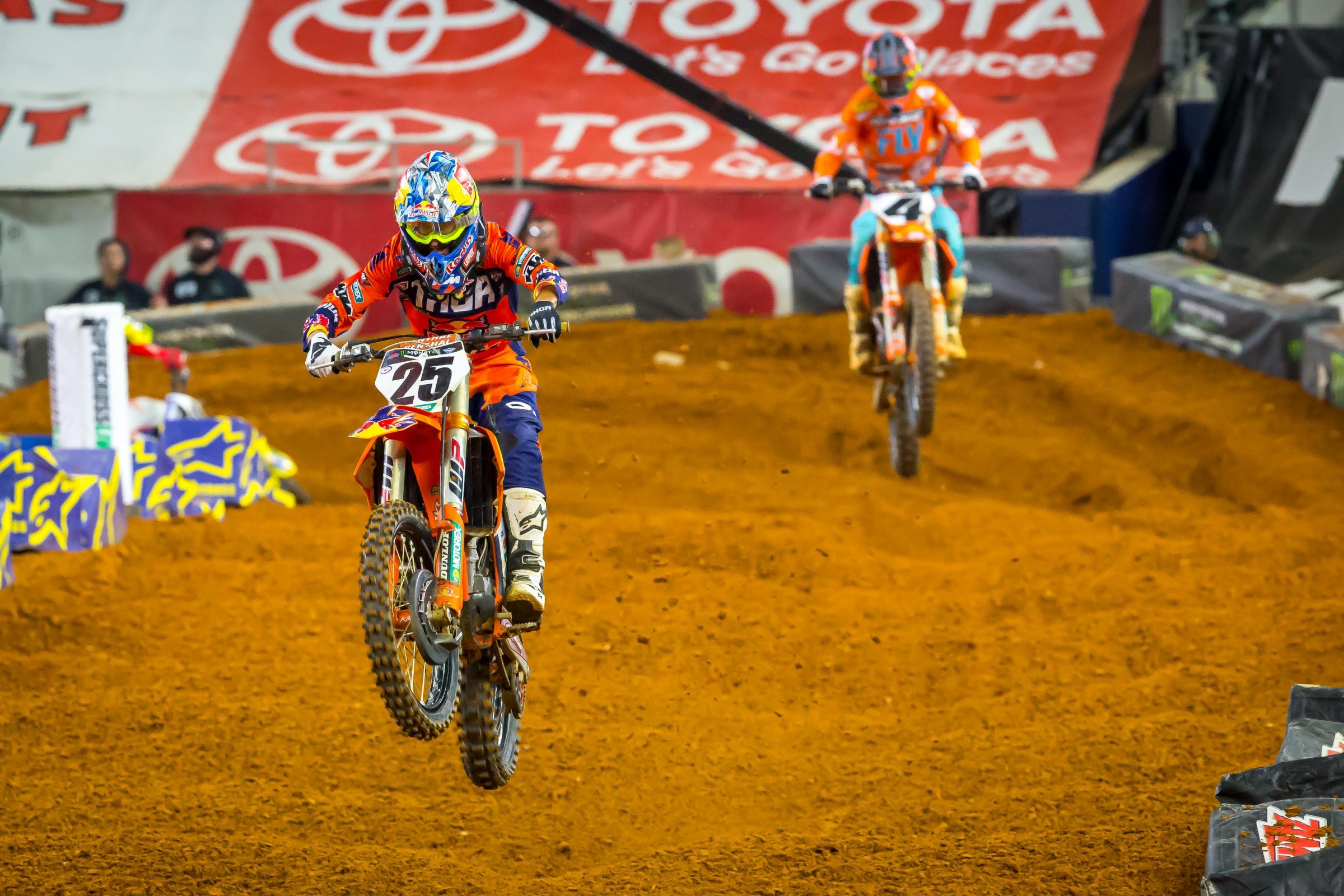 Following a slow start to the season, Rocky Mountain ATV/MC-KTM-WPS's Blake Baggett picked up his third straight podium in Arlington. Entering the season, Baggett had just two career podiums in 450SX. Baggett was asked in the post-race press conference what he needs to do to get on the top step of the podium. "I guess these two guys not show up would help," he joked. "I don't know. Everybody's got the goal, every team here. That's why everybody's here, is to win. Just got to have a better start and just smoother, faster laps is the bottom line to it, but it's not that easy.
Rockstar Energy Husqvarna Factory Racing's Jason Anderson was running up front when a small crash in the main pushed him back to seventh. He was able to make up some positions, but the leaders were to far gone. In a team statement, Anderson said, "I made it happen this weekend. I qualified third and was second in my heat. I was second in the main, then tipped over and made it back to fourth. I was able to make up some points, and now I just need to keep the ball rolling." Anderson continues to hold a big lead in the standings, as he sits 36 points clear of second-place Cole Seely.
Seely explained his night in a team statement following a fifth-place finish. "I'm obviously frustrated because I want to be further up there and on the podium, but tonight was the hardest-fought fifth I've ever had to work for. I think I rode a lot better than the result shows. I was also happy with how I managed the race, my energy, and effort. I came from seventh and had to battle with riders on the way up, then Anderson was charging and we battled back and forth a bit until he got by. Then I went straight back to being pressured by Cooper Webb until the end. I laid it all out there, especially on that last lap because I knew Cooper was behind me and was going to try and stick a wheel in anywhere he could; I was just trying to ride defensive but still be fast. It was a hectic night of racing, so I'm happy to get out of here uninjured. We did a lot of work to the bike this week, even though it's risky because things are pretty different when you show up to the race versus the test track, but I was pretty confident in what we had found. I'm happy to take a step in the right direction. It feels validating that we made a good change, and I have a good direction to work in and fine-tune." Like many of the top riders, Seely has moved to Florida for the remainder of the supercross season.
By the way, Seely's teammate Ken Roczen underwent a successful surgery on his right hand on Friday.
Autotrader/Yoshimura Suzuki's Weston Peick had some hard-fought battles in Texas. Peick, Seely, Webb, and Anderson all exchanged positions for several laps before he ultimately finished seventh. In a team statement, Peick said, "Practice went really well. I qualified sixth, which I was happy with. I didn't get the start I was hoping for in the heat race because I got tangled up through the first turn. There were a few times where I had to get aggressive in order to get around riders, but it worked in my favor. It was nice winning the heat race and having that momentum heading into the main. I didn't realize how rough and choppy the track was going to get. We went a bit too stiff with the rear shock setting, which wasn't the right choice when the track developed into what it was. Regardless, I showed good speed. I need to capitalize on those situations, and am looking forward to next weekend." Peick moved up to fifth in the championship point standings.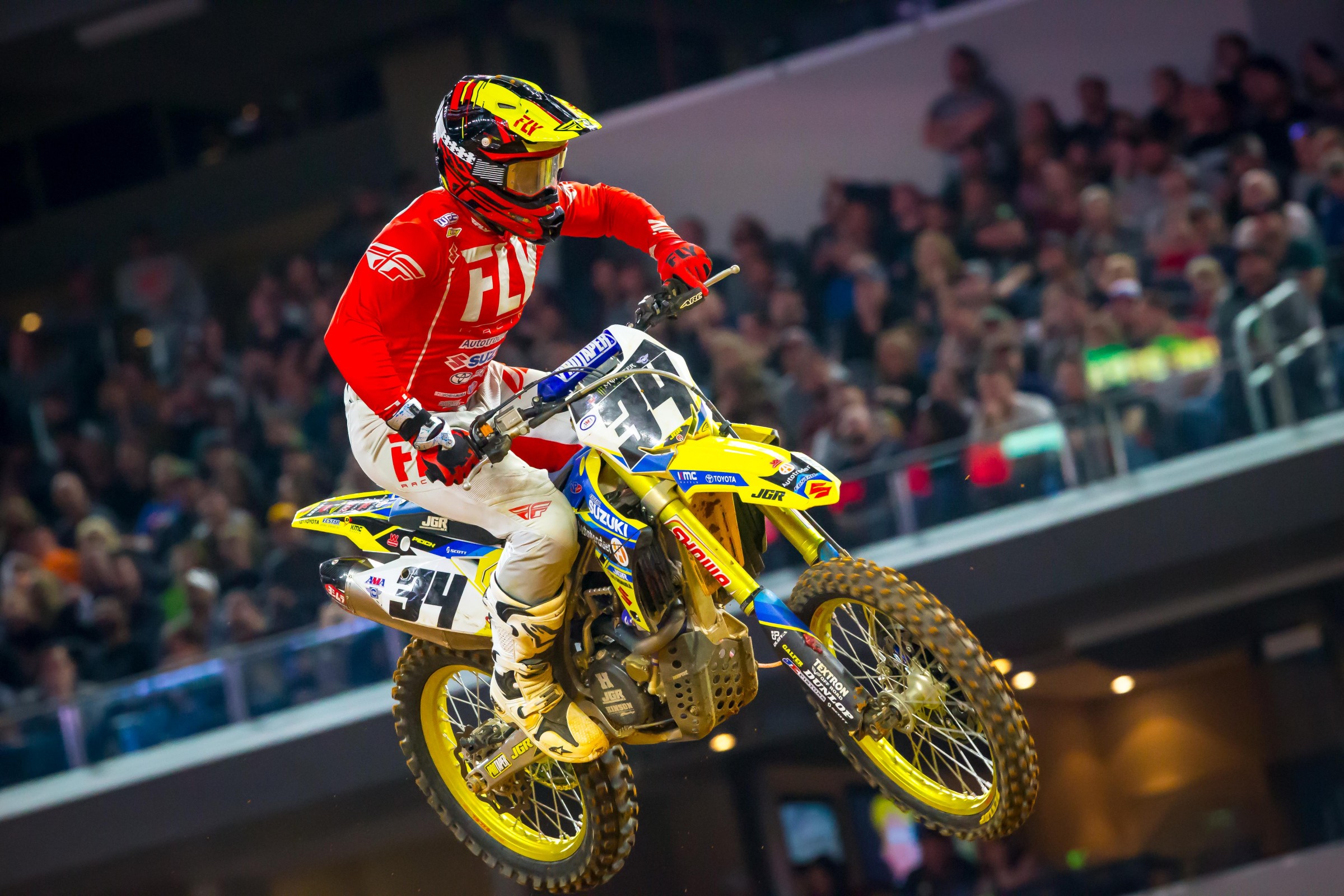 Rockstar Energy Racing Husqvarna's Dean Wilson had his best finish of the young season with an eighth. Despite the improvement, Wilson said he's still struggling with a shoulder injury sustained at the opener. "I definitely had a better weekend," he said in a team statement. "I finished one position better, had better starts, a better heat race, and I was better in qualifying. I'm definitely getting there, but I'm still not where I want to be as far as my health goes. I've never had an injury that takes so long to heal. I'm getting better every weekend, though, and I just want to keep fighting. I know I can get on the podium once I'm feeling good."
It won't show in the results, but Broc Tickle put in a great ride on Saturday. The Red Bull KTM rider was down early and rounded the first lap in dead last. He came all the way back to finish ninth. He said the following in a team statement and is headed back to Florida to continue training at the Baker's Factory. "I knew the track was going to be tough tonight and I'm normally really good in those conditions, so I kind of relied on knowing that. I tried to put myself in a good place on the start—especially after watching the 250 start—but I got hit from one side and the holeshot device was locked down so it made me knife the front and I fell over. I came from last to ninth and I was trying to make a pass on Dean, but couldn't make it happen and knifed the front and fell by myself. Overall, it's the best main event riding I've had all season. I'm excited to go back to Florida and start riding with everyone again and get back on the regimen that we had before Christmas."
Autotrader/Yoshimura Suzuki's Malcolm Stewart was in eighth place for most of the race before he made a mistake. In a team statement, he said, "There was some good racing in Arlington. I ran eighth the entire main until I decided to jump off the track and into some Tuff Blox. That dropped me to 11th. Overall, I can't be too mad about it. I'm going to keep moving forward."
With the 250SX West Region series taking a break and the 250SX East Region kicking off in Arlington this weekend, 51Fifty Energy Drink Yamaha's Kyle Chisholm switched from his YZ250F to a YZ450F. He finished 13th in his 2018 450SX debut. "It was an awesome day here in Texas and a great starting point for my 450 debut," Chisholm said. "We made quite a few changes throughout the day, which paid dividends in the night show. For my first start of the year I'm satisfied with a sixth in the heat and 13th in the main. I'm going to be working hard to improve my results and keep progressing on the East Coast." Chisholm was on the PulpMX Show last week and mentioned he is very happy with the new chassis of the 2018 YZ450F.
Rockstar Energy Husqvarna Factory Racing's Zach Osborne won, as many had expected, but in classic Osborne fashion, it didn't come easy. He avoided the massive pileup in the first corner, but still found himself on the ground before having to come through the pack. "Just the whole day today was kind of strange for me," he said in the post-race press conference. "I just never really gelled with the track. I was just kind of putting a little bit too much pressure on myself, maybe. Obviously, there's a lot of expectation with the number one and the red plate, so to win and just kind of get the first race out of the way, it's a great feeling."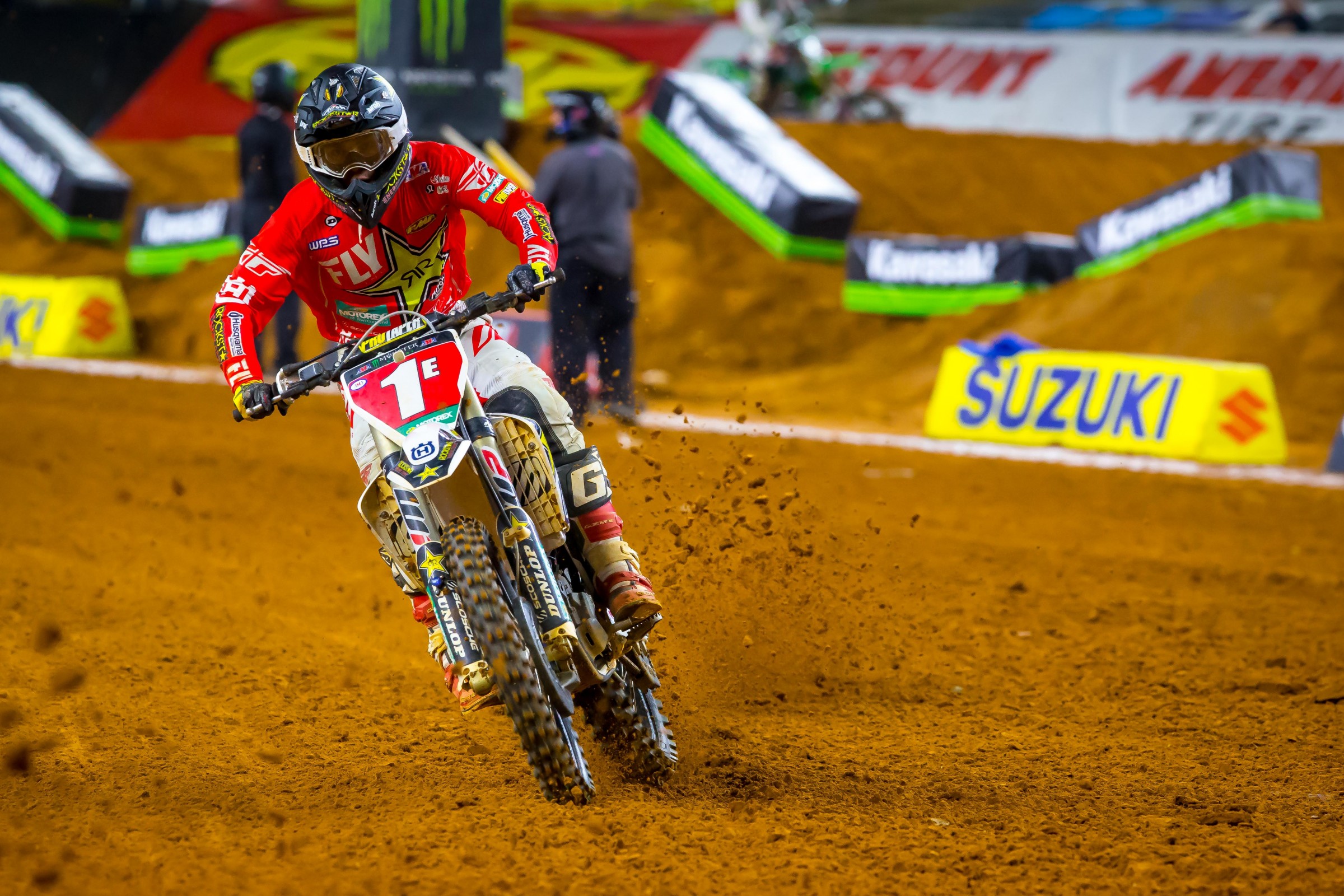 Monster Energy/Yamalube/Star/Yamaha Racing's Colt Nichols suffered a broken humerus in the pre-season and wasn't even sure if he was going to race in Texas. In the post-race press conference, he was asked about downplaying his injury. He responded, "I don't want to necessarily blow it out of proportion. Just for my own self and confidence and the whole nine that comes with that and being injured, but it sucked. It definitely wasn't very fun. I broke my humerus December 10 or so. It was just a lot more than I thought we were going to deal with. I thought just six weeks, broken bone, no big deal. It turned up being like a complete shoulder rehab, too, with doing surgery through there. I just didn't want to make any excuses, though. Everyone here has a hiccup and a bump. I showed up here to race, and it might have been last-minute, but we showed up. I just wanted to go give it my best effort and kind of see what happened. Even after practice, Swanny [Gareth Swanepoel] was like, do you really want to race? I guess I looked that bad in practice, but we just decided to go for it and kind of see what happened." He finished second behind Osborne.
Autotrader/Yoshimura Suzuki's Jimmy Decotis has been so close to a podium so many times and was finally able to pull it off in Arlington. He said in a team statement, "The day started off super good. I was very comfortable all day long on my Suzuki RM-Z250. My expectations were to get through the first round, have fun, and do my best. When I saw my times up on the board in practice, I knew that I had the speed. I haven't felt that comfortable on a racetrack in a long time. With the work I had done through the off-season, and after struggling with Lyme disease, it made me stoked. The main was insane! I've never been that happy to get a bad start. I hope everyone involved is okay. I struggled to get off the gate and missed my shift. Then I saw everyone flying and I started working through the pack. All of a sudden, I was in fifth place. I kept my lap times down and scored my first career podium. I went back to the rig and got a round of applause. It was unreal! That feeling makes me want to work hard every day so I can do it again."
GEICO Honda's RJ Hampshire led 13 laps before being pass by Osborne. Hampshire made matters worse with a few more mistakes late in the race, which pushed him off the podium and into fourth. He told Jason Weigandt after the race that he was riding terrible all day. "I was riding so bad all day, I shouldn't have been leading. Even the second lap, I almost endoed off a dragon's back, had to roll the whole section. It was just sloppy. To be leading with three minutes and thirty seconds to go, I was just like 'Dude, what is going on?' I kind of got comfortable in the middle a little bit and was kind of clicking them off. By the time Zach [Osborne] came into second, I should have had a ten-second lead. But I had a two-second lead. I should have held it together and shouldn't have made those mistakes. But I've never led laps before and I've never gotten a holeshot in the main event, so that's something. We're going home next weekend.
Hampshire's teammate Jeremy Martin was involved in the massive pileup in the first turn, but was able to come back through the pack to finish fifth. It didn't come without some controversy, though, as Jordon Smith drilled Martin and sent them both to the ground in a classic "pick up pass" on the final lap. He was not happy, but in a team statement he kept his comments to, "Looking forward to Tampa and hopefully everybody calms down a little."
Monster Energy/Pro Circuit Kawasaki's Austin Forkner also had a big pre-season injury, breaking his wrist and collarbone back in November. He avoided the first-turn pileup in the main, but still found himself on the ground on the first lap, which put him back to 14th. Later in the race he stalled his bike, but still made it back to seventh. "The results don't show how good I was riding today, but I'm proud of how I was able to battle back," Forkner said in a team statement. "We have a lot of racing to do and I'll work hard to be out front next week. The first lap was very chaotic with the riders going down in the first turn and everyone trying to settle in. I made a mistake and went down, costing me some time. I was able to get in a groove and start picking off riders, but the front group was already pretty far ahead. I almost got the next two guys who connected on the final lap, but just missed out. We'll take what we've learned and come back strong next week."
Despite sustaining a small fracture in his hand early in the race, GEICO Honda's Cameron McAdoo was able to finish 13th. The bone is not displaced and the injury will not require surgery. He will be evaluated this week to determine his status for Tampa. "Dallas was a crazy one, and not how we had envisioned round one going," he said in a team statement. Kyle Peters bobbled and got into McAdoo on the first lap. "I got together with another rider on lap one and was stuck in his bike for about a half of a lap. I ended up with a small fracture in my right hand, but did everything I could to fight forward and ended up 13th."
"I never felt like I got going all day long," Autotrader/Yoshimura Suzuki's Kyle Peters said in a team statement. "For some reason I was hesitant, which was probably due to the first-race jitters. Practice went okay, but things fell apart. In the heat race I rode cautiously and wasn't aggressive enough. After the first-turn crash in the main event, I was pushing to get through the pack. I had a big crash while trying to pass [Cameron] McAdoo. I got going again, but crashed again all by myself. After that it was survival mode. There's no quit in me, and I'm fired up to get out there and do better."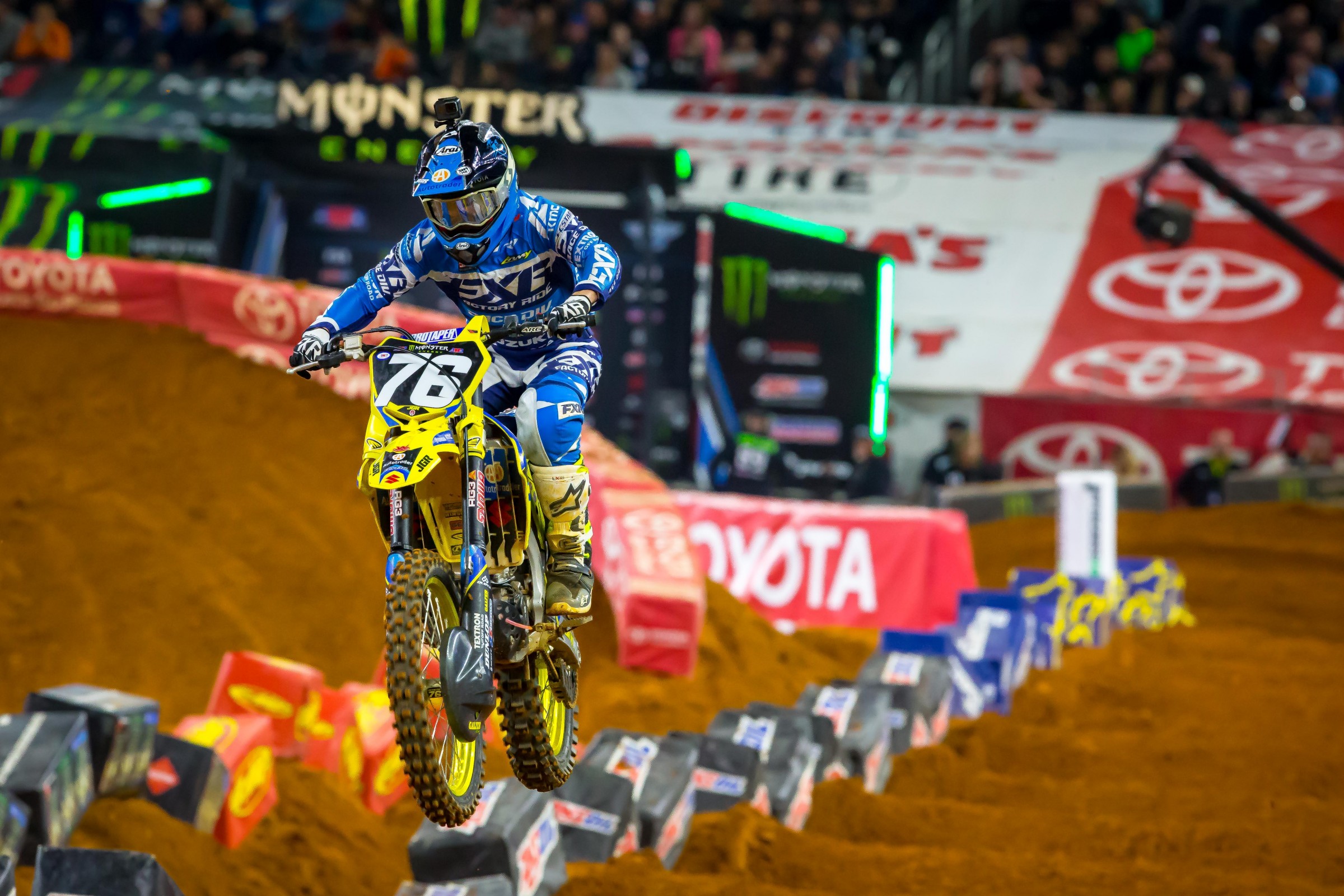 Monster Energy/Yamalube/Star/Yamaha Racing's Dylan Ferrandis was also part of the first-turn pileup and finished a disappointing 18th. On Instagram he wrote, "Not the best way to start the championship, but happy to get up healthy…"
Monster Energy/Pro Circuit Kawasaki Martin Davalos took the biggest hit in the first-turn crash and was unable to continue. He hit the ground so hard his visor and goggles basically exploded off his head. It's unfortunate because he was fastest in practice all day and won his heat race. In a team statement, he said, "If I said I wasn't frustrated with what happened, I would be lying. We qualified fastest, we got the start we wanted in the heat race, and I was feeling really good. Unfortunately, things happened that were out of our control. We'll get back on the bike and look forward to Tampa. It's a tough pill to swallow when you put in the work all day long and then get taken out on the start of the main event. I've been in this position before and am not going to give up on my hopes for a championship. It just got a little more challenging. We'll see how I feel this week and will hopefully be back out on top next weekend."