AT&T Stadium
Arlington

,

TX
Arlington (Dallas)
Monster Energy AMA Supercross Championship
Racer X: Blake, congratulations. Getting kind of comfy up here on the podium. Take us through the main event. You got a good start and you were kind of there with Marvin. A little cat and mouse back and forth. The lap traffic I'm sure played a little bit of a part in that?
Blake Baggett: Yeah, the track was tough tonight. It was super slippery and was breaking down pretty fast. We were down to the concrete in a few spots and some big rocks were starting to come up. So, it was just technical. One of those ones where you just had to be patient. If it came to you, it came to you. Some laps you were good, and other laps you were just off the pace a little bit. I was just off the pace from him a little bit.
Marvin, towards the later part of that main event you could start seeing Eli a little bit, sort of making a little bit of a run. Was that the same kind of thing with the traffic? Getting a little bit of open track, or did you find a little bit of a rhythm midway through?
Marvin Musquin: I think I found a little bit of a better rhythm, but I think my whole main, my whole moto was consistent. I wish my lap times were a little bit better at the beginning, especially when Jason went down and I got into second place. I don't think I ever did a 49, and that's what Eli was running. I was in the 50s. Then we were actually pretty much the same. I knew the lappers were going to be pretty tough out there. Obviously Eli was the first one to get in there. I tried to capitalize on that but it didn't happen. Made a little bit of ground, but nothing to get it behind Eli. Happy with second. It was a really tough main. Like Blake said, that track was really tough. The whoops were not big, pretty low, but it was really tough because we want to go really fast and it got a little sketchy. I was trying to jump through them and be consistent, and consistent for 20 minutes. It was a long main again.
Eli, congratulations. Fastest qualifier, won the heat, won the main. Stayed out of a lot of trouble tonight. Just kind of walk us through the night.
Eli Tomac: It was just a night of good starts, and then just being consistent after that. That's all I can say at this point was those starts. They put us out front and in clean air. After that third qualifying session, we found our pace and we were just feeling it all day.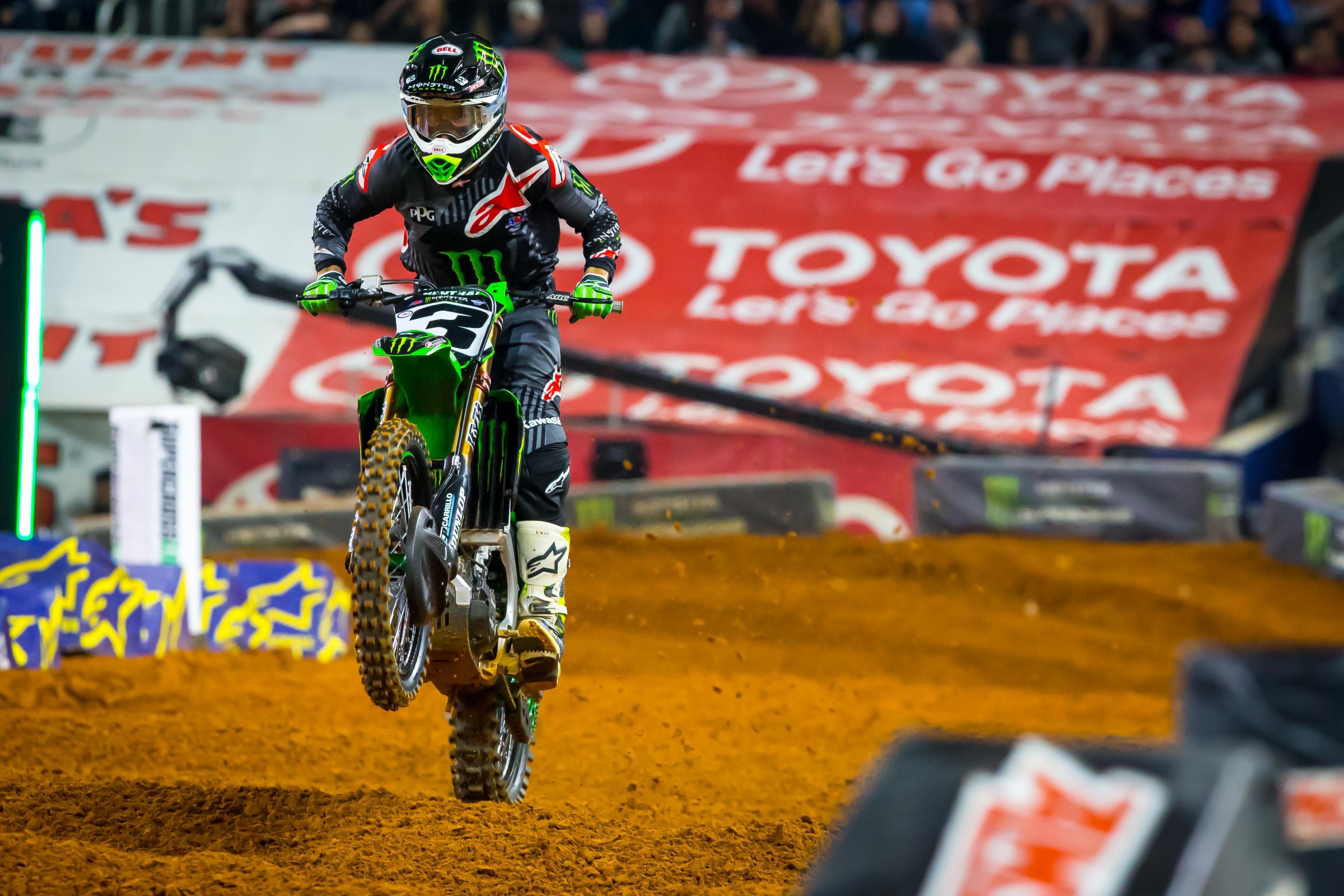 Blake, congratulations on your 50th career start and your third consecutive supercross podium. How is this helping your confidence and your program for the rest of the season?
Baggett: Just keep plugging away. It's a big step in the right direction, but at the same time, there's still two spots to improve. The goal is to get there, but that's the goal of 21 other guys as well. You got to put it all together, want it more and make it happen.
This question is for all you guys. Aside from the whoops, was there any other part of the track that was breaking down pretty bad that you guys were having trouble with?
Musquin: I think a little bit everywhere. I think the track was, I don't know if you guys agree with that, but it was kind of different in practice to me. It got a lot slicker. Those ruts got choppy and it was kind of hard to be smooth out there and get a good drive out of those ruts. We kept making new lines in some of the turns. That was definitely a good track for racing. When you see ruts like that and bumps, it makes it really difficult and it's good for racing.
Tomac: Like you said, the whoops were kind of the area tonight. All day they were really slick. It was tough just to get the right flow through them. I would say the other part was going down the rhythm lane, the second rhythm lane there with the triple. The beginning of it, it had a pretty big hole in it in the first double-double there. It just straight up broke down.
Baggett: I would agree.
Eli and Blake, last year Dallas was not quite as friendly to both of you, with just kind of weird things happening throughout the night, if you recall. How does it feel to finish this year on the podium up front?
Tomac: It's good. There's certain events where you get the good vibes and certain events where you don't. This place has been especially not good for me, so it's great to change that.
Baggett: I've had ups and downs. I've liked it. I got my first win here and then also dreaded coming back, so it just depends. But tonight, to get out of here with third is just as good as winning for me.
Eli, you looked really, really smooth and great out there. Were there any laps or section of the tracks, obstacles that gave you any trouble?
Tomac: I guess the first set of whoops. That was the one section that could kind of come up and bite you, it seemed like. The end of them, there was a good kicker at the last couple whoops there. The beginning of them, too, where the rut was in the turn, it was easy to get off balance. That, to me, was the toughest part of the track.
Eli, after a difficult week last week and the week before that, how have you reset to come into here and just pull it off the way you did tonight by having no competition from the start?
Tomac: Just not change anything. It's just racing dirt bikes and it's crazy. When you go off the line with 20 guys like that, things happen, like last week in the first turn. All you can do is look forward to that next week.
Blake, consecutive podiums now. You're really starting to get up there. You mentioned you had a crash earlier in the week. How much did that affect your performance tonight? What is it going to take for you to get to the top step of the podium?
Baggett: I guess these two guys not show up would help. I don't know. Everybody's got the goal, every team here. That's why everybody's here, is to win. Just got to have a better start and just smoother, faster laps is the bottom line to it, but it's not that easy.
Eli, when you had those bad races, what is your reaction when you get back? Are you super, unbelievably mad ,or are you able to kind of take it in stride because at least you're not hurt and you know you can come back the next week? What are your emotions on some of these bad ones?
Tomac: It totally sucks, just because the amount of time you put into it. We all put in that work, but it's tough when you put in three months or whatever it is for getting ready for the season and you got your hopes high and then all of a sudden, you're 70 points down out of the lead. It's a place I never want to be in, but here we are. At least we're back to winning races.
Eli, I don't know if we ever got to ask. At Anaheim 1, what do you feel happened there? We saw the crash, but I don't anyone really got to ask much about that.
Tomac: That was just losing my front end and then just washing out on the ramp of that little double out of that turn.
Eli, to expand on that point a little bit further, not A1 but just ups and downs, it seems like I guess this whole season you've either won or crashed. That must be really weird mentally. Where do you sit, confidence-wise? Are you confident every time? Are you going to crash, are you going to win? What's going on?
Tomac: All I do is just show up to the race and just go do what I do. Those crashes and situations have been weird. Last week was pretty freak, too, the way my bike got tangled up into my teammate. Like I said, just supercross racing and crazy things happen.
Marvin and Eli, both of you guys had injuries in the first two rounds but by now you've pretty well recovered and bounced back from it. At this point, how do you feel seven weeks in?
Musquin: For sure, it feels a lot better than a couple weeks ago. Just like Eli said, when you get ready, you put in the work… Anaheim 1 went a lot better than him, but the second round went really bad, and then you're struggling. You feel like you're the best out there in the first round, and then after that you drop so far down. Injuries, any type of injuries like that, it's really tough to keep on going every day and every weekend and keeping up with cardio, gym training, and then racing. It's hard. But I'm definitely doing a lot better every week. It's not like I would like to, but it's getting a lot better. We're able to race pretty hard, so that's good.
Tomac: We're back to normal now, so that's good. Like I said, the racing stuff is crazy. I was thinking the other day, we ride at the Corona track in California there for the first two months of the series and I literally had one crash the entire time. Then you go to race and then you wadded up just like that. So, you can be on this high and then all of a sudden it goes crashing down like that. Just got to keep your head up.
The last couple of years have been pretty exciting, really cool racing last year. Feld's been doing some things. Changing up the points system, adding the triple crown, adding the Steve Matthes nets. What do you guys think about all the things they're doing to try to improve a little bit maybe the fans' standpoint of getting to watch the race? How do you guys feel about all those changes?
Musquin: Talking about that Triple Crown, I think doing three mains like that, it's really intense. If it would have been on the track like that when you see the start like a left and a really tight right for three starts main, I think it would have been more of a… It would have been tough, I think. Like A2 was pretty tough for everyone. It was kind of hard to be consistent with starts. We're so used to doing one main. I like it like that.
Marvin, after the race I noticed that you were kind of looking at the second set of whoops. What was going through your mind when you diagnosing those after the race?
Musquin: I just wanted to take a look. When you walk the track, it's different than on your bike. Just wanted to realize how rough it was. You can see some rocks sticking out. It was really tough. I just wanted to realize standing in there to see how bad it was. Try to learn. It's good also that a guy like Ian or Roger went through the whoops, and walking the whoops after the main to realize how tough it was and try to learn from that.
How about a quick opinion from all three of you guys on the kink in the start and then that quick right-hander there?
Tomac: I think any time there's a somewhat of a 90-degree turn, that just leads to the pack bunching up and eventually it leaves guys getting blown off the track. That's just the way those go, really. I don't know. Usually the short 90 is the worst, but obviously tonight you saw in that 250 race there was a pretty nasty crash. It's just the way those turns smash the pack together. That's what's happening in those crashes.
Musquin: I was pretty far outside. I tried to push really hard to the outside and get to the inside for the next turn. When you watch the 250 start, it was pretty crazy. Obviously ,the 450 start was actually pretty clean. Maybe I expected something more crazy out of the very first turn and coming into the second turn, but it went pretty smooth. I'm happy with the bad gate pick I had all the way outside to get in that position.
What about those nets that Feld has brought in this year? Talk about those nets, if they're a good idea, how nice they look, does it protect you?
Tomac: If it leads to us being able to have a bowl turn, then heck yeah. They're sweet.
Baggett: Beats a flat turn all day long.
Musquin: I didn't experience the nets yet, and I don't want to. If you whiskey out of it and something bad happens and they save you, then you're happy it was there. We've seen guys going off a berm like a jump if you messed up.