AT&T Stadium
Arlington

,

TX
Arlington (Dallas)
Monster Energy AMA Supercross Championship
Racer X: Jimmy, congratulations. Confirmed by your team manager that this is your first podium. Walk us through the night and how good it feels to be up here.
Jimmy Decotis: It feels awesome, honestly. I know a lot of the good guys crashed, but I rode my own race. I rode smart. I nailed my marks. I did everything I had to do. It just feels good to get this off my back. I feel like I can actually race main events like I want to. I've put so much pressure on myself after 50 starts and not having a podium and always having the speed. So, for me to get this monkey off my back, it's such a relief more than I'm happy. I'm just relieved right now.
Colt, congratulations. The main event was kind of a quiet race for you. You stayed out of a lot of the trouble and just put together pretty perfect laps. Happy to start the season off on a second?
Colt Nichols: Yeah, very happy. I didn't even know if I'd be here racing. So, to come in here, the goal honestly was try to get inside the top ten and salvage some points. To come out with a second, I know there was a lot of carnage out there, but I felt like I just rode my own race and had a good time doing it. Very pleased to leave with a second.
Zach, congratulations. Early laps, pretty patient. Just kind of getting into your groove and got into the lead. Back on that first lap, you obviously knew the crash, but did you know the guys that went down, who they were and kind of where everyone sat on those opening laps?
Zach Osborne: Smith was to my inside, and when I shut off, he was still going pretty hard. I saw him kind of just clean a lot of people. I knew that most everyone was in it. Then I felt like I was in a decent position to kind of work through the race and take my time. Then I fell over myself before the whoops. That sent my heart rate through the roof. Just the whole day today was kind of strange for me. I just never really gelled with the track. I was just kind of putting a little bit too much pressure on myself, maybe. Obviously, there's a lot of expectation with the number one and the red plate, so to win and just kind of get the first race out of the way, it's a great feeling.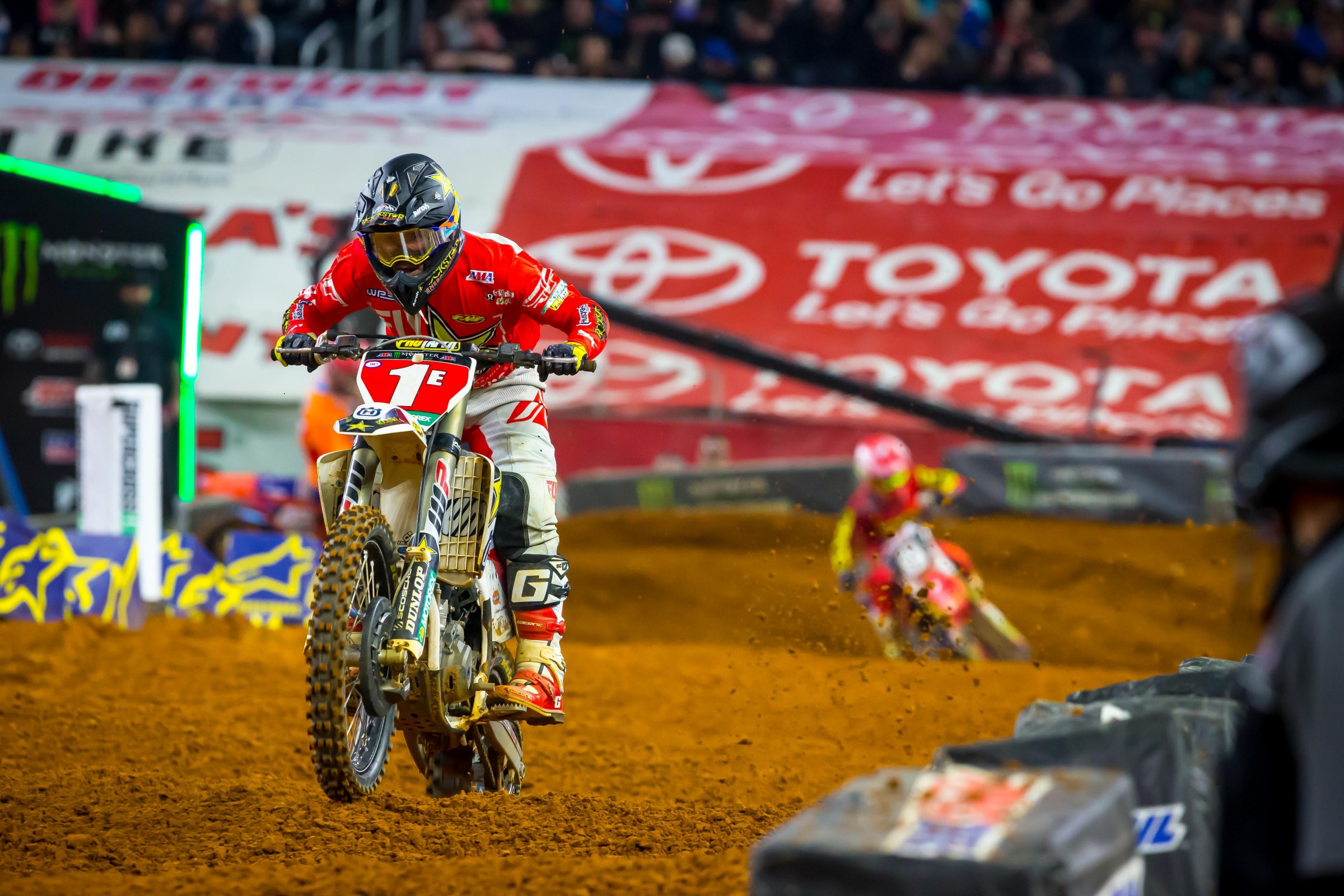 Zach, walk us through one more time the first turn melee, and how in the world did you sneak through that?
Osborne: The guys to the inside of me were still gassing and I knew it was kind of time to let off. I could kind of see sort of where it was headed before it was happening. So, it was just a little bit of intuition and just being in the right place at the right time. It's not anything that I really did, just kind of got a little bit lucky.
Zach, this track seems like it's held together pretty well compared to some of the ones we've seen so far this year. Other than the whoops, what was the hardest part to stay consistent lap after lap?
Osborne: Just the whole thing for me was just really techy. None of the lanes were really big, or there were no big sections. The one lane we were going double, table, single, double, which is pretty unheard of—that never happens at a practice track or something. The main thing was just if you could just do laps. Especially in our main, a lot of people crashed. I crashed myself. It was just a strange race, really.
I feel like coming into this season maybe we, some of us in the media, weren't giving the East quite enough credit. You showed tonight there's a lot of really talented guys. How do you feel about the three East/West shootouts coming up and how you guys compare to the West so far?
Osborne: All of everyone on both coasts is going to be going well. I think as you see at Vegas every year, it's really close. It's kind of strange that it's in the middle of our series on our coast, but I think it's going to be something really cool that not a lot of people have seen before. They did it a long time ago back in the nineties more often. I think it's a cool thing because not so many times, only one time in a year that you get to see all of us together. It's a cool concept.
Decotis: I agree with that too. I think every year there's this East/West debate, who's faster? But realistically, there's ten factory guys on each coast and anyone can beat anyone out of those ten guys. So, to say every year there's East or West is better, I think it's irrelevant. I think all these guys are good. They're all talented. They all know how to put the work in. I think the showdowns are just basically who gets a start and who executes 15 minutes as best as they can.
Colt, in the pre-season we know you had an injury. When we talked to you about it, you downplayed it a lot. Then tonight you tell us that you almost didn't know if you were going to race at all. Just how bad was this, because you really made it kind of clear it's just a hiccup, but now it's much more than that, but you still podiumed?
Nichols: I don't want to necessarily blow it out of proportion. Just for my own self and confidence and the whole nine that comes with that and being injured, but it sucked. It definitely wasn't very fun. I broke my humerus December 10 or so. It was just a lot more than I thought we were going to deal with. I thought just six weeks, broken bone, no big deal. It turned up being like a complete shoulder rehab, too, with doing surgery through there. I just didn't want to make any excuses, though. Everyone here has a hiccup and a bump. I showed up here to race, and it might have been last-minute, but we showed up. I just wanted to go give it my best effort and kind of see what happened. Even after practice, Swanny [Gareth Swanepoel] was like, do you really want to race? I guess I looked that bad in practice, but we just decided to go for it and kind of see what happened.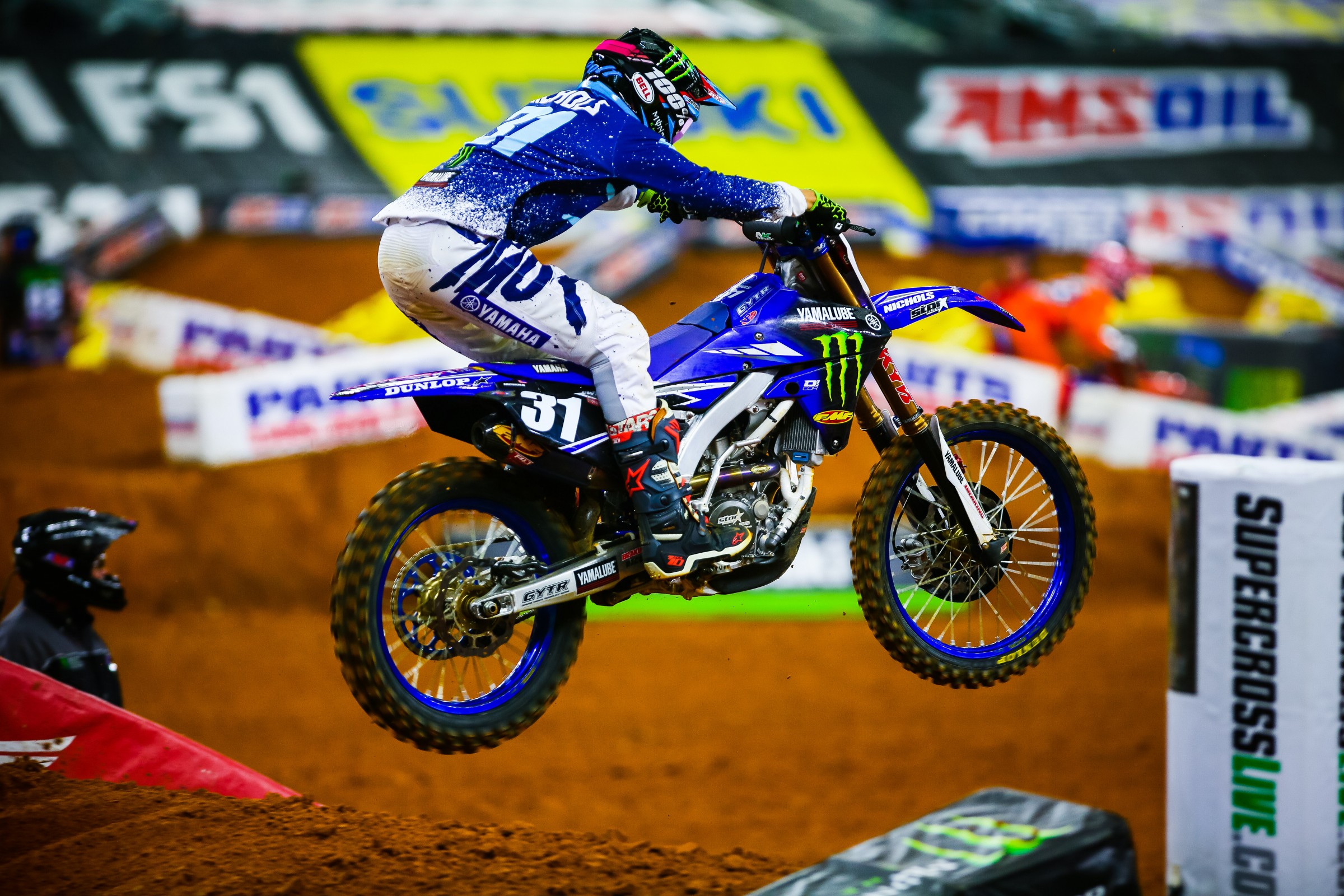 Jimmy, it's a new team, essentially, with JGR in 250s doing their own program now on the East Coast. There were some struggles early, but obviously with Justin Hill and now you on the podium, it's really turned around the last couple weeks. Just talk about how good this team has actually become now. It's obviously as competitive as any other.
Decotis: For sure. The only factory team I ever rode for before this was GEICO, and before this weekend I had never raced another brand in supercross besides Honda. Honestly, today I'd never felt so comfortable on a race track. I've always been pretty good at a practice track, but to come out today and feel the way I felt all day, it's so cool. I'm not one of those guys to sugar-coat things and say everything was perfect in the off-season. We struggled a little bit and it took me a little while to get comfortable, but the guys at JGR trusted in what I wanted, and I trusted in what they believed I needed. We made the bike absolutely awesome. I'm just stoked to be up here. I'm stoked to have people that truly believe in me. It feels a little different than years past, for sure.
Jimmy, you mentioned this is your first podium. I was just wondering, you're kind of out there halfway, do you realize you're on that podium position? I noticed you kind of definitely lost the pace compared to the front. What was going through your mind in those moments?
At halfway, I think I was in fourth. I started dropping off a little bit. I seen Zach catching RJ [Hampshire]. Basically, it didn't hit me until RJ crashed. When I seen he crashed, I was like, okay, I've gotten too many fourth places. I'm not getting another fourth place, or I'm crashing. I just held on as long as I could. As soon as RJ got up, he got up right in front of me. Obviously, we all know in racing it takes a lap or two to get going when you have a crash like that. So, I zapped to him as fast as I could and then I know RJ is fit. That dude does crossfit. He don't play games. RJ's a bad dude. So, I know he's strong. I just knew I had to execute the last five laps because I knew he'd be coming. It was hard out there, it really was. The track was demanding. Everything about it. It was a tough race.
All three of you, we're actually in one of the biggest stadiums on the circuit with, ironically, the shortest track. I know it's only your first race of the season, but on a track that is that short, do you ever find yourself losing track of who is in the lead and who you're trying to make the passes on?
Nichols: Tonight I didn't, just because I kind of had a good idea of what was going on. But we did a lot of laps tonight. It was a shorter race track and I kind of thought it would be like that, walking the track and practice and kind of seeing how everything broke down. All of us, we do motos during the week and we try to do longer ones and do everything we can to be prepared. For me, I just got to a point where I was kind of counting them down in my head and a little off on the number, but I seen the white flag and I was like, thank goodness. Honestly, yeah, it did seem like a lot of laps, but at the same time we've been putting in work, all three of us along with all these other guys. It was just the way it was. I thought it was a pretty good race track for racing, for sure.
Osborne: Sometimes there's going to be, I think, shorter ones than this, even. So, it's a bit different for me because at Aldon's, we have pretty much only minute tracks, so it's never more than 21 or 22 laps, and for the 450 guys it was like 26 or 27. It's a lot of laps. It's one of those things like I said earlier, you just have to try to string it all together the whole time. Tonight, I felt rather like mid-range. It was one of those deals where I was just trying to circulate and do the jumps really.
Decotis: These guys pretty much nailed it, but it's definitely different with a shorter lap time because you're doing so many laps. The track's breaking down. There's so many different variables that come into play. I think if we were in the old format, I probably would have got fourth tonight because we wouldn't have done as many laps and RJ would have been up there longer. Coming from a guy who's faded in years past, I never thought I'd like fifteen minutes plus one, but I'll take it tonight.
Jimmy, I think you had a really good relationship with a previous team you were on. Do you take any extra satisfaction with placing ahead of the riders on that team at this opener?
Decotis: The ego in all of us thinks that, but as a person I just want to win and get up here on the podium. A little bit, for sure, but those guys took great care of me at GEICO. They did a great job. If it wasn't for them letting me go, I wouldn't have found this home where I'm at with Suzuki. I'm thankful for how my career has unfolded until now, but I'm also really thankful that it did happen and that I didn't get the opportunity there and now I can build this relationship with Suzuki and get them up here on this podium. I'm really thankful.
Zach, you won so much last year indoors and out that I think we all assumed, "Well, he's used to whatever's being thrown his way," but was it actually different coming in here as the champion, as the favorite, whereas last year you were maybe in the mix? Did it seem a little different this year?
Osborne: Yeah, definitely. The last six weeks has been a long time. Two weeks ago, I was at my breaking point with just riding by myself and doing motos. Got a little talking-to from Aldon. That kind of turned my attitude around a little bit. I felt like today, I just kind of let it get to me a little bit more than I would have liked. I guess I came with the expectation that I was going to just be fastest all day or something, but that's not going to happen. I was never fastest in every session and won every race last year. It was a grind the whole time, and that's what it's going to be. I just need to come prepared to fight and battle for every inch.
Zach, most memorable experience of your life has got to be last year making the pass for the championship. Now, setting yourself up for when you come up to Hampshire for a block pass, does that ever go through your head, that pass that you made last year? Does something like that go through your head while you're racing?
Osborne: No, not really. Each situation is unique, and the Vegas situation may never happen again. In my heart of hearts in that case, the stress was immense and I don't ever want to feel that stress again. Like I said, every situation is unique, and you just come to each person with a new mindset. It is what it is.