During the reigns of Ricky Carmichael and James Stewart, talent scouting seemed so easy. RC and JS were the fastest kids on 65s, 85s, superminis and 125s as amateurs. Then they became the fastest pros. That made it so simple: just get the best kid and they'll deliver the best stuff as an adult.
Anyone scouting the NFL or NBA draft will tell you it's not that easy, and outside of Ricky and James, it isn't in this sport, either. Talent is obvious, but using it to blossom into professional championships is a complicated puzzle. The next two after RC and Stew? That was supposed to be Davi Millsaps and Mike Alessi. As it turned out, both delivered race wins, but you could probably write a book about the ups and downs, on and off the track, of their years in the pro ranks.
We do know this: when Millsaps was on, he was as good as anyone. You just never knew when that was coming, which only made it more intriguing (and, eventually, more rewarding) when it happened. Fans really grew to love it when Davi got in the mix. He was a likeable guy, a familiar name, and a refreshing story.
Davi announced his retirement this week. Let's have a look down the memory banks with some of his greatest moments. (Or do so yourself with the Racer X Vault.)
First Podium
Millsaps entered the pros with significant hype. At age 15, he was already fast enough to compete, but AMA rules said he had to skip the 2004 125SX East opener to wait for his birthday. His debut came at round two in Houston, but he was nervous and struggled. In his third race, though, he finished second at Daytona.
Outdoor Podium
After some struggles early in his outdoor career, Davi finished second in the 2004 RedBud 125 National, his first trip to the podium outdoors.
First win
Davi was much more capable in 2005, dominating the 125SX East Region opener in Indianapolis.
So Close
Davi had the speed to win the 2005 125 East title, but these short regional series are often decided with one crazy race. Millsaps went down in turn one at Daytona, charged all the way back from last place to fourth, then Troy Adams, in third, got sideways on a jump and took Davi down. He finished 18th that night. Davi missed the title by six points.
Shoutout
Millsaps extracted some manner of revenge with a big win in the Dave Coombs Sr. Memorial East/West Shootout in Las Vegas, scoring the victory.
Red Rider
After a lifetime on yellow (Cobra minicycles and then Suzukis), Honda came calling for 2006. He delivered quickly, winning the Lites East opener in St. Louis. Fellow Honda talent Josh Grant gave Davi a run for the title, but Millsaps was remarkably consistent, going 1-2-1-1-2-2-1 in the series to lock down the championship.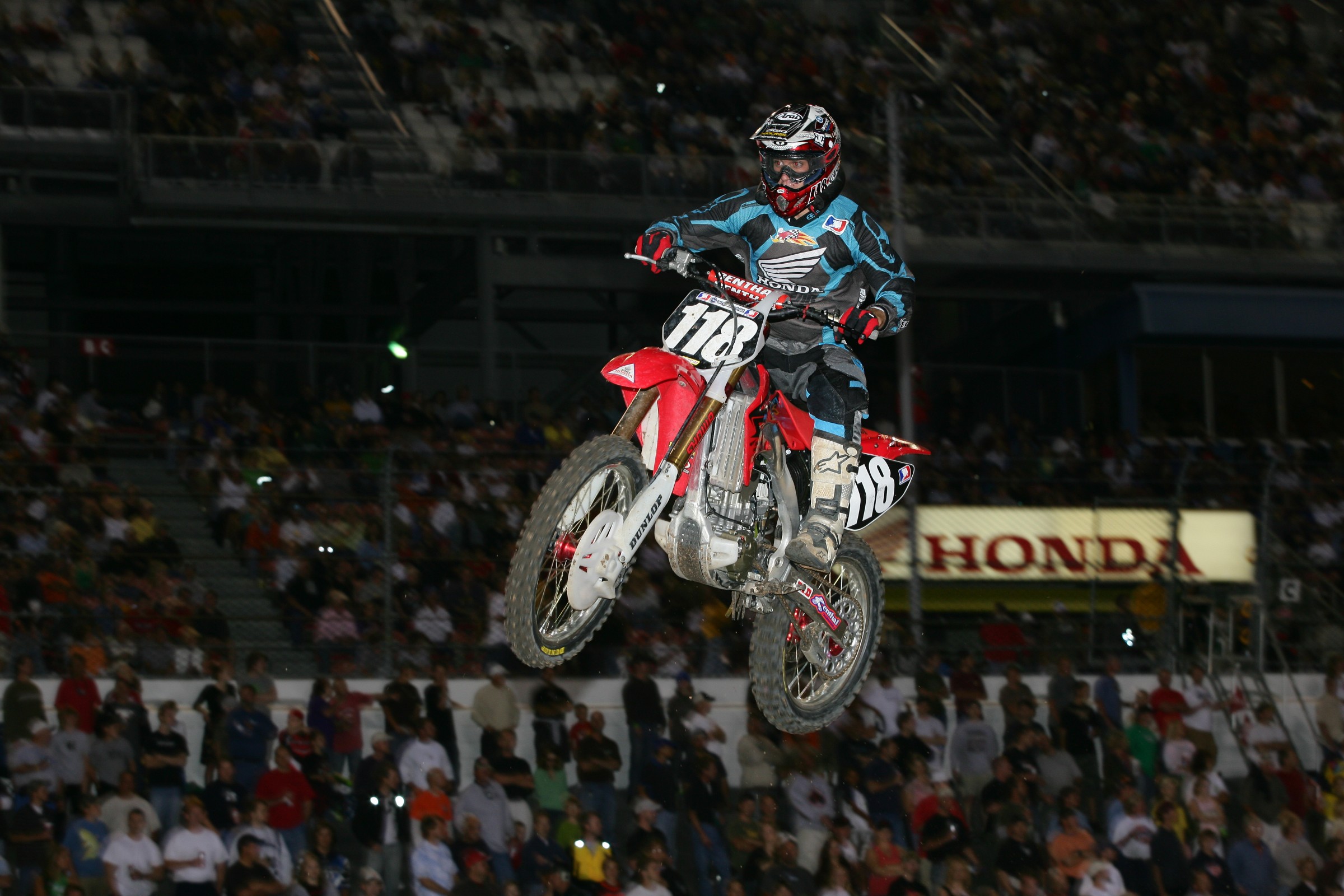 450-Bound
Davi was always a big kid, so Honda decided to bump him to a 450 for the 2006 AMA National Motocross Championship. He finished ninth in his 450 debut at Hangtown, but the next weekend at High Point, he podiumed behind a torrid Carmichael and Stewart battle. The next race at Southwick, he hung with them for a while again. Davi was still only 18, but was showing real promise against the establishment on big bikes. He finished the 450 Nationals third ranked to Carmichael and Kevin Windham.
Broken
Davi's 2007 rookie 450 supercross season held real promise until he broke his femur during off-season testing. He struggled for most of the year before scoring a runner-up finish, his first 450 podium indoors, in Seattle.
First 450 Win
Davi's sophomore 450 supercross season in 2008 started okay—not spectacular, but respectable. But at his home race in Atlanta, he battled Chad Reed for the lead until Reed went down, and Davi scored his first win in the big class. He backed that up with another win in Detroit later in the year. His 2009 follow-up wasn't as good, though, as he never gelled with Honda's new-for-2009 CRF450R.
One More
After the lackluster 2009 campaign, Millsaps was left to dog rumors that he didn't "want it" badly enough, but in the right conditions, he was still formidable. In 2010, on a tough, muddy, rutted race track in San Diego, he scored the win. He lurked around the podium for much of that year until a huge crash at the Budds Creek National left him with kidney damage, ending his season. He would not return to Honda.
Back in Blue
Millsaps signed with Joe Gibbs Racing Yamaha, but his 2011 season was not good. Partway through 2012, he started to find his old form, starting at Daytona, a place where he normally rode well. Millsaps led the race early before finishing second to his teammate James Stewart. This unlocked a flurry of podiums, and Davi ratcheted himself all the way to second in the final supercross standings, helping JGR save some face after its Stewart experiment went sideways.
That Magic Moment
Davi switched to Rockstar Energy Suzuki for 2013. Anaheim 1 that year was unforgettable. Millsaps battled the returning-from-injury Trey Canard for the win. Trey led on the last lap but Davi dug deep, made it happen, and got the win. If there were previous doubts about Davi's heart and fitness, he would use 2013 to erase them. A Canard win would have been a feel-good story for the ages, but when Davi crossed the line first, the fans still roared with approval. This was a redemption story.
Red Plate
Millsaps stayed consistent while defending champ Villopoto tried to sort things out. Davi battled Chad Reed for the lead in San Diego, then Reed washed out and fell, leading Davi to his second win of the year. As his points lead grew, an improbable championship run was looking possible, but Davi twisted his knee just as Villopoto righted the ship. The machine that was RV wouldn't be denied, but Davi went down swinging—he gave Villopoto all he could handle in a thrilling race in Salt Lake City.
Greenback
Millsaps missed the entire 2014 regular season with a foot injury. He signed with Monster Energy Kawasaki and found himself battling Canard again at the Monster Energy Cup. Trey crashed while trying to pass Davi in the final main event, and Davi pulled away to win the race and $100,000. Not a bad debut in green!
The Old Feeling
Davi's Kawasaki run ended badly—his deal was terminated. Was he done? Forrest Butler's BTOSports.com KTM team offered a 2016 lifeline via a bonus-only contract, and Davi showed some of his old speed before a Daytona crash ended his season. Good enough to earn another ride for '17, though.
Go North
KTM sent Davi to the Rockstar Energy Drink Motocross Nationals in Canada for the summer of '16, and he delivered. To complete a perfect career circle, Davi ended up in a series of battles with old amateur rival Mike Alessi. There were even some old-fashioned protests and controversy! Davi emerged with the championship up north.
Last Run
KTM hoped a summer of hard motos in Canada would make Davi that much stronger for 2017, but he suffered more injuries in the Canadian series which squelched the gain. He gave it a good run in 2017 Monster Energy Supercross, though, just missing the podium on a variety of occasions despite riding with a wrist injury. Davi was pretty banged up at this point, but he was a good soldier. In what would be his next-to-last supercross ever, he ran third for most of the way in New Jersey until Jason Anderson edged ahead. Davi finished fourth. He was eighth at the Vegas finale, which would end up being his last major professional race.